Around 20 years ago, I was nearing the end of my 4 year backpacking adventure round the world.
I arrived in Nepal having flown in from Thailand. Whilst waiting for my bag at the luggage carousel, I had the misfortune of seeing the contents of my backpack making the rounds one by one. First one of my boots came round, then a sweater, then my washbag etc. Turns out the airline staff had taken the liberty of rifling through my gear for any valuables.
Trust me, after backpacking for 4 years anything of any value was well hidden in my hand luggage.
However, as I was planning on buying a substantial amount of silver in Nepal to bring home to the UK and sell, I invested in this bulky & ridiculously difficult to carry giant metal trunk to keep it safe on the homeward bound flight.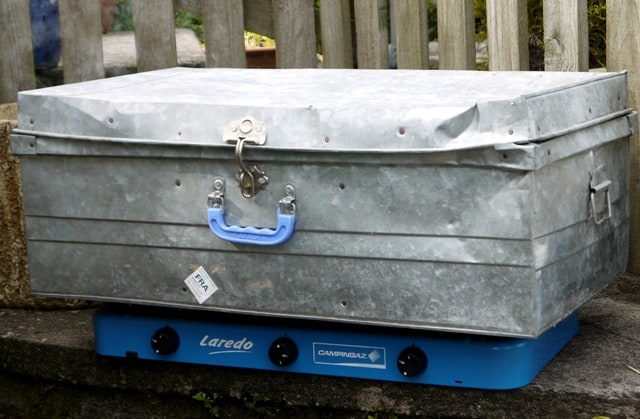 Whizz forward 20 years, and I figured this beast would make the perfect smoker. Big enough to fit lots of fish in, and it rested perfectly over my camping gas stove.
I raised my oven shelves off the bottom with empty cans from the recycling bag. I found some apple wood shavings from Jonny's workshop floor, and made little piles of it in the bottom, right over where the burners would be.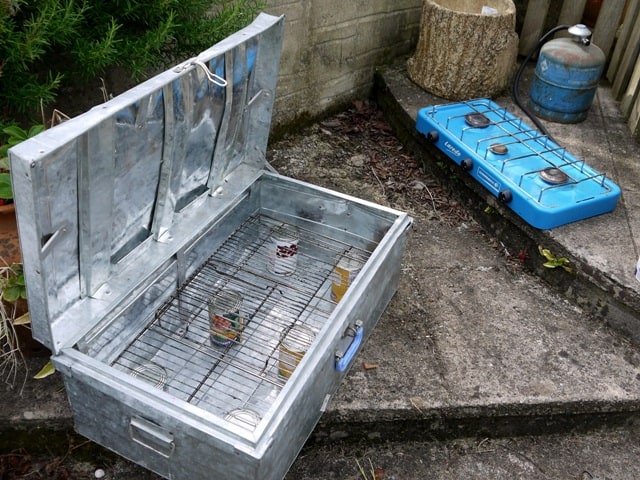 I went fishing, returning with a decent haul of mackerel. I gutted and filleted them, cleaned & dried them and laid them out, with lots of room around each fillet, and closed the lid.
Twenty minutes later I opened that lid to find I had made my very own smoked mackerel! It tasted bloody lovely, not a heavy smoke like you buy in the shops, but nonetheless they were very tasty, hot smoked fish.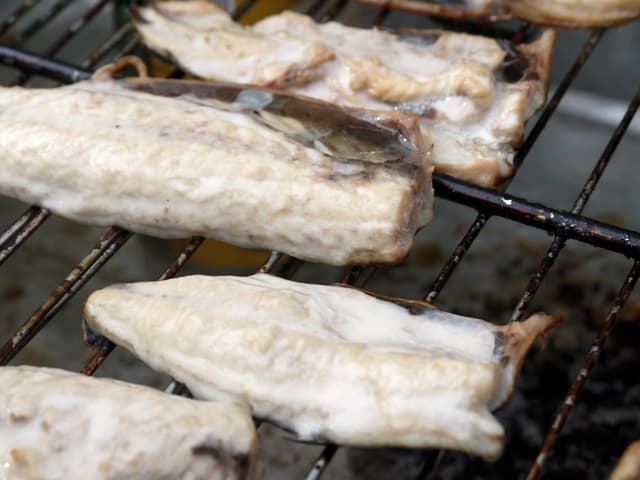 When Jonny got home from work, I stood by my ingenious contraption, proud as the parent to a first born.
Jonny took one look at it, and told me that the trunk is made of is galvanised metal. When you heat galvanised metal, it lets off poisonous fumes which had now doused all my beautiful little mackerel fillets and I really shouldn't eat any more of them.
Those poor little fish got unceremoniously dumped in the bin, and I felt a bit of a fool.
The moral of this story is, if the metal you want to smoke your fish in had patterns like this on it…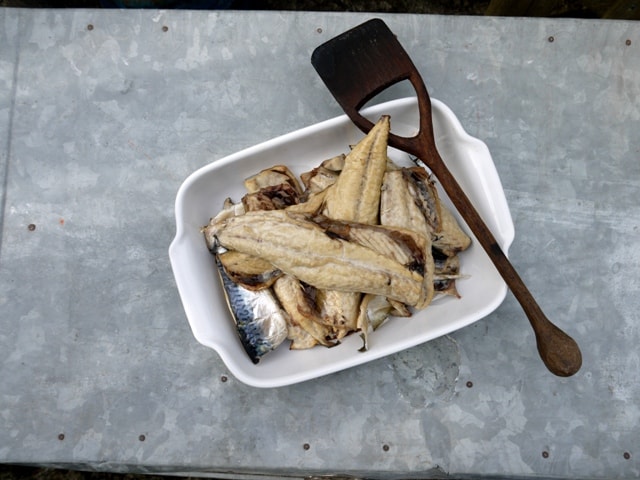 …it's probably galvanised and should be avoided at all costs. Please learn from my mistake, this world really doesn't need another batch of fish going in the bin.
Not one to give in entirely, when Jonny and his boy Kieren returned from fishing last week with half a bag of fish I rigged up another, safer smoker.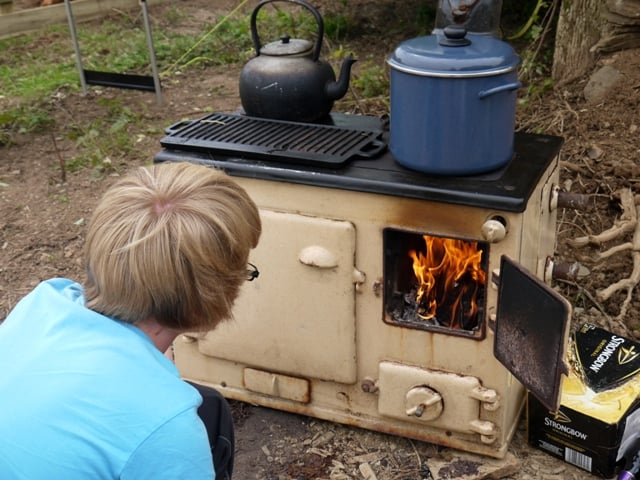 I rigged it up in this enamel stock pot, laying the fillets out over a metal trivet.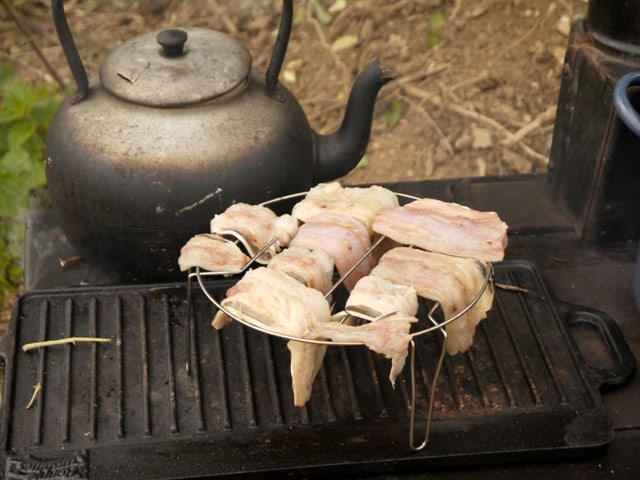 A touch of wood chip in the bottom (avoid any wood that may have been treated or as a rough rule of thumb, that from evergreens).
I found that the fish was firmer & dripped less juice if it had been layered in salt for an hour first, then rinsed of all salt and patted dry with kitchen paper before being smoked.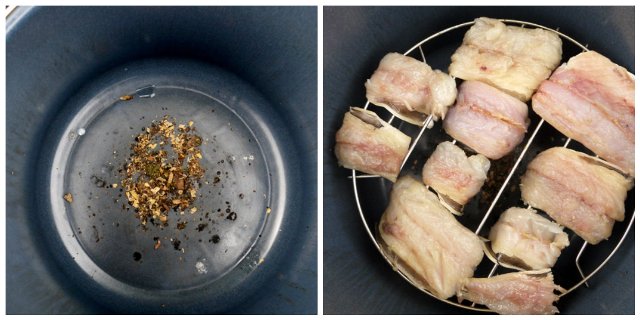 It's by no means perfect, being far too small to be of any real use, but the fish that came out was safe to eat and very, very tasty.
I feel there will be a mark 3 version in the not too distant future. They do say third time lucky right? :)
Edited to add;
Sharing this blog post on facebook resulted in this interesting comment from Andy Noble at Natures Craft, a bushcraft & outdoor skills company based in East Wiltshire, UK.
"Hey Jane, I looked into cooking in galvanised trash cans extensively after Jonny made a similar observation of the oven we built in the woods. Whilst the fact that Zinc is released is absolutely true, the general view is that for smokers and trash can ovens the amount of zinc is minimal – and lowered even more if the metal is heated substantially a few times. We built a big fire inside our trash can and blackened it off."
Thanks Andy, and if anyone else has anything to add, please leave a comment below.
Janie x