This Hot Smoked Salmon recipe will be the first of my 'How to smoke fish/meat/veggies' posts, and this quick and easy recipe for salmon with no brine makes a fantastic start! I hope you'll agree!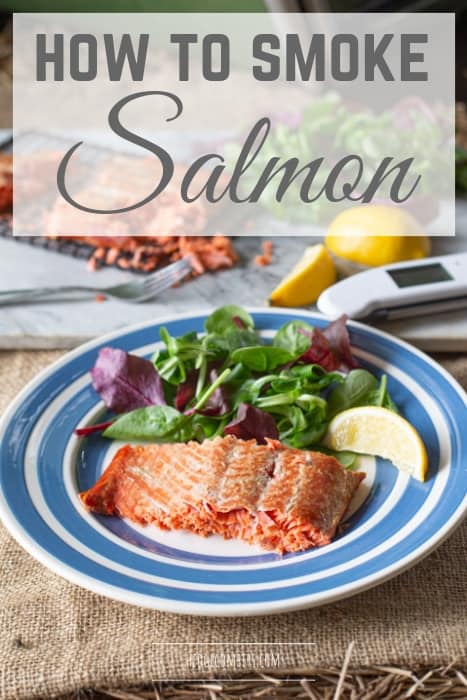 Recipe sponsored by Thermapen
What often comes as a surprise to many, is that the smoking process is a much simpler process than you might think.
Anyone can smoke salmon at home.
What's the Difference Between Hot and Cold Smoking?
If you want to know how to smoke salmon or any other fish, meats or vegetables, there are two methods; namely hot smoking and cold smoking.
Cold smoking fish means that your fish remains almost raw, but it takes on the smoked flavour.
The fire is built away from the smoking room or box, and the smoke is funnelled in.
Lots of Smoke + Little to No Heat = Cold Smoking
Whilst it tastes amazing, traditionally cold smoking was important as it would preserve fish for longer than it would last in its natural, unsmoked state.
Hot smoking fish cooks the fish through whilst it also takes on the smokey flavour.
The fire is built close by to the fish so that the fish is cooked whilst also taking on the beautiful smokiness from the wood.
Hot smoked fish doesn't last as long as cold smoked fish.
Lots of Smoke + Heat = Hot Smoking
I could personally sit and pick at a hot smoked salmon with nothing else with it at all.
But, when used in a dish like a risotto, pasta or kedgeree, that amazing soft smokey flavouring lends a really special something!
What are the Best Types of Fish for Hot Smoking?
The best types of fish for hot smoking tend to be fattier fish.
I've used wild caught salmon for the purpose of this recipe, but mackerel, sea bass and tuna are also good examples of these fatty fish which work well.
The meat in oily fish is better insulated than in lean fish.
This ensures it absorbs and compliments that delicious smokey flavour, remaining moist.
Salting lean fish such as cod, on the other hand, reduces its moisture content.
A tough, dried out, very salty finish to the fish is the most likely outcome.
How to Hot Smoke Salmon: Which Wood Should you Smoke Fish With?
Whilst you can buy plenty of exotic woodchips for smoking, there are plenty of trees grown here in Britain that are perfect for smoking with.
I used hazel, which gives a light fragrant smoke.
But you can choose from a variety of woodchips which would work equally as well.
Oak is recommended as a strong staple for smoking with.
But you could also try alder for a delicate, foresty aroma.
Or fruit woods such as apple, pear or cherry.
Should I Soak Wood Chips Before Smoking?
I tend to soak my wood chips for an hour before using them.
It isn't essential, so don't worry if you don't have time, but I find that soaked chips last longer and create more smoke.
In the video I link to below, you'll see that that the 'chips' I used are actually little slices of a hazel branch that I asked Jonny to cut into thin disks on his chop saw.
When I previously tested the recipe I used more traditional 'flakes' of woods that I'd nipped off a branch with an axe.
However I found these burnt through much quicker and I preferred the slices.
For the purpose of this recipe, I used a smoker to cook my salmon, but you could just as easily use a covered wok or a barbecue with a lid.
Preparing your Hot Smoked Salmon
Should you take the skin off fish to hot smoke it?
This is personal choice.
Leaving the skin on will help to keep the oil in the fish.
You'll need to descale the skin if you choose to keep it.
Either oil it so that is doesn't stick to the grill, or place the salmon on a small piece of aluminium foil.
Please note that either of these will stop some of the smoke from getting to the underneath of the fish.
But there will still be plenty permeating the rest of it.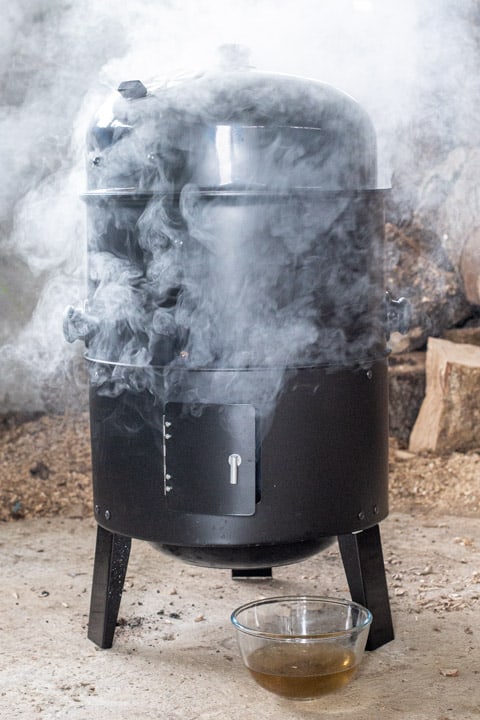 My Top Tip for Hot Smoking Salmon
My top tip for when you hot smoke salmon or any other fish is to make sure you monitor the time and the temperature.
This will help avoid drying the fish out.
The time it takes to hot smoke fish depends on its temperature and thickness.
Hot smoked salmon fillets can take 20 minutes and a full side of salmon can take up to 50 minutes.
The only way to tell for sure is to take the internal temperature of the fish you are smoking.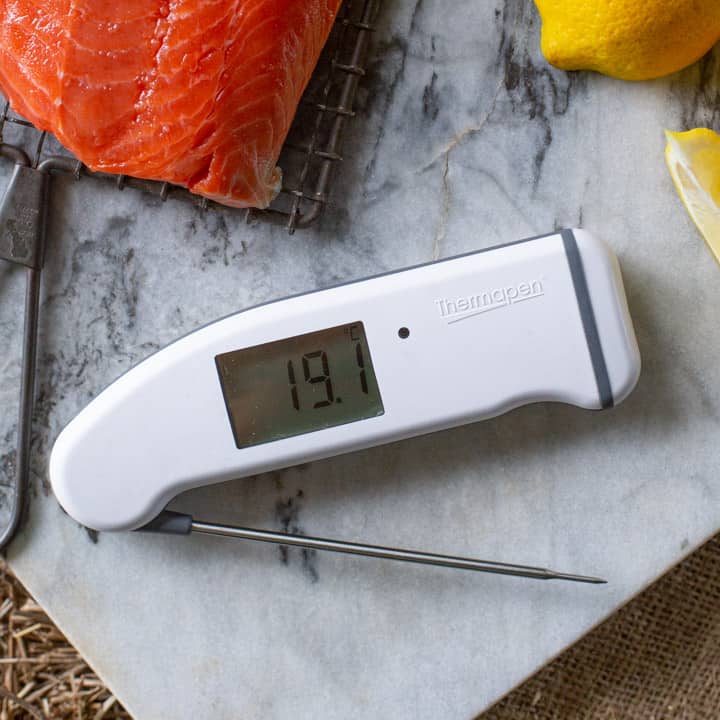 The Thermapen Professional is the ideal tool for this job.
British-made, the Thermapen Professional will read the temperature of the fish in just 3 seconds.
I especially appreciate the fact that the display adapts with an auto-rotating screen, depending on how you're holding the thermometer.
This means I don't have to set fire to myself just to read the temperature!
Importantly, the Thermapen removes any guesswork needed to tell if my hot smoked salmon is ready.
The internal fish temperature for hot smoking needs to reach a minimum of 60 degrees C, which is when you know that it is cooked to perfection!
I am happy for the temperature to go slightly higher, firstly as salmon is such an oily fish.
And secondly my smoker has a pan of simmering water underneath the food which helps keep meat moist and juicy.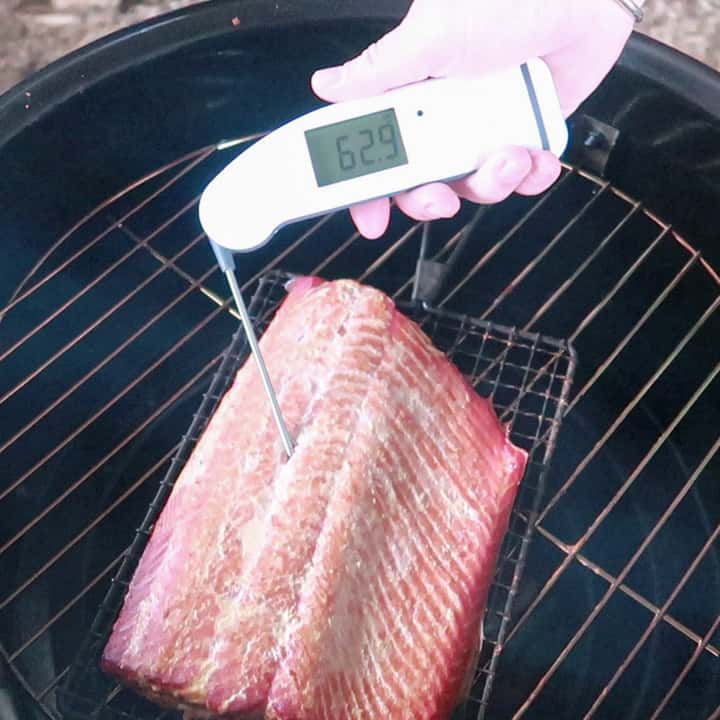 Your hot smoked salmon should fall apart, often in big, juicy chunks!
This flavoursome fish is super versatile too, accompanied by seasonal vegetables, with a salad or as mentioned previously, as an ingredient in lots of tasty dishes!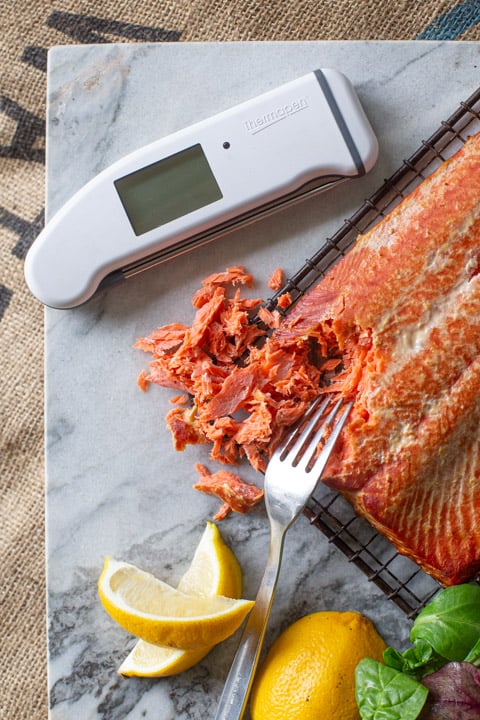 Plus, save 20% on Thermapen products!
I've got great news! You can save 20% off Thermapen products using my unique code when you visit the Thermapen website www.thermapen.co.uk . Simply enter the code HEDGECOMBERS-20 at checkout and your 20% discount will be applied*!
*Only applies to non-discounted items.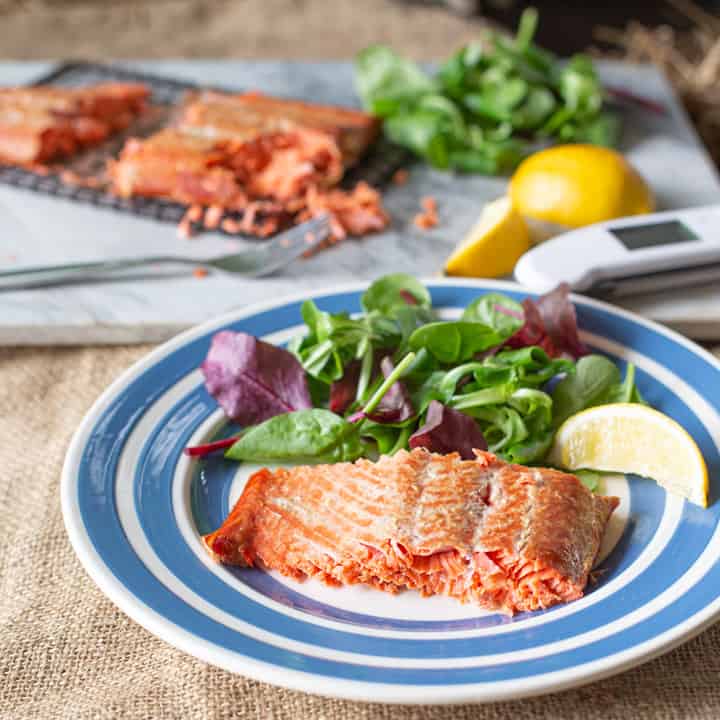 Hot Smoked Salmon Recipe: 'How to' summary
Here's a quick look-up for how to hot smoke salmon at home: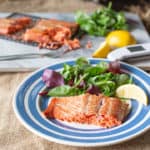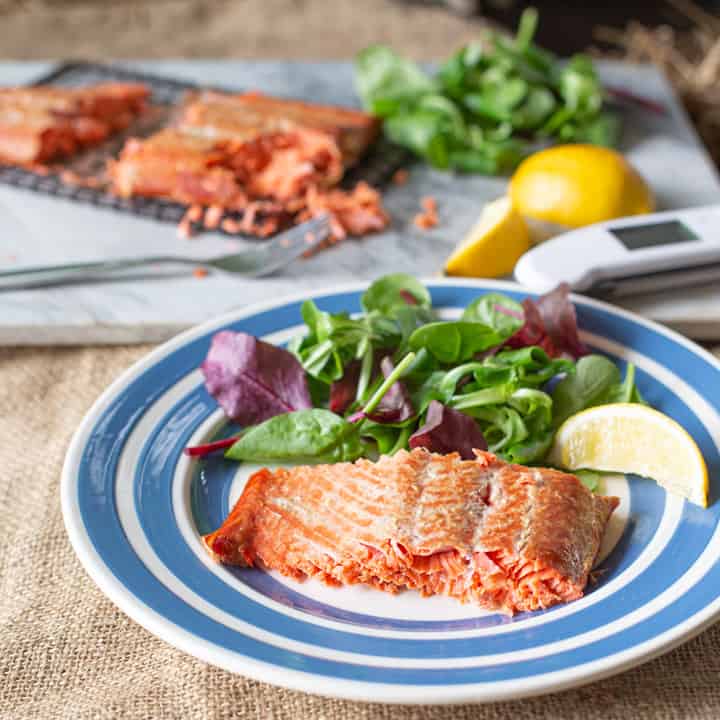 Hot Smoked Salmon
Preheat smoker and soak wood chips
This Hot Smoked Salmon recipe is a quick and easy recipe for smoking salmon with no brine.

Keyword:
hot smoked salmon, hot smoking fish
Instructions
Fire up your smoker or BBQ.

If you want to keep the skin on you salmon, remove the scales.

If you don't want the skin, then simply peel it off prior to smoking.

Place the salmon on a wire rack that's small enough to fit on your smoker shelves.

You can place the fish directly on the wire racks of the smoker, but I found it stuck. To avoid this you may wish to place it on a small piece of foil, or oil the underneath of the fish first.

Close the smoker lid, and place a handful of hazel wood chip on top of the coals.

Depending on the temperature of your smoker, a single fillet of salmon may be ready in as little as 20 minutes, whereas the large piece I was using took 50 minutes.

Check the internal temperature at the thickest part of the fish with a thermometer.

You are looking for a minimum of 60'C.

Remove from the smoker when at temperature, and let rest for a few minutes whilst you prepare your salad or sides.
Huge thanks to Thermapen for sponsoring this recipe and ensuring I had a delicious lunch! As always all thoughts (and leftovers!) are my own.
Jane x