These honey lemon pepper wings are such a delight, both to make and to eat!
Serve them with beer for game night, or side salads and fresh bread for a cheap and easy dinner.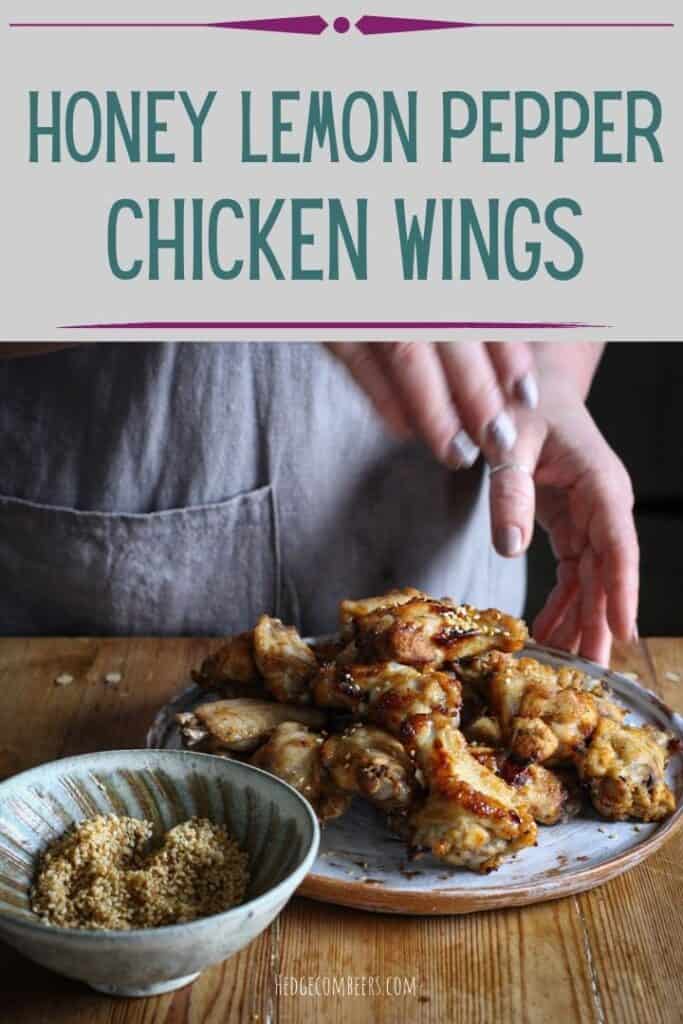 How to make honey lemon pepper wings (from scratch)
These chicken wings couldn't be any easier to make! Simply toss them in the marinade and bake in the oven!
You can find the full recipe below, with both metric and US measurements (just to toggle to the one you prefer within the recipe card).
But for my more visual readers, let me walk you through each step.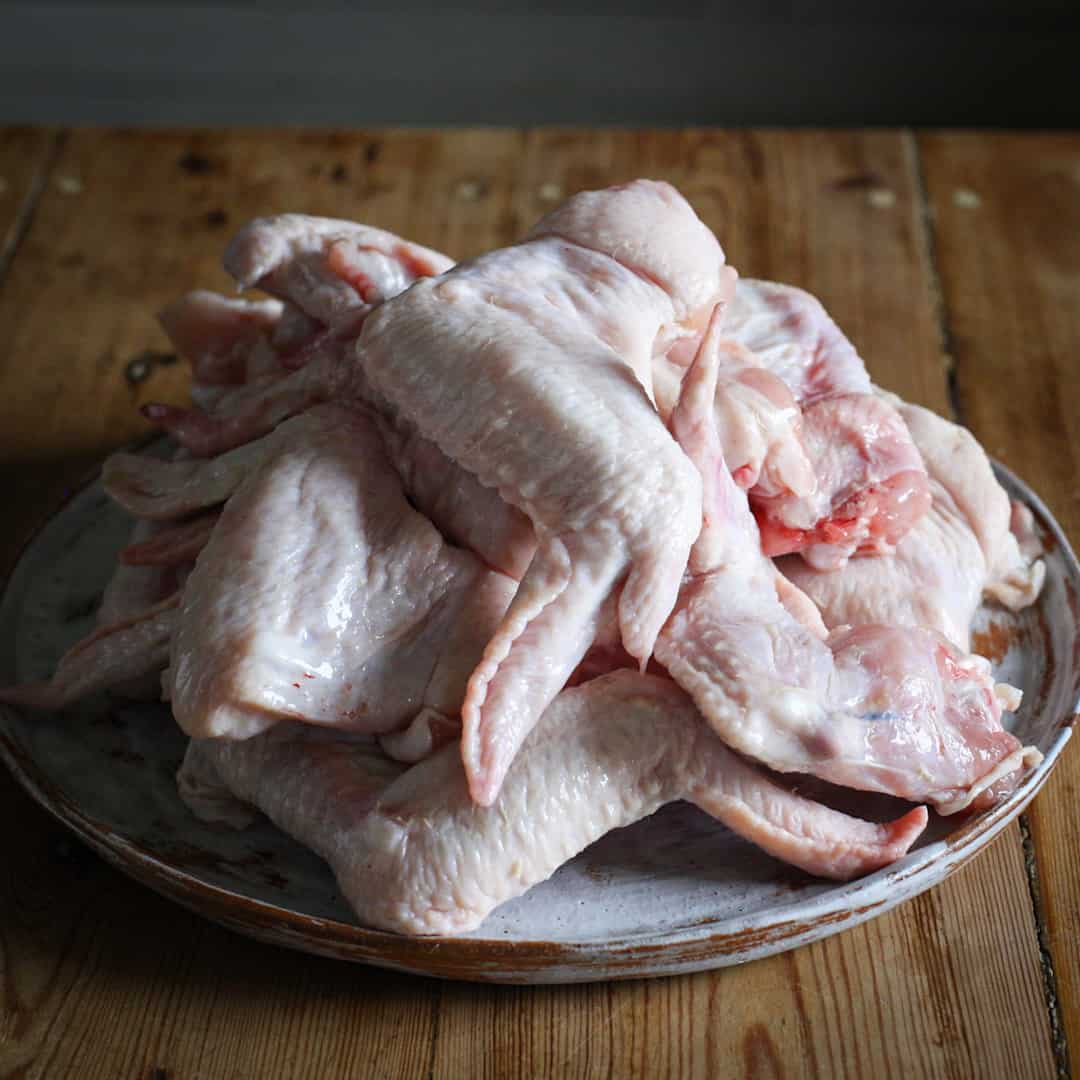 1/ chop up the chicken wings (optional)
I don't usually bother with this step but thought I'd give it a go. And now friends, I am convert!
Breaking them down into smaller pieces makes them much easier to eat, and they cook ever so slightly quicker too.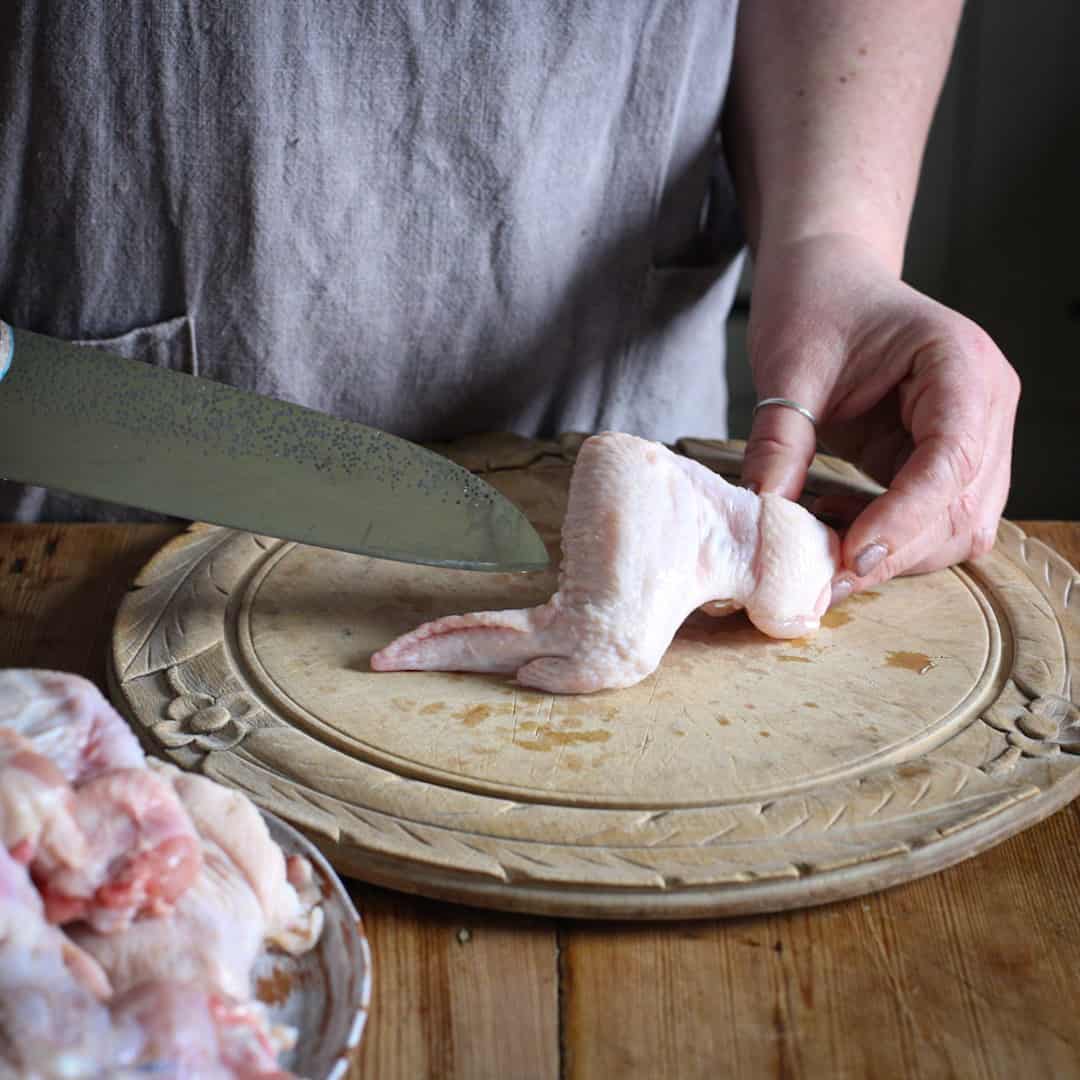 Place a wing on a chopping board and grab a heavy, sharp knife.
Open the wing out and you'll have two joints to cut through. This will leave you with three individual pieces of each wing.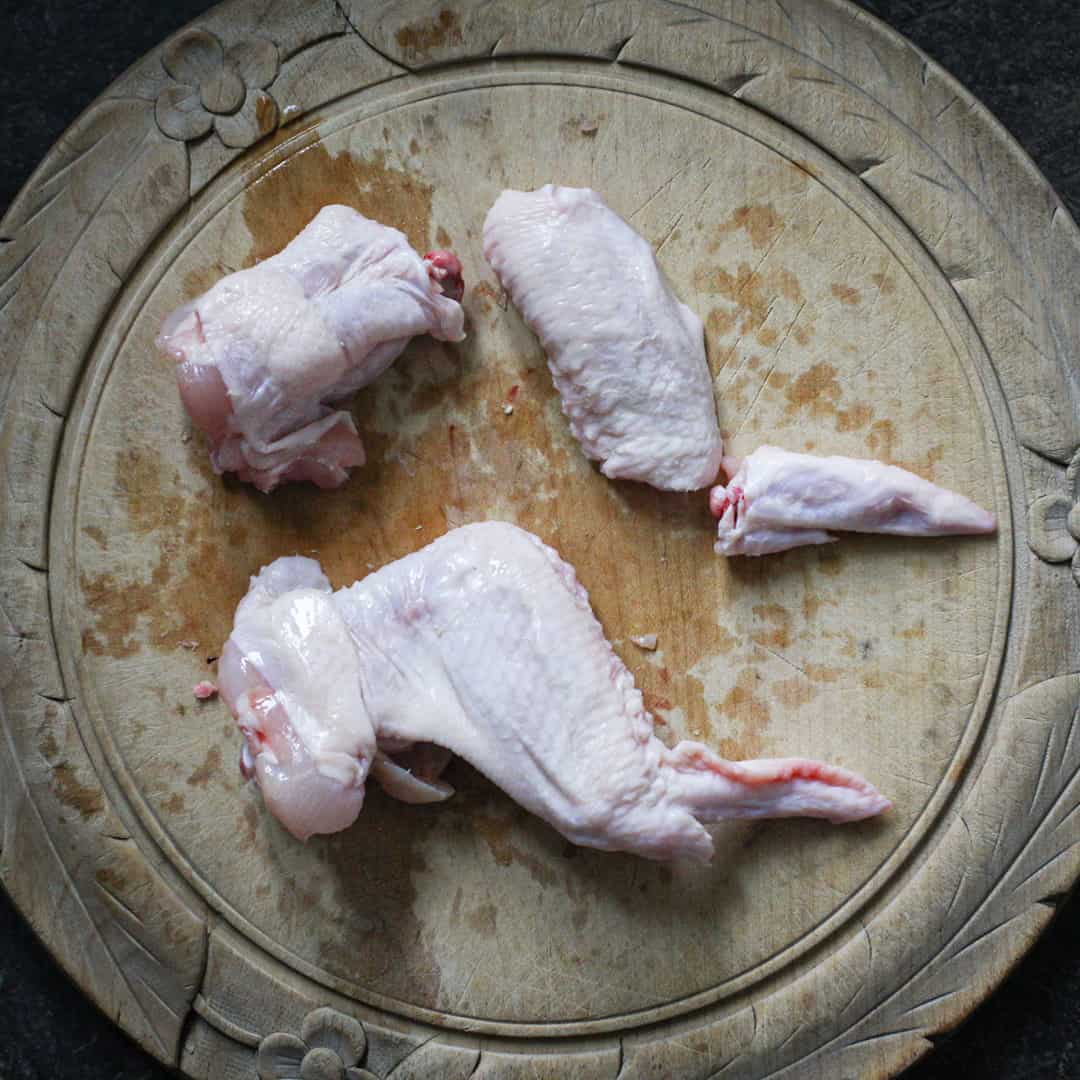 To cut through the joint, bend each joint back on itself which will pop each joint open.
Use the knife to cut through the tendons and skin that are left holding the joint in place.
You don't need (or want!) to cut through bone.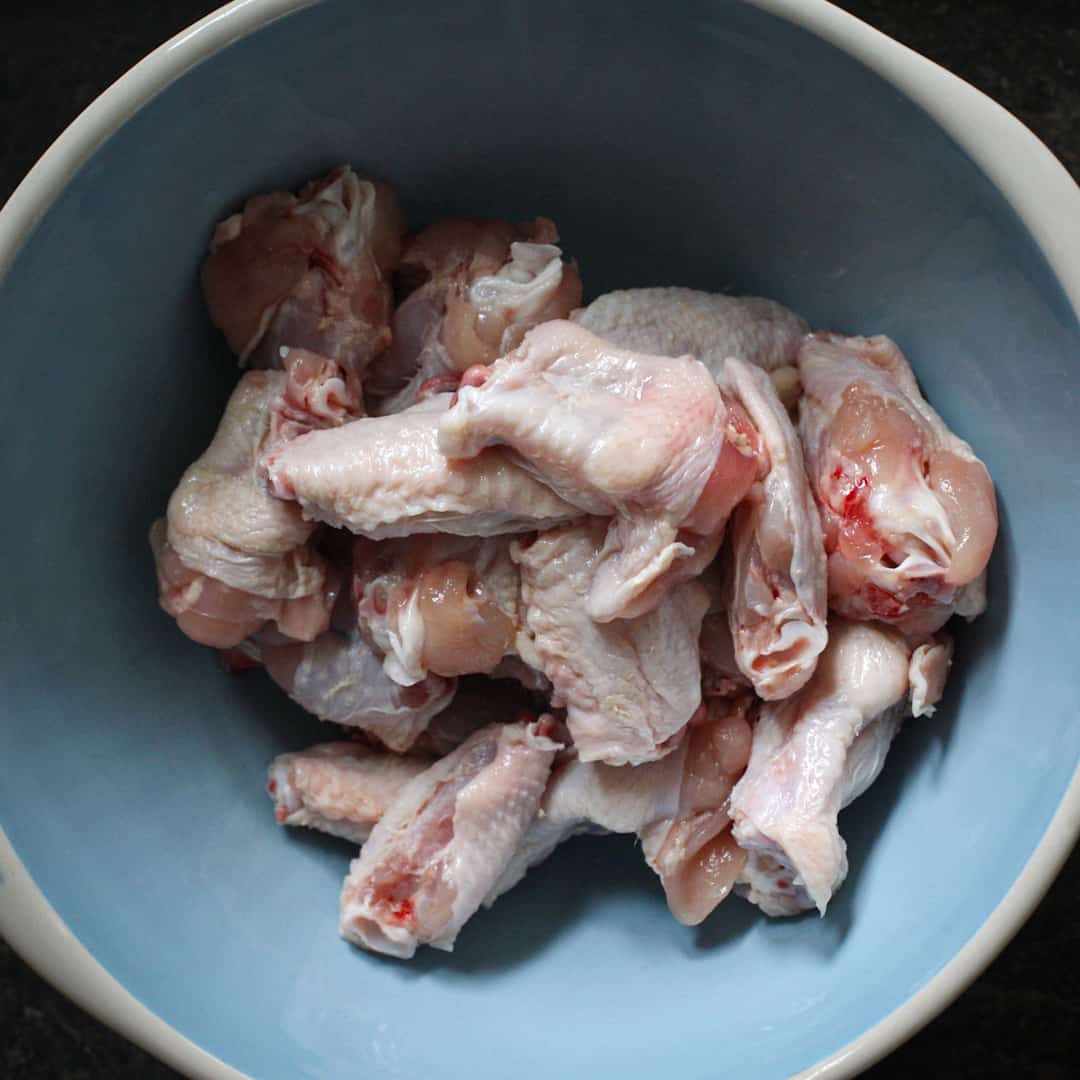 Place the two bigger pieces into a large mixing bowl.
As for the tiny little wing tips, you have a choice.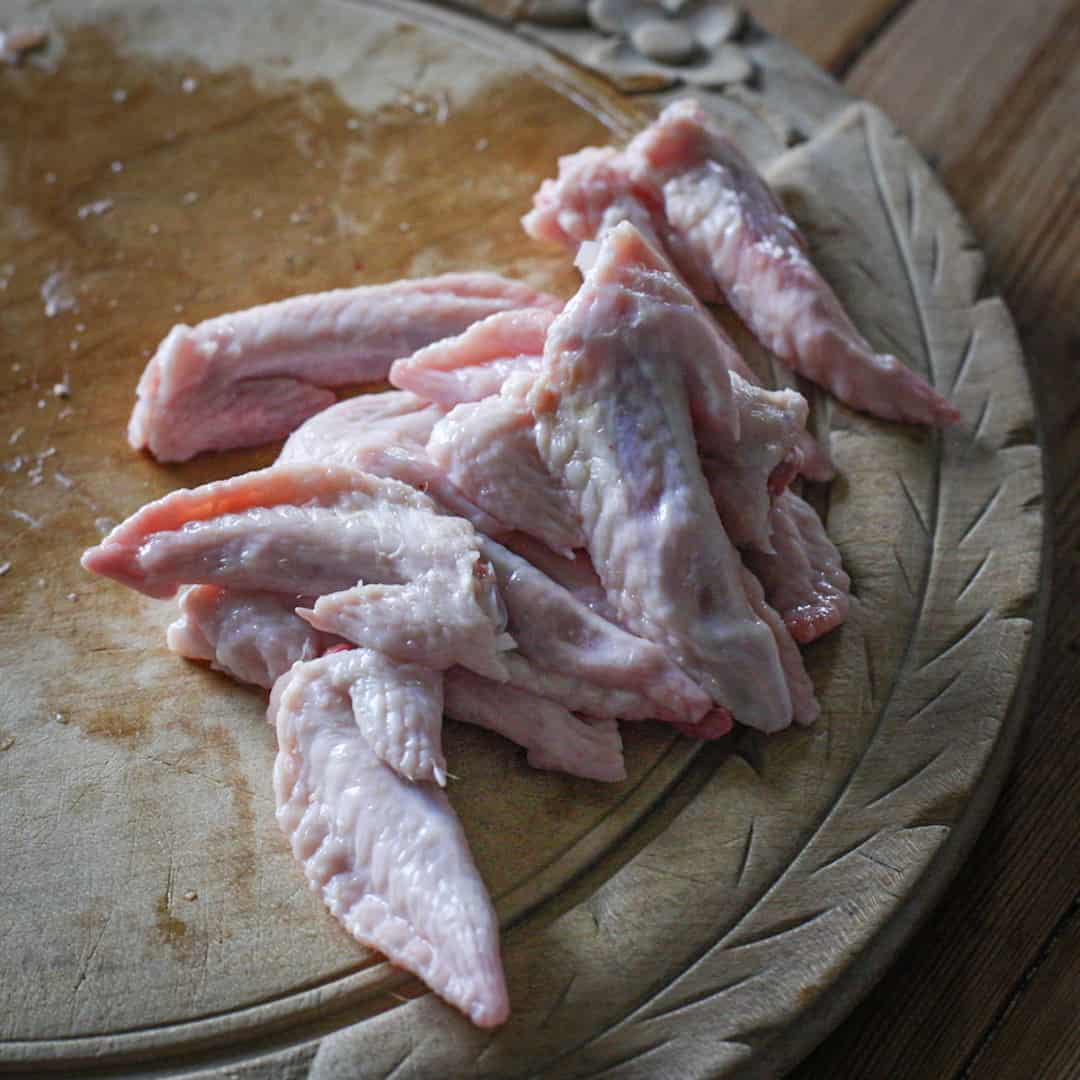 You can absolutely include them in the recipe and have little nibbly bits to chew on.
Or, what I like to do, is place them in a freezer bag and freeze them for later.
They add little bit of flavour and nutrition to a homemade stock.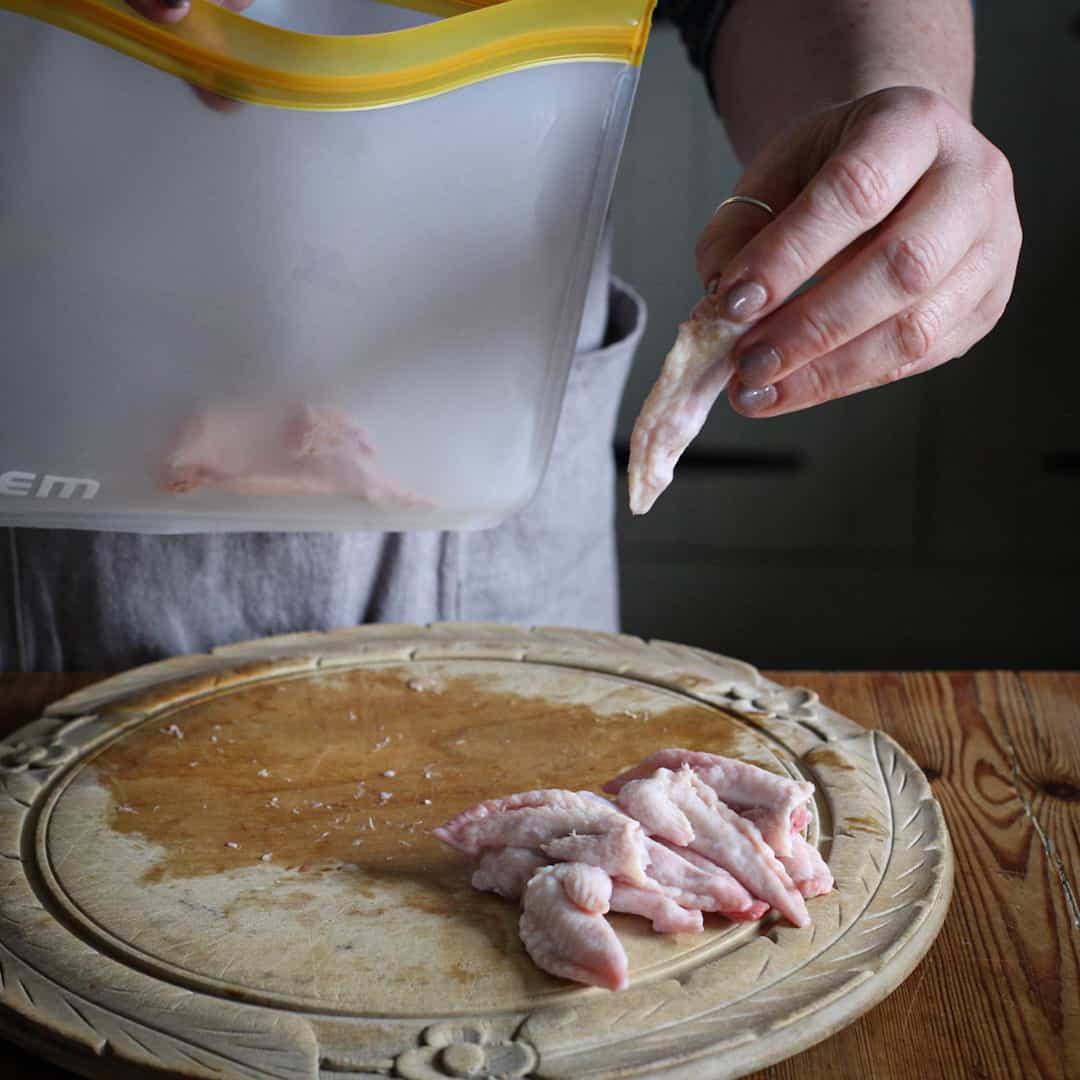 2/ make the honey lemon pepper marinade
This quick marinade couldn't be easier!
First, juice your lemon. I like to roll it firmly on the worktop with the heel of my hand before squeezing.
This makes it a little bit more juicy!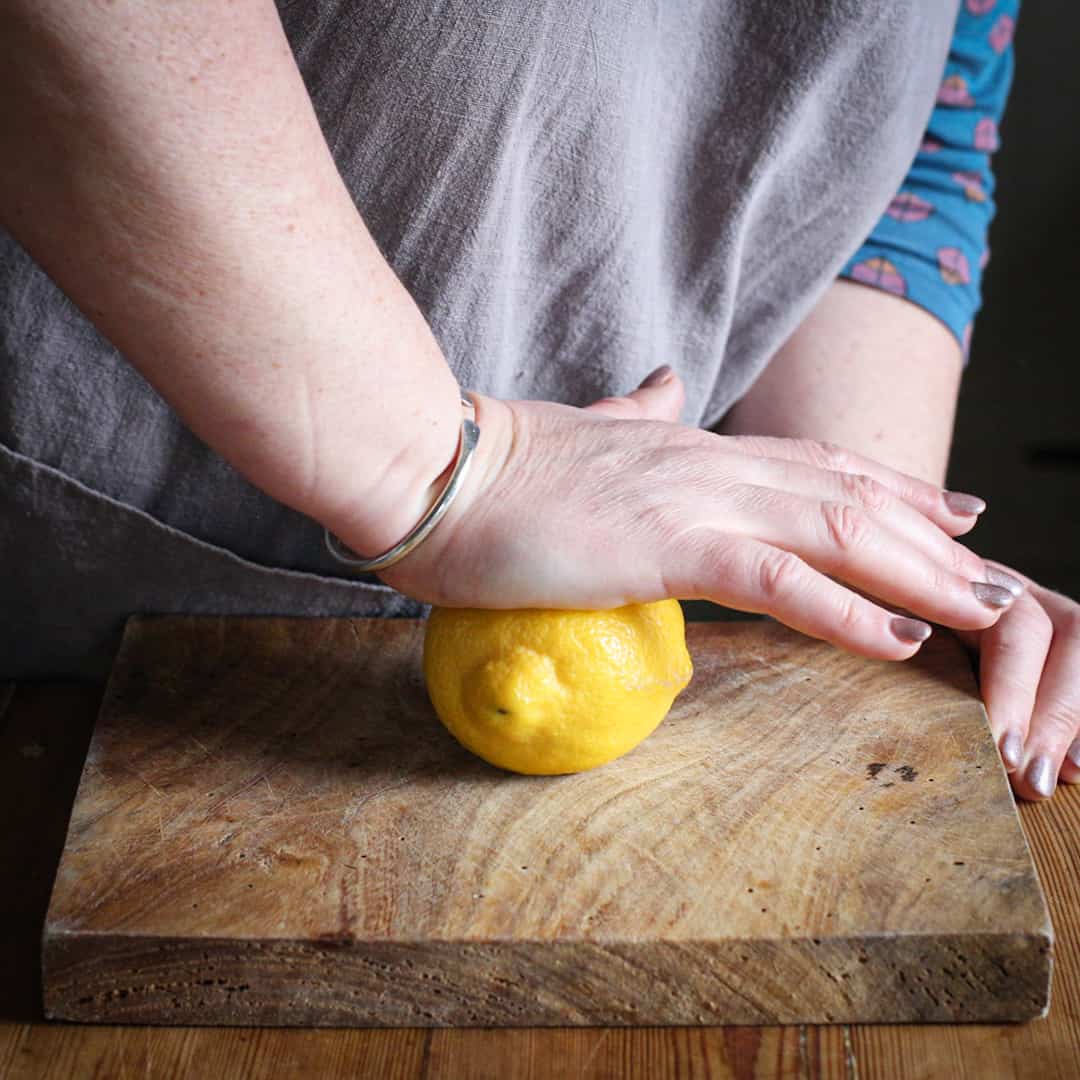 Then zest the lemon.
I actually used the smaller of the 'cheese grater' holes rather than the tiny 'zesting' holes on my grater.
This was so I could get just a little more flavour in my marinade.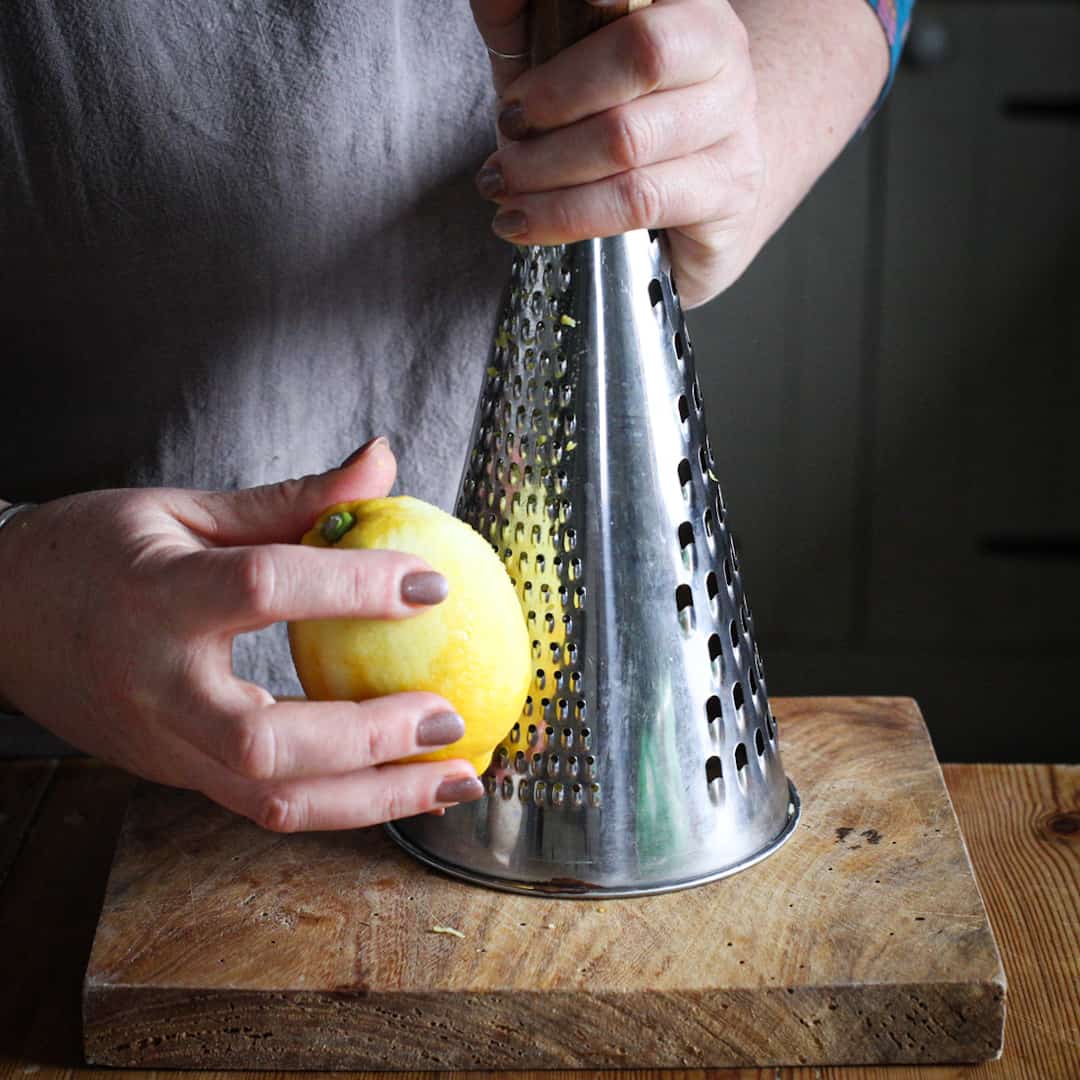 And finally, squeeze out all that delicious juice.
Be sure to catch any pips before they disappear into your marinade!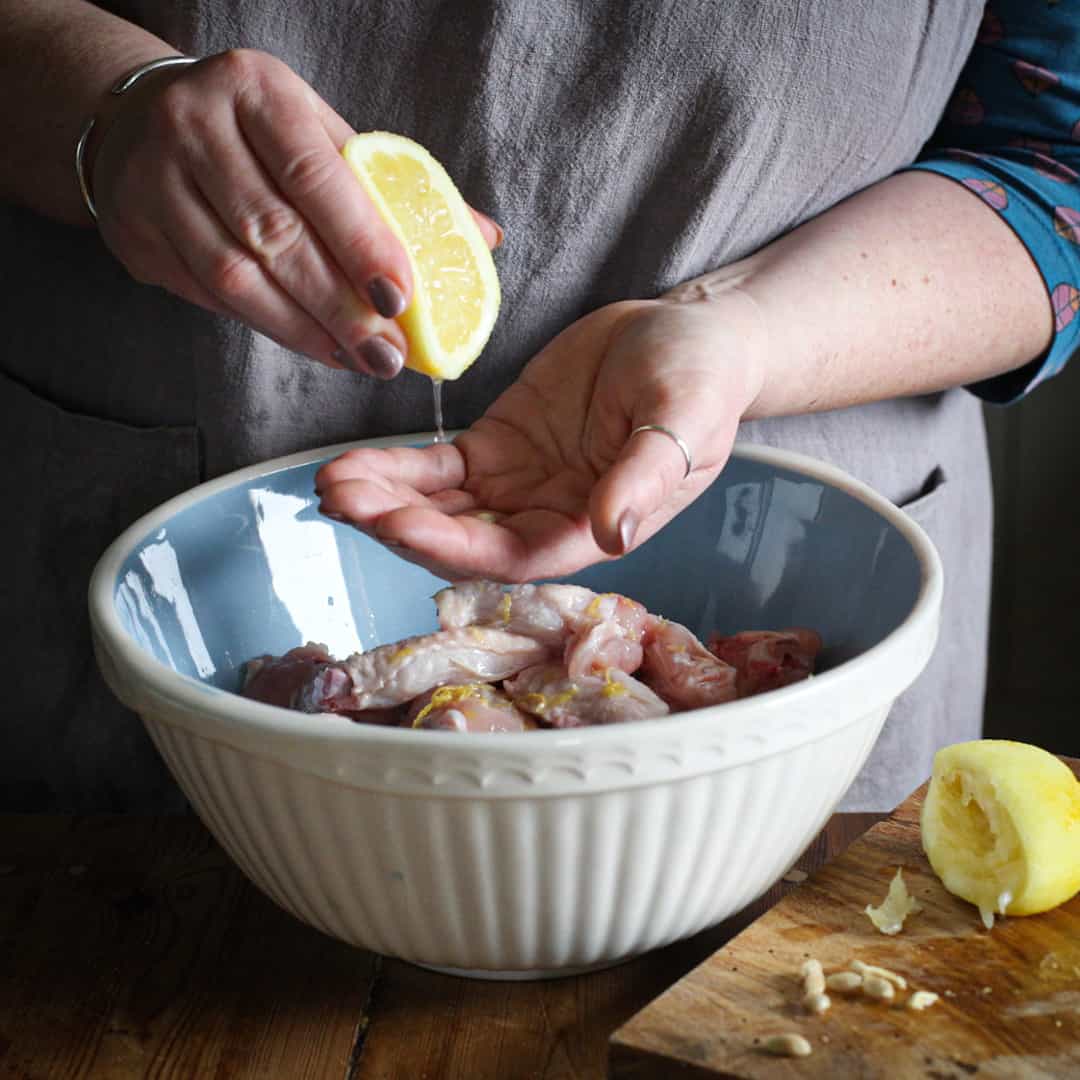 Next up, add the white pepper.
You could use black pepper if that's all that you have.
But I would recommend you grind it up finely so that you don't have chunks of pepper in the finished dish.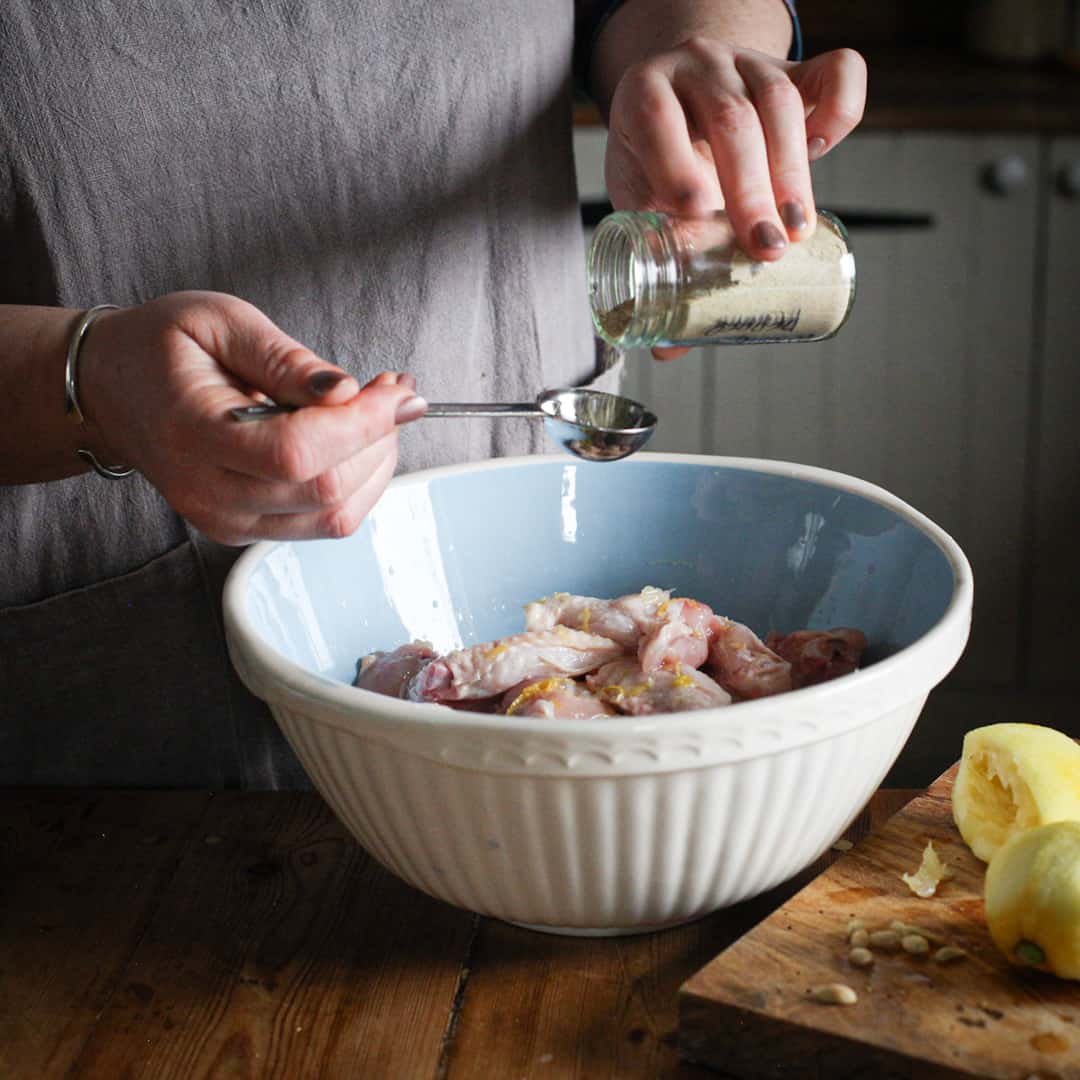 Next, add in the honey.
Ideally it will be a runny honey as that will combine most easily with the other marinade ingredients.
However my kitchen was cold so my runny honey had started to set and this is all I had to work with!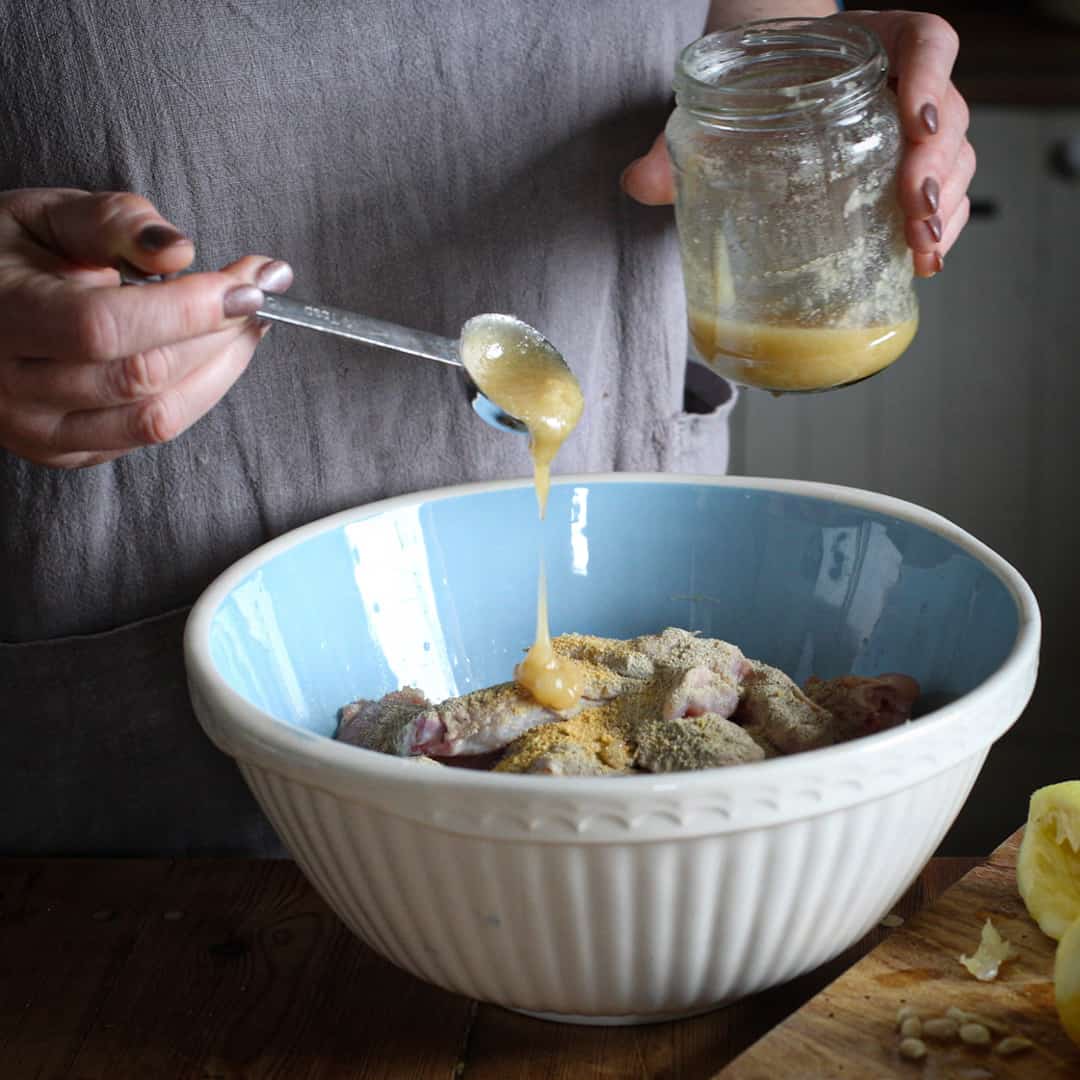 And the last marinade ingredient is Sriracha which is a relatively mild sauce made from chilli peppers.
Used in the amount listed in the recipe below, you won't get a real heat hit from this.
But you could of course add more, or swap it out for your favourite hot sauce if you prefer.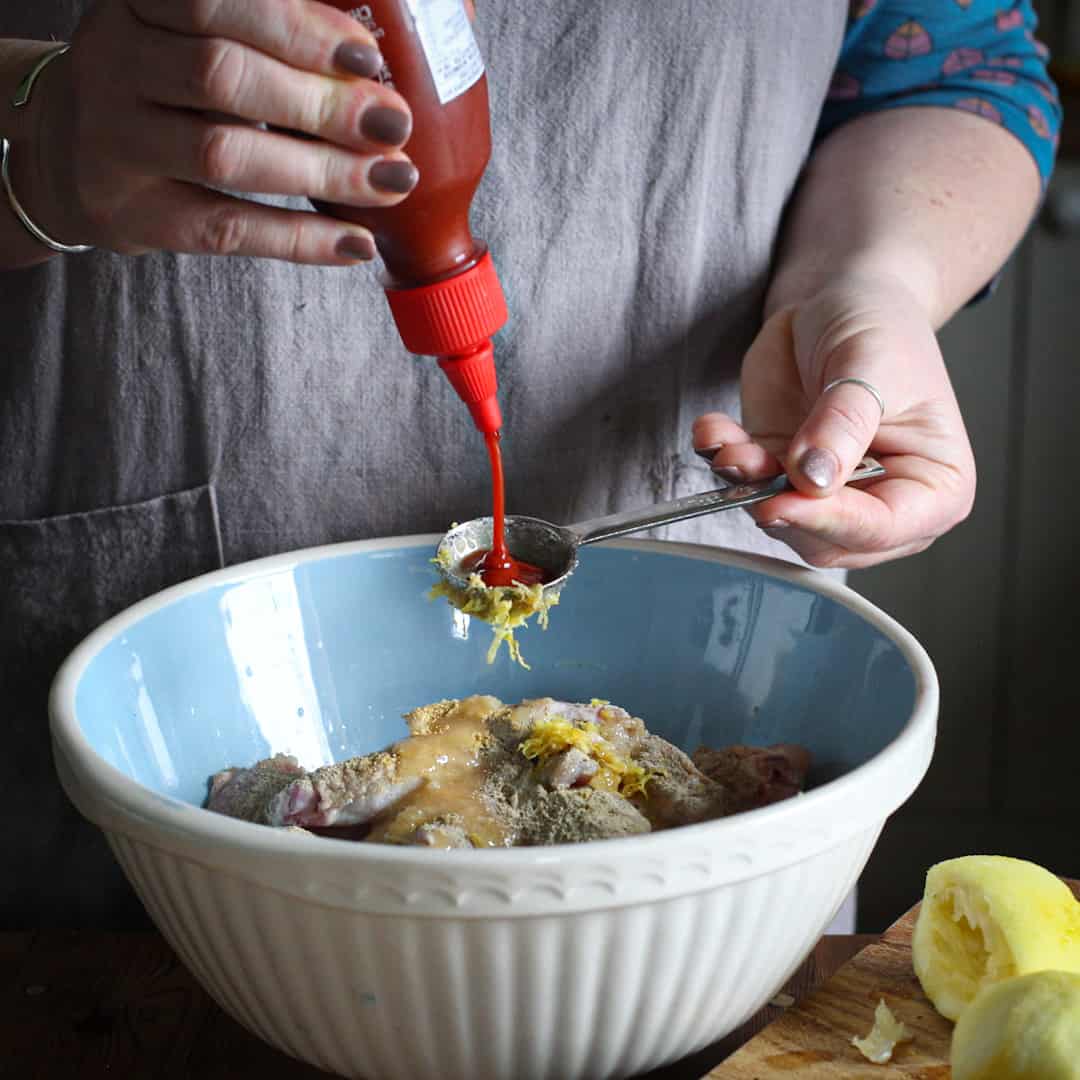 Once all your ingredients are in the bowl, give it a good stir to mix the flavours together.
And yep, I prefer to use my hands for this!
Feel free to use a large spoon if this freaks you out :)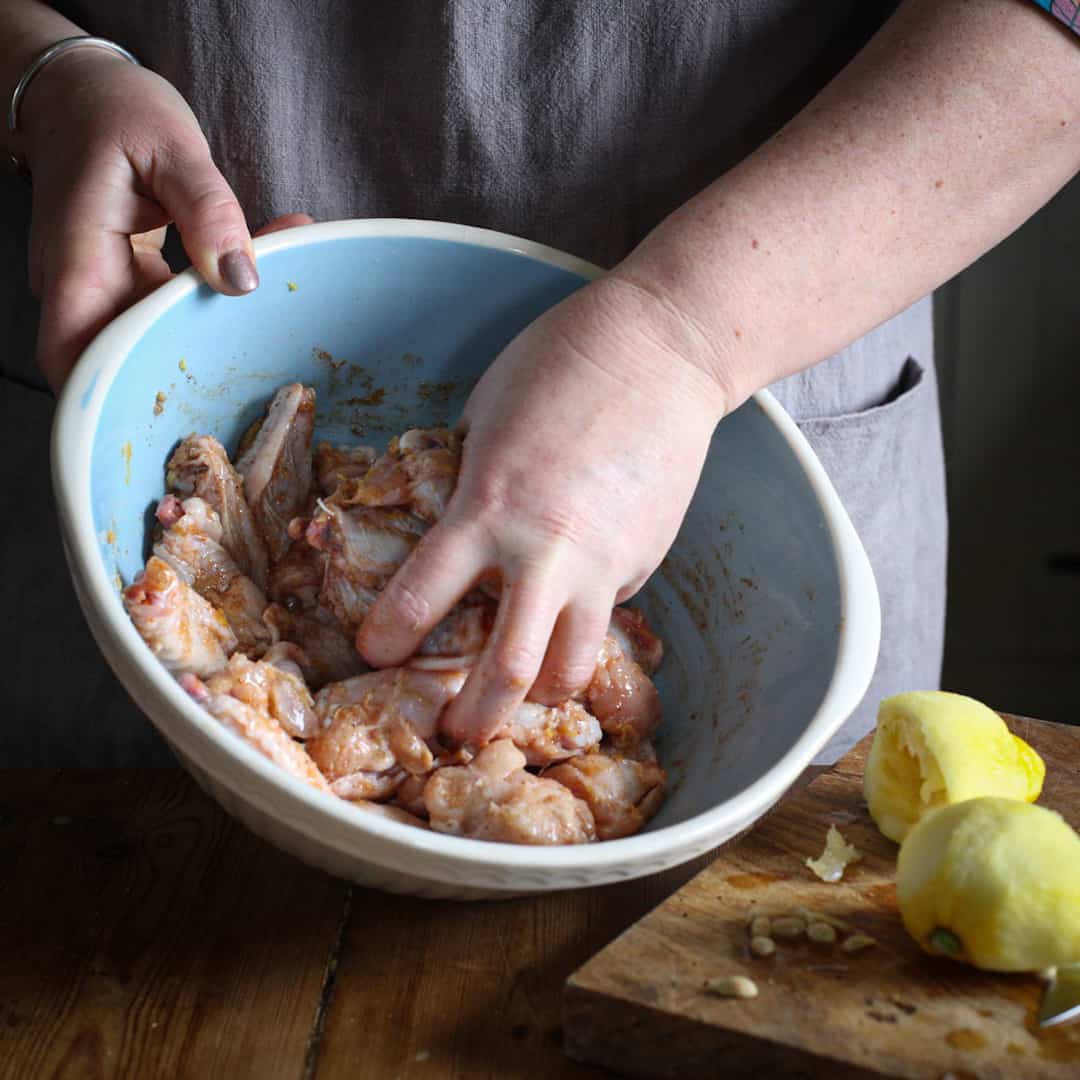 3/ bake your chicken wings!
And now, tip your wings out onto a baking sheet.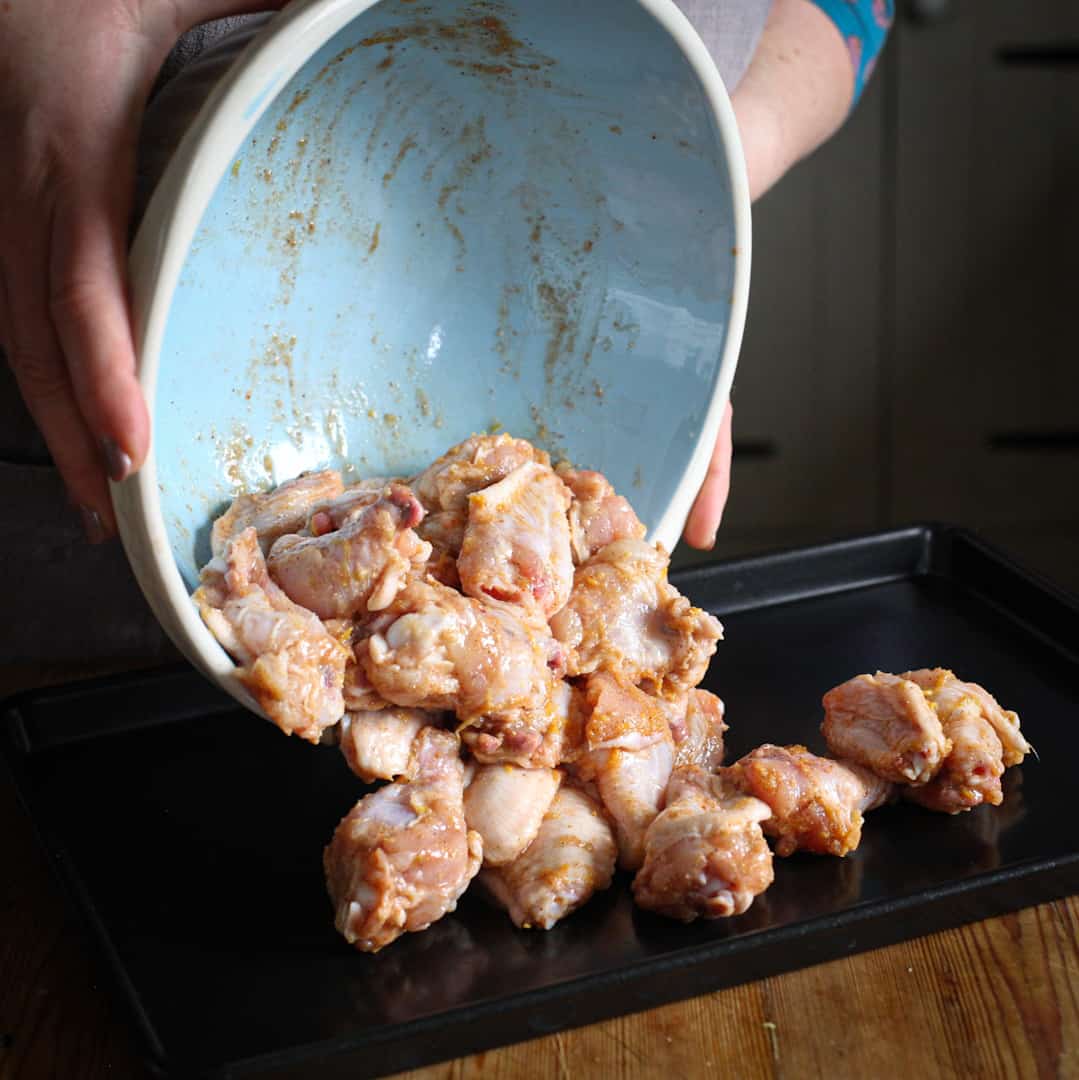 Nudge them around the pan until they lay in an even layer.
Scoop out any sauce left in the bowl and wipe over the chicken.
Then pop them in a preheated oven.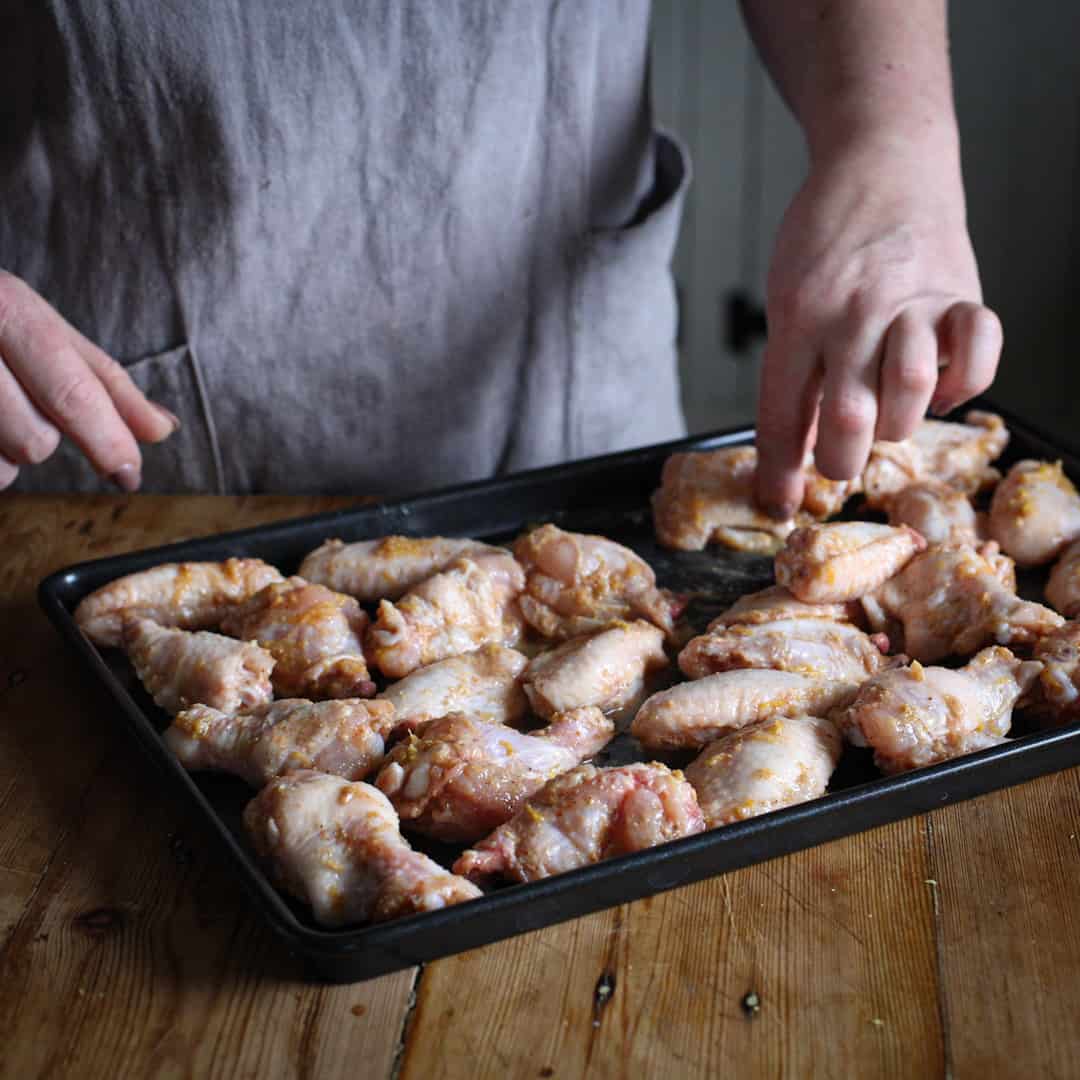 Bake them for around 45 minutes, or until the internal temperature reaches 74C (165F) or above.
If you like your chicken wings a little crispier, feel free to leave them in a little longer.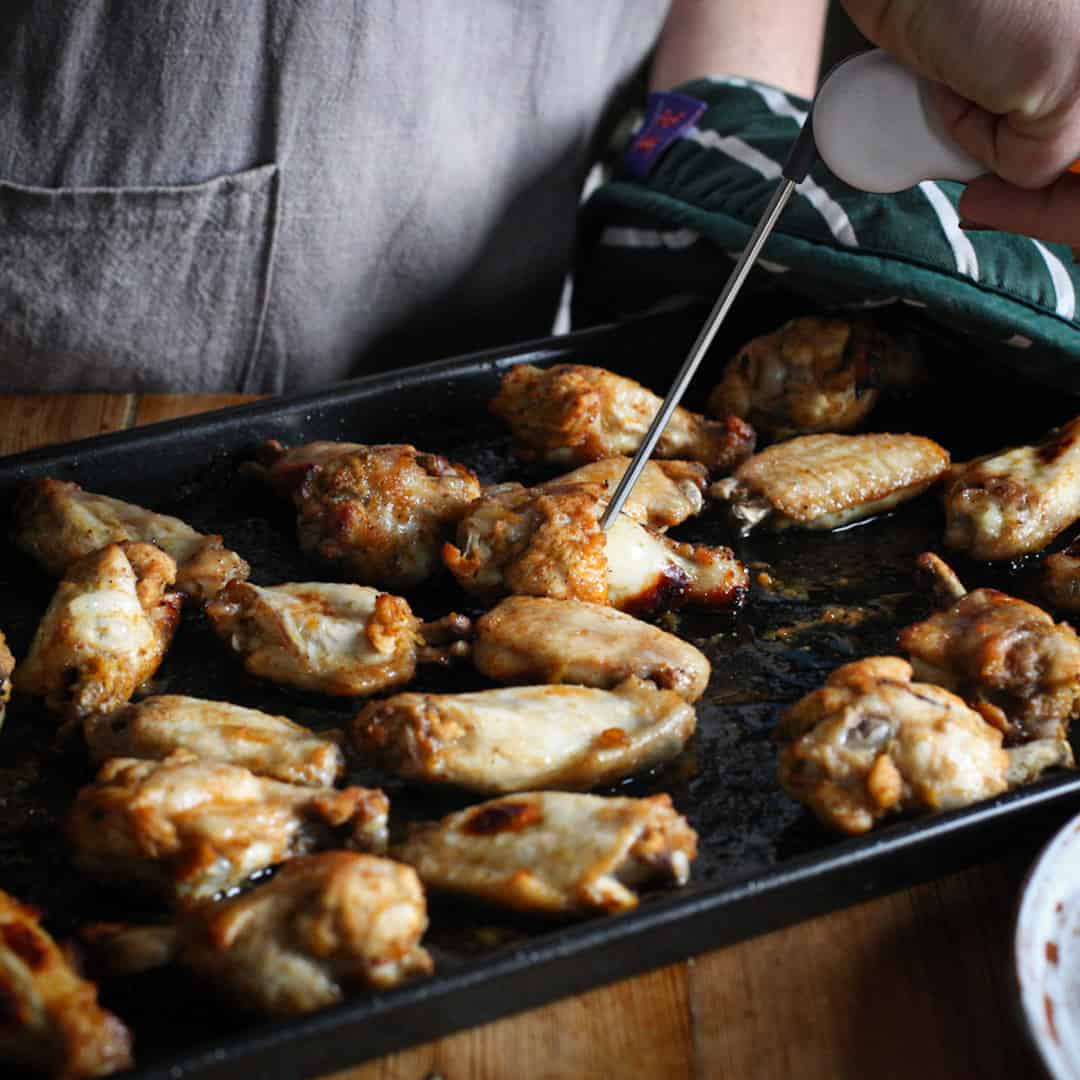 And there you have it!
A delicious pile of honey lemon pepper chicken wings for you to indulge in!
Let me know if you have any questions down below.
And feel free to tag me in any pics you share of this, or any of my recipes online!
You can find me pretty much everywhere as @hedgecomber.
I try to share all the pics I see :)
Jane x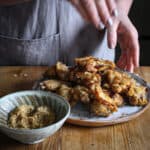 Honey Lemon Pepper Wings
These honey lemon pepper wings are such a delight, both to make and to eat! Serve them with beer for game night, or side salad and fresh bread for a cheap and easy dinner.
Keyword:
honey lemon pepper wings
Ingredients
marinade
2

tbsp

honey

- runny honey is ideal

2

tbsp

soy sauce

1

tbsp

sriracha

- or other hot sauce, to taste

1

tbsp

white pepper

1

tsp

garlic powder

1

lemon

- juice and zest
Instructions
butchering the chicken wings
If you would like to cut your wings into smaller, easier to eat pieces, please see the step by step photos above that walk you through the easy process.

However, if you'd like to keep each chicken wing intact, just skip this step.
marinading the chicken
Add the chicken pieces to a large mixing bowl.

Add each of the marinade ingredients to the bowl, then use your hands to mix everything together.

You're aiming to coat each piece of chicken in an equal amount of flavour. So don't be shy with the mixing!

If you're making this ahead of time, cover the bowl with a lid or plate, and refrigerate for up to 12 hours.

If you want to cook your wings straight away, keep going…
cooking the chicken wings
Preheat the oven to 200C (400F)

Lay the wings out onto a baking tray. Jiggle them around a little so none are overlapping.

Use a silicone brush to mop up any leftover marinade from the bowl and spread it on the chicken pieces.

Place the tray in the preheated oven and cook the chicken pieces for 45 minutes or until the internal temperature reaches 74C (165F).
to serve
Preheat a frying pan, then when hot, add the sesame seeds to toast.

Keep them moving as they'll burn easily.

When the majority are golden brown, remove from the heat and use them to scatter over the cooked chicken wings.
Nutrition Facts
Honey Lemon Pepper Wings
Amount Per Serving
Calories 752
Calories from Fat 423
% Daily Value*
Fat 47g72%
Cholesterol 208mg69%
Sodium 1378mg60%
Potassium 612mg17%
Carbohydrates 29g10%
Protein 54g108%
Vitamin A 420IU8%
Vitamin C 36mg44%
Calcium 140mg14%
Iron 5mg28%
* Percent Daily Values are based on a 2000 calorie diet.