Here's my honest Eufy Robovac 11 Review. No flannel, no fluff. Just me on a mission to find out… are Robotic Cleaners worth it?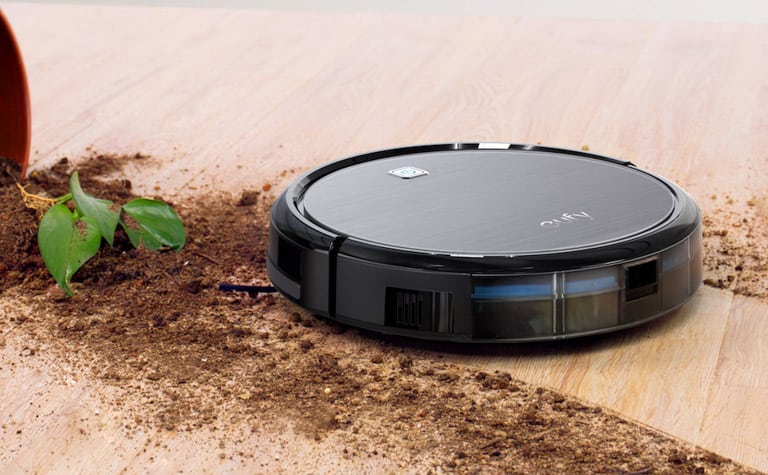 I get offered plenty of products to review here on hedgecombers.com, but as I'm a recipe site rather than a review site, I generally ignore said invites. However a couple of weeks ago I was contacted by the makers of Eufy RoboVac 11. They obviously caught me in a moment of procrastination as I couldn't help but clicking on the Amazon link to read the reviews.
We all know that Amazon reviewers are honest to a fault, so I was expecting the usual polar extremes of ratings. And sometimes those scathing reviews are beyond hilarious, but I instantly fell down a rabbit hole of glowing reviews. For a robot cleaner. Eh?!
Now at this point it's worth pointing out the following facts:
I live on a farm
with a builder
and a cat
and I'm real messy in my day to day cooking adventures
Which means our floors are always filthy.
I hate dirty floors but I appear to hate cleaning more. Sigh. I aim to vaccuum and mop our hardwood floors (with bleach) every Sunday, and sweep throughout the week as necessary. But I'm more than happy to forgo this weekly ritual if something more interesting comes up. And trust me, that bar is set pretty low.
So, in a majorly selfless act, I decided to snap up the opportunity to review this piece of gadgetry on behalf of you all. Ahem.
Eufy RoboVac 11 First Impressions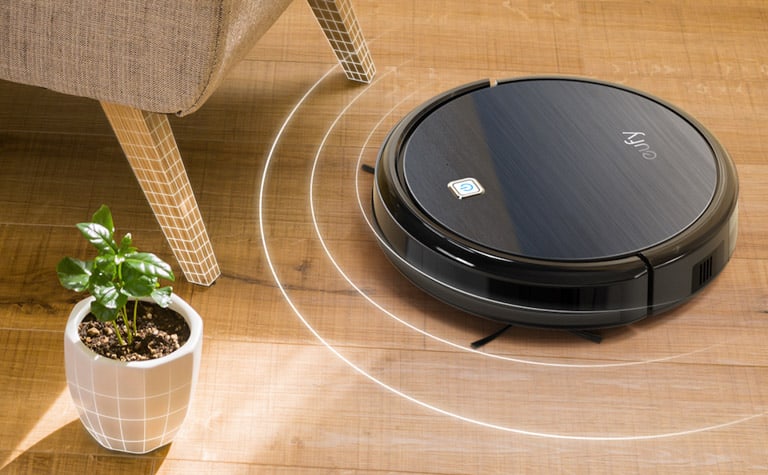 A few days later my review Robovac turned up. First thing I noticed was the lack of plastic packaging – in fact, around 95% of the packaging was cardboard which went straight into the recycling. Good job guys!
I'm not one for reading instruction manuals (much to Jonny's dispair), but in this instance there was no need as a single button press had Robovac whirring into action. Its path around our single story house was pretty random, but by the time he'd worn himself out and gone back to recharge, my floors were practically glowing. It seemed to suck up everything in its path, from stray cat biscuits to small feathers blown into the kitchen from my ducks. Cat hair, dust, grit and bits of straw all got gobbled up. I haven't found anything that he couldn't suck up as yet. I will update this if I do!
Our floors are wooden and it left them practically gleaming. It got underneath the dresser (a place I couldn't get with my upright), and the little side brushes reached into crannies my upright hoover didn't even know existed.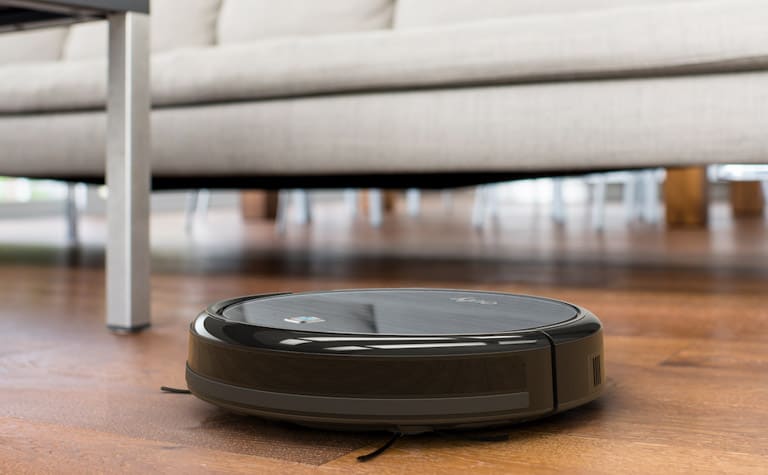 Apparently it has sensors so if you have steps it won't fall down them. It'll also skim over any bumps, ridges, rugs or carpet strips in its way no problem. Apparently it works on short pile carpets too, although I can't attest to that.
How does the Eufy RoboVac 11 Recharge?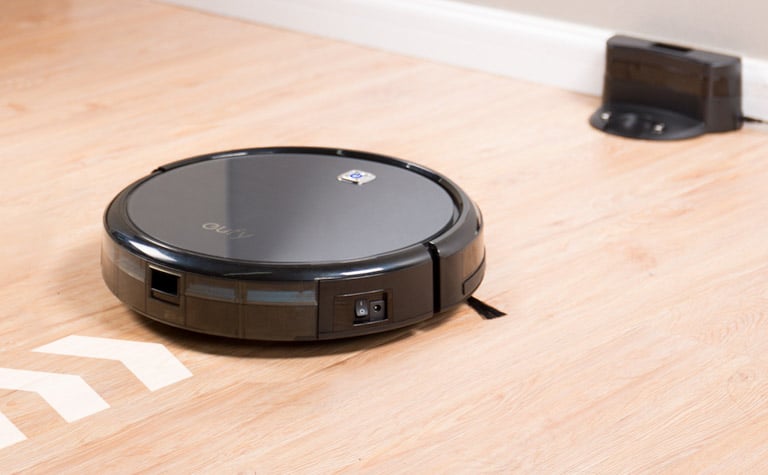 A very clever trick Robovac has is to know when the battery power is getting low, and find its way home to its docking station to recharge. This works on infrared, or sorcery or something, and is an absolute blessing. The ONLY action you need to take to get clean floors is to press a single button (which works with your foot too, so you don't even need to bend down). It cleans, buffs and goes to bed all under its own steam.
That said, the battery has this little guy working for 1.5 hours. So unless you live in a manor house, it should get to most of your nooks and crannies before running out of steam.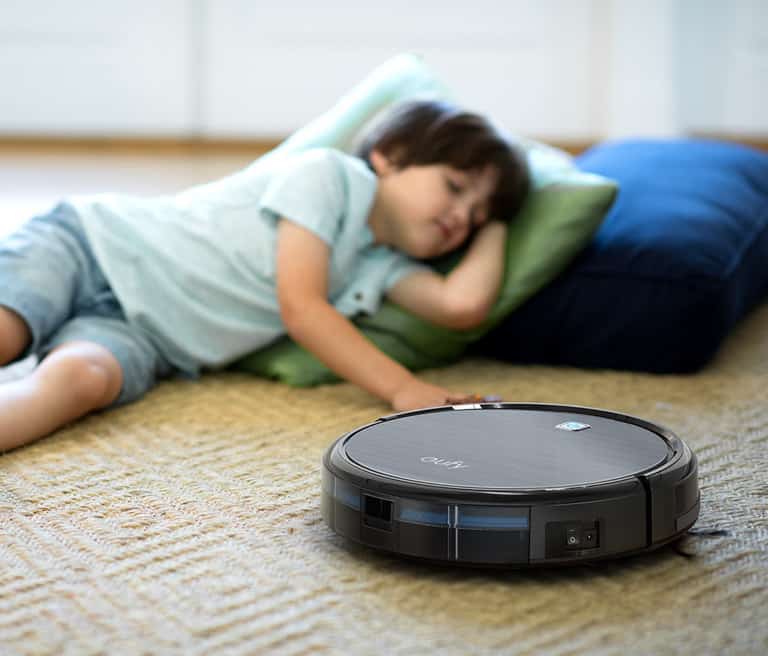 How to Empty the Eufy RoboVac 11
It's DEAD easy to empty. In fact, that's one of my favourite things about the Robovac, as my upright hoover is such a pain to empty and leaves me feeling filthy. This thing has a small box in the back which simply slides out and tips upside down into the compost bin a treat. It can be a bit dusty so I would recommend doing this outside, but it's a much cleaner experience than any bagless vaccuum I've ever used.
The dust box is small, but even in our busy farm kitchen I only need to empty it once a week or so.
Eufy RoboVac 11 downsides
So far there's only one. My cat is terrified of it. But as Jonny points out, she used to be terrified of the hairdryer, dishwasher, washing machine and anything else that makes a noise in her house. So hopefully in time she'll come to appreciate the Robovac almost as much as me.
And maybe I'll even get her to ride on it in true cat gif style.
Conclusion
Honestly, what I originally assumed was a total gimmick has me highly impressed. I would have struggled to part with £200 for a robot floor cleaner. However, I have no doubt that if this little fella ever gives up the ghost, he will be replaced in a nanosecond. I cannot tell you how much I love having clean floors, without having to so much as plug a hoover in.
For people that have mobility issues, a robotic cleaner would make an awesome gift. Also for those that are time poor, that have their hands full with a young family, or those with lots of hairy pets. Even my one little short haired cat produces an alarming amount of tumbleweeds. But happily these are now a thing of the past.
And now I'm just waiting patiently for them to bring out a RoboMop, RoboCatLitterEmptier and especially a RoboDustbinTakerOuterer.