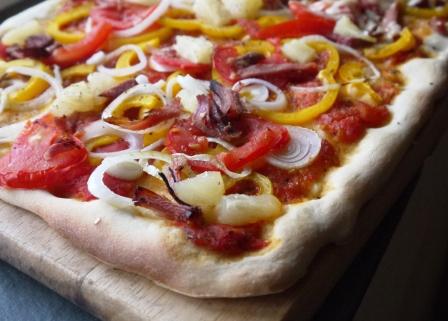 I've never made Pizza from scratch before, and I had no idea it would take so long. Overall, I reckon it is worth the effort, but only on a day when there isn't much else on!
My half had to remain cheese free, sigh, as dairy has become my nemesis. But the pile of veggies, home reared ham, pineapple & sultanas almost made up for it!
The dough recipe I pinched from the Baking Mad site and quite frankly, it can't be improved upon.
This recipe makes 3 pizzas, which has left my freezer a little fuller and my evenings a little easier this month.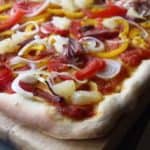 Pizza Sauce
Ingredients
2

cans of tomatoes

or equivalent in fresh tomatoes

1

chill

chopped

1/2

teaspoon

smoked paprika

4

garlic cloves

A dash of Worcester sauce

For the sauce

gives the sauce a piquant meatiness. Adding fried smoky bacon would do the same, I simmered a pan full of skinned fresh, chopped tomatoes for a couple of hours until they had reduced by about half. I then added a chopped chilli, 1/2 tsp of smoked Paprika , several garlic cloves and a dash of Worcester sauce. Simmer this until it all becomes a little syrupy.
Instructions
If you're using fresh tomatoes, skin them first by placing them in a bowl of freshly boiled water for a minute, scooping them out with a slotted spoon and plunging them into a sink or bowl of cold water. When cool enough to handle, slip their skins off and cut into chunks.

Empty the fresh or canned tomatoes into a pan, bring to the boil then leave to simmer gently for at least an hour, ideally two.

When they have reduced by half, add in the other ingredients letting simmer for around 15 minutes or until the sauce is looking thick, glossy and syrupy.

Use as much as you need for your pizzas, storing any excess in the fridge or freezer.