This Harissa Roast Salmon is a cheeky little number that will elevate a piece of fresh salmon far above the ordinary. Why not double the recipe up and have the leftovers in your packed lunch the following day?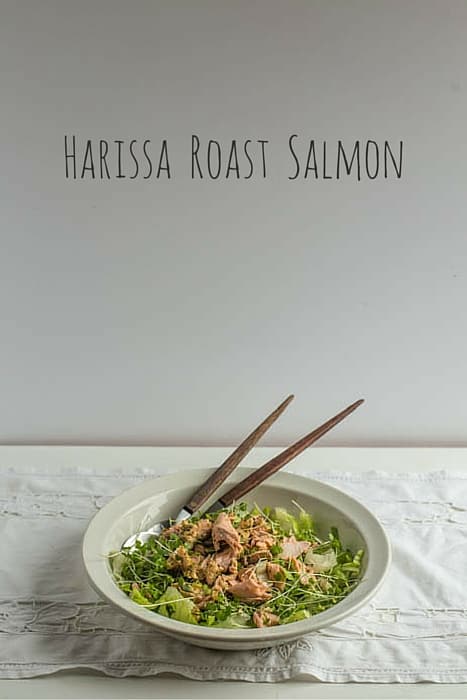 My homegrown chilli collection wasn't up to my normal standards this year with only three varieties, none of which excited me very much at all sadly. I really must learn how to overwinter the plants in the poly tunnel as last year I had nine varieties ranging from really mild (and perfect for adding lots of colour and flavour to a finished dish without wiping out tastebuds) to the crazy hot (where just half a chilli was enough to heat an entire dish), but they all died in the long cold months.
Anyone have any tips for getting them through a UK winter under cover? And anyone recommend their favourite chilli variety? I am more interested in good flavour than eye searing heat ;)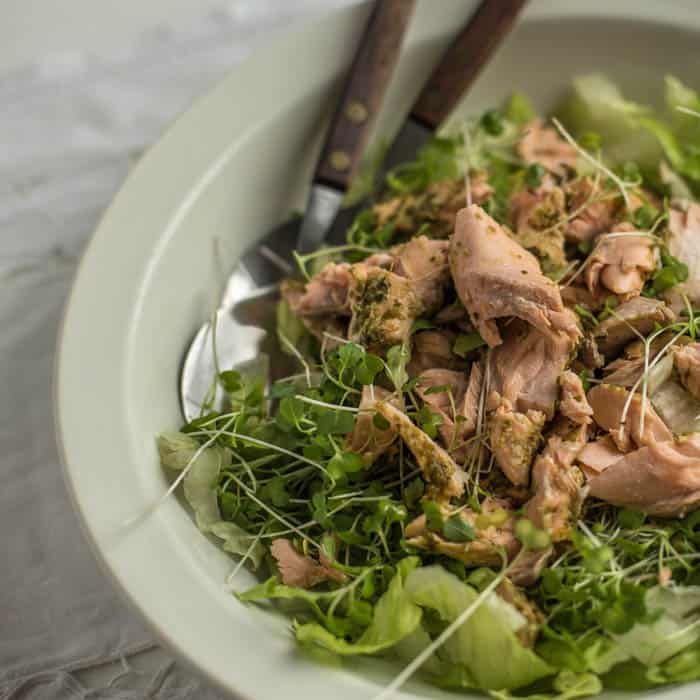 The upside of my chilli drought is that I've had to buy various forms of chilli goodness to fill the gap, and my latest favourite find is green harissa. Harissa is traditionally red due to the fiery blend of red chilli's and peppers, whereas green harissa is made with tonnes of coriander alongside the chillis and whilst I find it milder in heat levels, the flavour balance is tremendous.

Spread liberally on a piece of fresh salmon and roasted until just done gives you a juicy base, permeated with warmth and spice. Mm Mmmmm.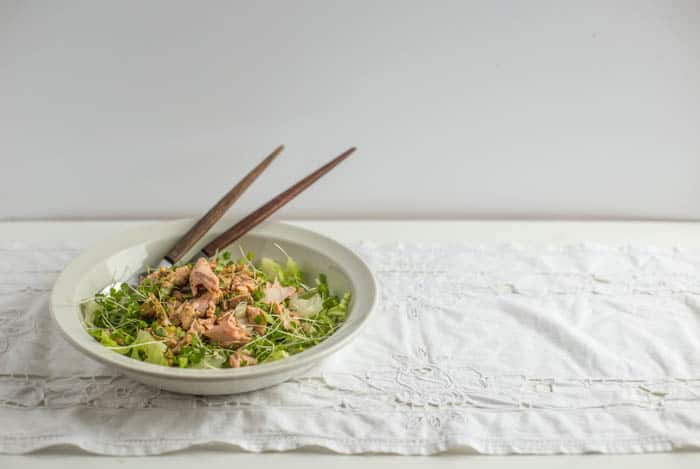 I served the salmon flaked atop quite possibly my last salad of the year. If I were making it again today I'd plump for some hot buttered potatoes and perhaps some green beans, although I can also see it working well flaked into a quiche or atop of crisp stir fry.
If you're a little concerned about the heat levels, just try halving the amount of harissa paste and mixing it with a tablespoon or two of freshly chopped coriander and a little drizzle of oil. This way you'll still get a good strong fresh flavour but the result will be tamer and more family friendly.
PS If you can only find the traditional harissa this will still be a stunning dish so go forth and roast that salmon :)
PPS don't let that leftover jar of paste go to waste, try making this stunning Harissa Baked Butternut Squash Soup #NomNom
Janie x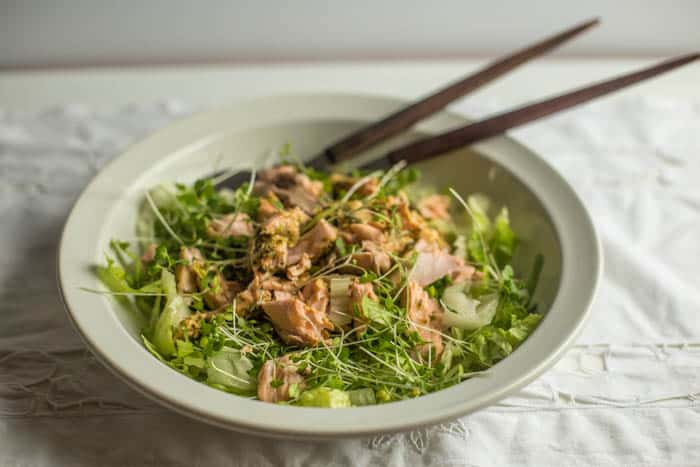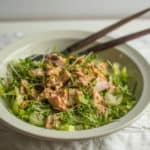 Harissa Roast Salmon
Ingredients
500

g

-600g piece of fresh salmon

or use 4 salmon fillets, reduce cooking time as necessary

1

heaped tablespoon green harissa paste
Instructions
Preheat the oven to 200/180 fan/gas 6

Place the salmon fillet skin side down onto an oiled baking sheet.

Spread the paste all over the flesh evenly, and pop into the oven for 12-18 minutes, depending on the thickness of your fish and your oven.

The way to tell whether it is cooked through is by sticking the point of a sharp knife into the thickest section and pulling gently at the meat. If it flakes easily and is an opaque, paler colour than when it was raw, it is perfectly cooked.