These ginger and lime cookies hit all the right notes! Sweet, zesty and spicy.
They are any cookie monsters absolute dream!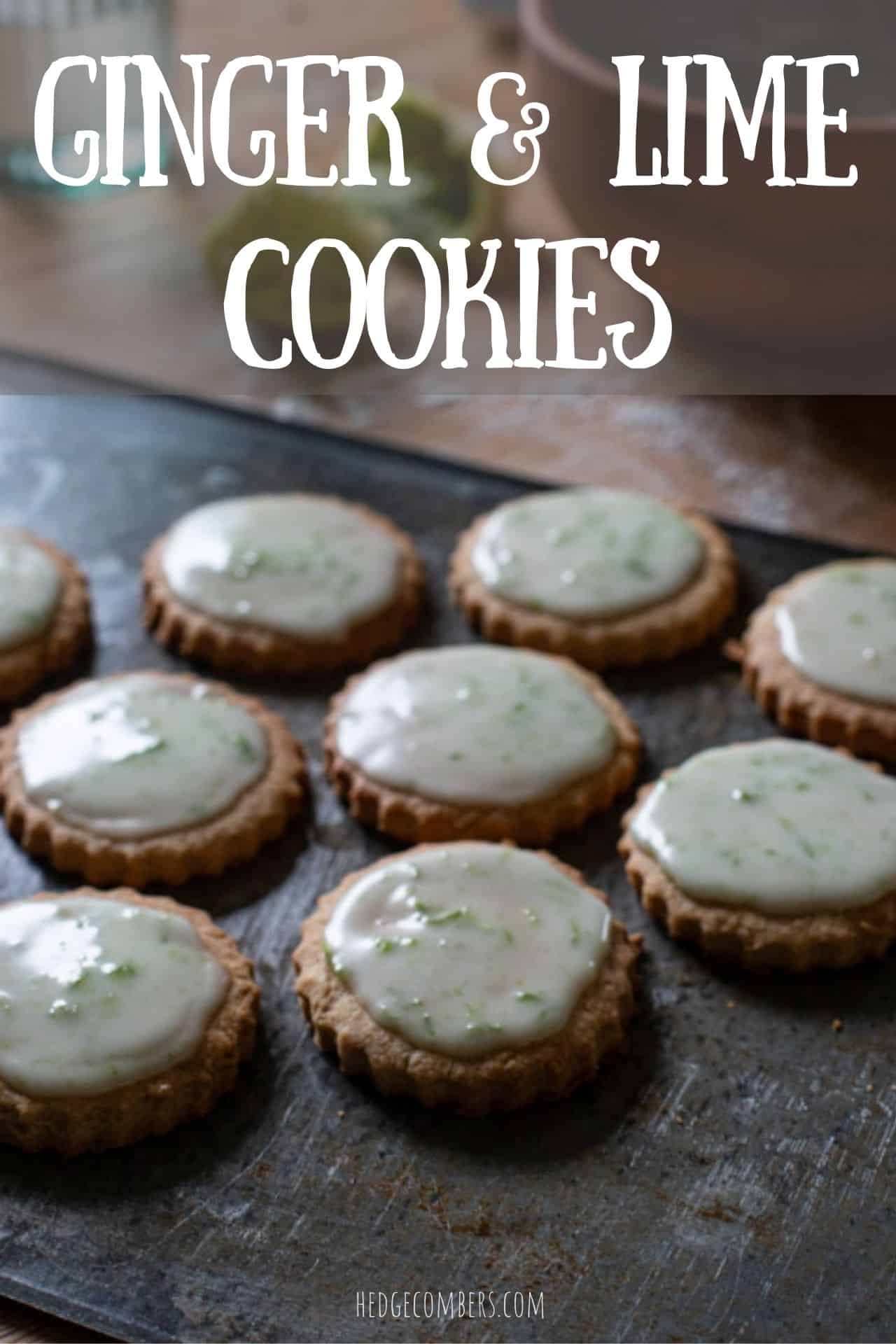 This post was originally written in 2013, but has been updated for 2021.
Imagine a soft, but crisp cookie delicately scented with ground ginger.
Now imagine a topping of sweet icing made with fresh lime juice. And dotted through the icing are flecks of bright green lime zest.
My mouth is watering as I write that, and I'm betting yours is now too!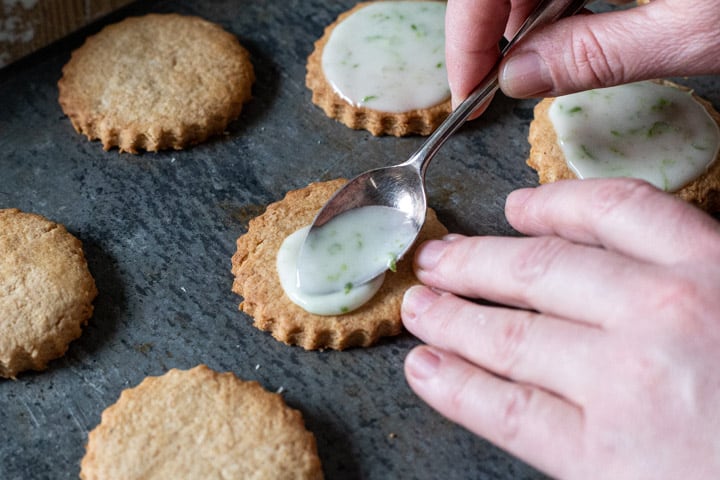 Ginger and lime is an exotic, yet classic combo.
And in these little cookies (that I promise won't last long) both flavours compliment each other perfectly.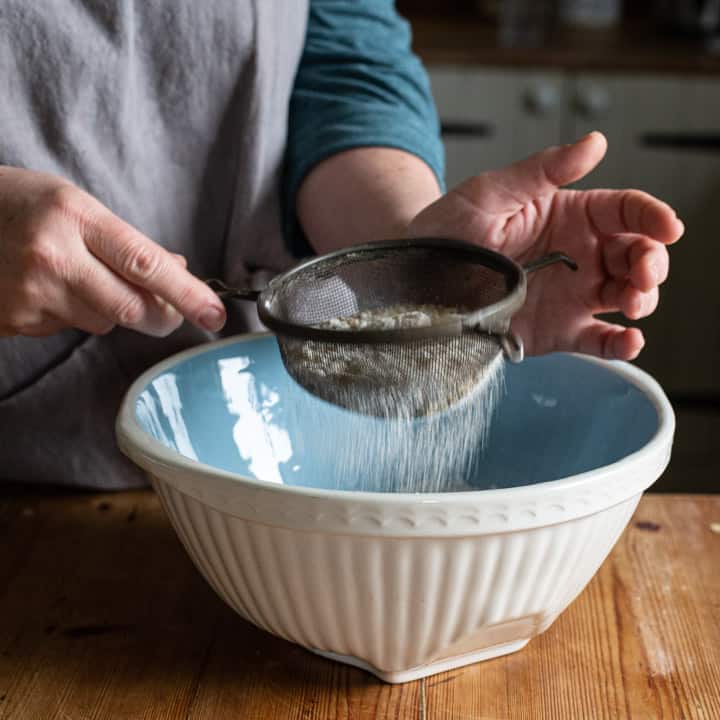 How to make Ginger and Lime Cookies
In this recipe, the cookie base is flavoured with ginger.
And the icing on top is flavoured with fresh lime juice and zest.
By keeping the two flavours apart in this way, you get a beautifully clean and 'unmuddied' balance of flavours.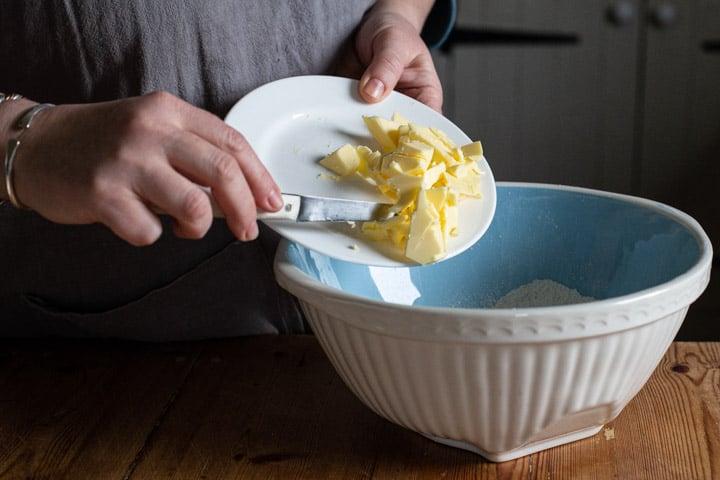 How to make ginger cookies
1 Make the Cookie Dough
OK, first up let's make those cookies!
In a large mixing bowl, sieve the flour, ground ginger and baking powder.
Sieving will break up any small lumps of flour that can form during storage. And it will also disperse the ginger and baking powder evenly throughout the flour.
If you don't have a sieve, simply mix it all together really well with a spoon.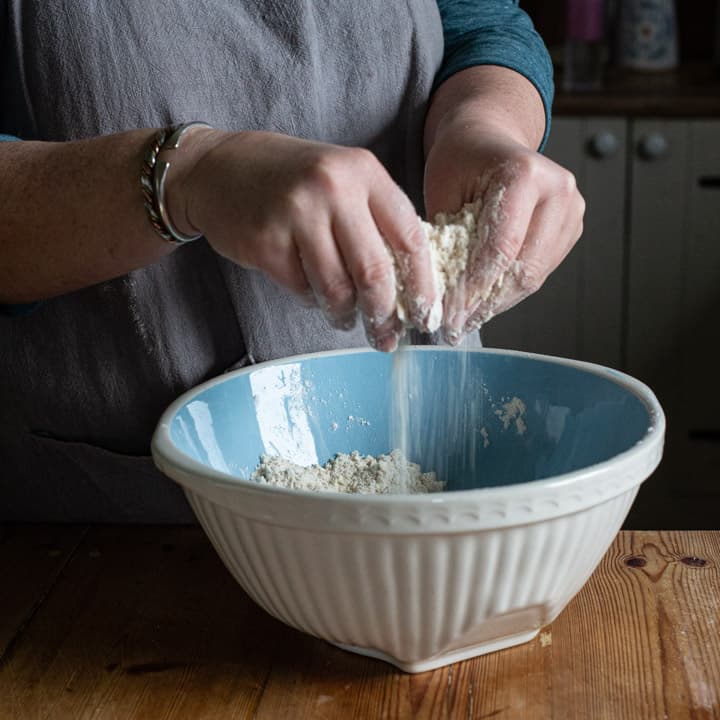 Add the butter and rub it in with your fingers tips.
If you have littlies running around, this is definitely time to get their help!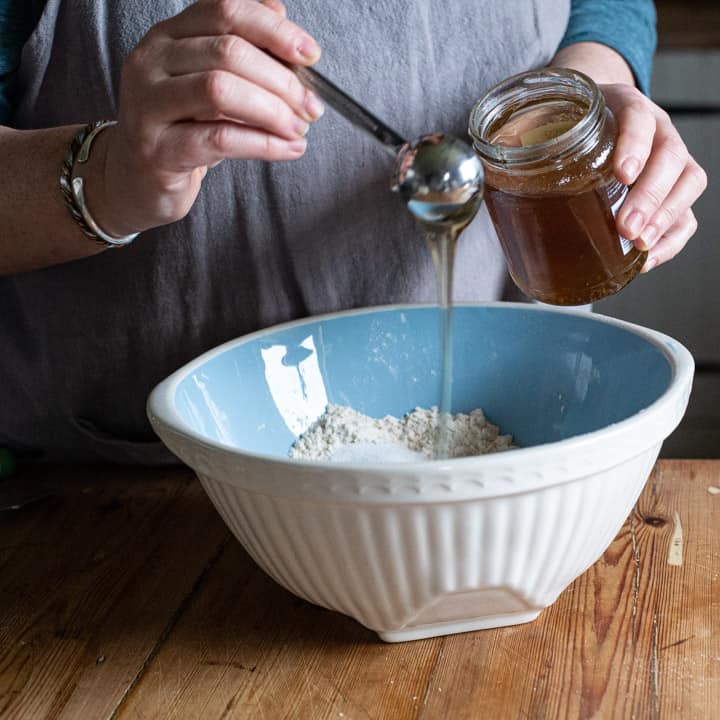 Next, warm the jar of Golden Syrup so the syrup becomes 'loose'.
I find the easiest way to do this is to stand the whole jar in a bowl of hot water. Keep the lid on to make sure no water gets splashed in there by mistake!
Then add the golden syrup, sugar and milk (or water) and combine into a dough.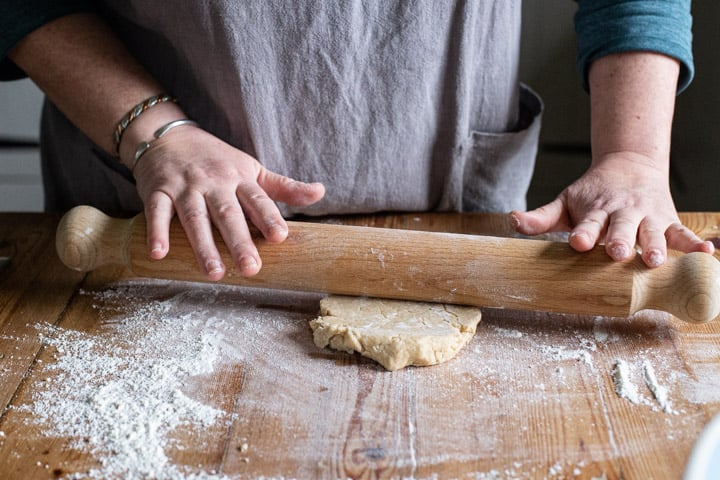 2 Roll out the Cookie Dough
Dust your clean work surface with a little extra flour. And roll out the dough until it's about 6 or 7mm thick.
If it sticks to your rolling pin, dust it with a little bit of flour too.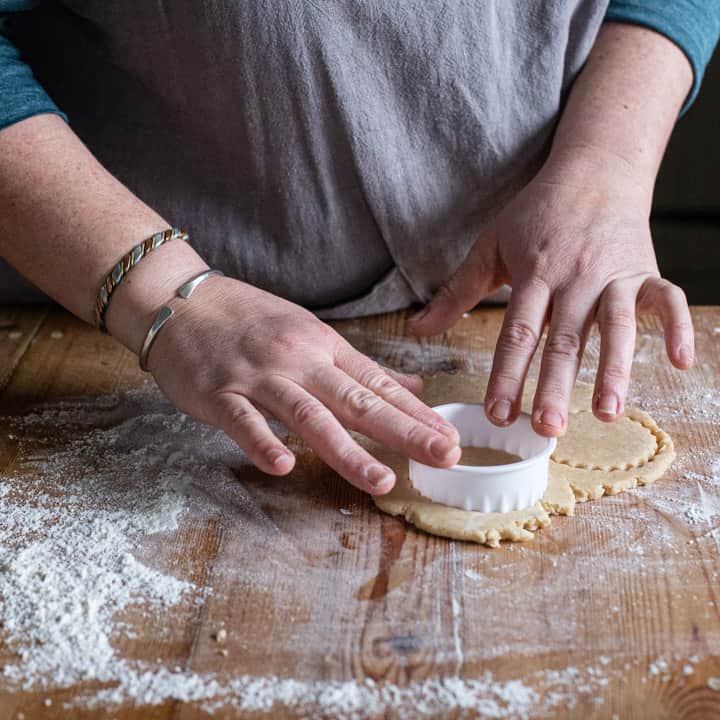 Then, cut out your cookies to whatever shape you like.
I used a plastic cookie cutter, but you could use an upturned glass or mug if you don't have any cutters.
Heck, you could even use a small sharp knife and just freeform your cookies!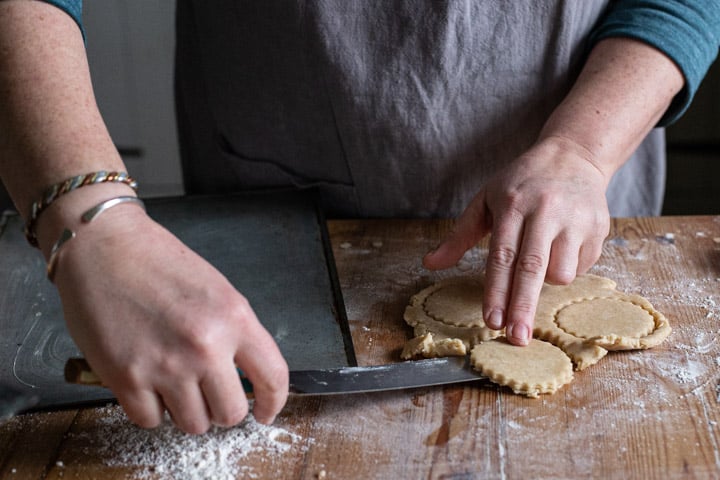 Lift up each cookie by sliding a palette knife or thin spatula underneath.
And carefully place them onto a baking sheet.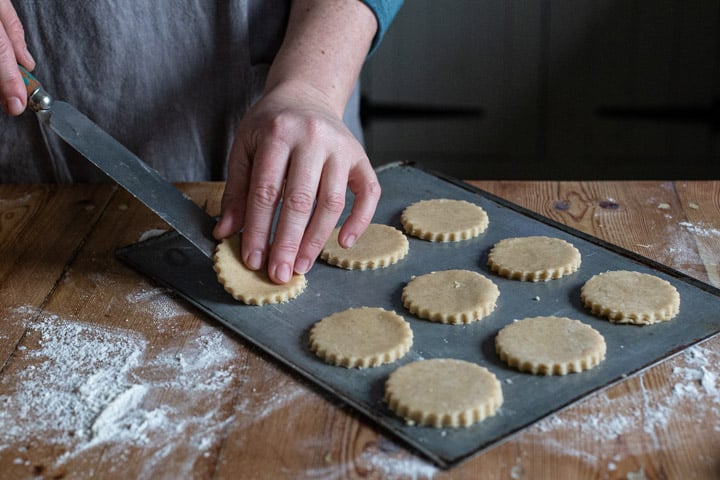 3 Bake the Cookies
Bake in the preheated oven for 10-12 minutes. Or until they're golden brown on top.
Remove the tray from the oven, and carefully slide each cookie off the hot baking tray onto a wire cooling rack.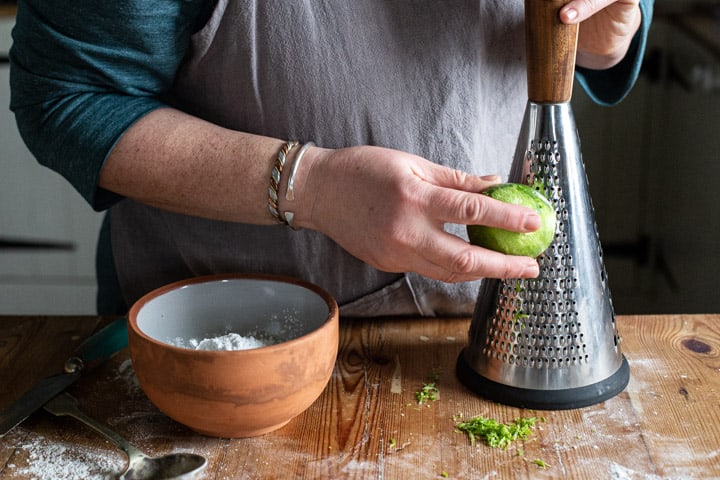 4 Make the Lime Cookie Icing
Ha! That picture above has got my mouth watering again!
To make your zesty icing, simply combine the icing (confectioners) sugar, lime zest and lime juice into a small bowl.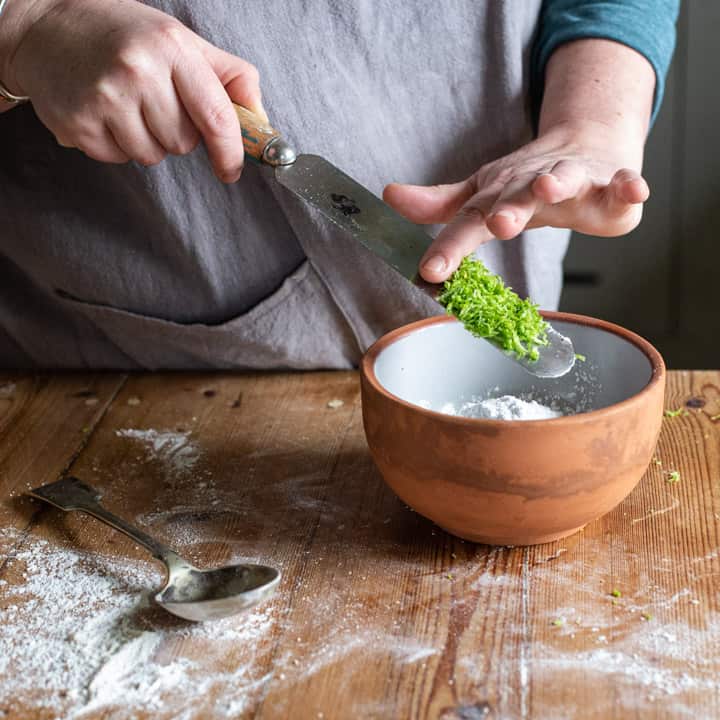 There's no set amount of juice to add, just add a little at a time until the mixture looks like it would stay put on top of a cookie!
Too wet, and it'll run off your cookie.
Too dry and you won't be able to drizzle it on!
This is the consistency of my icing…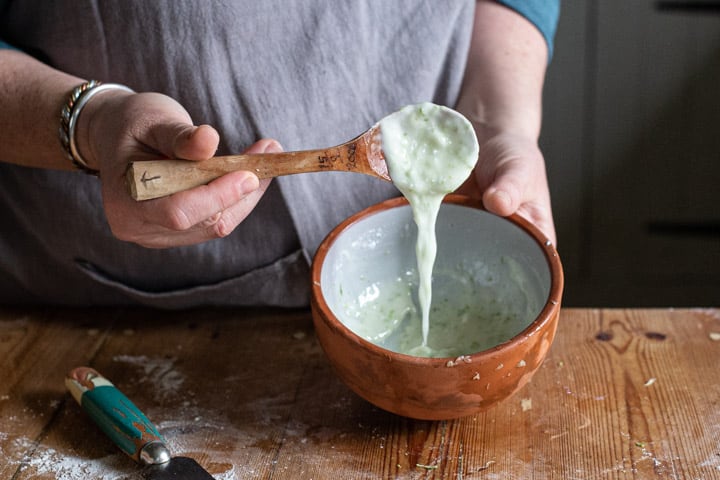 When your ginger cookies are completely cool, place them back on the baking tray (this is to save you a messy clear up).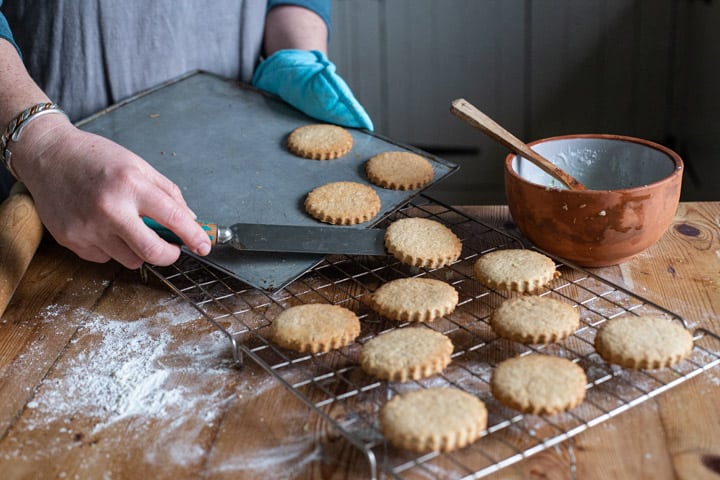 And then take your time to top each cookie with lime flavoured icing.
If you have any icing leftover, it's also reeeeeally good spread onto digestive biscuits ;)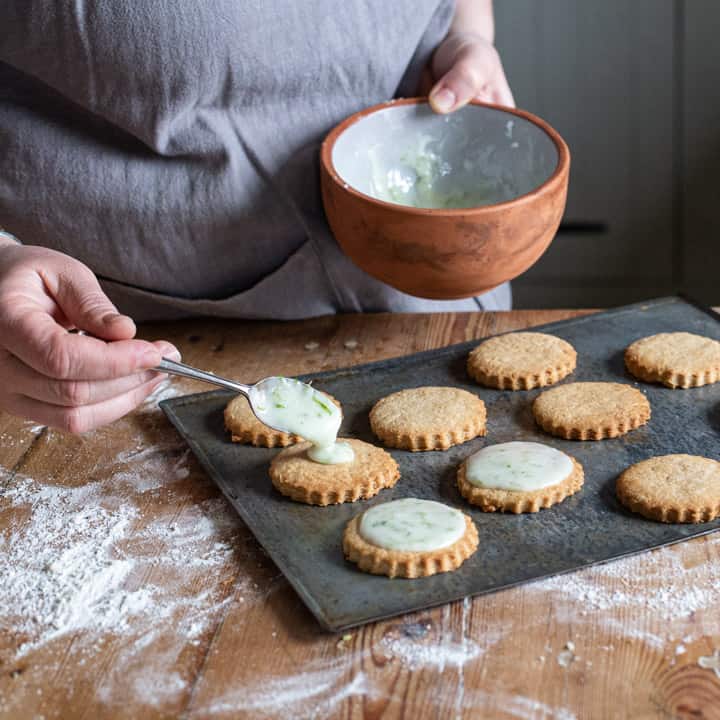 Let your cookies rest until the icing has hardened. Or dive in straight away. I am certainly not one to judge!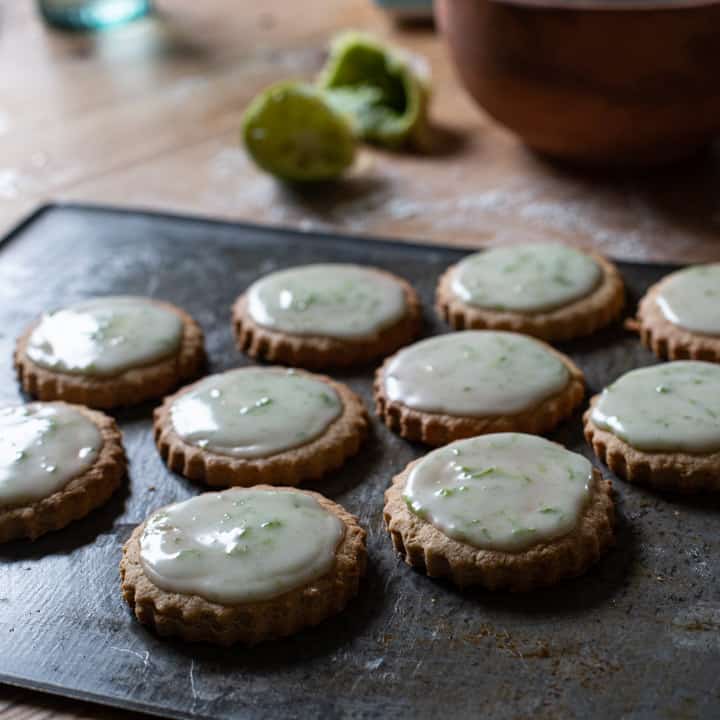 How long will these ginger-lime cookies last?
With me around, not long!
But seriously, if you want to stash some away for another day. Simply store them in an airtight box or tub and they'll be good for 4 or 5 days.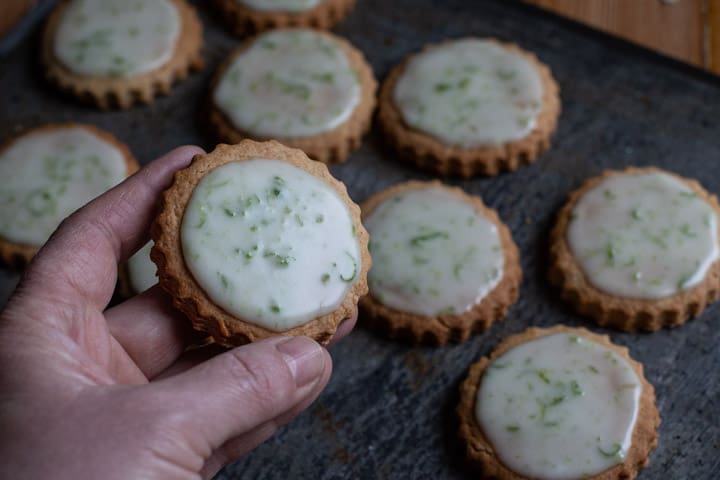 Once you've nailed this ginger and lime biscuit, why not have a little experiment with other flavours?
Swap out the lime for lemon, orange or clementine.
Or maybe try swapping the Golden Syrup for treacle for a darker, richer tasting biscuit.
The world is your perfect homemade cookie :)
***
PS in case you need some more baking inspiration, please check out my Baking Recipe archives.
There's lots of yummy treat just waiting to be made!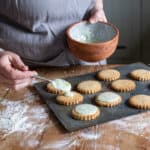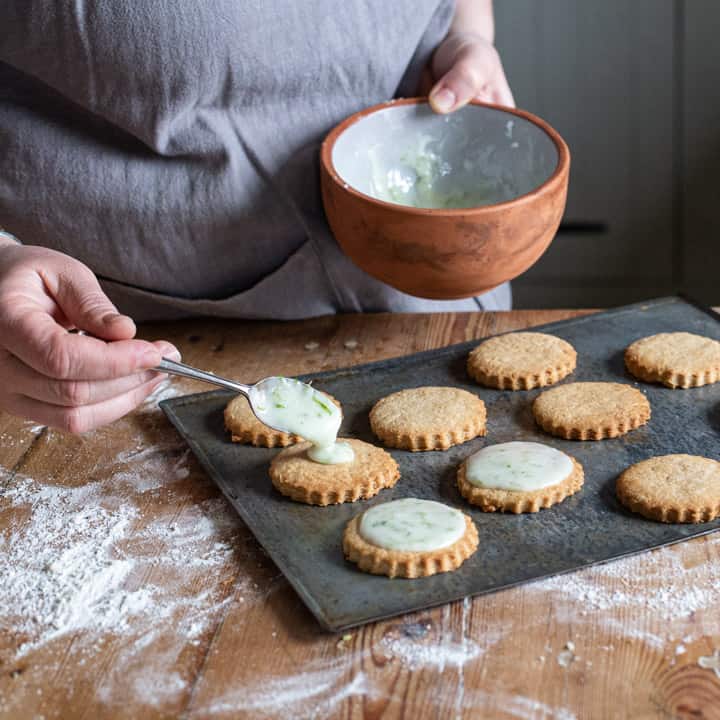 Ginger and Lime Cookies
Keyword:
ginger and lime, ginger cookies
Ingredients
Ginger Cookies
200

g

flour

1

tbsp

ground ginger

1

tsp

baking powder

75

g

butter

50

g

sugar

2

tbsp

golden syrup

1

tbsp

milk or water
Lime Icing
100

g

icing sugar

1

lime

- zested

2

tbsp

lime juice
Instructions
Ginger Cookies
Preheat the oven to 180/350/gas 4.

Stand a tin of golden syrup in a small bowl of hot water to soften it, or if it's in a glass jar, zap in a microwave for around 30 seconds (without the metal lid) just to warm it through to make it easier to work with.

In a large mixing bowl, sieve together the flour, ginger and baking powder.

Rub in the butter with your fingertips until the mixture resembles breadcrumbs.

Next add the sugar, the warmed syrup and the milk or water.

Combine until it becomes a soft dough.

Roll the dough out evenly, until it's around 6-7mm (1/4 inch) thick.

Cut out cookies with a cookie cutter or upturned glass.

Slide a palette knife under each one and transfer to a greased baking sheet.

Bake for 10-12 minutes, or until the cookies are golden brown.

Remove the baking tray from the oven, and carefully slide each cookie onto a cooling rack.
Lime Icing
Sift the icing sugar into a small bowl.

Stir in the lime juice & zest until you have a thick, but spreadable icing.

Add in extra juice drop by drop if it is too stiff, or a little more sieved icing sugar if too runny.

When the cookies are completely cool, spread each one with a good dollop of icing and spread it out with the back of a spoon.

Let the icing harden.

If you are going to package these up, the icing needs to be completely hard, ideally leave overnight or even up to 24 hours depending on the thickness of icing.
Nutrition Facts
Ginger and Lime Cookies
Amount Per Serving
Calories 171
Calories from Fat 45
% Daily Value*
Fat 5g8%
Cholesterol 14mg5%
Sodium 46mg2%
Potassium 69mg2%
Carbohydrates 29g10%
Protein 2g4%
Vitamin A 162IU3%
Vitamin C 2mg2%
Calcium 23mg2%
Iron 1mg6%
* Percent Daily Values are based on a 2000 calorie diet.