This Garlic Hedgehog Sourdough Bread is the most fun you can have with a groups of friends and a loaf of bread. Guaranteed!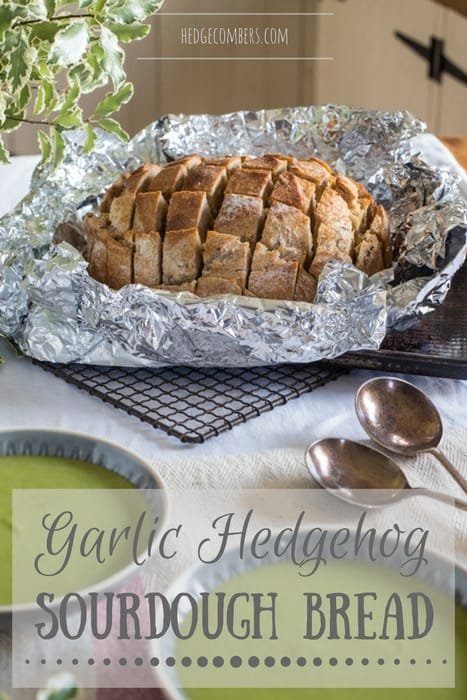 sponsored recipe
Before we dive into this recipe for garlic hedgehog sourdough bread, I have two points to mention.
Do not eat this if you are planning to go on a hot date (unless your hot date is also indulging).
Jonny (aka my most brutally honest critic ever) said 'this is the best garlic bread I've ever eaten'…
Can we all just let that sink in for a moment…
He's like really old and has eaten a lot of garlic bread over the years. That is some hardcore praise my friends :)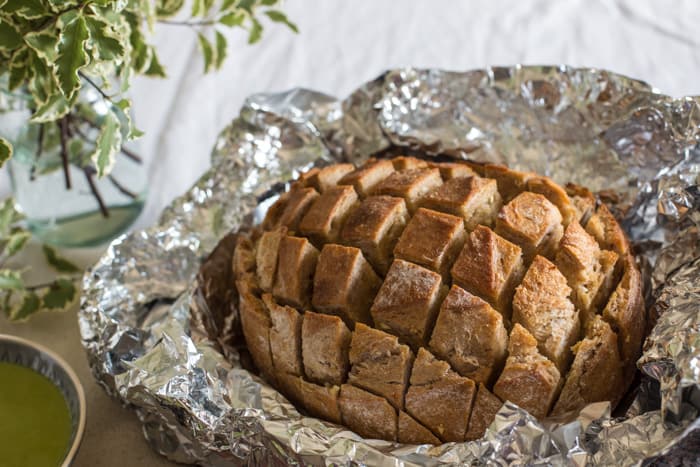 OK, so what makes this garlic bread so special? Well, we're starting off with a loaf of sourdough bread which is one of my most favourite breads ever. It's made using naturally occurring yeasts rather than commercially made yeast and is therefore kinder on the gut. It's quite a dense bread so a little goes a long way and this loaf will easily feed four as a main when served with soup, or six if the soup course is being served as a starter.
If you can't find a good sourdough producer in your area, feel free to use any round loaf of bread but please note you may need to reduce cooking if it is a 'lighter' loaf.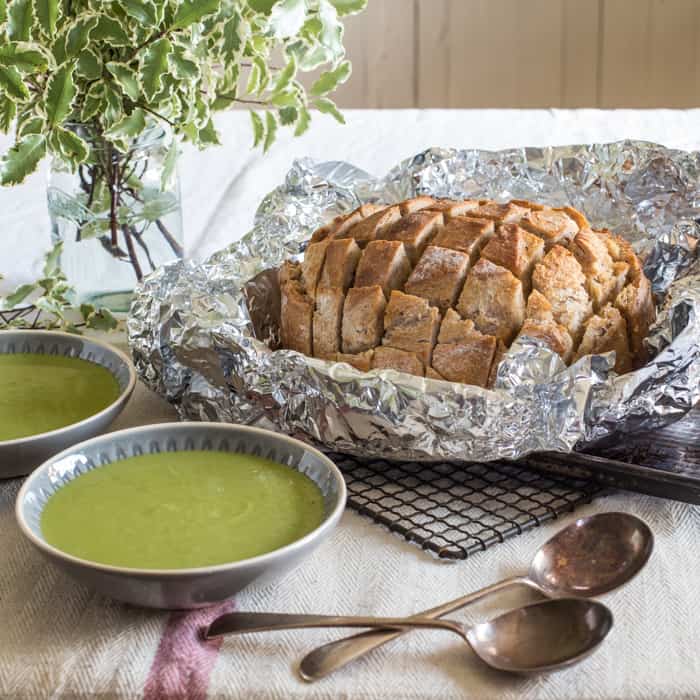 Garlic Hedgehog Sourdough Bread
By crisscrossing the loaf rather than slicing, we're maximising surface area for the garlic butter to soak in and work its magic. When served, the little hedgehog 'spines' are then pulled apart from the body of the loaf making it a fun sharing experience.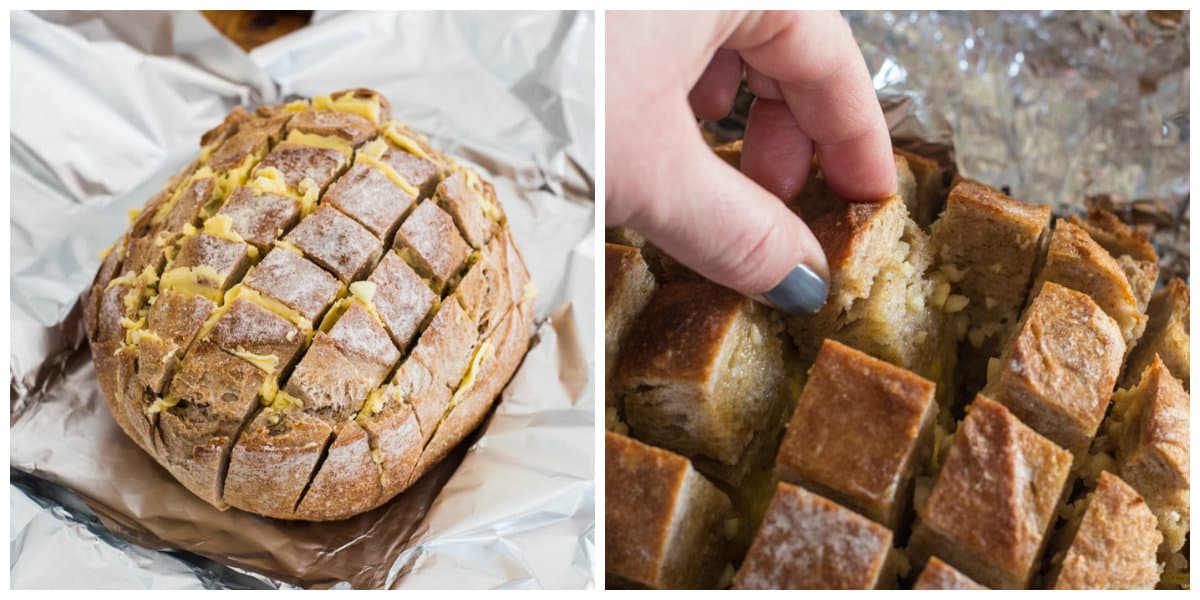 As it cooks, the butter melts soaking each cube in garlic butter and then dripping down to the base.
Let's talk about the base for a mo. The base of this garlic hedgehog sourdough bread is amazing.
The butter congregates here and almost roasts the bottom of the loaf into a crispy buttery garlicky crust. Even if you're on a diet and can't indulge in a full serving, please at the very least, taste that crust.
It should quite possibly be illegal it's that good!
Now there's no denying that this is a rich side dish, so it needs to be served with a soup that is light and definitely not creamy. Happily we had a couple of cartons of Cully & Sully's Pea & Minty delivered, which partnered so well with the garlic bread. It's really light, with a sweet delicate taste of peas and a soft hum of mint. The flavours were so well balanced and both Jonny & I really enjoyed it. Happily my very garlicky bread didn't overpower it at all.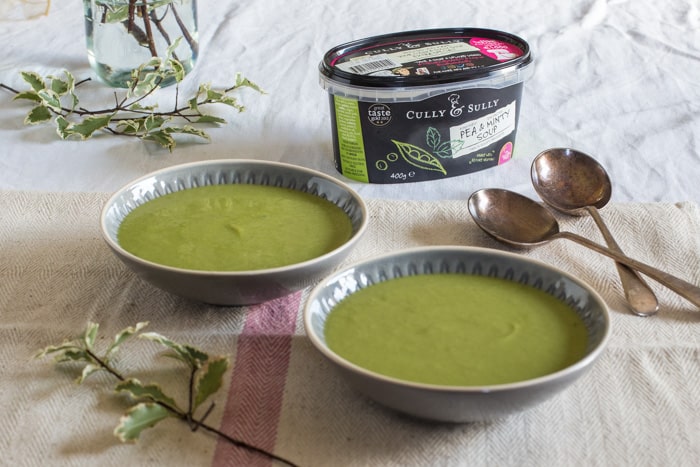 I've just had a nosy at the Cully & Sully Instagram page (you can tell so much about a brand by their Instagram feed doncha think?) and this is their bio:
We ❤️ food. For good food you need great ingredients. We use ingredients you'd only find in your granny's kitchen.
Well that's me sold! You can find a range of Cully & Sully's fresh soups in the chiller cabinet at Tesco.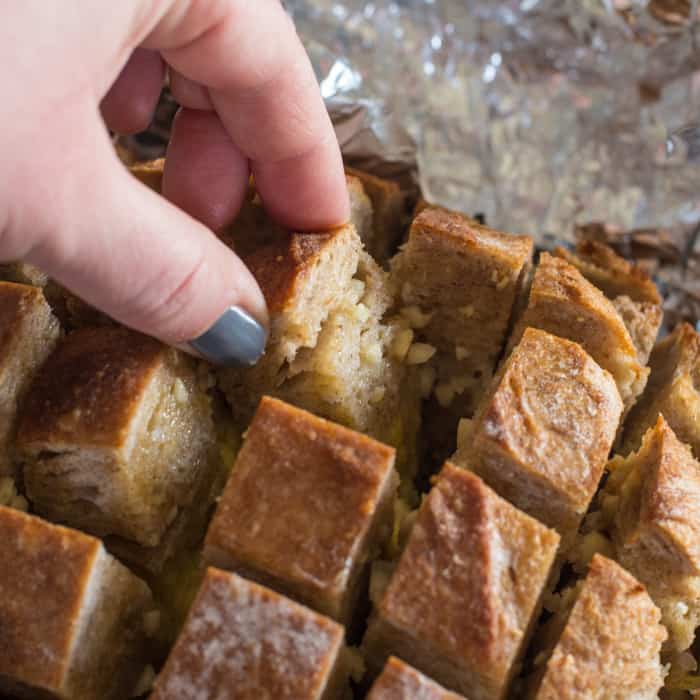 #TheWayWeMakeIt is the fun campaign Cully & Sully have invited me to jump on board with. It's to show you, my lovely readers, how convenient (and healthy) their soups are. They wanted to know how I would pimp my lunch to elevate my Pea & Minty to the next level.
So, by the power vested in me, I hereby bring you my garlic hedgehog sourdough bread…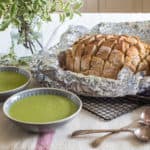 Garlic Hedgehog Sourdough Bread
Ingredients
large round white sourdough loaf

250g

salted butter, softened

1

head of garlic, peeled and minced
Instructions
Preheat the oven to 180/350/gas 4

Slice the loaf in inch wide sections, almost to the base.

Turn the loaf and slice in inch wide sections to create a checkerboard.

Mix together the butter and garlic well, then spread in between each slice you made in the loaf. You may not need all the butter, any leftovers can be kept in the fridge for a few days and used in cooking.

Wrap the entire loaf tightly in aluminum foil, and bake for 20 minutes.

Unwrap the top of the foil and pop back in the oven for 10 minutes, or until the butter has fully melted and the loaf looks (and smells!) tremendous.
Huge thanks to Cully & Sully for sponsoring this recipe, thereby allowing me to contnue bringing you tasty recipes, for free. As always, all thoughts (and leftovers!) are my own.
Jane x