This Garlic Hedgehog Sourdough Bread is the most fun you can have with a groups of friends and a loaf of bread!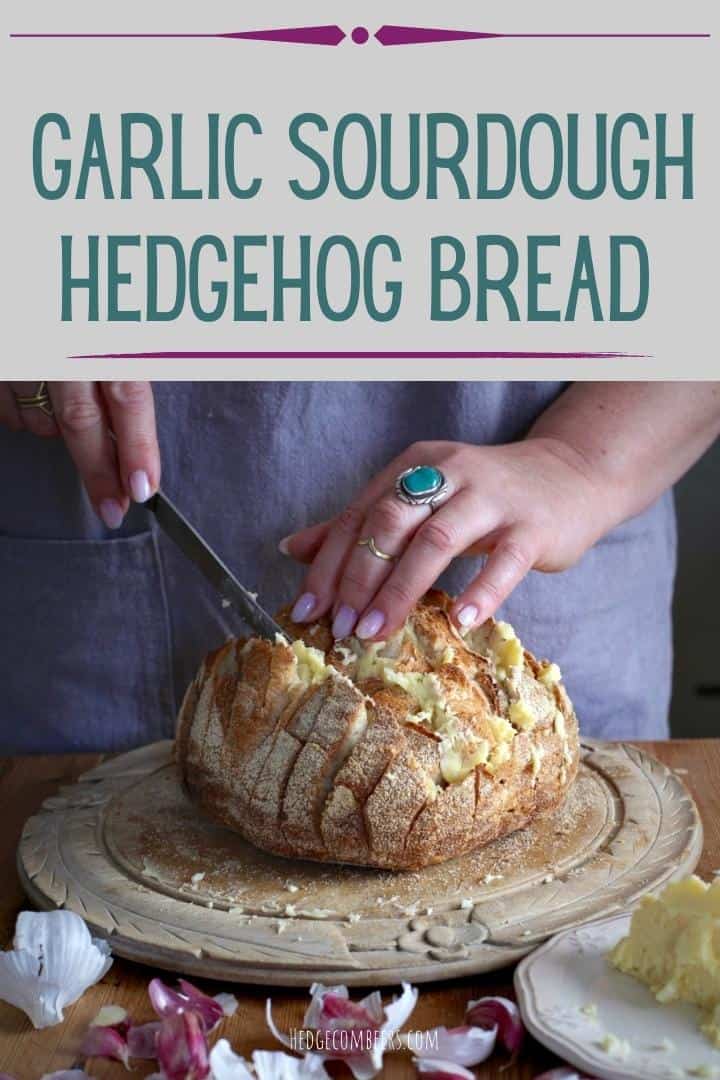 Before we dive into this recipe for garlic hedgehog sourdough bread, I have two points to mention.
Do not eat this if you are planning to go on a hot date (unless your hot date is also indulging).
Jonny (aka my most brutally honest critic ever) said 'this is the best garlic bread I've ever eaten'…
Can we all just let that sink in for a moment… He's eaten a lot of garlic bread over the years.
That is some hardcore praise my friends :)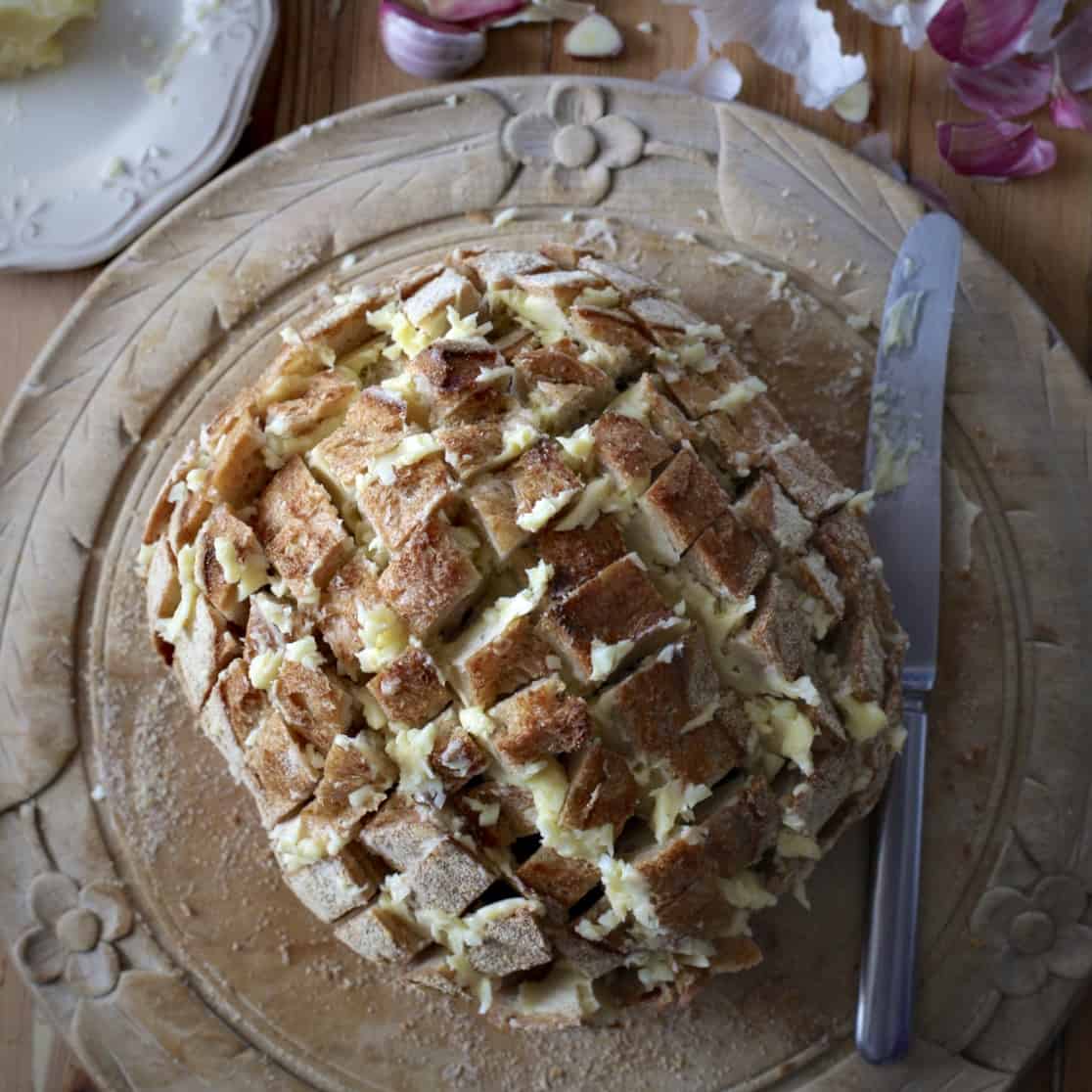 OK, so what makes this hedgehog bread so special?
Well, we're starting off with a loaf of sourdough bread which is one of my most favourite breads ever.
Sourdough is made using naturally occurring yeasts rather than commercially made yeast and is therefore kinder on the gut.
It's quite a dense bread so a little goes a long way and this loaf will easily feed four as a main when served with soup. Or six if the soup course is being served as a starter.
If you can't find a good sourdough producer in your area, feel free to use any round loaf of bread. But please note you may need to reduce cooking time if it is a 'lighter' loaf.
How to make Garlic Hedgehog Bread
Hedgehog bread is made by slicing the entire loaf almost all the way through.
Then turning the loaf 90º and slicing again. This'll leave you with a loaf crisscrossed with cuts.
By maximising the surface area in this way, you'll get a lot more garlic butter action. And the little hedgehog 'spines' are then pulled apart from the body of the loaf making it a fun sharing experience.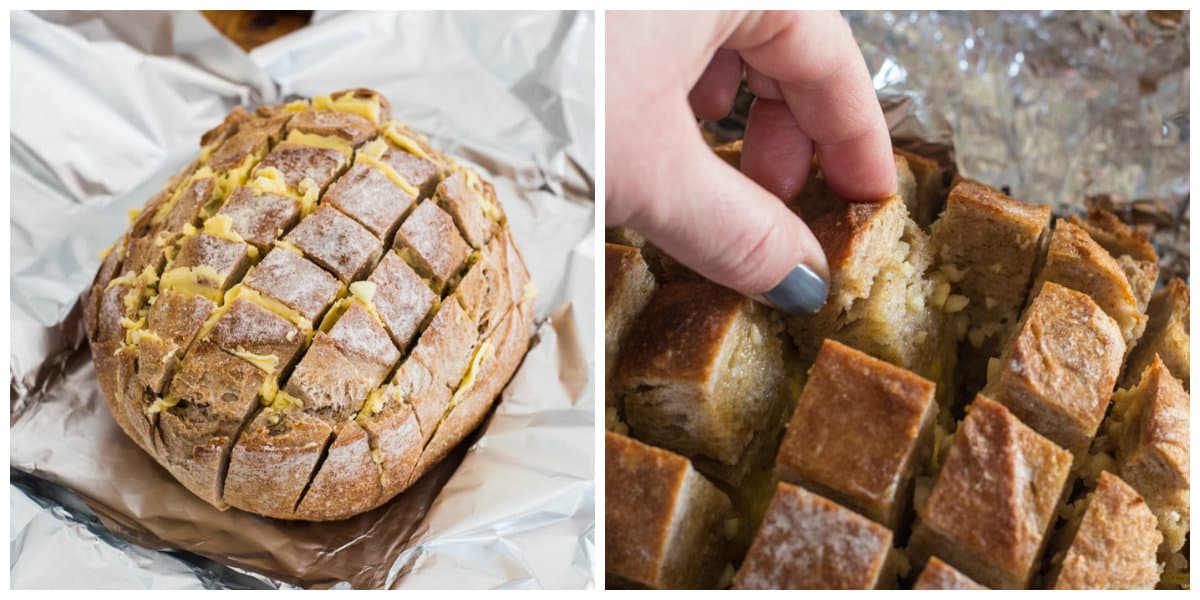 As it cooks, the butter melts soaking each cube in garlic butter and then dripping down to the base.
Let's talk about the base for a mo. The base of this garlic hedgehog sourdough bread is amazing.
The butter congregates here and almost roasts the bottom of the loaf into a crispy buttery garlicky crust. Even if you're on a diet and can't indulge in a full serving, please at the very least, taste that crust.
OK, enough teasing, let's walk you step by step how to make a hedgehog bread…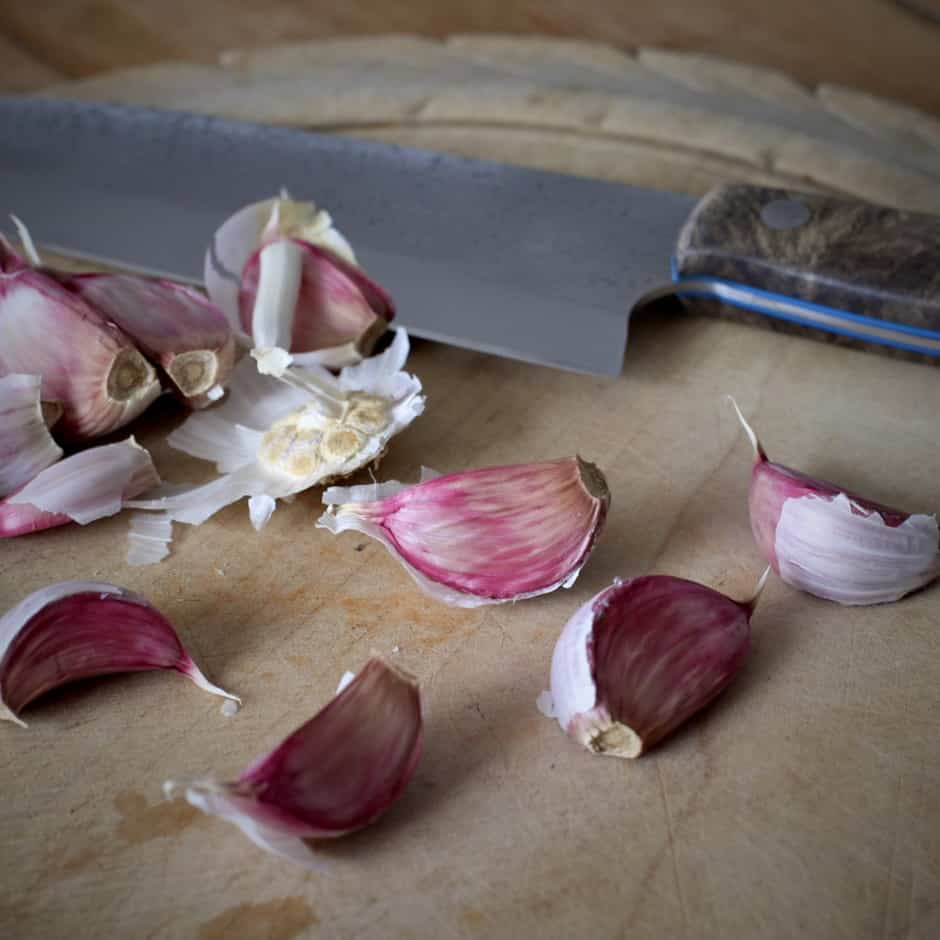 1/ make the garlic butter
Take apart a bulb of garlic and peel half of the cloves.
Place them onto a chopping board. Slice, then mince the cloves with a sharp knife.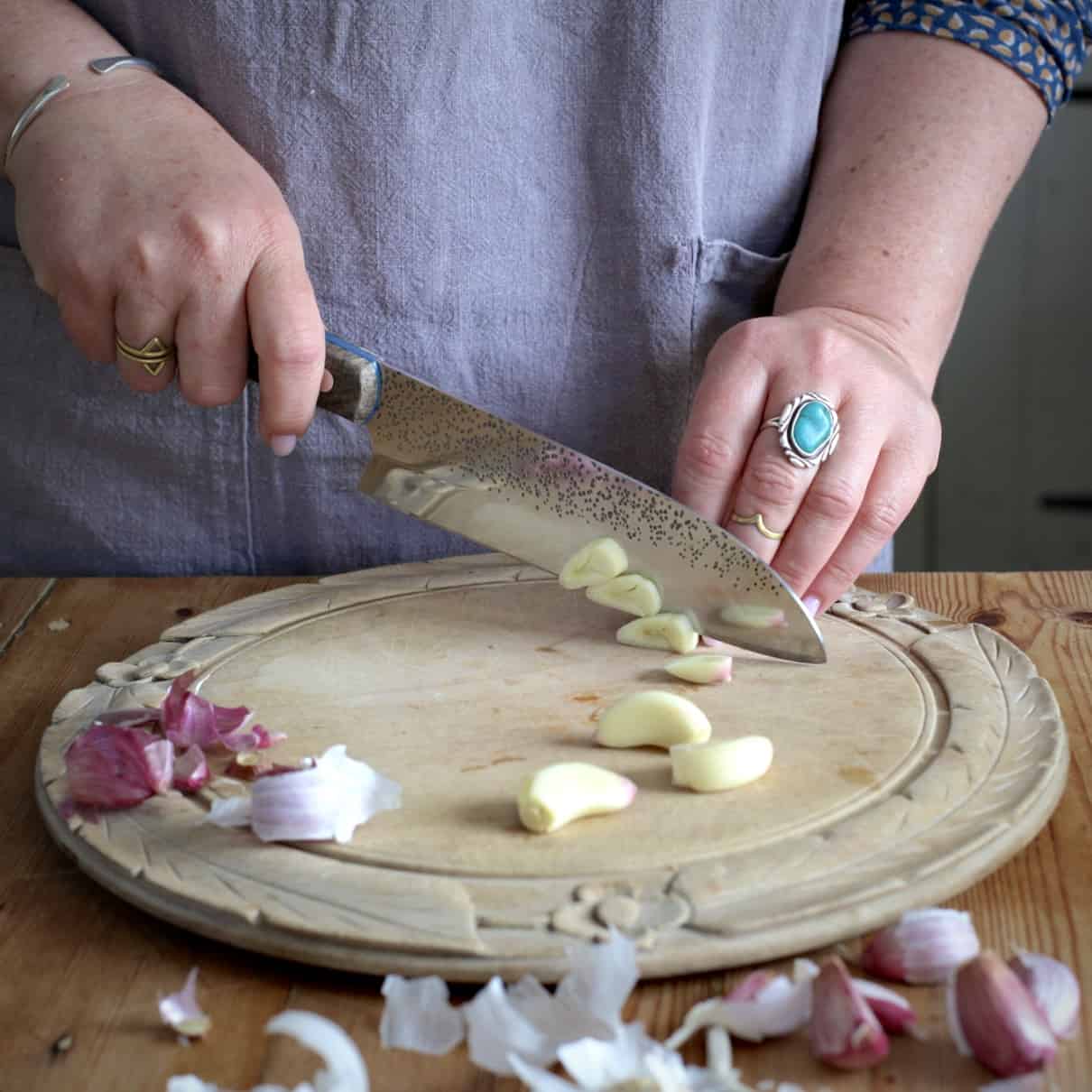 Add the butter onto the chopping board and use a fork to mash it.
This will soften it and make it easier to mix through the garlic.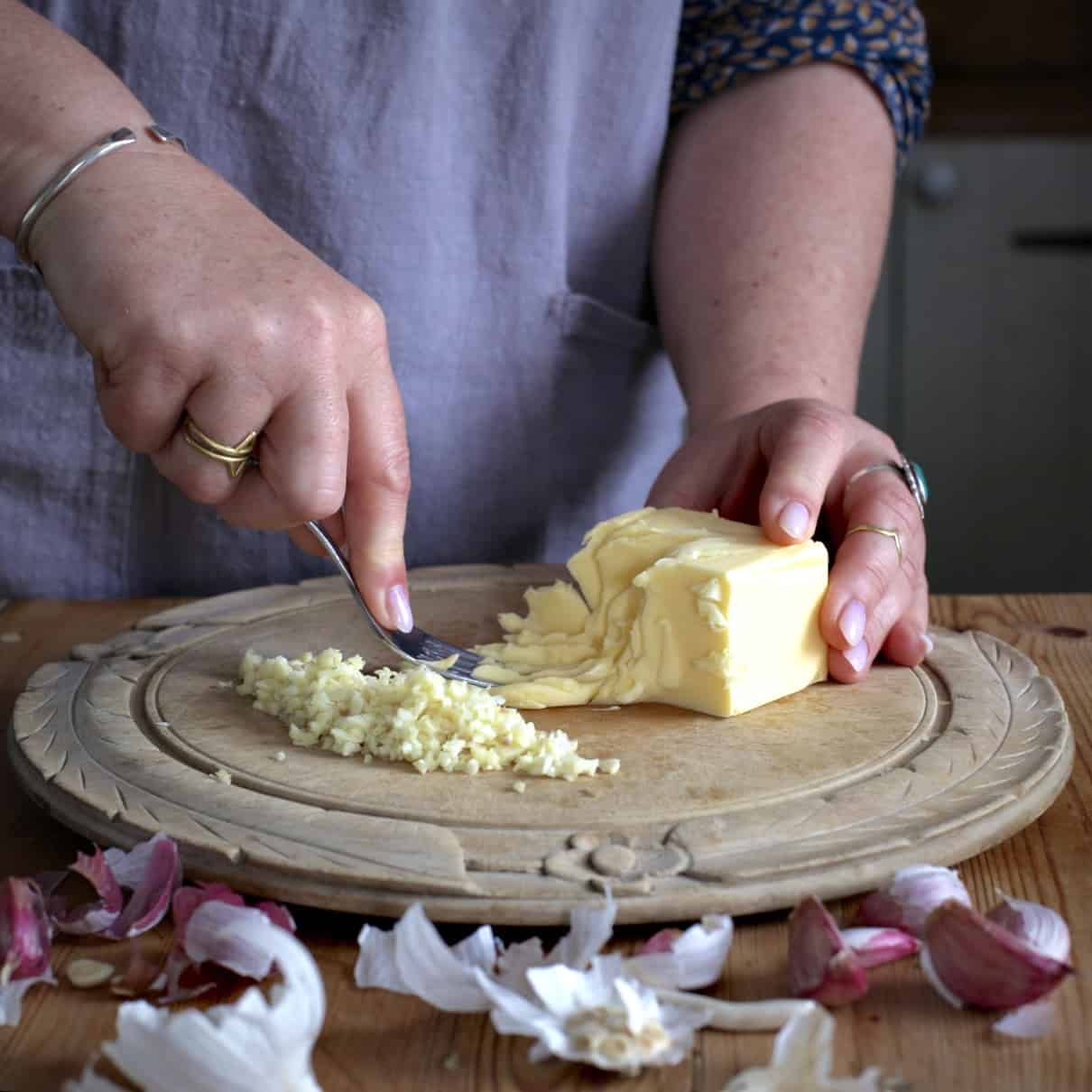 And then mix through the finely chopped garlic.
If you're using unsalted butter, you may wish to add a little salt to your garlic butter too. If your butter is already salted this isn't necessary.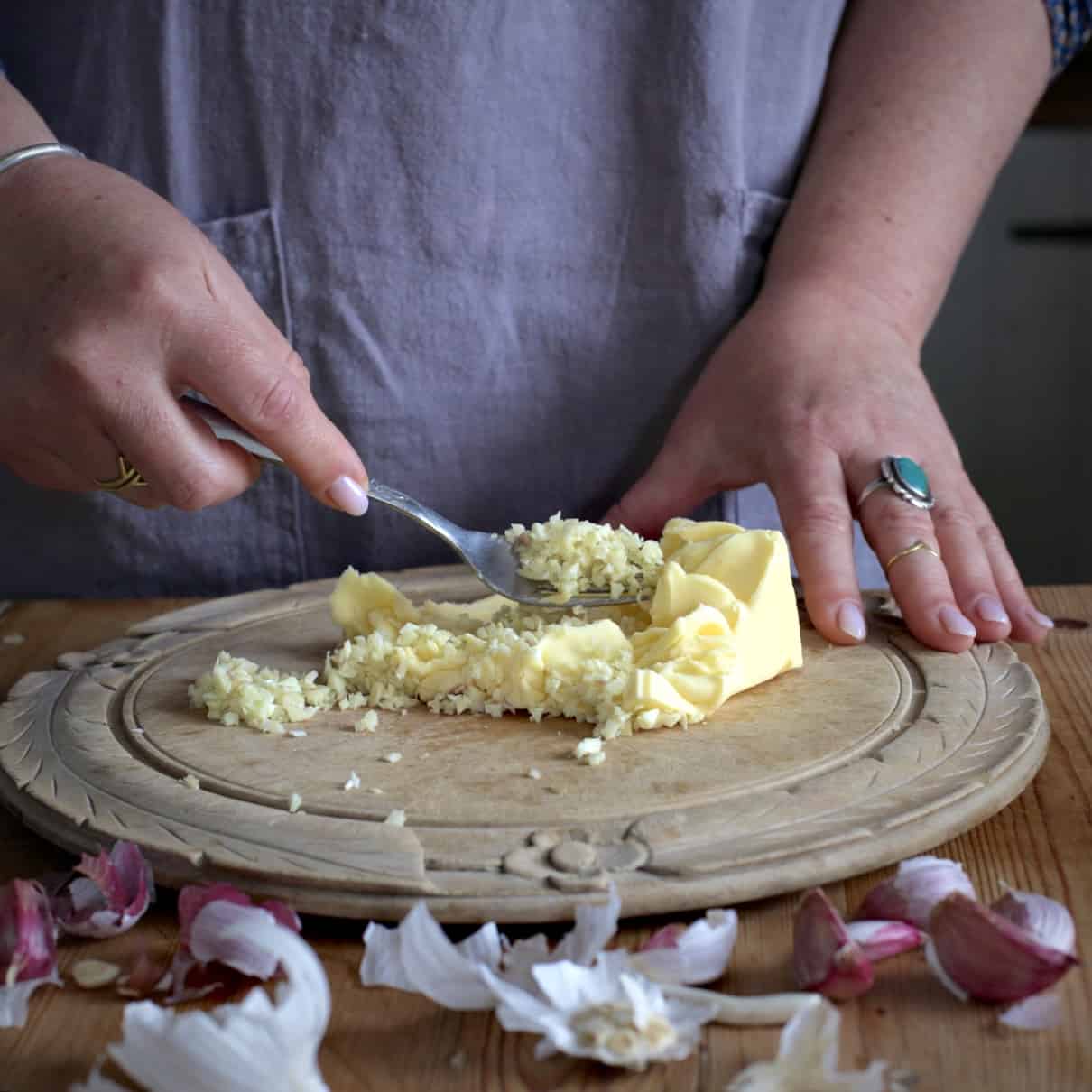 2/ slice your hedgehog loaf
Slice the whole loaf of bread, without cutting through the base of each slice.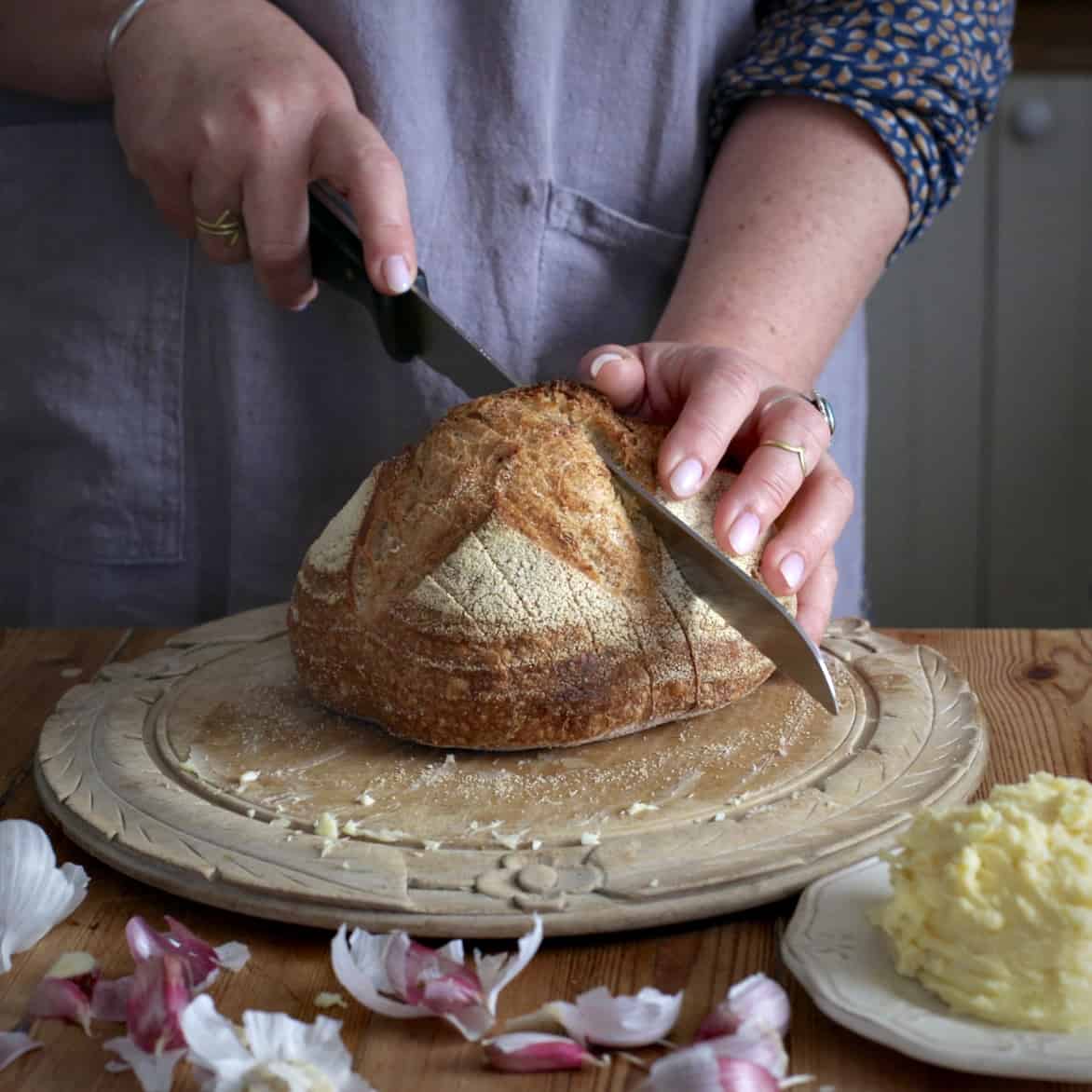 Then turn the loaf 90º, and repeat.
This will leave you with little squares of bread, rather than slices.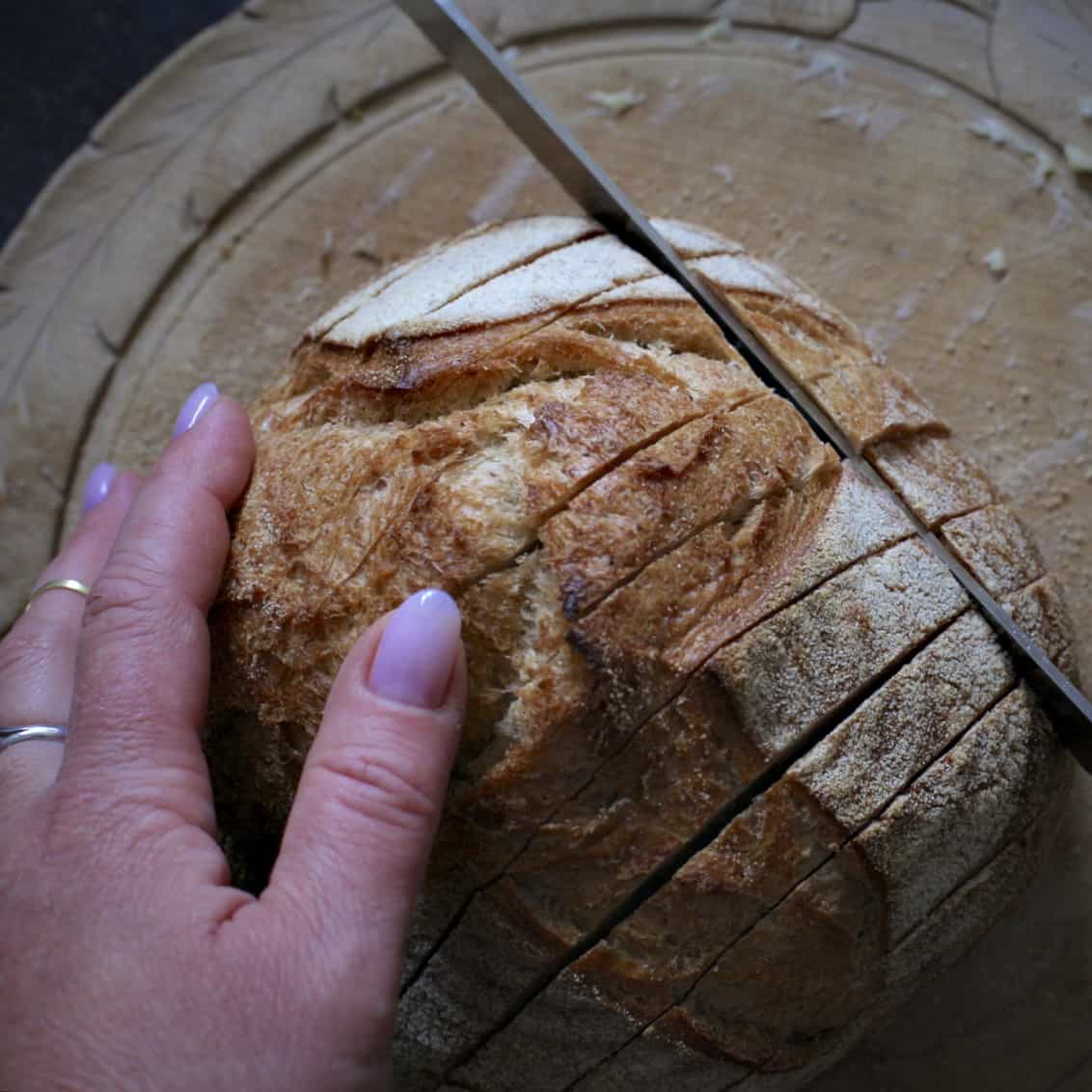 3/ butter your hedgehog loaf
Use a generous amount of the garlic butter to spread through each row of cuts in the bread.
It's a pretty messy job, but take your time and ensure an even coating of butter.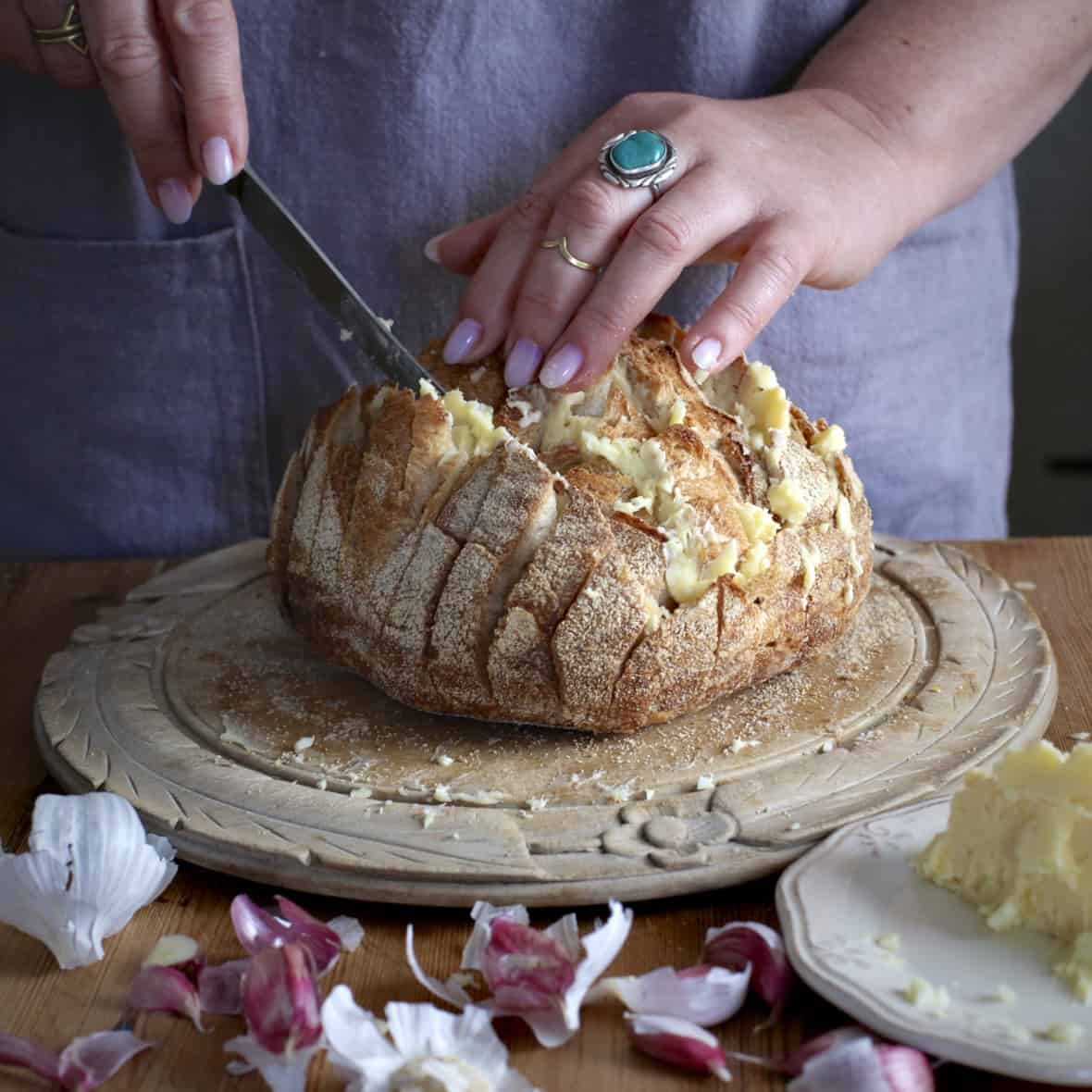 You may not need all of the butter.
Any left over can be stored in the fridge, or even wrapped in cling film and popped in the freezer.
It can be used on steak, roast chicken, jacket potatoes, anything that needs a buttery, garlicy kick!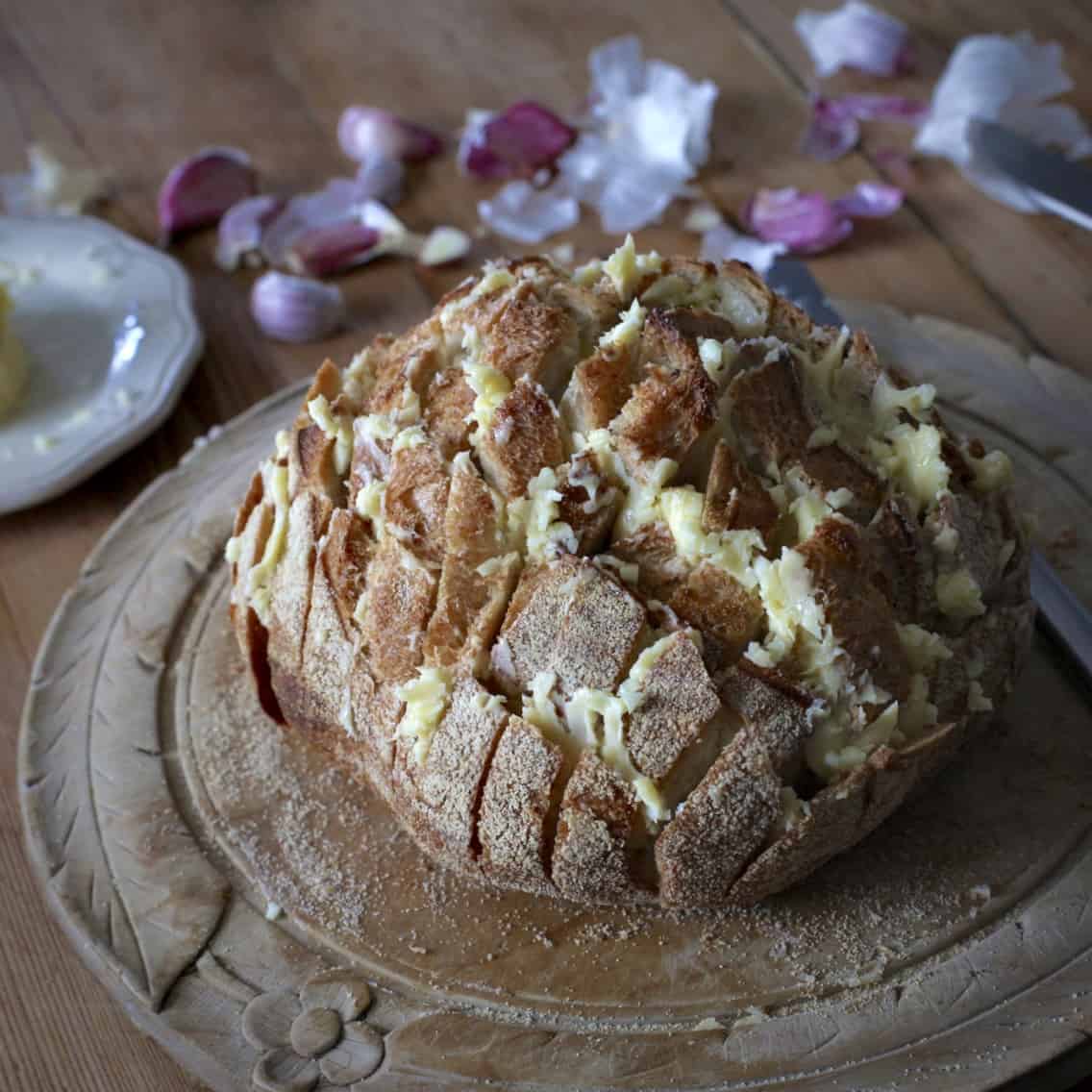 4/ bake your garlic hedgehog loaf of bread
Place a large sheet of foil onto a baking tray.
Wrap the loaf in the foil, making the parcel airtight.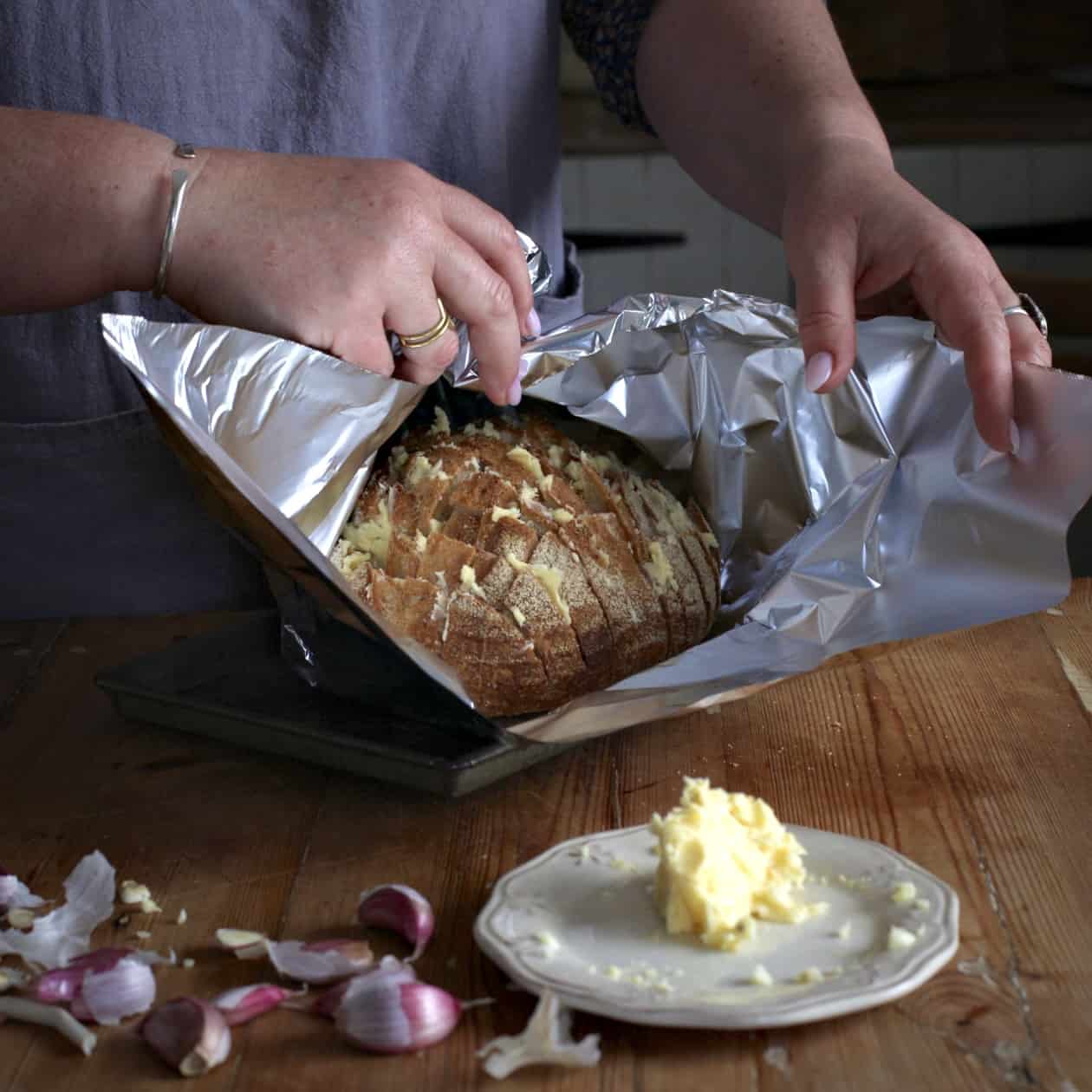 Place the baking tray into the preheated oven and bake for 20 minutes.
At this point remove the loaf, partly unwrap it and pop it back in the oven for a further 10 minutes.
This will get the top golden brown and help the base get beautifully caramelised.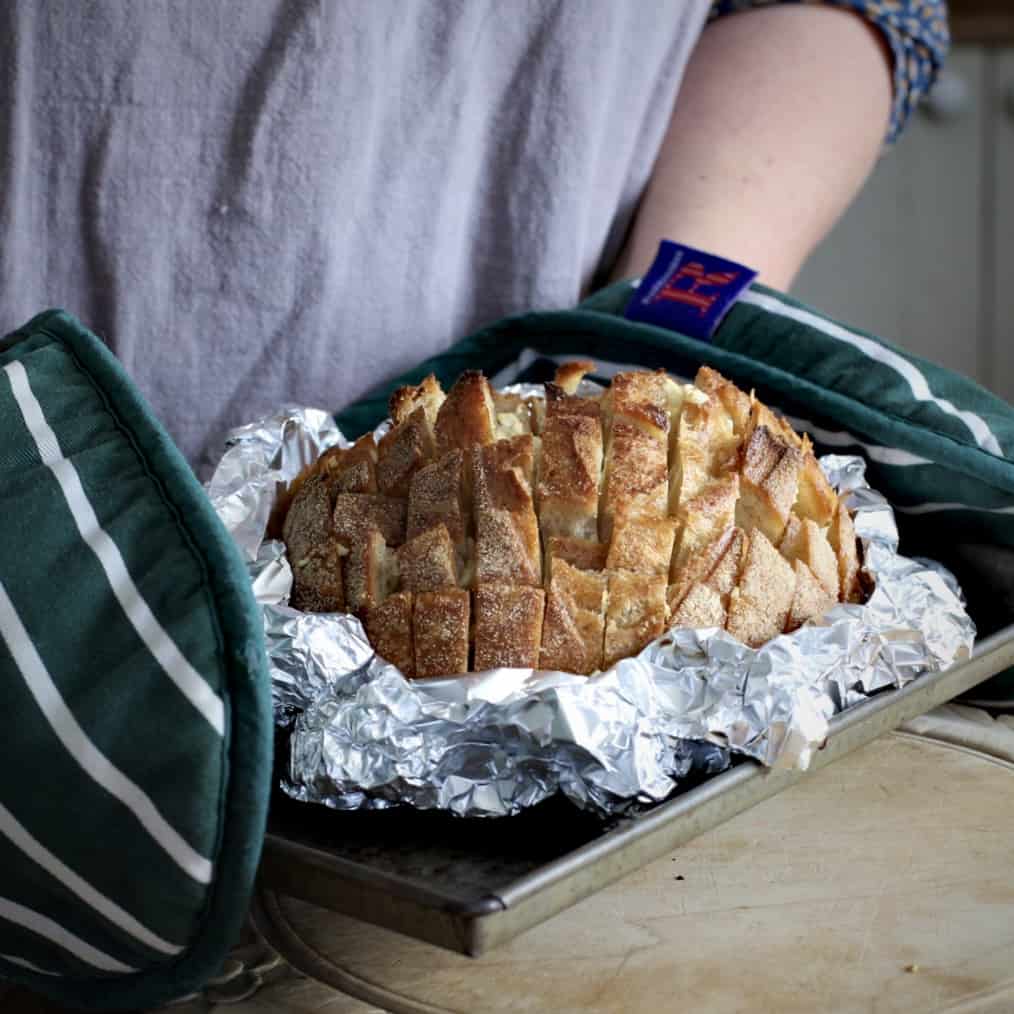 When the full 30 minutes are up, remove the loaf from the oven and serve!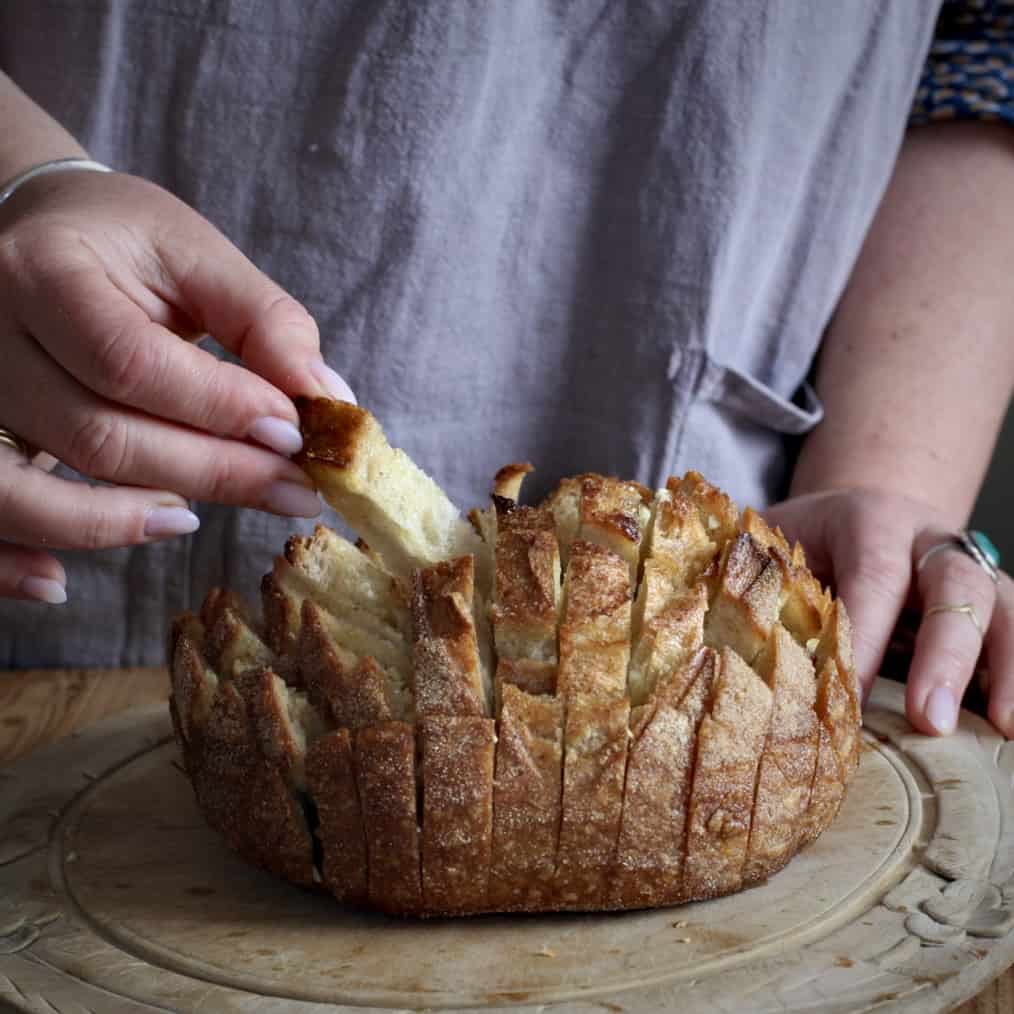 This garlic hedgehog sourdough is rich and very garlicky! It's delicious served with tapas, cold cuts and salads. Or as a fun accompaniment to a simple soup or broth.
However you choose to serve it, I hope you love it as much as we do!
Feel free to tag me in any photos you share of your garlic hedgehog bread online, you can find me pretty much everywhere as @hedgecomber. I try to share all that I see :)
Janie x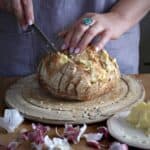 Garlic Hedgehog Sourdough Bread
Keyword:
garlic hedgehog bread
Ingredients
400

g

sourdough loaf

100

g

salted butter

- at room temperature

6

cloves

garlic
Instructions
Preheat the oven to 180/350/gas 4
make the garlic butter
Peel, slice then chop the garlic finely.

Mash the butter with a fork to soften it. Then mix in the garlic, mashing it evenly through the butter with the fork.
make the hedgehog loaf
Slice the loaf in inch wide sections, almost to the base. Be sure not to cut through the bottom of the bread.

Turn the loaf 90° and again slice in inch wide sections, creating a checkerboard.

Using a butter knife spread the garlic butter generously down each 'slice' of bread.

Any leftover garlic butter can be kept in the fridge for a few days, or wrapped in cling film and frozen.

Wrap the entire loaf tightly in aluminum foil and place it onto a baking tray.

Bake for 20 minutes.

After 20 minutes, unwrap the top of the foil and place back in the oven for 10 more minutes to brown.
Nutrition Facts
Garlic Hedgehog Sourdough Bread
Amount Per Serving
Calories 503
Calories from Fat 252
% Daily Value*
Fat 28g43%
Cholesterol 67mg22%
Sodium 804mg35%
Potassium 143mg4%
Carbohydrates 53g18%
Protein 11g22%
Vitamin A 781IU16%
Vitamin C 1mg1%
Calcium 68mg7%
Iron 4mg22%
* Percent Daily Values are based on a 2000 calorie diet.