This Fve Spice Pulled Duck Bun with Plum sauce will make your heart, and tastebuds, sing!
I'm off on a crazy exciting foodie road trip around Wales throughout May, and a few of my favourite bloggy friends have stepped in to fill the void in my absence. HUGE thanks today goes out to my good friend Amanda from Glamorous Glutton with this divine looking Five Spice Pulled Duck Bun with Plum Sauce. YUM!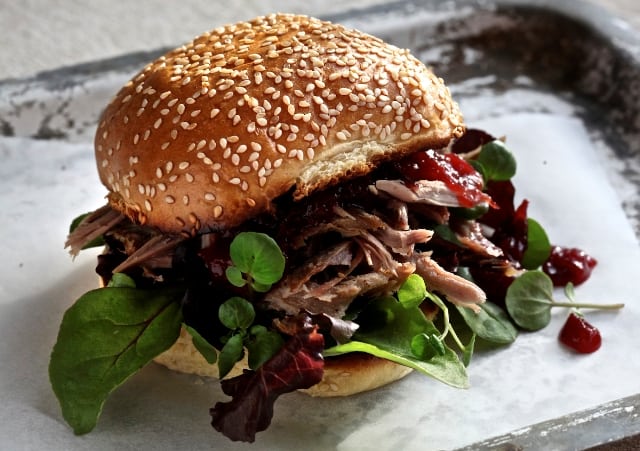 Amanda & I first met a couple of years ago at a food bloggers conference in London and hit it off straight away. She shares classy, dinner-party-worthy recipes to die for with utterly gorgeous photography. Please do pop over and visit her blog and say Hi!
When Jane asked me to Guest Post for her I was both delighted and very flattered. I enjoyed thinking of recipes that reflect my own blog whilst appealing to the different readers who regularly follow Hedgecombers, thanks Janie.
Who doesn't love the Chinese flavours and succulent, fall off the bone, duck that typifies Peking Duck with pancakes? This used to be a treat, only to be had when dining out. Now that duck is at less of a luxury price and breasts and legs are readily available in the supermarkets you can have all the wonderful oriental flavours at home. A bun stuffed with tender duck on a bed of fresh leaves with peppery rocket and topped with fragrant plum sauce is a perfect fistful. Wrapped in greaseproof it's perfect for a picnic, accompanied by sweet potato string fries it's wonderful for a weekend supper with a few friends and a couple of beers.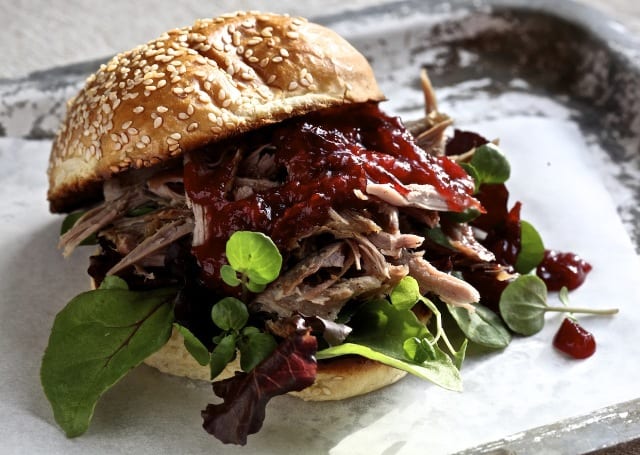 The duck does take a while to cook, but whilst it's in the oven you can do something else. Open a beer and get a start on your friends.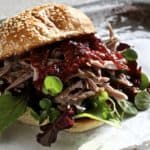 Five Spice Pulled Duck Bun with Plum Sauce
Ingredients
4

duck legs

4

teaspoons

five spice

Salt and black pepper

8

plums

cut in quarters, stone removed

3

tbsp

light brown sugar

3

star anise

2

small sticks cinnamon

4

Brioche type buns

100

g

mixed salad leaves
Instructions
Preheat the oven 180c, 160c fan, 325f, gas mark 3

Prick the duck legs all over on the skin side and then rub each leg, on both sides with 1 tsp five spice powder. Season, on the skin side with salt and pepper.

Place on a rack in a roasting dish skin side up, cover with foil and roast in the oven for 1 hour, 50 minutes.

Meanwhile, put the plums, sugar, star anise and cinnamon into a small pan and place over a moderate heat with the lid on. Leave to cook gently for about 30 minutes. The plums will break down and form a soft, sticky chutney, set aside to cool slightly. Once cooler, remove the star anise and cinnamon before serving.

Remove the duck from the oven and allow to rest for 10-15 minutes. Whilst the duck is resting, cut the bun in half and toast either on a griddle or in a toaster.

Using two forks, pull the duck meat from the bones and pull into small pieces like for a Peking duck. Put an equal amount of the salad leaves onto the bottom half of the four buns, Pile the duck onto the leaves and top with a large dollop of the plum sauce, Put the top of the bun on and serve.