This Festive Meringue Wreath is a showstopping festive dessert, and much lighter than the traditional Christmas puddings, cakes and pies.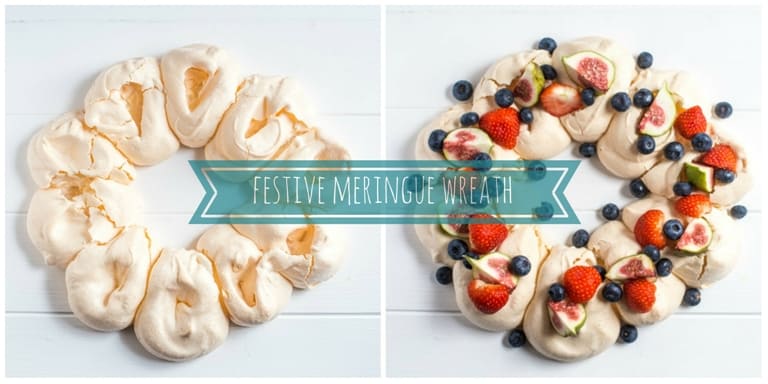 Welcome to my favourite bake of the entire year, a stunning Festive Meringue Wreath!
Things are certainly looking festive around here!
I'm not normally one for getting excited about Christmas, but over the course of this year some family wounds have been healed and that has relaxed so many facets of my life.
I feel excited about planning and celebrating crimbo. And of course eating lots of good food :D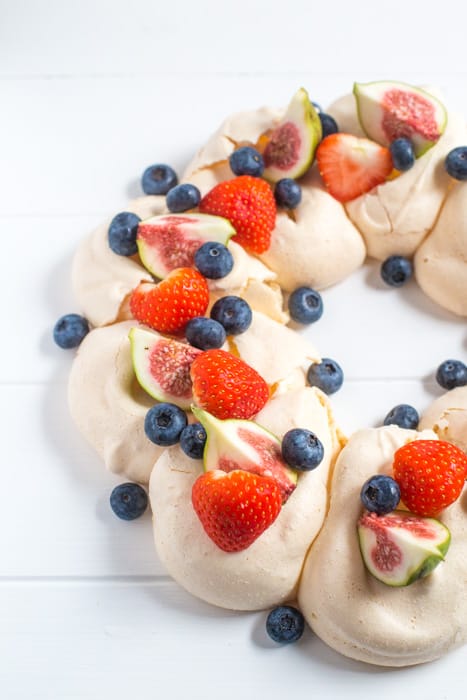 Now I am a firm fan of Christmas pud with lashings of brandy butter, of mince pies, and even Christmas cake (sans marzipan for me please).
But I would never be able to eat any of them straight after indulging in The Big Meal.
They are all so heavy and filling that they are a meal in themselves, best served with coffee and at least a couple of hours either side of any other grub.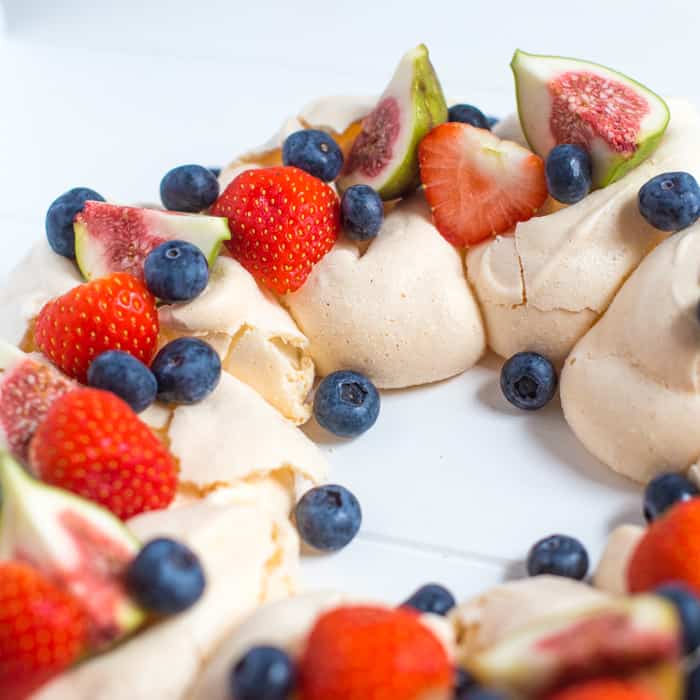 For the past ten or more years I've served these Satsumas Poached in Red Wine (if you haven't tried them yet, please give them a go this year – they are just incredible!) which for the lactose happy are made even tastier with a great big dollop of Rodda's Clotted Cream.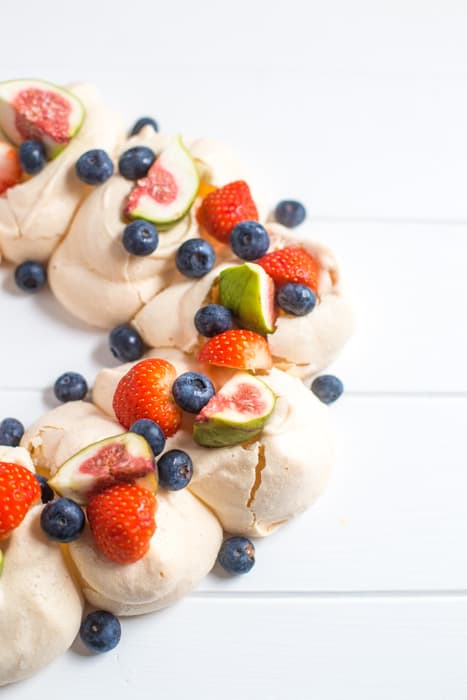 However, if you are after a showstopper this year, I need you to take a peep at my most recent bake. This delectable Festive Meringue Wreath.
A great big fluffy wreath shaped meringue.
With individual little nests perfect for filling whatever your heart desires. I opted for some (out of season and therefore ridiculously overpriced) strawberries, blueberries and figs.
Once again if you're not lactose challenged, grab a big old tun of clotted cream and dollop liberally.
Just please don't tell me.
If you fancy something a little more decadent, why not crumble up some chocolate brownies and crunchie bars.
Then drizzle with a salted caramel sauce (YUM!!!).
Or maybe some mincemeat, satsuma segments and cream?
If you plump for something else to fill those nests, please do let me know in the comments below ;)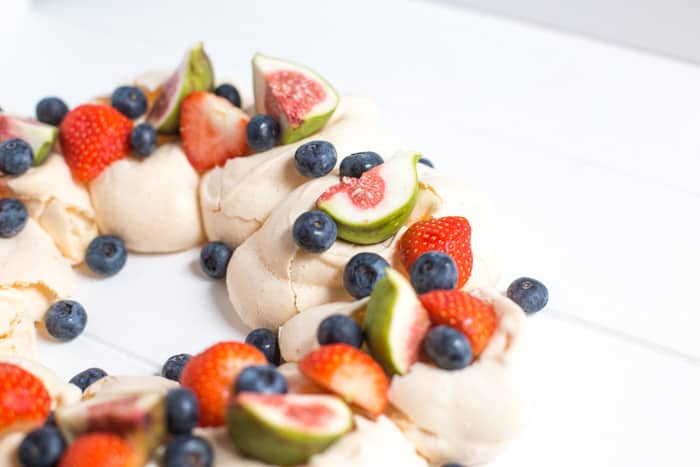 Festive Meringue Wreath
When you come to prep the meringues for the oven, draw around your serving plate onto the back of the grease proof baking paper before dolloping on the goo.
This way when your meringues are all cooked and cooled, you know they'll fit without having to break them up.
I hadn't thought this part through before baking (duh) and my gigantic nest wouldn't fit on my serving plate.
Which is why I took these photos with the meringues dressed on a white photography board.
Thank goodness I had this trial run before the big day!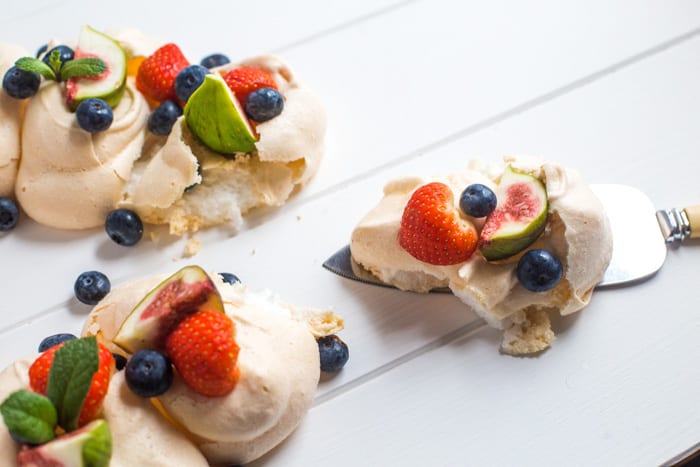 What are your traditional Christmas day puds?
Are you traditionalists or do you like to shake things up a bit?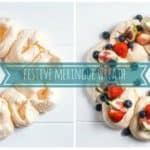 Fruity Meringue Wreath
Keyword:
festive meringue wreath
Ingredients
4

egg whites

200

g

golden caster sugar

50

g

granulated brown sugar

200

g

strawberries

200

g

blueberries

4

figs

quartered
Instructions
Take a sheet of greaseproof baking paper and sketch around the serving plate you want to use on Christmas day. Lightly grease a large baking sheet and pop the greaseproof paper on it, ink side down.

Make sure all equipment you use below is perfectly clean and grease free. To be extra sure and avoid catastrophe, some people wipe a cut lemon over the bowl and whisk before starting although I've never found that necessary.

Preheat the oven to 110c/100 fan/225f/gas 1/4

Using an electric whisk (unless you're a masochist or iron man) beat the egg whites until they become stiff peaks.

Add half the caster sugar and continue beating until the peaks turn shiny and very stiff.

Add in the remaining caster sugar, continue beating until it becomes beautifully silky and stiff then gently fold in the brown sugar with a spoon.

Taking a tablespoon, dollop the meringues mixture around the baking paper, staying within the lines. I found 2 tablespoons made 10 nests perfectly, but feel free to play around with the size to suite your serving dish and number of guests.

Pour some boiling water from the kettle into a mug. Heat a teaspoon in the water, dry on a tea towel and whilst it's still hot use it to melt the meringue in the centre of each dollop creating a nest. Re-dunk the spoon and repeat until you have hollowed out each of the nests.

Bake in the oven for 2 hours, they should become golden and ever so lightly caramelised when done.

Slide the baking paper onto a cooling rack and when completely cool very gently peel away the paper. Don't panic if it cracks a little as you'll be covering it with fruit.

Just before serving top with the berries and figs.
Nutrition Facts
Fruity Meringue Wreath
Amount Per Serving
Calories 118
% Daily Value*
Fat 0g0%
Cholesterol 0mg0%
Sodium 20mg1%
Potassium 65mg2%
Carbohydrates 29g10%
Protein 1g2%
Vitamin A 30IU1%
Vitamin C 1.1mg1%
Calcium 7mg1%
Iron 0.1mg1%
* Percent Daily Values are based on a 2000 calorie diet.