This Festive Dirty Steak Salad is my new favourite campfire meal! At its core is a juicy, dirty steak cooked directly in the embers of the fire which is accompanied by some delicious festive sides.

Before you're put off by talk of my festive dirty steak salad, let me just explain what a dirty steak is.
A dirty steak is one that is cooked directly on the coals of an open fire. No pan, no griddle, just raw meat on hot ashy coals.
It delivers the most intense flavour and crust and if you haven't tried it, I implore that you do soon. Seriously delicious stuff.
Festive Dirty Steak Salad
This festive dirty steak salad is my nod to an unconventional Christmas. Who says Christmas dinner needs to involve turkey? Or even be cooked indoors??
I know a whole heap of people that, family demands aside, would rather spend the most special meal of the year in the woods. The woodsmoke and crisp December air builds an appetite far more than central heating and board games ever could!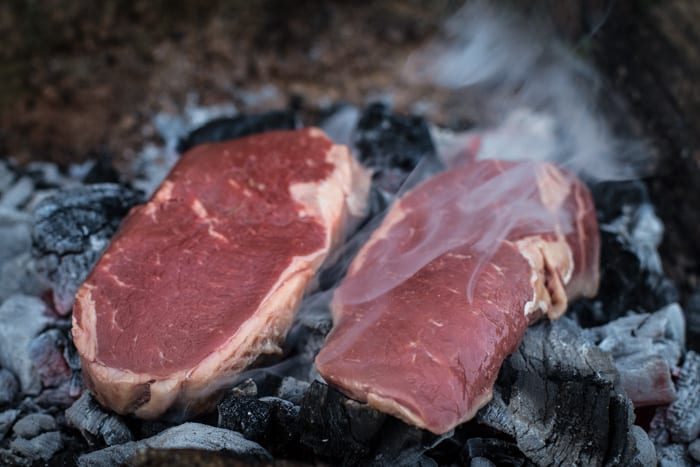 Cooked in the garden firepit on a beautifully sunny yet misty day, I spent a lovely few hours tending my coals and cooking my sides.
In between tickling the fire I whizzed up a simple chimichurri sauce using frozen herbs and dried spices that took mere minutes.
Campfire Brussels Sprouts
One of my favourite elements of the meal were the Brussels sprouts. I used frozen button sprouts, that were so tender due to their small size.
I defrosted them first, then heated a knob of butter in a small cast iron pan until sizzling.
The sprouts went in and sat for a few minutes gaining some colour before being turned.
As frozen sprouts are naturally softer than raw ones, they cooked to perfection this way and I highly recommend giving them a go.
Please don't try this with fresh, raw sprouts – that really isn't going to end well! Maybe try parboiling them first.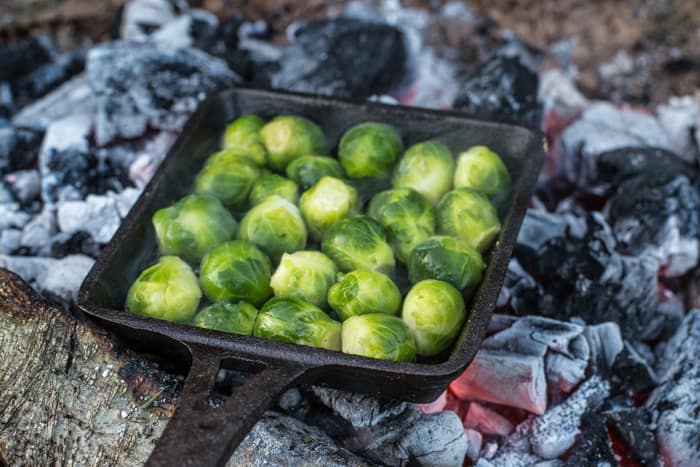 How to Cook Steak on Hot Coals
You need to keep things natural when cooking dirty steaks. Do not use briquettes, lighter fluid or firelighters as this will taint your steak and possibly add toxins to your food.
I used restaurant-grade charcoal from Iglu, a Cornish company that went out of their way to arrange an emergency weekend delivery for my festive feast.
Big thanks to all involved in responding to my BBQ emergency. I owe you all a pint :)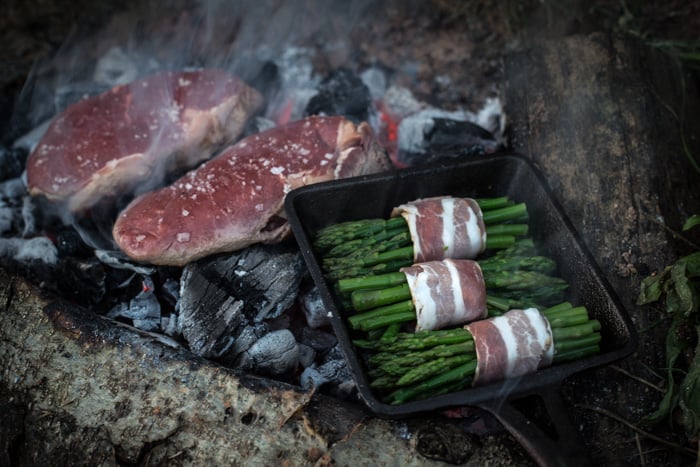 If your steaks were frozen, let them defrost overnight in the fridge. And as always let them stand at room temperature for an hour before cooking for best results.
Then just before cooking, sprinkle generously with salt.
The Perfect Cooking Fire
Wait for the coals to get ashy and white, then get a heavy-based frying pan and bash the coals to flatten them out.
This limits the amount of oxygen around the meat (stopping flare-ups that may burn your steak) and gives a better ratio of ember to steak.
When the coals are pretty level, flap vigorously with a piece of cardboard or similar to blow off most of the ash and heat the coals up a little more.
Then slap those steaks directly onto the embers and wait.
Do not touch them for the first 2 minutes of cooking time, as you want to give the meat time to caramelise and get some good crust happening.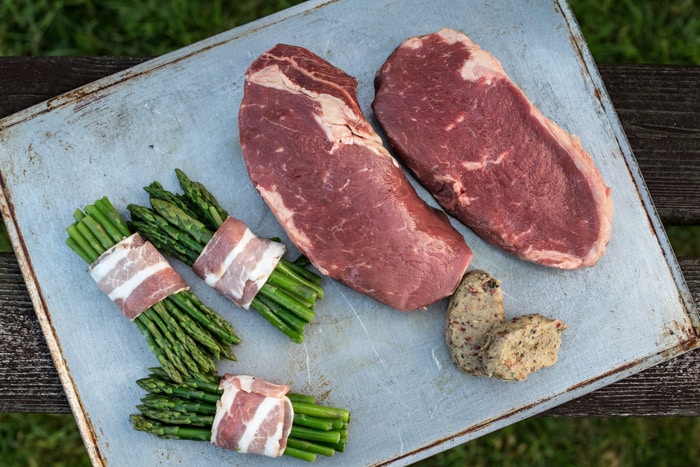 After the longest 2 minutes of your life, flip the steaks over and let cook for another 2 minutes on the other side.
If there are any coals stuck to the steak, just flick them off with your tongs.
Small amounts of ash are fine and will no doubt put hairs on your chest.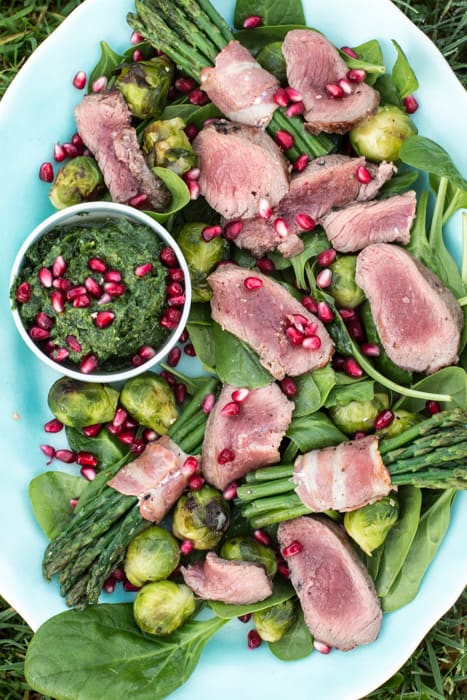 My steak was a little under an inch thick and I cooked for a total of 6 minutes to get this medium-rare finish. If you want it less pink, cook for a couple of minutes extra.
Let the steak rest on a warm plate and covered with foil for 3 or 4 minutes. Then slice thinly and top the festive salad and enjoy your unconventional Festive Dirty Steak Salad.
If you need some more campfire cooking inspiration, here's my whole collection of camping recipes.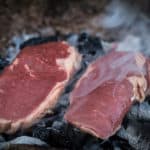 Festive Dirty Steak Salad
Keyword:
Festive Dirty Steak Salad
Ingredients
Chimichurri sauce
50

g

pot of chopped parsley

1

teaspoon

chopped red chilli

2

teaspoon

chopped garlic

1

teaspoon

dried oregano

3

tablespoon

olive oil

1/2

lemon

juice
Sides
20

Button Brussels Sprouts

defrosted

1

knob

Butter

3

Baby asparagus bundles wrapped in bacon

defrosted
Steaks
400

g

sirloin steaks

2 x 200g steaks

Salt
To serve
Fresh baby spinach leaves

Pomegranate seeds
Instructions
Chimichurri
Whizz up all the ingredients in a blender. Add a little more oil or lemon juice if too thick.
Sides
Heat the knob of butter in a small pan until sizzling. Fry the sprouts slowly, letting the colour build up. Repeat with the asparagus and bacon bundles, ensuring the bacon is cooked through.
Steaks
Season both sides of each steak generously with salt just before placing on the coals. Cook for 6 - 9 minutes total cooking time, depending on 'doneness' required.

Let rest for a few minutes before slicing thinly.

Pile up a warm plate with the sides, baby spinach, steak strips and pomegranate seeds and serve with the bowl of chimichurri sauce.
Nutrition Facts
Festive Dirty Steak Salad
Amount Per Serving
Calories 642
Calories from Fat 351
% Daily Value*
Fat 39g60%
Cholesterol 144mg48%
Sodium 252mg11%
Potassium 1647mg47%
Carbohydrates 23g8%
Protein 52g104%
Vitamin A 3980IU80%
Vitamin C 214.9mg260%
Calcium 204mg20%
Iron 8.6mg48%
* Percent Daily Values are based on a 2000 calorie diet.