If you're Whole30'ing, Paleo'ing or Low Carbing, this Egg Fried (Cauliflower) Rice is going to liven up your weekday menu a treat :)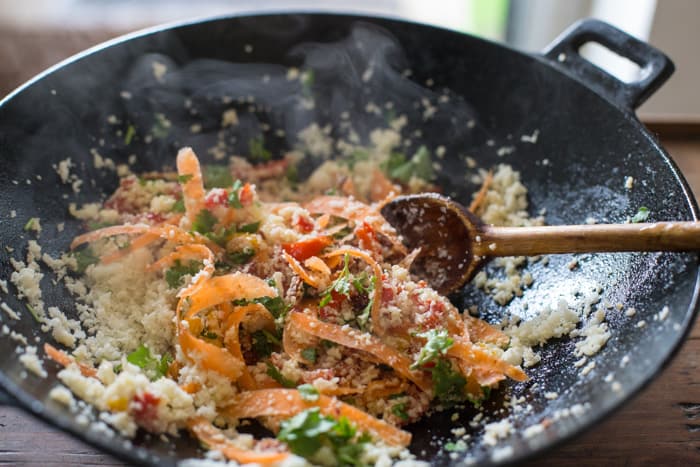 I am in love with this Egg Fried (Cauliflower) Rice.
It's on the table just minutes after getting started.
It's a pleasure to look at (which is surprisingly important in my world).
And most importantly, it tastes deeeee-vine.
OK, so 'cauliflower rice' is a thing. If you don't believe me go check Pinterest.
For those that haven't dipped their toes into this florety world beyond an old school cauliflower cheese, this may be rather enlightening…
If you take a fresh head of cauliflower, rip it into chunks, then chuck said chunks into a food processor. You end up with little grainy looking bits of cauliflower.
This is raw faux rice people.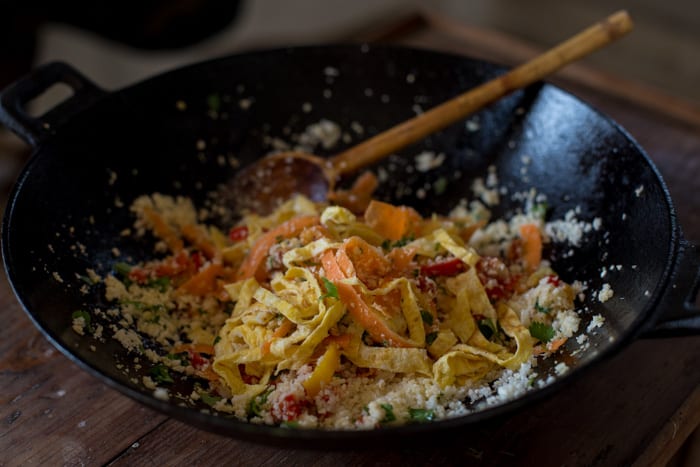 At this point you can leave it raw for a crunchy salad base. Steam it for no more than a minute or stir fry it with some other good flavours.
Does it taste like rice? Well no, not entirely but weirdly it doesn't taste like mushed up cauliflower either.
It's kind of tasteless and just begging to be paired with something sexy that's full of flavour.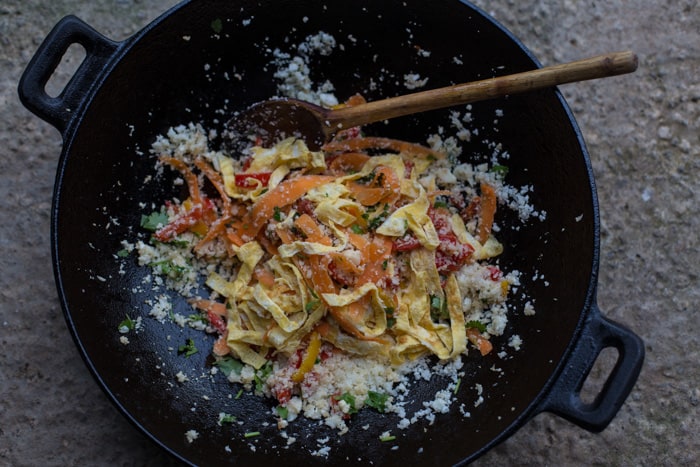 I appreciate you may be wondering what the hell is wrong enough with rice that you need to faux-it-up.
For devotee's of paleo/keto/low carb diets, all grains are a no-no.
And those low-carby folks know that reducing carbs = losing weight.
Am I any of these? Not entirely, although I had such great results on the Whole30 last year that I am kinda living by the bulk of the no grain *guidelines.
*Apart from the tempura vegetables that I scoffed on a food shoot at Theatre Royal this week. I wasn't missing out on that opportunity for anyone :)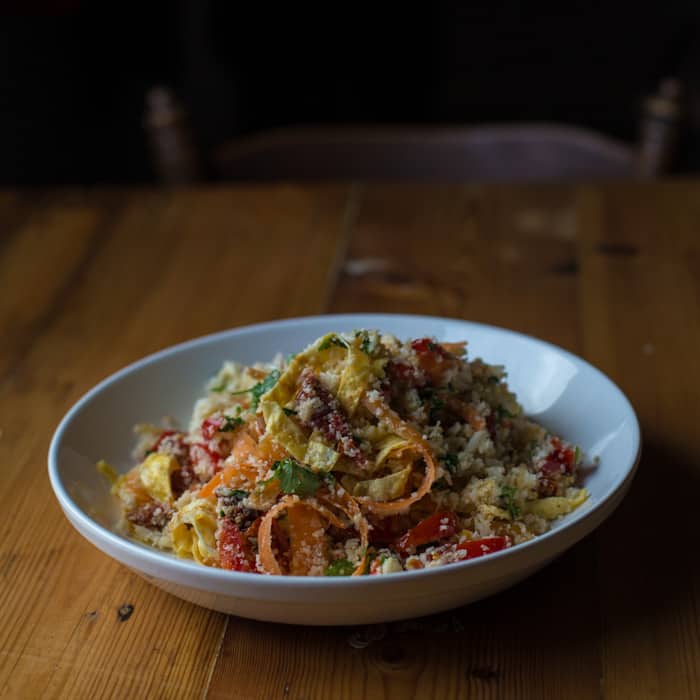 Anyways, back to the faux rice…
Obviously, you can add in any bits and bobs that you fancy.
I wanted colour and flavour so went for carrots, red and yellow peppers, red chilli flakes, coriander and sun-dried tomatoes.
For me, it's those last three ingredients that made this dish so tasty.

When it comes to making the eggy ribbons, simply season and beat your eggs.
Pour in batches into a lightly greased frying pan, swirling round the pan to get an even coating.
Then when cooked, flip like you would a pancake.
Pop them onto a chopping board, roll up and slice into ribbons.
Dead easy and a lovely touch for this easy peasy Egg Fried (Cauliflower) Rice :)
Add a dash of soy sauce or coconut aminos at the table to finish it off to perfection. Yum.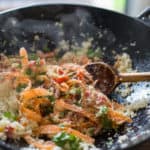 Egg Fried (Cauliflower) Rice
Ingredients
Eggy Ribbons
A little oil

4

eggs

seasoned and beaten well
Flavourings
2

tablespoons

oil

1

red & 1 green pepper

diced

2

carrots

peeled into ribbons with a potato peeler

4

spring onions

finely sliced

1/2

a jar of sundried tomatoes

chopped

Good pinch of dried chilli flakes

Fresh coriander to serve
Instructions
Rice
Whizz chunks of cauliflower in a food processor until you have small grains resembling rice.
Eggy Ribbons
Heat a little oil in a frying pan and pout in a quarter of the beaten eggs. Swirl round the pan and let cook, then flip and cook the other side. Repeat with the rest of the egg mixture.

Roll up the 4 mini omelettes and slice into ribbons.
Flavourings
Heat the oil in a large pan. Stirfry the peppers and carrots for a couple of minutes until slightly softened. Add in the cauliflower rice, sundried tomatoes, chilli flakes and stir fry for another minute or two.

Mix through the eggy ribbons and coriander and serve.