This easy crab cakes recipe makes the perfect midweek tea or lazy weekend lunch. Serve alongside a fresh salad or some lightly stir-fried veggies.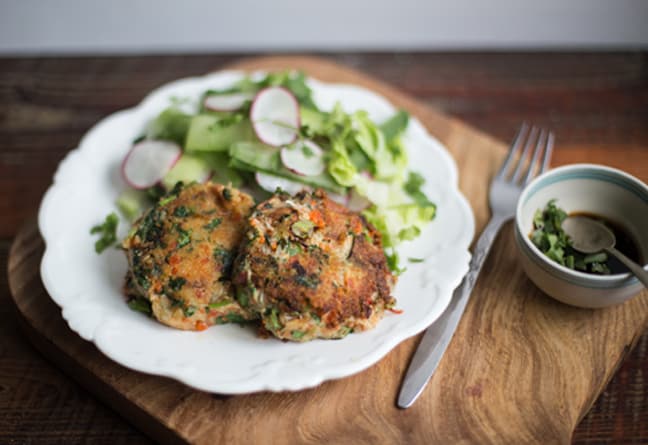 As Jonny won't eat seafood, splurging on a whole crab, just for me, doesn't often fit into my weekly food budget.
However, this week I had a whole bunch of invoices clear at the same time, and whilst that may have sent most normal women clothes shopping, it sent me straight down to the fishmongers.
Rock & roll.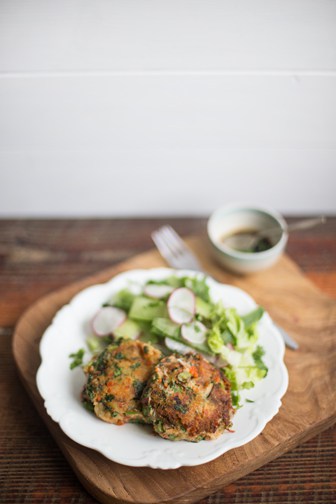 Whilst I could quite happily have sat in a secret, dark corner and snaffled all that sweet juicy meat straight from the shell, I figured I'd be a grown up and actually elevate it from a guilty pleasure to a light and deeply flavourful lunch.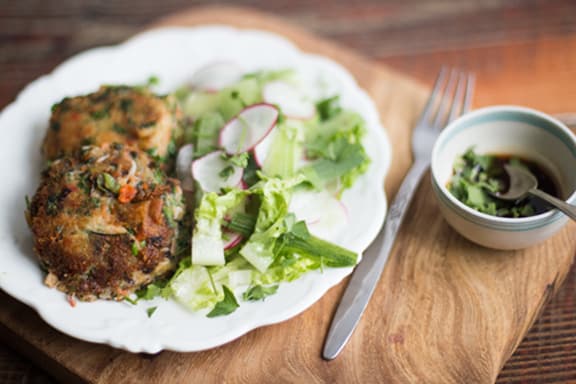 And so, ta-da! Very simple crab cakes that are flavoured with coriander, spring onion and chilli.
Serve them with some fresh salad and a drizzle of soy sauce or some sweet chilli dipping sauce. Delish.
The recipe is loose, based on the size of the crab you acquire, just match the amount of potato to the amount of (white & dark) meat you pull from the shell.
A small brown crab, about 6 inches across, will easily make 4 crab cakes. But if you are going much bigger, think about increasing amounts of seasonings suggested.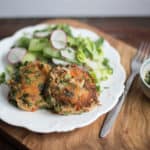 Easy Peasy Crab Cakes
Ingredients
1

crab

ideally handpicked

Equal amount of cooked potato

1

spring onions

chopped

1

red chilli

Small bunch coriander

chopped

Splash of fish sauce or soy sauce

Oil for frying
Instructions
Scrape the crab meat into the pan with the drained, cooked potatoes. Add in the springs onions, chilli, coriander and fish/soy sauce and mash loosely with the back of a fork.

Combine everything well and then shape into patties.

Heat a real good glug of oil in a frying pan until shimmering. Very carefully slide a crab cake into the hot oil. Don't overcrowd the pan.

Cook for 2 minutes then swiftly turn the patty over to cook the other side. Do be careful as it is easy to get splashed with the hot oil.