This easy one pot vegan mushroom stroganoff has quickly become a favourite both at home and when camping. It's rich, creamy and deeply flavoured whilst still being vegan and extremely healthy.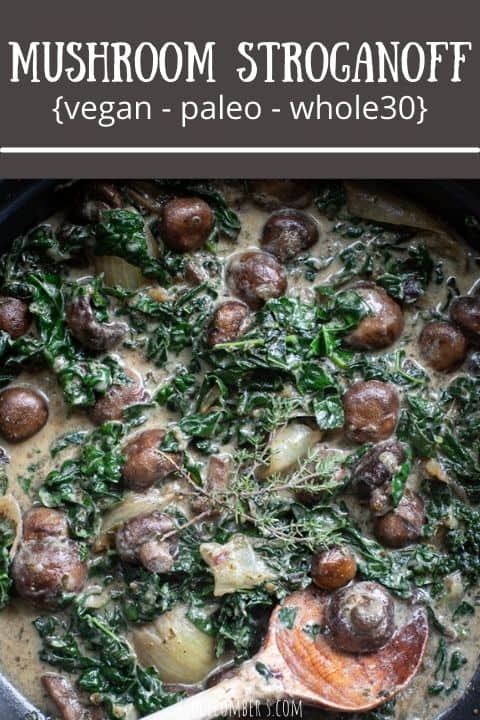 This recipe was inspired by a trip I took this summer to Embercombe.
Embercombe is a retreat centre in Devon that provides a range of wild and creative courses to those that are seeking a deeper connection with themselves, others and the planet.
The location is perfect. A rural retreat in the most beautiful English countryside with yurts for visitors to sleep in, a lake for swimming, a gorgeous meeting space for inclement weather and the rustic dining yurt where all your vegan meals are provided.
It was the food, and the kitchen space it was prepared in, that got me involved with Embercombe.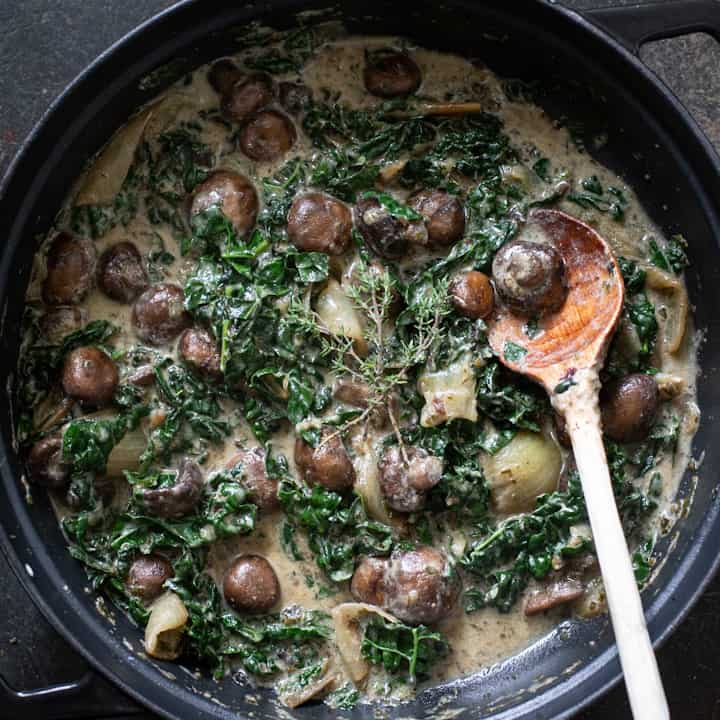 I ended up working in their kitchen for a few days this summer.
Today's post is inspired by a recipe created by Sophia, their wonderful Kitchen Manager, for vegan mushroom stroganoff.
I've made a few tweaks to suit my personal diet. But I'll talk you through those changes as we walk through the recipe below.
How to Make a One Pot Vegan Mushroom Stroganoff
1/ prep your onions
Top and tail your onions, then cut in quarters.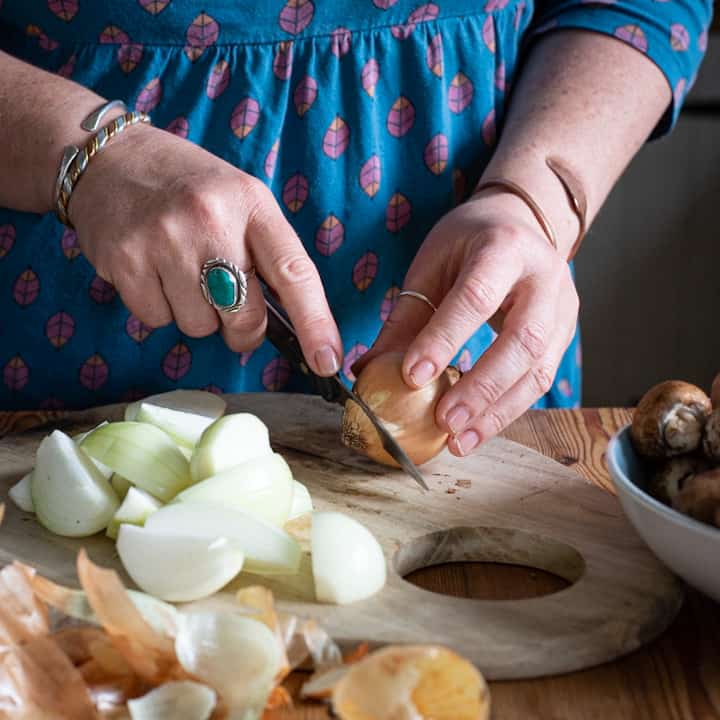 If you need the dish to cook quickly, for example if you're camping, feel free to chop the onions much smaller.
Tip into a large sauté pan along with the oil and cook for 5 minutes.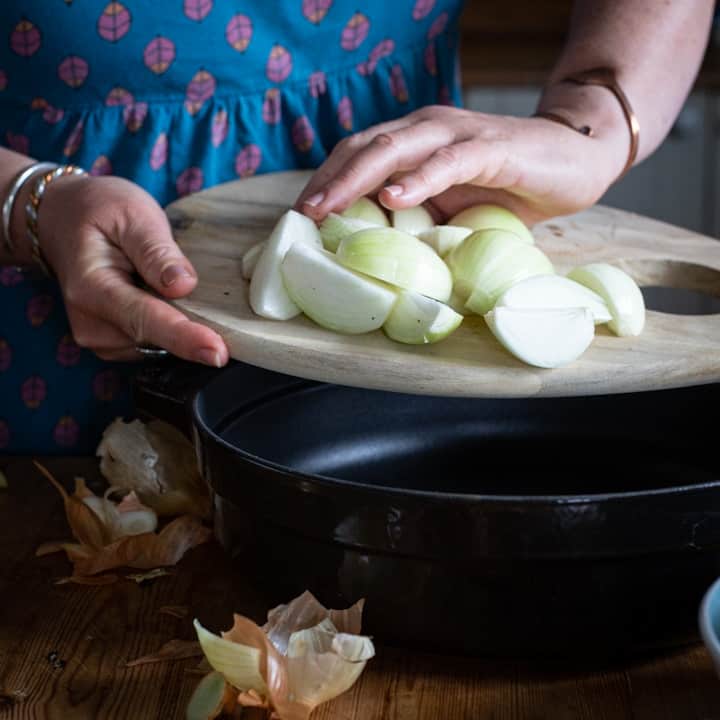 2/ Prep your mushrooms
I've made this with several different types of mushrooms, and by far my favourite are these baby chestnut mushrooms.
They are small enough to keep whole if you prefer.
They cook beautifully, and taste almost beefy in this dish. So much so that your meat eater friends will be in awe of how this dish is actually vegan!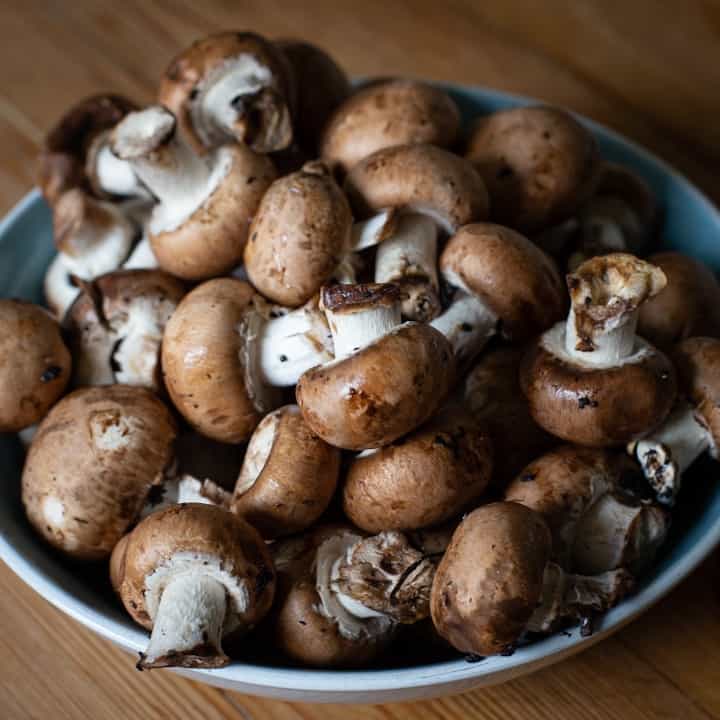 That said, use whatever mushrooms you prefer.
Keep it simple (and cheap!) with button mushrooms. Fancy with shiitake and oyster mushrooms. Or wild if you know your wild foraged mushrooms.
I don't wash dirt from mushrooms as they tend to soak the water up thereby cheating you of the beautiful caramelisation they bring to the dish.
Instead I brush the dirt off, or wipe with a dry piece of kitchen paper.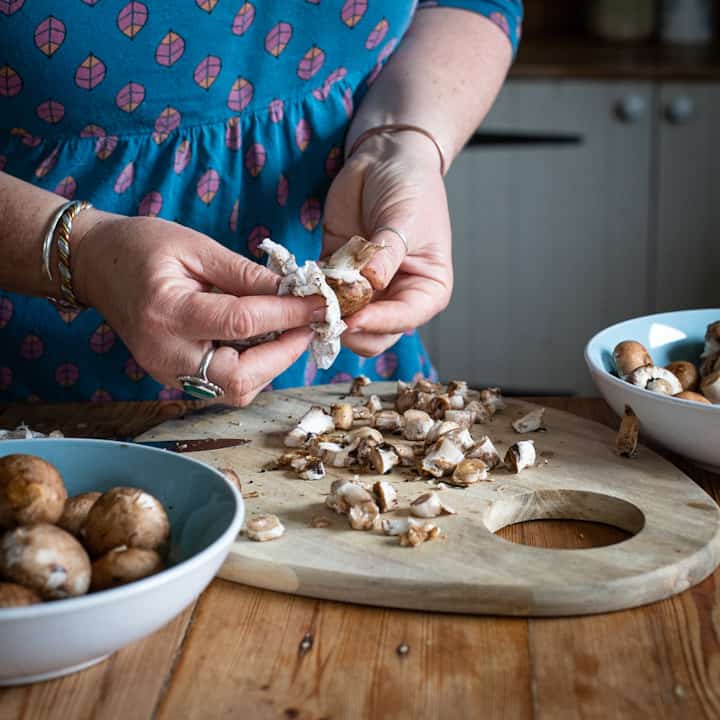 I also like to trim a little of the stalk away too, especially if it looks grubby or dried out.
3/ Add in your herbs and sauté together
I rushed out between rain storms to pick this little sprig of thyme from the herb garden. At Embercombe they used thyme and rosemary, but you could use any of your favourite herbs to flavour the dish.
Dried herbs would work well too.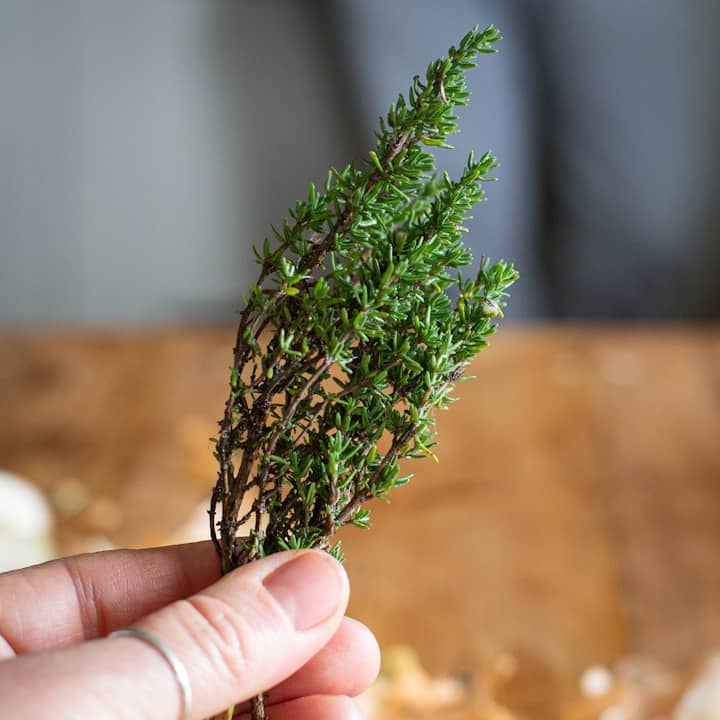 Add them to the pan and sauté everything together.
If the little mushrooms are whole, and the onions in large chunks like mine, this will take a good 30-40 minutes of gentle cooking.
If everything is chopped into a smaller, bite-sized pieces, you could reduce this cooking time to 15-20 minutes.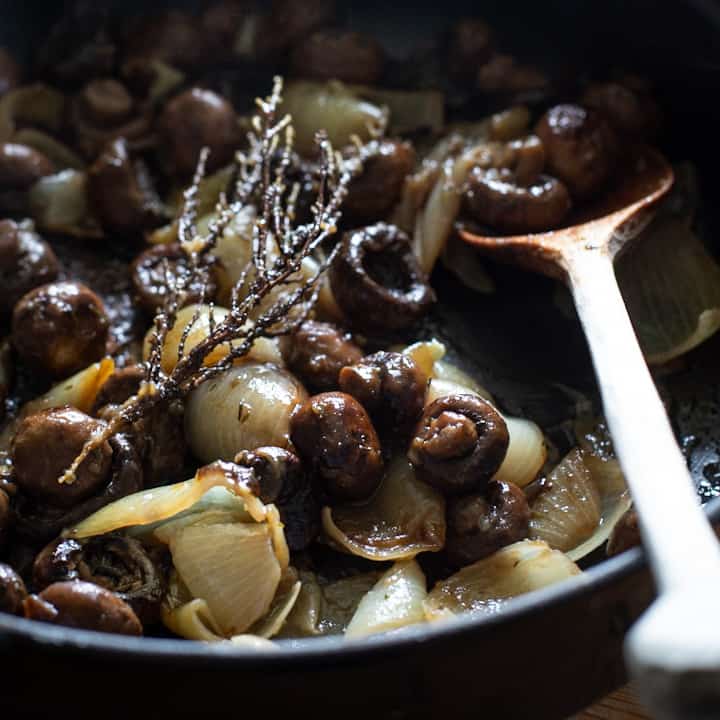 4/ make the creamy vegan stroganoff sauce
Once the onions and mushrooms are soft and juicy, it's time to make that creamy Stroganoff!
Talking of creamy, I opted to make the sauce with a can of full fat coconut milk to keep mine Whole30/paleo compliant. At Embercombe they used little cartons of oat cream which was equally delicious.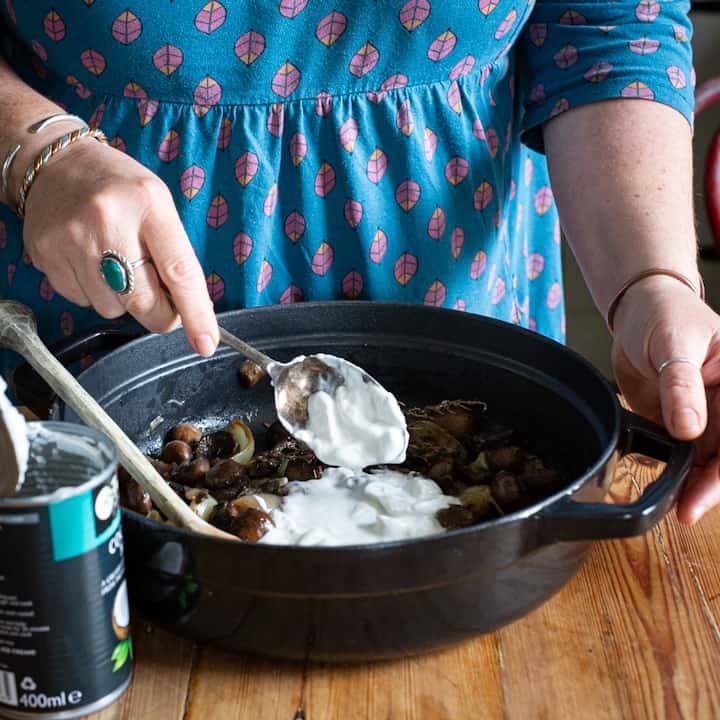 To this, add in the nutritional yeast for an umami depth.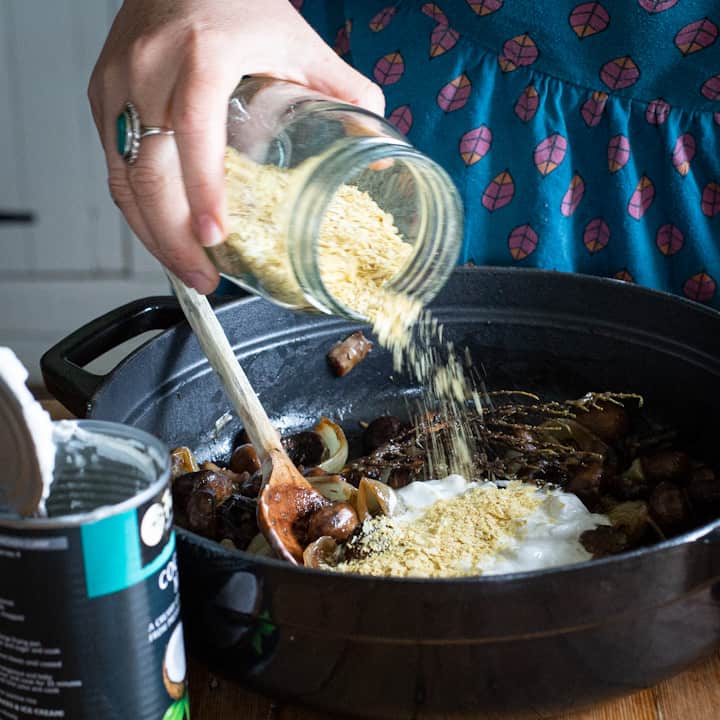 Next up is to add some seaweed flakes.
These are the ones that I used and they are perfect. You can find them in many UK supermarkets, or order them directly from the producers here: Cornish Seaweed Co.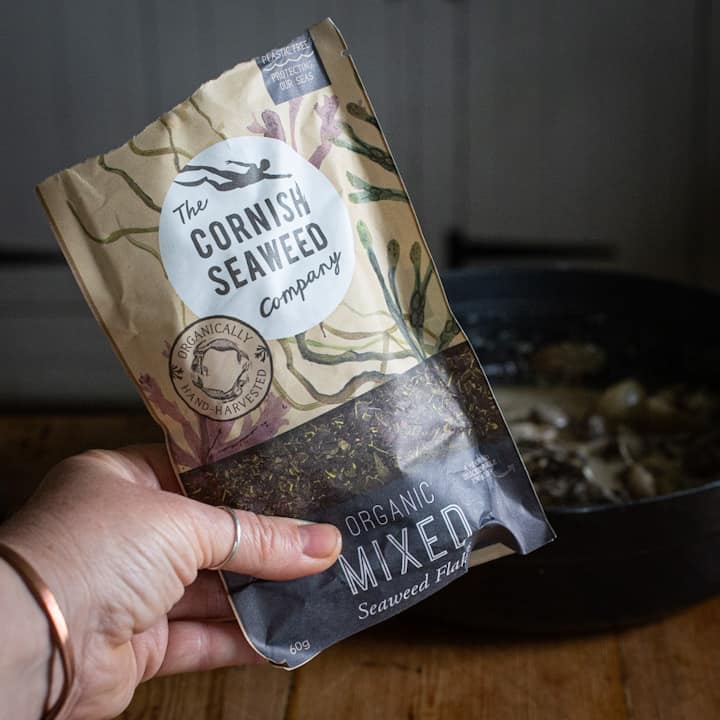 I have also used dried Wakame, which tastes great too. But I would recommend rehydrating wakame separately, then cutting into much smaller pieces before adding it to the stroganoff.
Otherwise they rehydrate into such big pieces of seaweed that are quite overpowering.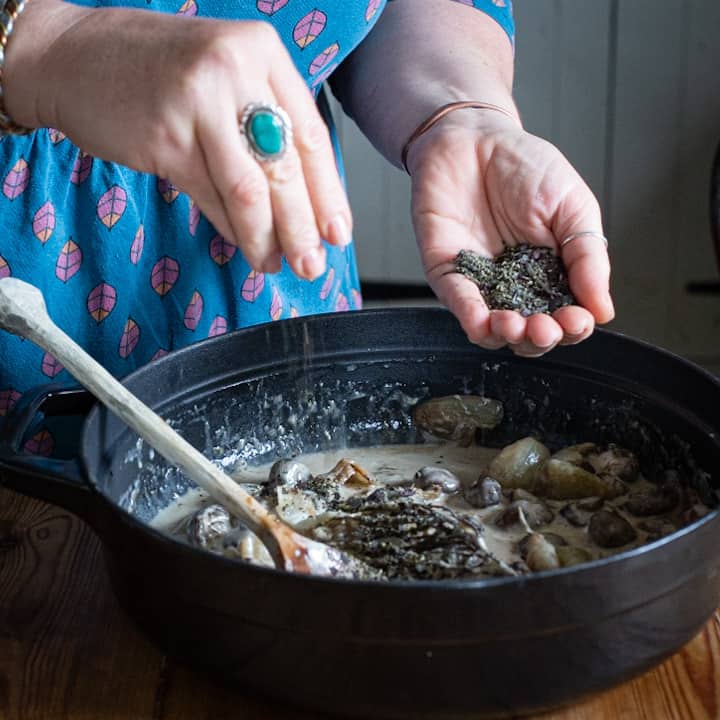 5/ add your greens
Finally I'm adding some chopped greens. At Embercombe they served wilted greens as a side dish to the Strog. But you may know I like all things one-pot here on The Hedgecombers, so I decided to combine the two.
I used Cavola Nero (black kale) as it's my favourite. But you could use whatever greens you have on hand.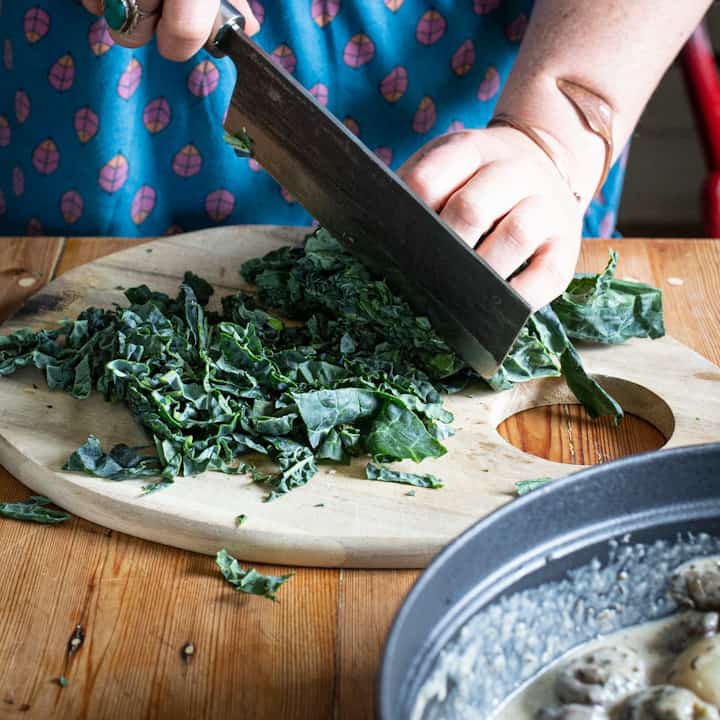 I would however recommend finding the darkest leafy greens you can for maximum nutrients.
Add this into the pan and simmer gently for a few minutes until it's cooked just how you like.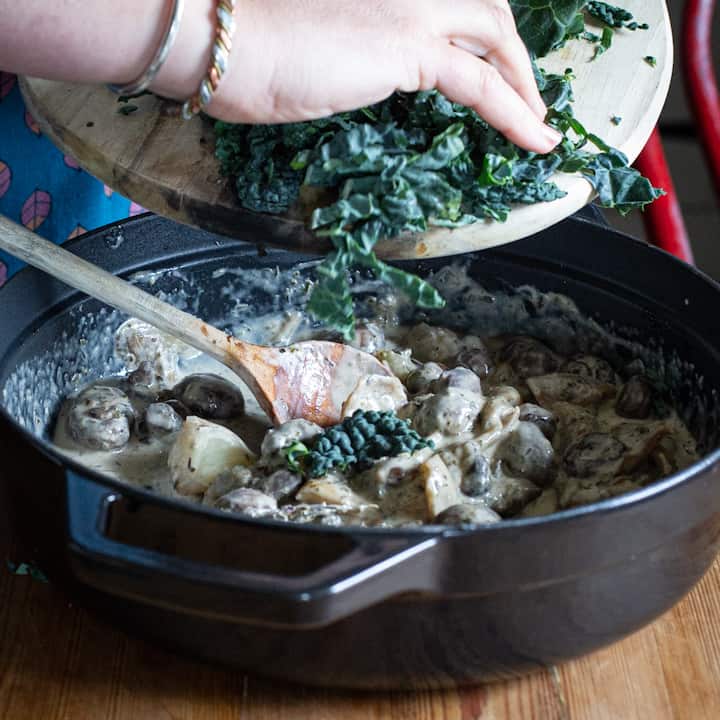 6/ check your seasonings
When the sauce has reduced, and the flavours have all come together, taste and adjust the seasoning to suit.
To serve, I personally like to eat this creamy mushroom strog as is, all on its own.
But you could serve with pasta, rice, mashed potatoes or big chunks of fresh bread.
Enjoy!!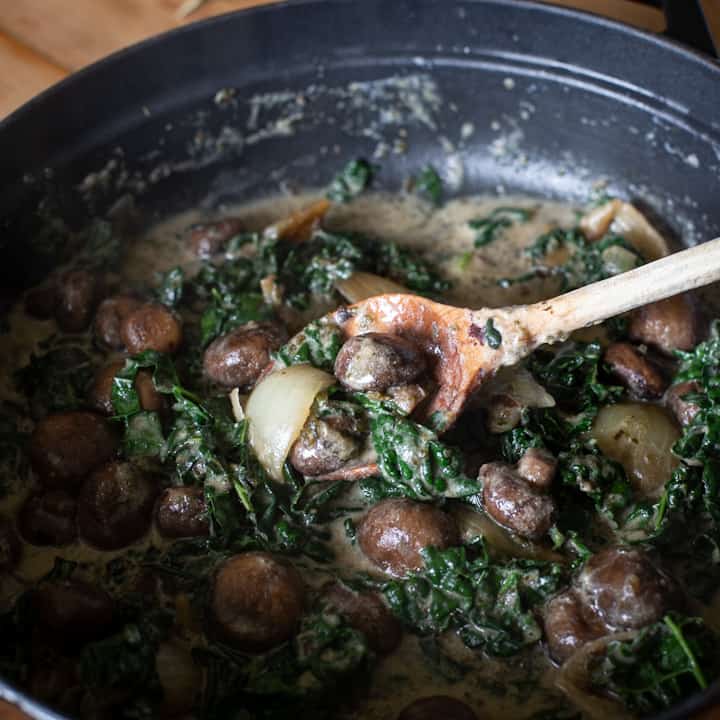 How to Make Mushroom Stroganoff in the Oven
At Embercombe, because we were feeding 30+ people at each meal, the vegetables were roasted in large trays in the oven.
If you choose to roast yours, place in a large baking dish with the oil and herbs. Pop on a lid, or cover with foil, then roast for 45-60 minutes.
The mushrooms should be dark and silky and the onions soft and sweet.
Once the veggies are cooked, continue the recipe in the baking dish and serve.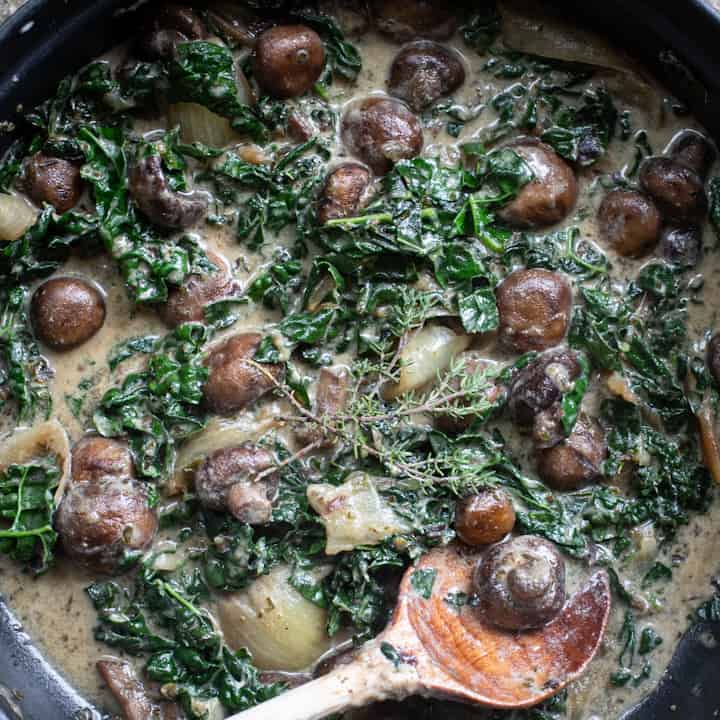 If you give this recipe a go, please do let me know what you think! You can find me pretty much everywhere online as @hedgecomber.
And do feel free to give the wonderful Embercombe a follow to`!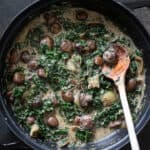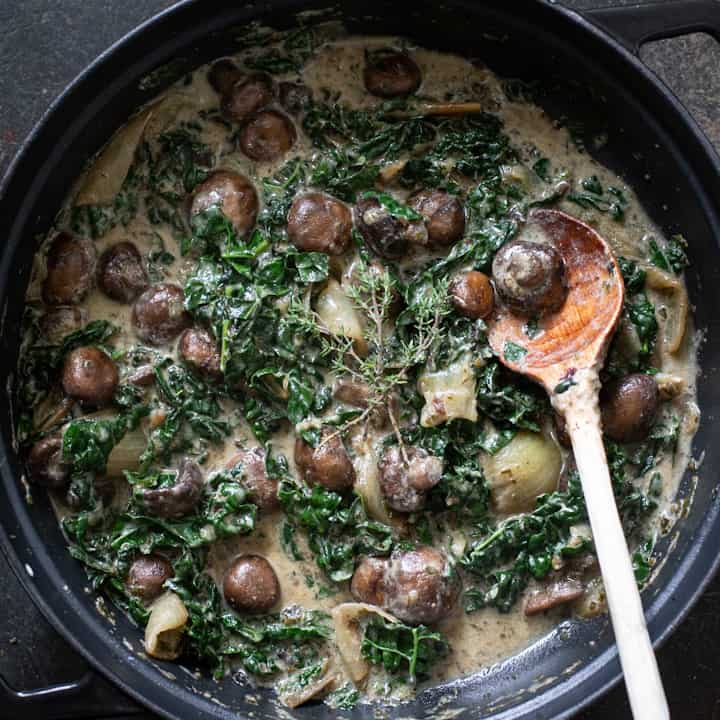 Creamy Vegan Mushroom Stroganoff
Keyword:
vegan mushroom stroganoff
Ingredients
1

tbsp

oil

2

onions

– peeled and quartered

500

g

baby chestnut mushrooms

– cleaned

1

sprig

fresh thyme

– or 1/2 tsp of dried thyme

1

tbsp

dried mixed seaweed flakes

– see link in blog post for the one I recommend

4

garlic cloves

– finely chopped

400

ml

can coconut milk

2

tsp

apple cider vinegar

– or lemon juice

1

tbsp

nutritional yeast

6

kale leaves

– stripped from the stem and finely chopped

1

pinch

salt and pepper
Instructions
Pour the oil into a large sauté pan. Add in the onions, mushrooms and spit of thyme and toss together well.

Cover with a lid and saute for 30 minutes, stirring occasionally. Be sure it doesn't burn.

When the mushrooms are silky, and the onions soft and caramelised, add in the seaweed flakes, garlic, coconut milk, apple cider vinegar, nutritional yeast and stir together well.

Finally stir through the chopped kale and season generously with salt and pepper.

Return to the heat and simmer gently with the lid off for 5 minutes.

Continue simmering with the lid off until the sauce is as thick as you like.

Or, if it looks too dry for you, add a splash of water to thin it out and bring back to a quick simmer before serving.

Serve on its own, or with a comforting carby side such as fresh bread or rice.
Nutrition Facts
Creamy Vegan Mushroom Stroganoff
Amount Per Serving
Calories 663
Calories from Fat 504
% Daily Value*
Fat 56g86%
Sodium 88mg4%
Potassium 2077mg59%
Carbohydrates 39g13%
Protein 16g32%
Vitamin A 3326IU67%
Vitamin C 56mg68%
Calcium 169mg17%
Iron 5mg28%
* Percent Daily Values are based on a 2000 calorie diet.