I made this gloriously rich Duck Ragu with Homemade Pasta with the meat from my homegrown Muscovy Ducks. However any duck from the butchers or supermarket would work well. Just remove all the skin and mince it well.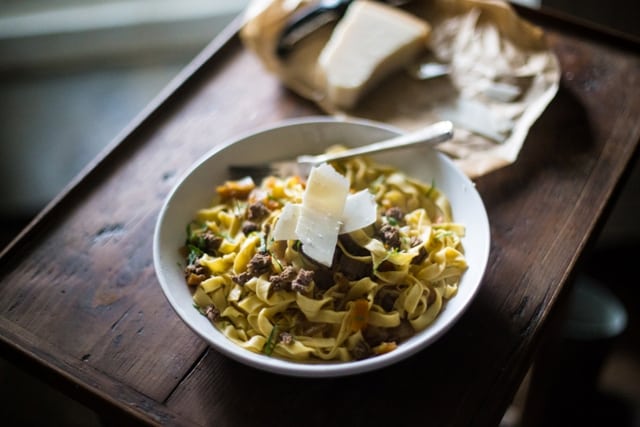 I treated myself to a pasta maker last week and was pretty excited to get my first batch of pasta made. It's a really simple recipe from what I can work out – for every 100g pasta (or bread) flour, you add 1 egg. If you double this amount, you'll have enough pasta to feed 2 – 3 people.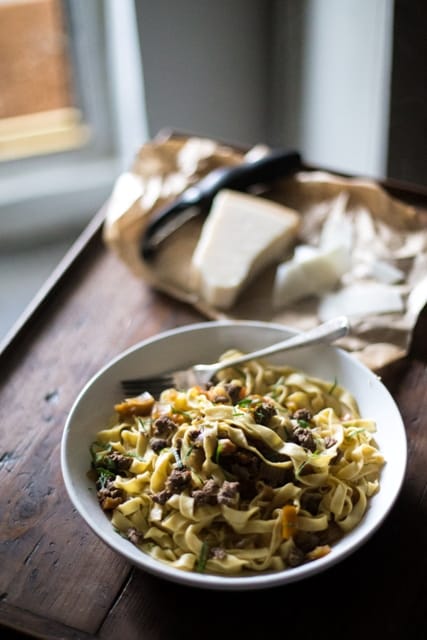 And as for the ragu sauce I served with it, well I am always looking for new ways to use the meat I get from my flock of Muscovy ducks. And mincing it is perfect when the bird is a little too old for roasting.
Remember Muscovy meat is incredibly lean so either cook it very quickly or very slowly. Anything in between is likely to give you a rubbery texture.
This isn't a wet, tomatoey ragu but rather a dish to highlight the delicious flavour of the duck meat and the light, fresh pasta.
If you would prefer more of a 'wet' sauce with yours, add in a can of tomatoes or passata to the recipe. Then let it simmer down until you have the perfect consistency.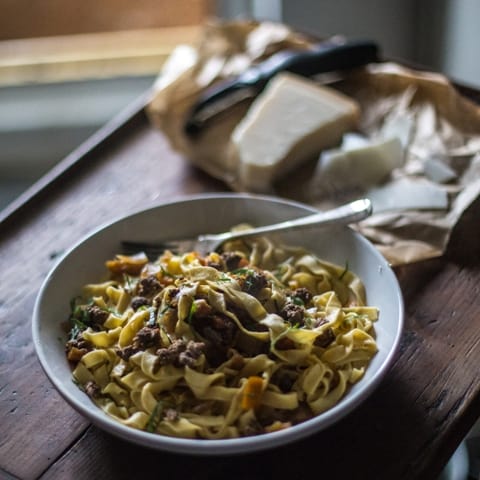 The duck ragu recipe below will feed at least 6 people. If you don't need that much either halve it, or freeze the leftovers in small batches as an easy dinner later in the month.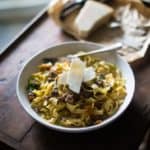 Duck Ragu with Homemade Pasta
Ingredients
A splash of oil

500

g

duck meat

minced

1

onion

finely chopped

1

red pepper

finely diced

3

garlic cloves

minced

6

tomatoes

2

tablespoons

balsamic vinegar

1

stock cube

Seasoning

Parmesan
Instructions
Heat the oil in a saucepan and brown the minced duck.

Turn the heat down, add the onion, and fry for another few minutes until it has softened.

Add the rest of the ingredients, with a splash of hot water from the kettle. Let all simmer together gently for around 10 minutes.

Meanwhile cook the pasta. If you've made yours fresh too it'll take a bout a minute in a pan of boiling water.

Taste the ragu and season as necessary. Serve with the pasta and top with a little parmesan.