This crispy fried squirrel recipe turns the meat from a wild, grey squirrel into a very ecologically sound choice for conscious cooks.
However cute they be, wild grey squirrels here in the UK are considered a vermin.
1981, the law has classed the grey squirrel as vermin. It has a long rap sheet. Greys gobble up birds' eggs or chicks, rip bark off trees and destroy acorns, reducing the number of potential oak saplings.
Greys are often carriers of a virus called squirrel pox, which is lethal for the red squirrel.
perfectly legal to kill a grey squirrel. Indeed the law (sort of) encourages it. If you capture a grey squirrel, even accidentally (if it wanders into your garage, for instance), it is illegal to release it into the wild.
However, the method of 'dispatch' is all important — you must do it humanely.
Drowning doesn't fit the bill — as window cleaner Raymond Elliott, of Branston, Staffordshire, discovered in 2010 after he helped a grey squirrel meet its end in a water butt. He was fined £1,547 and given a six-month conditional discharge. Had he killed the squirrel with an air rifle, or with a sharp blow to the head, he would have escaped prosecution.
Rather than let him go to waste, I soon had him skinned, paunched and butchered.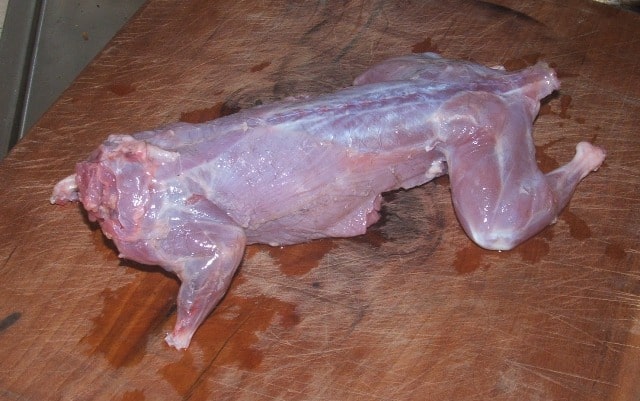 The next step involved consulting the 'God of all Things Dead' aka Mr Billy Rhomboid over at the Kill and Cure blog,
Neither Jon or I had eaten squirrel before and it went down a treat. Interestingly it tasted a whole lot like KFC.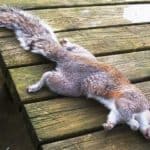 Crispy Fried Squirrel and Chips
Ingredients
1

squirrel

jointed

2

eggs

beaten

A small bowl of flour

well seasoned

A small bowl of breadcrumbs

2

tablespoons

on oil or butter
Instructions
Rinse the jointed squirrel under the tap and pat dry with kitchen paper.

Dunk each piece in the beaten egg, then the flour, then the beaten egg again and finally in the breadcrumbs.

Get the oil or butter really hot, then place in the pieces and leave along for 3-4 minutes until they have turned a crunchy golden brown. Turn over, cooking the other side until the meat is cooked through. Bear in mind that the shoulders will need less time in the pan than the saddle or legs. Serve with a great heap of homemade chips and a little pot of garlic mayo.