This recipe for crispy breakfast sweet potatoes is a quick and easy way to get perfectly cooked crispy potatoes every single time.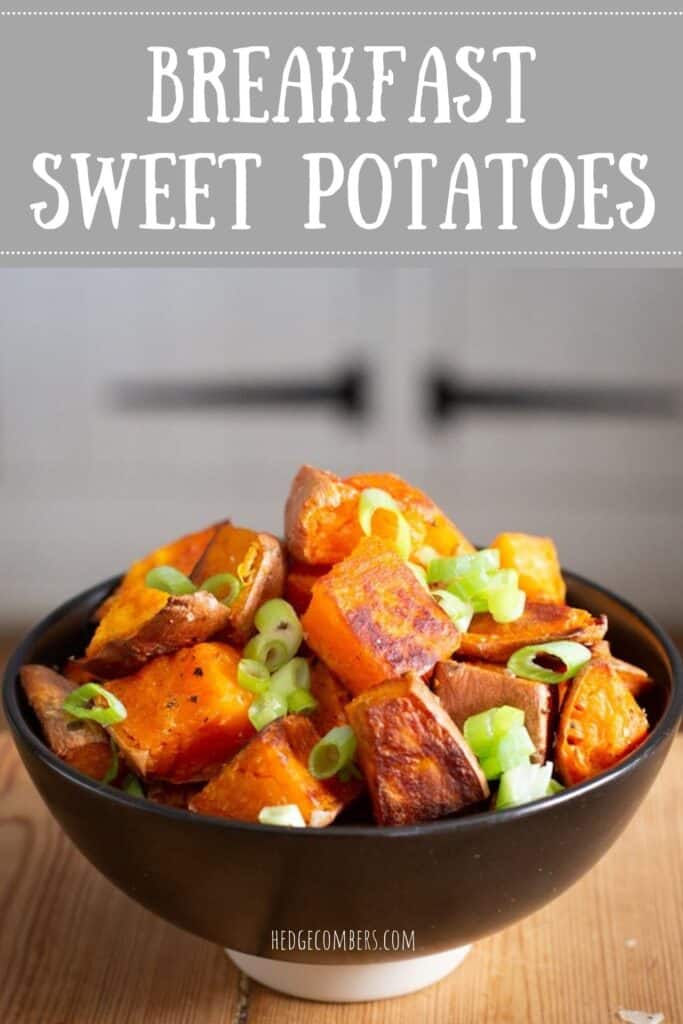 Have you ever heard of twice, or even triple cooked chips/fries? The reason that chefs worldwide go to the trouble of cooking potatoes up to three times, is to achieve the perfect eating experience.
Crispy and crunchy on the outside, yet soft and fluffy on the inside.
In this recipe for easy breakfast sweet potatoes we're going to take inspiration from those crispy, fluffy chips by pre-baking the potato first. And then finishing it off on the stovetop.
And as they can be mostly cooked ahead of time, they make the perfect stove top camping meal or indulgent weekend breakfast.
How to make Crispy Breakfast Sweet Potatoes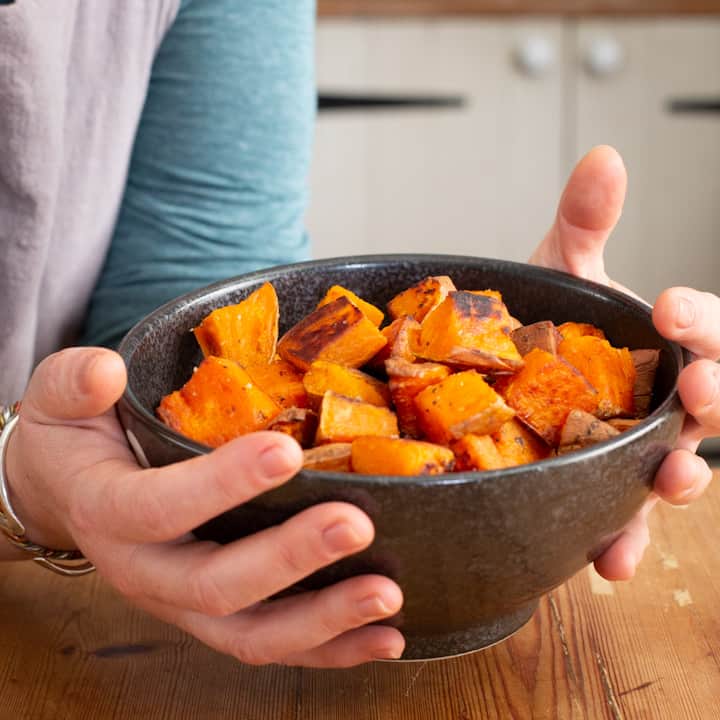 1/ prebake your sweet potatoes
First up, you'll want to wash, dry, pierce and bake your potatoes.
I simply slice into the flesh a little way using a sharp knife. If you don't do this, sweet potatoes can easily explode whilst cooking and they make a HUGE mess!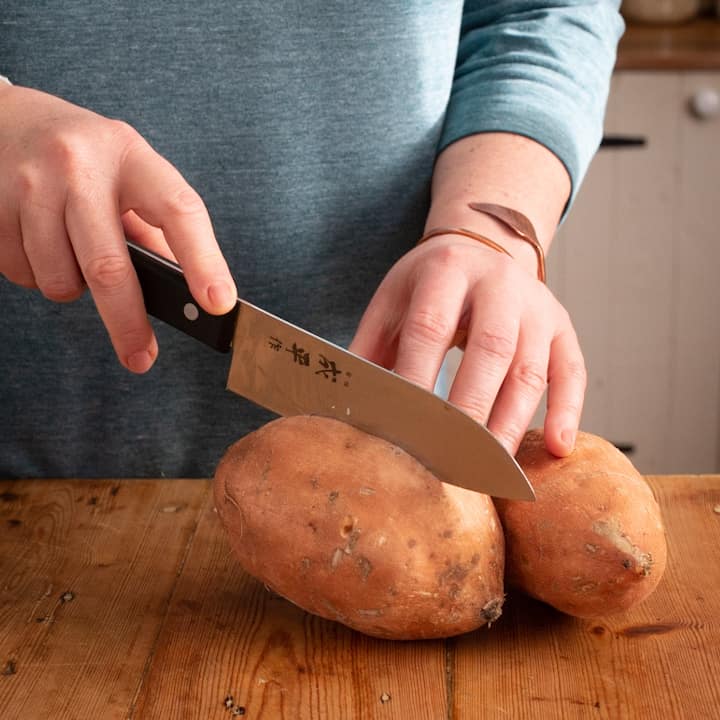 You can bake them in the oven, on a campfire or in the microwave. For timings for each method, here's a little list.
Oven baked sweet potatoes: 180C (350F) for one hour
Microwave baked sweet potatoes: 10 minutes on high, turning once midway through cooking.
The best bit is you can bake them ahead of time, even the day before, and let them cool before moving on to Step 2.
2/ Dice up your potatoes
Use a sharp knife to cut each potato into bite sized pieces.
I wouldn't do this bit ahead of time as you might find the potato flesh discolours as it has contact with the air. So keep the potatoes whole until you're ready to eat.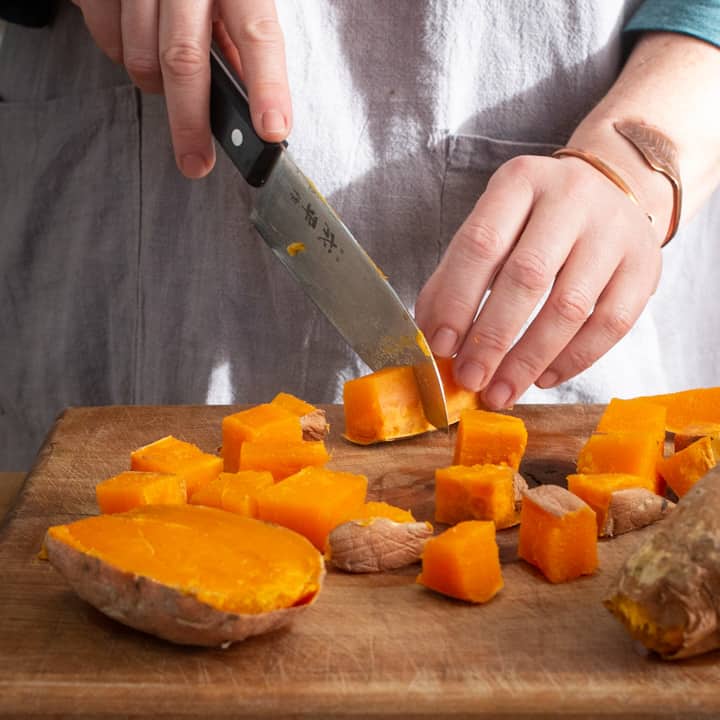 3/ Preheat a skillet or frying pan
If you pop your diced potatoes into a cold pan, you'll really struggle to get that nice crispy edges.
So preheat the pan over a medium high heat.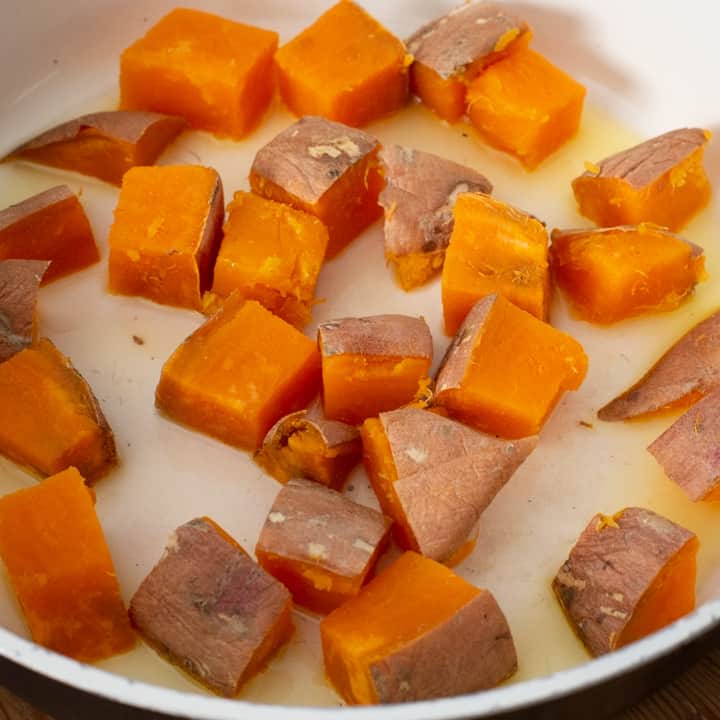 4/ Pan fry the potatoes
When the pan is hot, add in the oil or cooking fat and swirl it around the pan.
Carefully tip in your cooked sweet potato chunks. Be careful not to splash yourself with hot fat, it will burn.
Using a spatula, toss the potatoes around in the hot fat to coat them evenly, and then just let them sit for 3 or 4 minutes.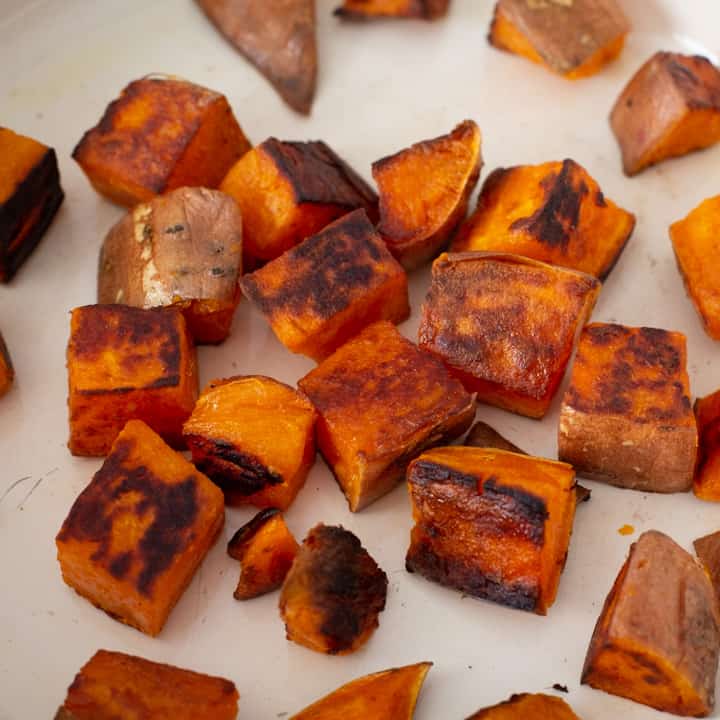 You want to keep them still to start with, allowing them time to build up a delicious crunchy crust.
After a few minutes, turn a couple over and check the colour. If they're still pale give them longer on this first side.
However, if they're starting to look nice and crispy, toss them around in the pan to fry a second side.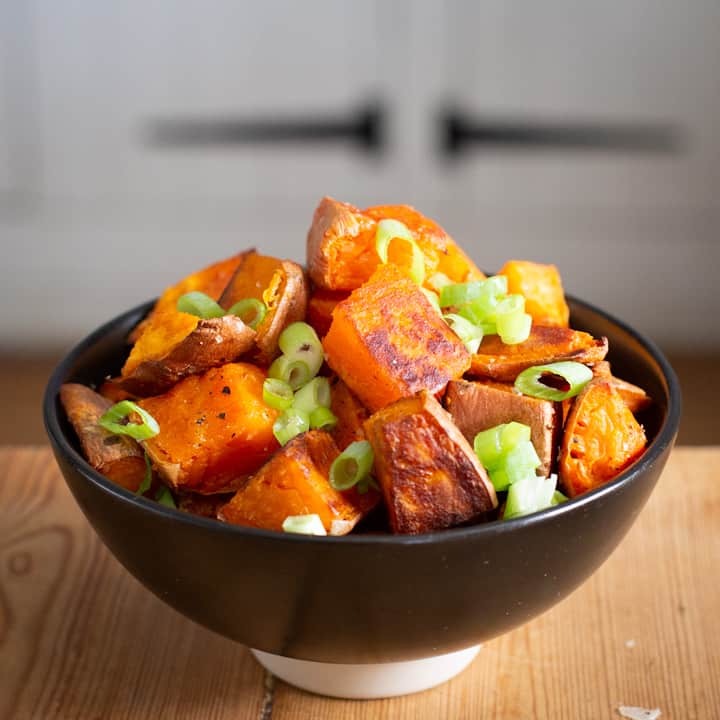 What do I serve crispy breakfast potatoes with?
You can serve your crispy fried potatoes in a number of ways.
1/ with mayo
On their own with a dollop of mayo mixed with a little garlic powder on the side is a simple favourite.
(This also makes the most perfect hangover breakfast!)
2/ with bacon
A total classic, simply dice up some streaky bacon slices and add into the pan for the last few minutes of frying the sweet potato.
3/ with a fry up
A hugely decadent start to the day, you can cook these up then keep them warm in the oven whilst you cook off the rest of the breakfast.
4/ with a fried egg and hot sauce
Simply tip the crispy potatoes out onto a plate and keep warm as you fry an egg or two.
Serve with a good squirt of hot sauce and you're good to go!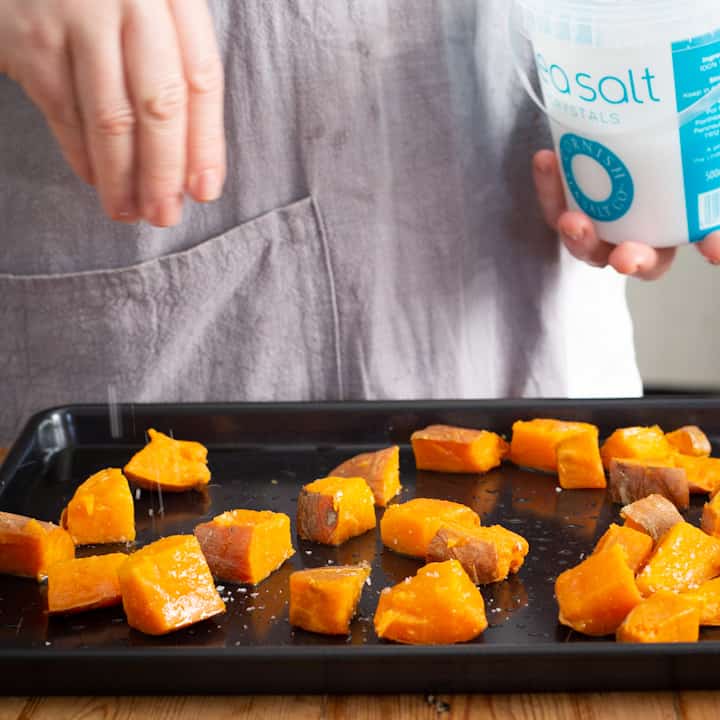 How to Oven Bake Breakfast Sweet Potatoes
Just as above, precook your sweet potatoes, then dice them into bite sized pieces.
Pre-heat a baking tray in an oven set to 180C (350F).
Remove from the oven and add the oil or fat. Then throw in the potato chunks and toss round to coat in oil.
Season with salt and pepper, then bake till crispy and golden (about 30-40 minutes).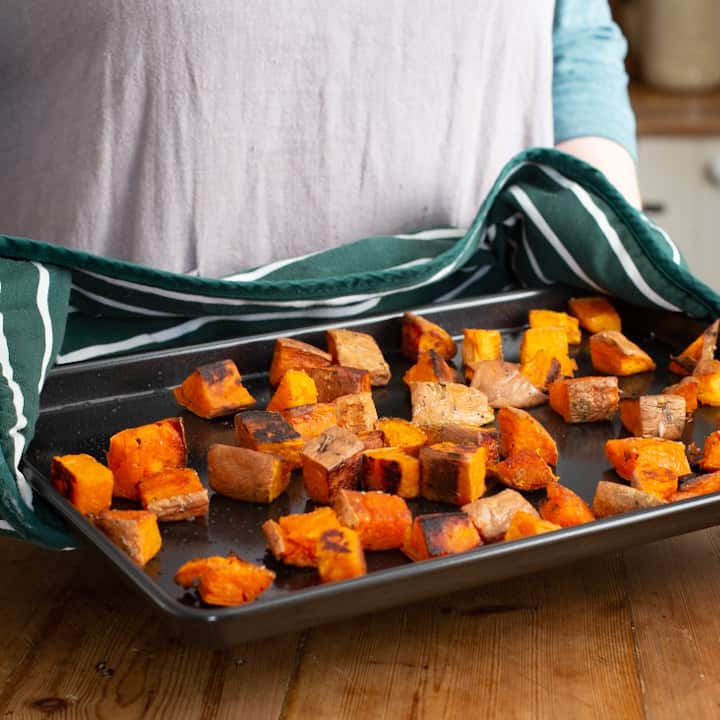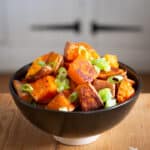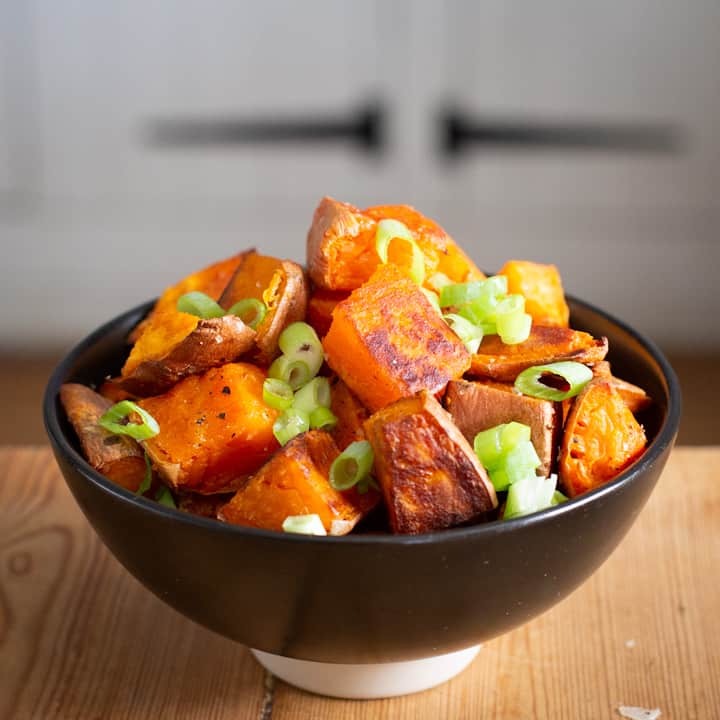 Crispy Breakfast Sweet Potatoes
This recipe for crispy breakfast sweet potatoes is a quick and easy way to get perfectly cooked crispy potatoes every single time.
Keyword:
breakfast sweet potatoes
Ingredients
2

large

sweet potato

– About 500g in weight each

1

tbsp

oil

– I used ghee, but any cooking oil would work

pinch

salt & pepper
Instructions
Prebake your potatoes
Wash, dry and pierce each sweet potato with the tip of a sharp knife.

If cooking in a microwave, lay the potatoes on a sheet of kitchen paper and cook on high for 5 minutes. Turn the potatoes over, and cook for another 5 minutes.

If your potatoes are particularly large, you might need to give them a few extra minutes.

If cooking in an oven, preheat it to 180C (350F). Place the pierced potatoes in the oven and cook for 1 hour.

If baking them in the embers of a campfire, wrap each potato in 2 sheets of foil. Scrape any burning logs out of the way and bury the potatoes in the embers, covering with more burning coals. Bake for 1 hour.

This is great to do a day or two before you need them.

Just leave them somewhere to cool fully before placing in the fridge overnight.
Sautéing
The next morning, preheat a skillet or large frying pan.

Dice each baked sweet potato into bite sized pieces.

When the pan is hot, add the oil or fat and let it swish around the pan.

Carefully tip in the diced potatoes. Toss in the hot fat to coat, shake the pan to distribute the chunks into an even layer and leave for 3 or 4 minutes to brown underneath.

When golden, toss the potatoes again and repeat until they are as golden and crispy as you like.
Nutrition Facts
Crispy Breakfast Sweet Potatoes
Amount Per Serving
Calories 354
Calories from Fat 63
% Daily Value*
Fat 7g11%
Sodium 187mg8%
Potassium 1146mg33%
Carbohydrates 68g23%
Protein 5g10%
Vitamin A 48236IU965%
Vitamin C 8mg10%
Calcium 102mg10%
Iron 2mg11%
* Percent Daily Values are based on a 2000 calorie diet.