This simple Coronation Egg salad is next level. Imagine… creamy mayo, sweet mango chutney, a hint of curry spices the crunch of onion and celery.
It's a classic!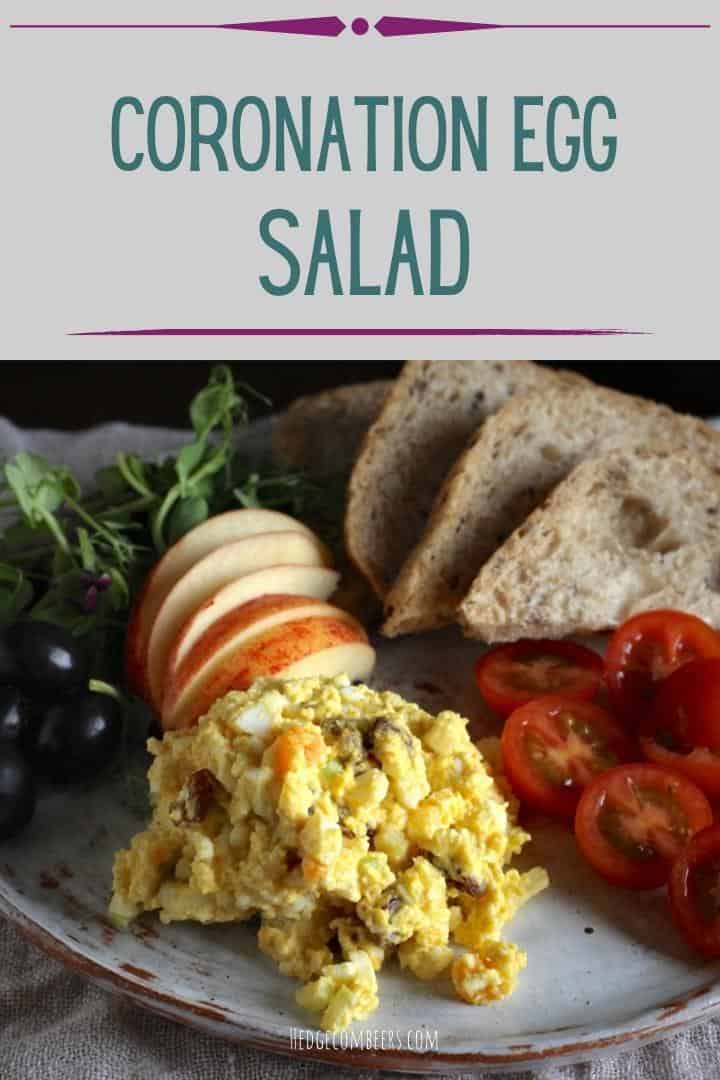 Whenever we have a glut of eggs to use up, this quick little recipe is always top of mind.
And happily my fella Jonny loves it, and could quite happily eat it every single day!
How to make Coronation Egg
1/ hard boil the eggs.
Bring a large pan of water to a boil, then carefully lower the eggs into the water with a large spoon.
Let boil for 10 minutes, then drain the water.
Fill the pan back up with cold water and let sit for a couple of minutes.
Drain and refill with more cold water, this time adding a handful of ice cubes if you have any.
Leave to cool whilst you prep the rest of the ingredients.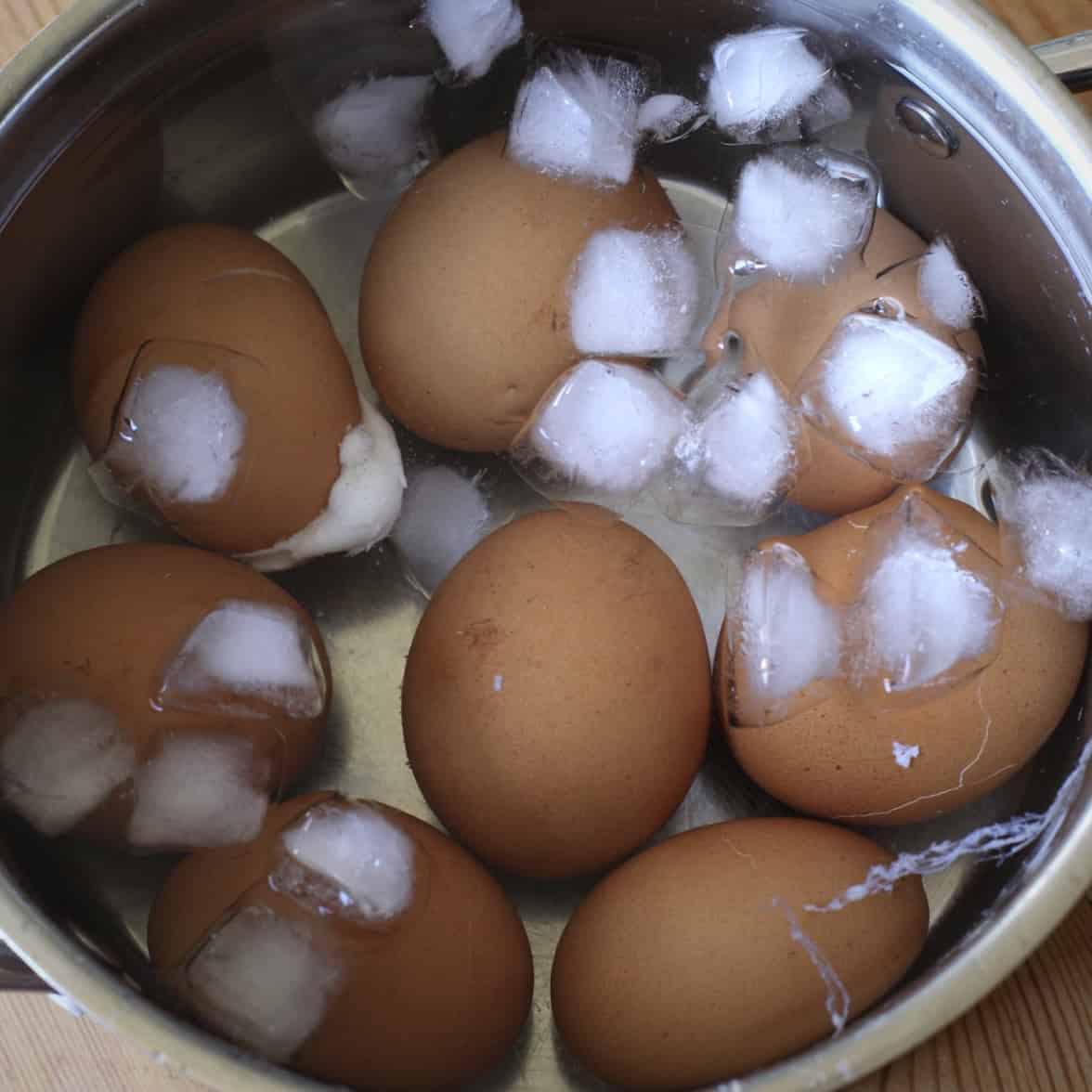 If you want to make part of the recipe ahead of time, you can store the unpeeled hard boiled eggs in the fridge for up to 3 days.
Simply drain the water first, wipe dry with a cloth and store in a Tupperware tub.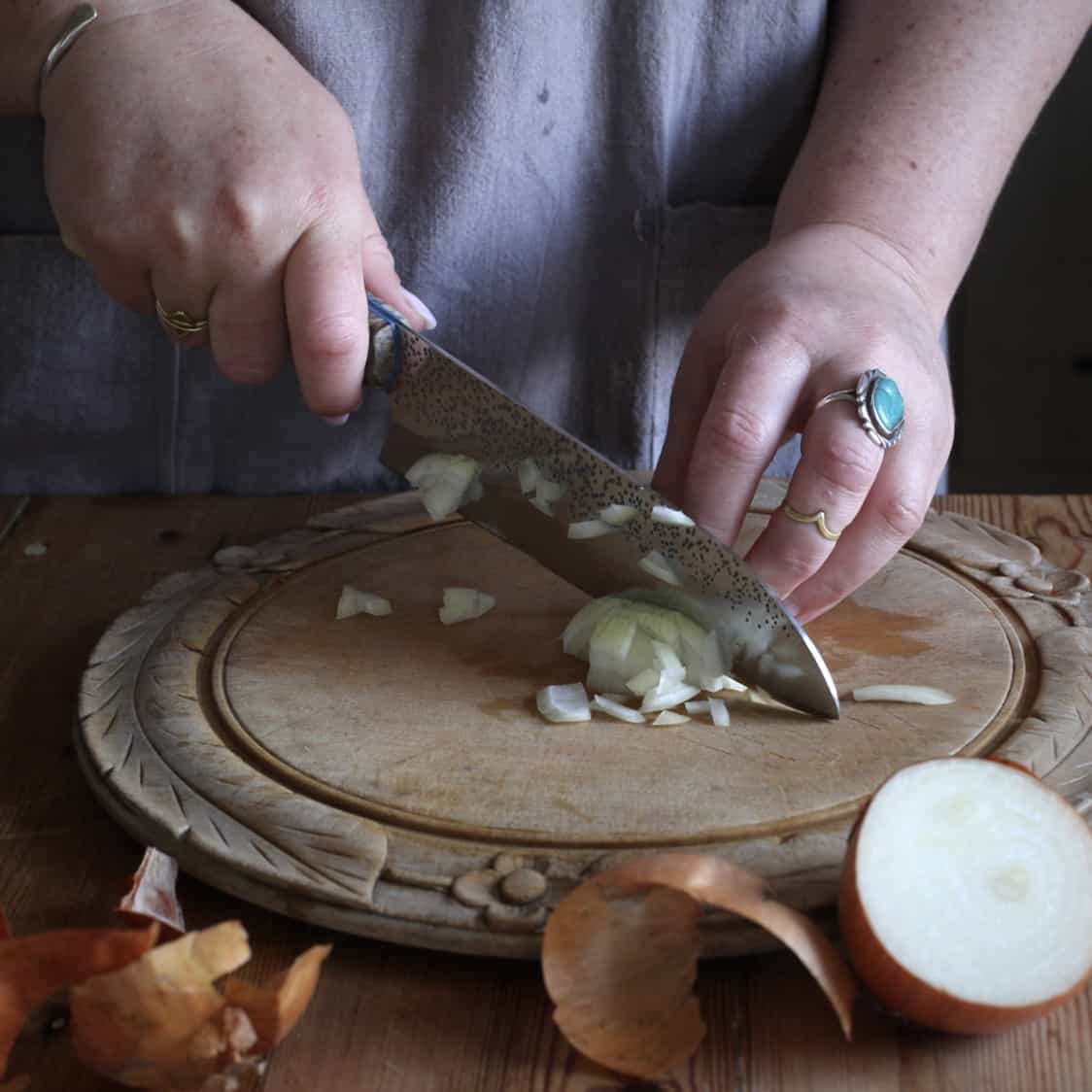 2/ chop your veggies
Coronation egg has a lovely crunch from the onion and celery.
Chop them both very finely and add to a bowl.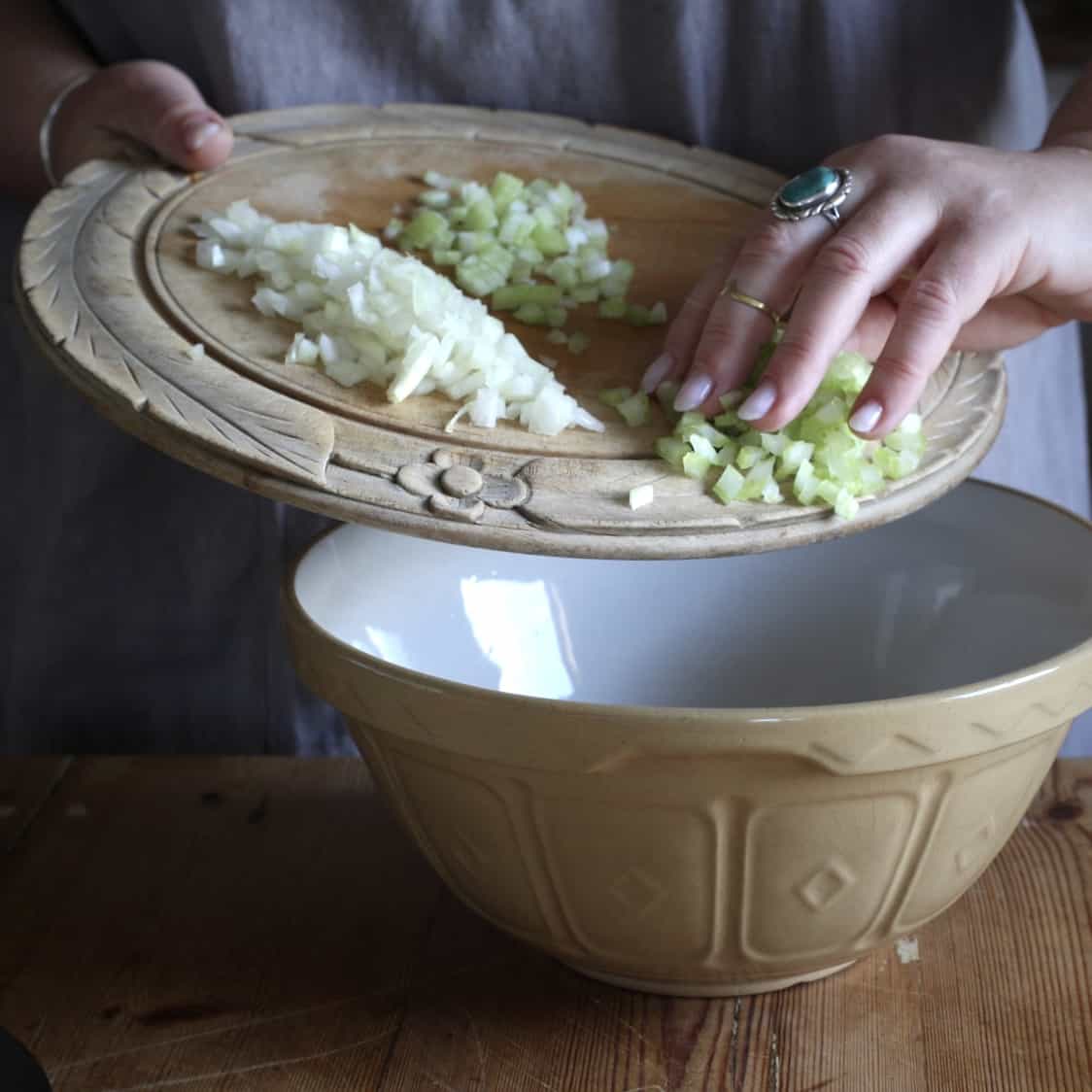 3/ mix the coronation egg ingredients
Into the bowl, add the mayonnaise and sultanas.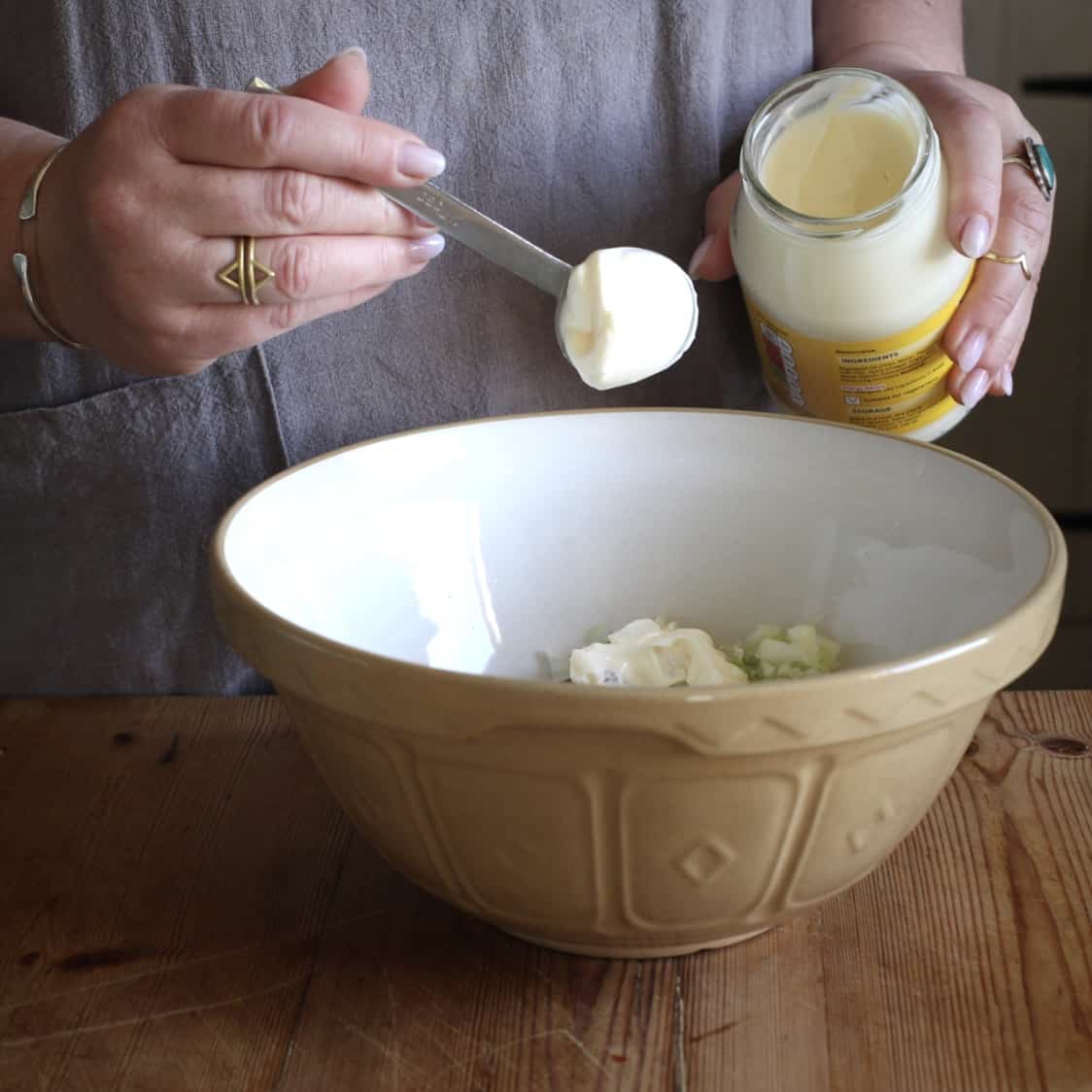 Also add in the curry powder and salt.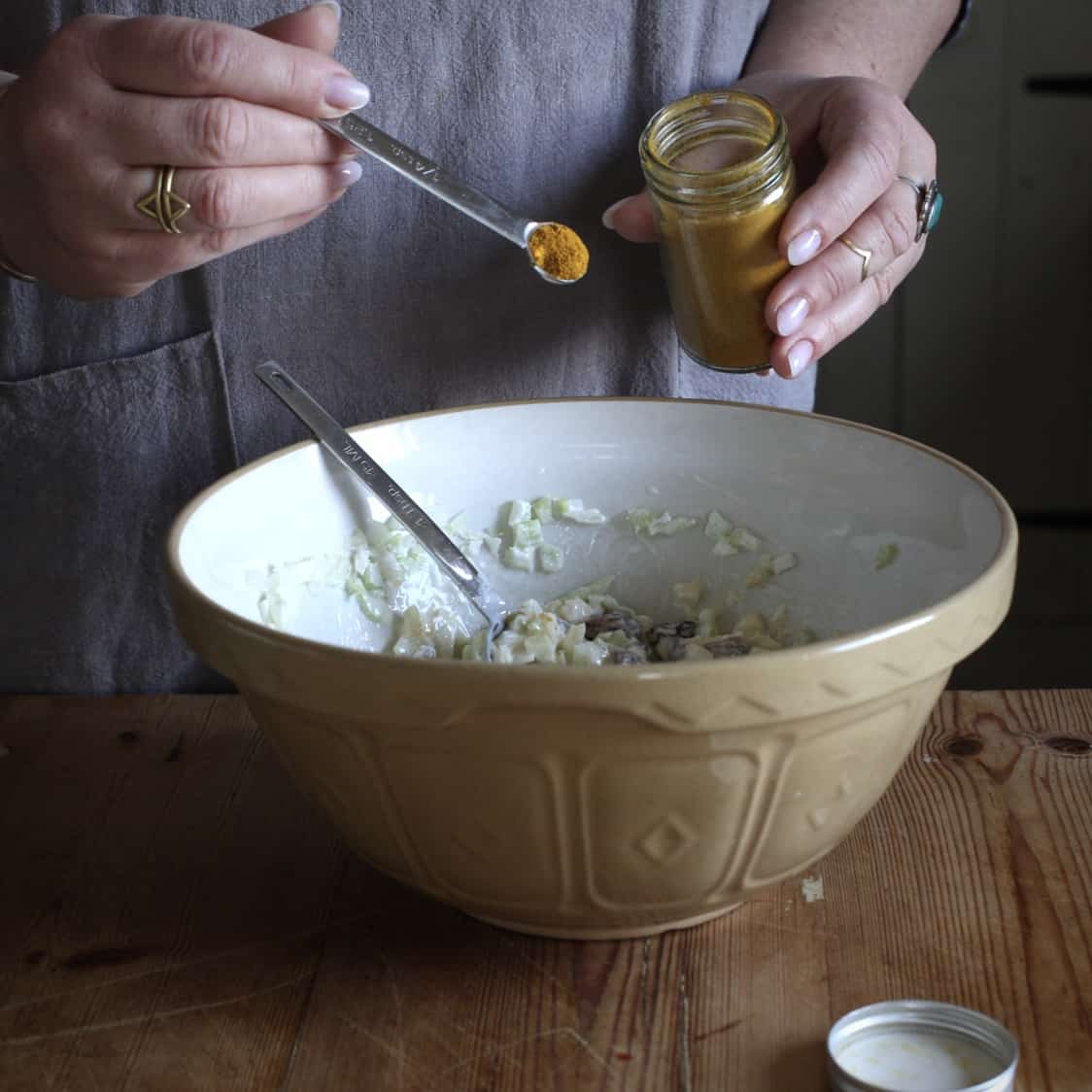 And the mango chutney.
Give this all a good mix together.
It'll be quite wet at this point, but don't worry!
The egg will help soak up the excess mayonnaise.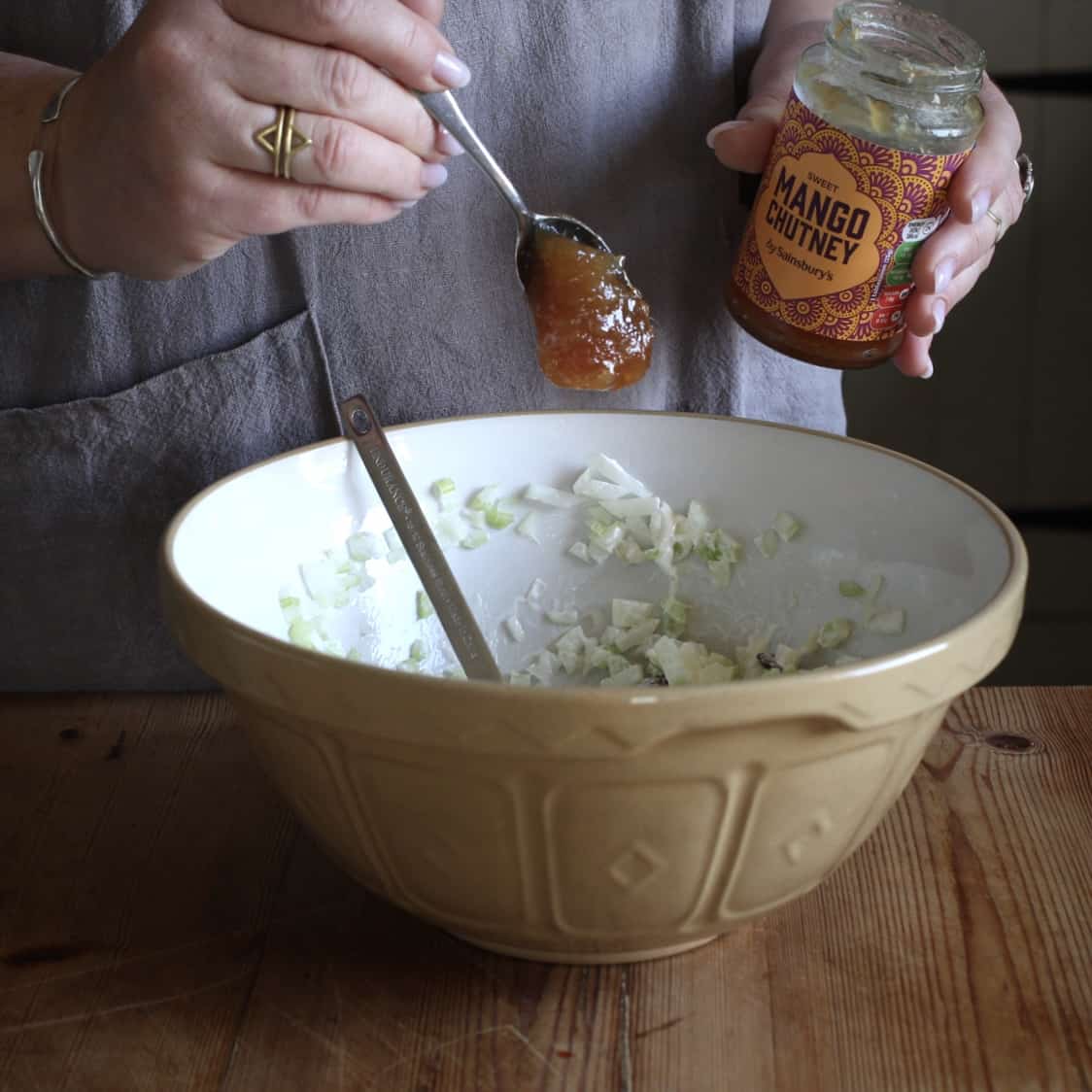 4/ peel and mash the eggs
When the eggs are cold, tap each one on the counter to break the shell.
Peel the shell away and rinse under cold water to wash any little tiny bits of shell off.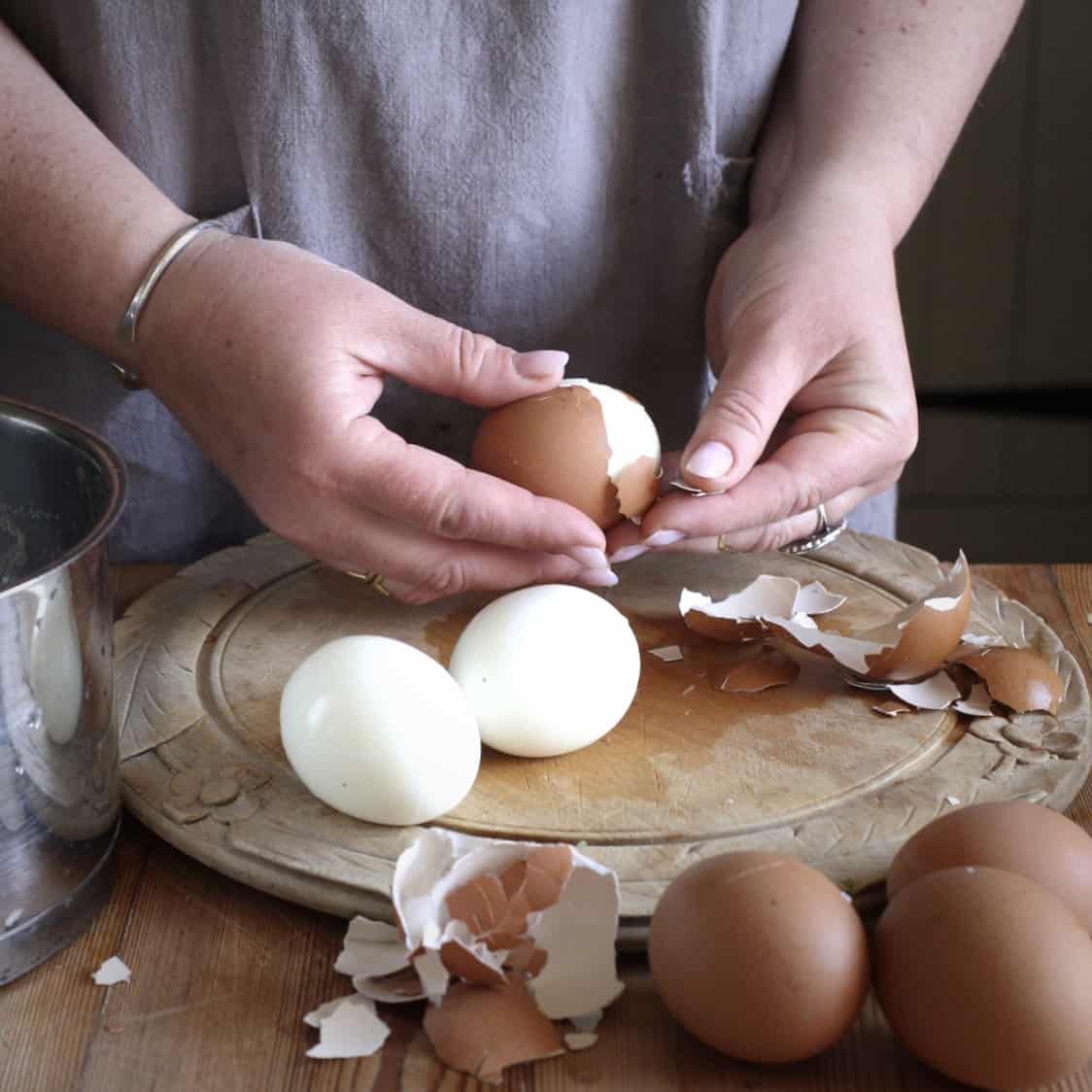 Egg shell are a great item to include in your compost bin if you have one!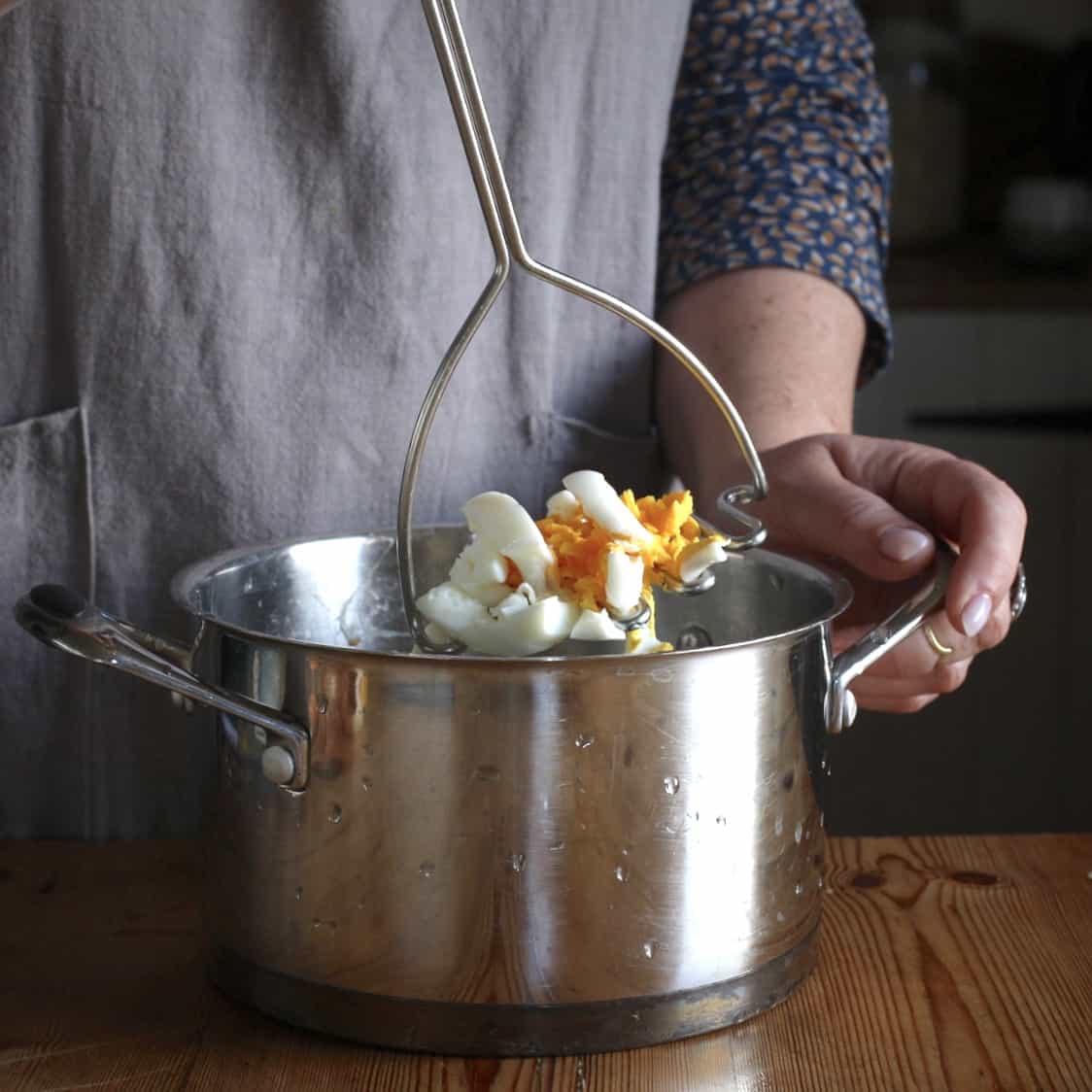 Rinse the egg saucepan out, give it a quick dry and place the eggs back inside.
Use a potato masher to squish the boiled eggs until creamy and quite smooth looking.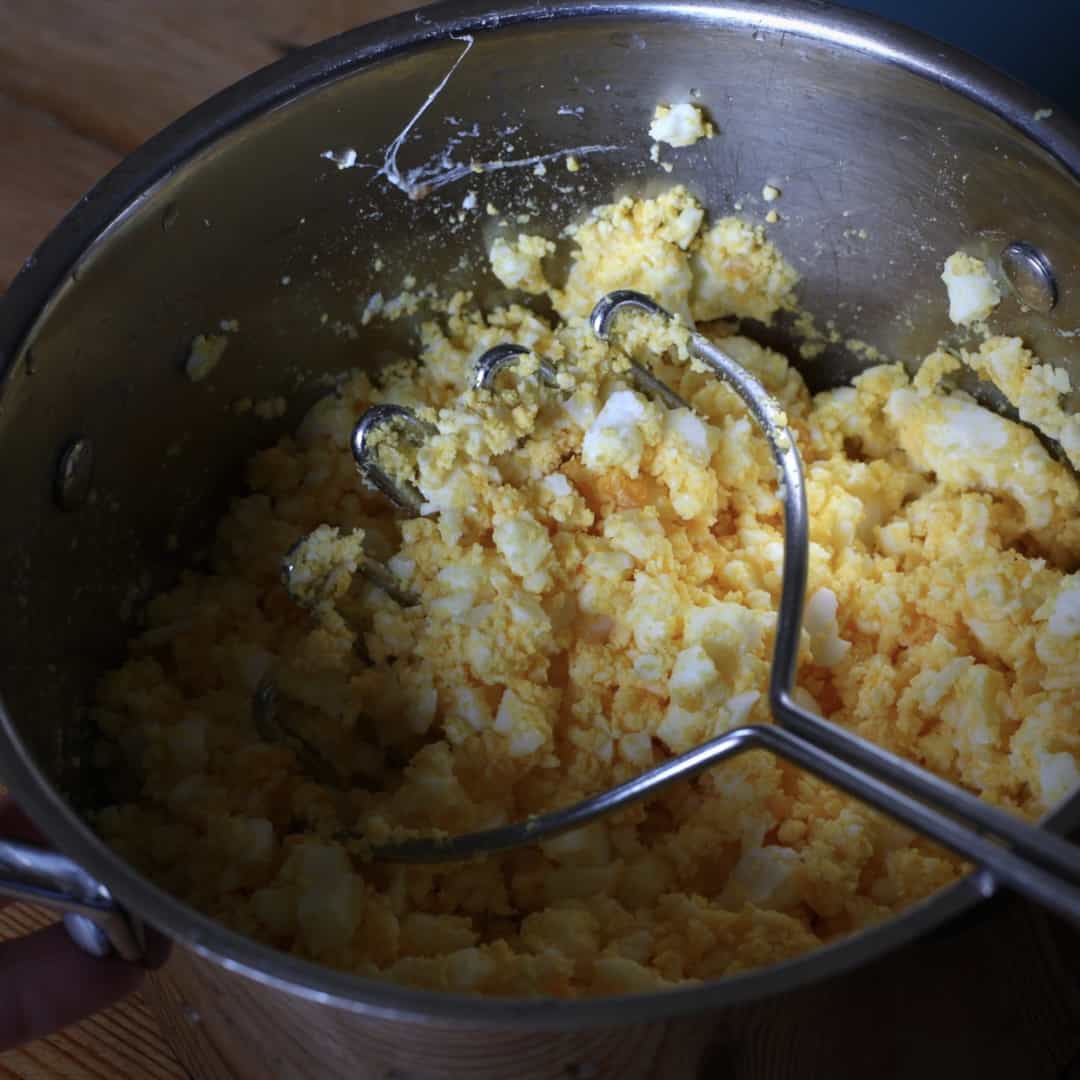 Tip this eggy mixture into the bowl of spiced veggies and mix together well.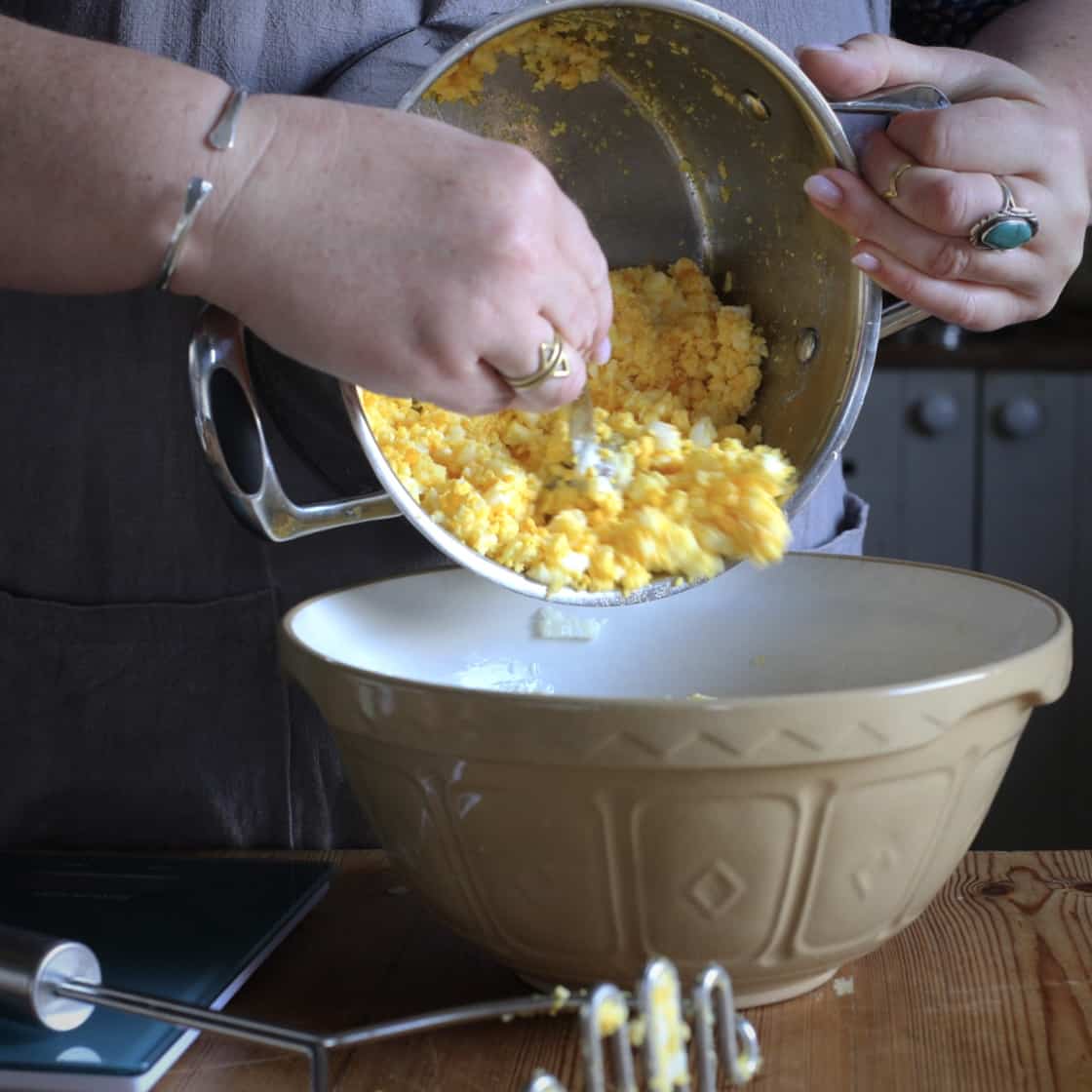 And there you have it!
A quick and easy Coronation egg salad to use in sandwiches, on crackers or (my personal favourite!) on a crispy oven baked jacket potato :)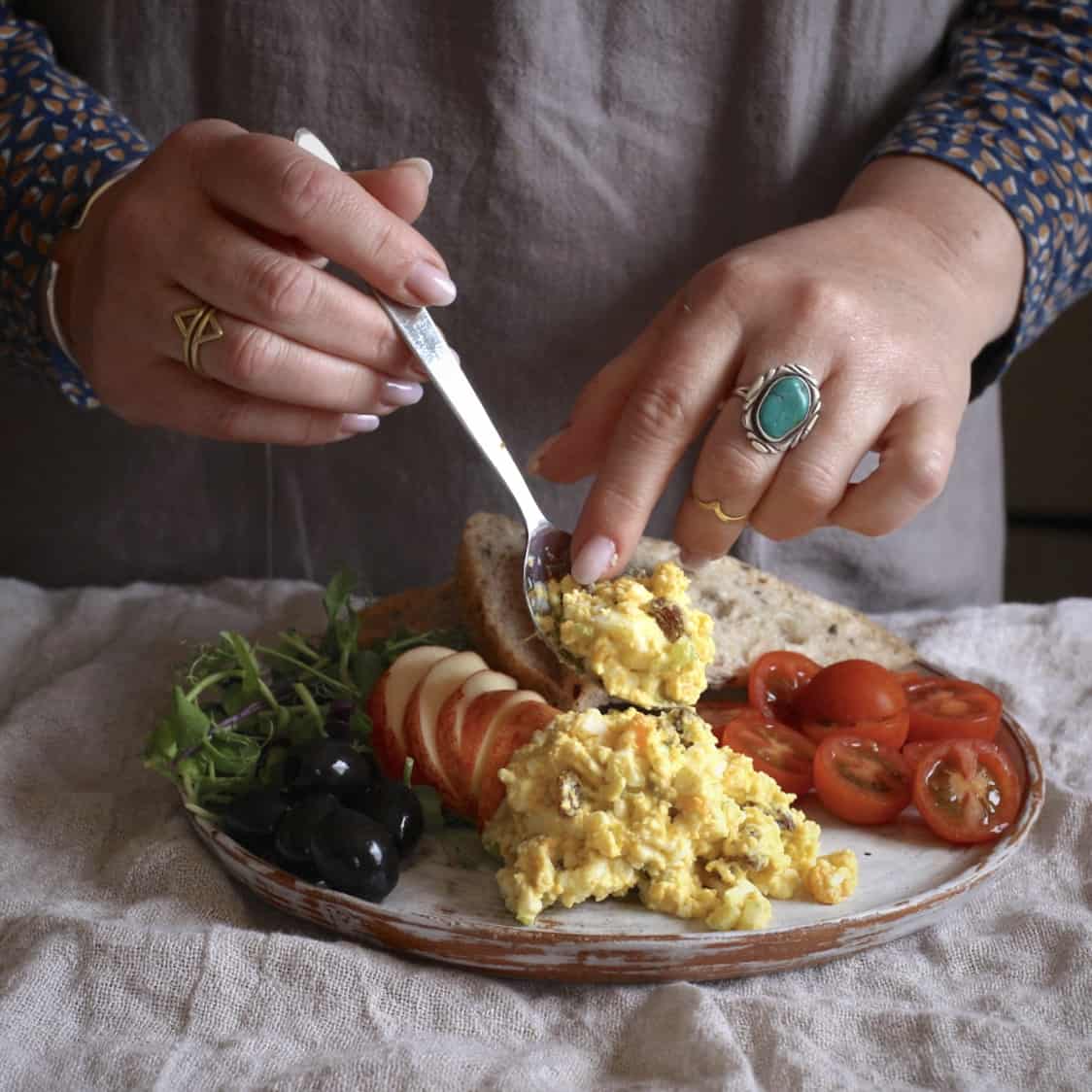 I hope you love this recipe if you give it a go!
Feel free to tag me in any pics you share of your masterpiece online, I try to share all that I see :)
You can find me pretty much everywhere as @hedgecomber.
Janie x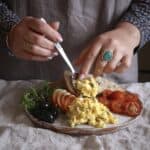 Quick Coronation Egg Recipe
Keyword:
Coronation egg, Coronation sandwich
Ingredients
6

eggs

1/2

onion

- finely chopped

1

stick

celery

- finely chopped

35

g

sultanas

- swap for same amount of dried apricots, finely chopped if preferred

2

tbsp

mayonnaise

1

tsp

mango chutney

1/4

tsp

curry powder

1/4

tsp

salt
Instructions
hard boil the eggs
Bring a large saucepan of water to boil.

Carefully lower in the eggs and set the timer for 10 minutes.

When the time is up, drain the hot water from the pan. Refill with cold water.

Drain once more and top up with cold water again, adding a few ice cubes if you have any to bring the egg temperature down as quickly as possible.

This can be done a day or two ahead of time. If saving for later, out the unpeeled boiled eggs into the fridge for up to 3 days.
make the Coronation egg
Peel the eggs and rinse any teeny little pieces of shell off them if necessary.

Place the eggs back into the saucepan. Use a potato masher to mash them until smooth and creamy.

Add the rest of the ingredients to the eggs and combine well.

Have a taste of the mixture to make sure you're happy with the seasoning.

All mango chutneys are very different - some of hot and spicy, others are so sweet they are like jam (I tend to not love the latter!)

Add more salt if it tastes a bit flat, or more curry powder if that flavour is too faint. Add more mayo if the eggs look dry and aren't holding together well.

Use in sandwiches or with a Ploughman's or salad.

It will last for 2 or 3 days in the fridge, although you may find a little bit of water accumulates on teh surface during this time. Simply pour this off and use as normal.
Nutrition Facts
Quick Coronation Egg Recipe
Amount Per Serving
Calories 241
Calories from Fat 135
% Daily Value*
Fat 15g23%
Cholesterol 331mg110%
Sodium 392mg17%
Potassium 276mg8%
Carbohydrates 14g5%
Protein 12g24%
Vitamin A 543IU11%
Vitamin C 2mg2%
Calcium 67mg7%
Iron 2mg11%
* Percent Daily Values are based on a 2000 calorie diet.