This Comforting Cream of Celeriac Soup is just the job for days when you need a little extra love. It's dairy-free and yet still creamy, smooth and utterly divine.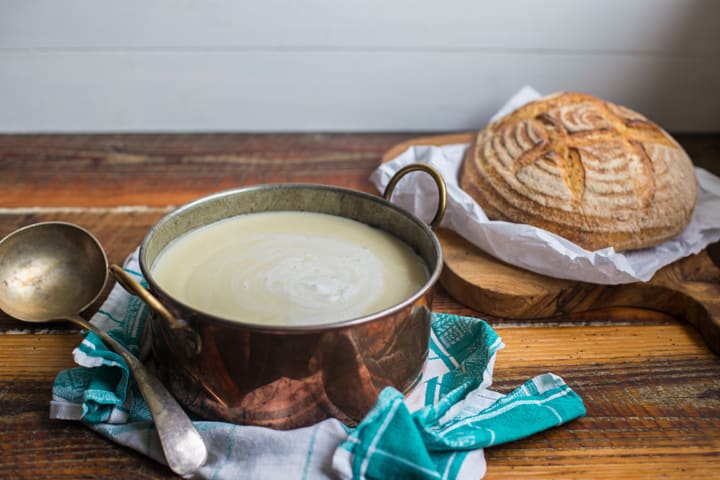 I've become rather uptight about food of late.
I'd reached a point where I couldn't see past the last recipe I'd published and was so uninspired about food that I'd started to live on toast.
That is the downside of blogging about food, you're always pushing yourself to invent something new, to create new dishes that will inspire and excite the readers of the blog, and I'd flat-lined.
I'd reached the bloggers equivalent of writers block.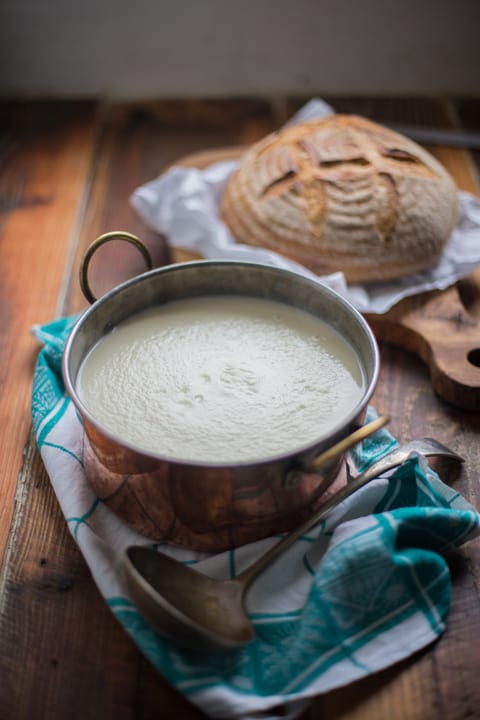 And so, I released the hold Netflix had on me (farewell Damages – it's been fun) and instead started watching cookery shows when doing monotonous chores like washing up or editing photo's.
Slowly but surely Jamie, Gordon and the Hairy Bikers have pulled me out of my gastro-slump.
And once again I find myself excited by food and eager to play with it.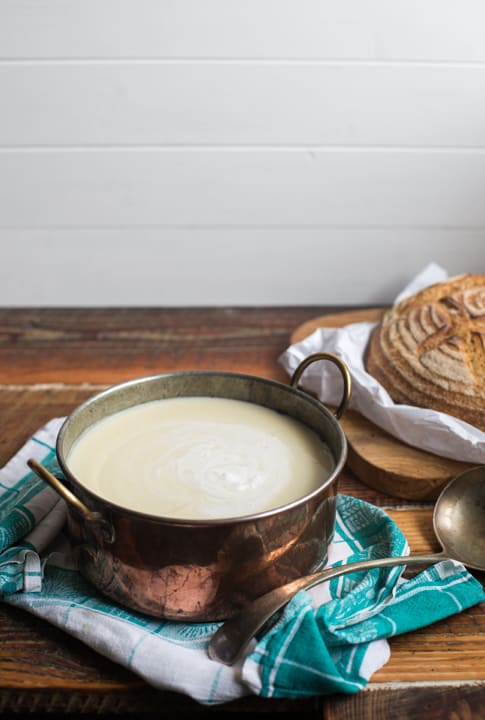 And play I did, in creating this culinary cuddle of a soup.
Silky smooth and rich, yet fresh with just a hint of spring.
It doesn't taste strongly of celery so please don't let that put you off.
It's a lovely blend of fresh, clean tasting celeriac, dijon mustard and creamy coconut milk. And it is blooming lovely.
Cream of Celeriac Soup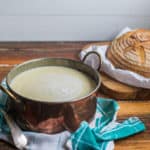 Comforting Cream of Celeriac Soup
Keyword:
Cream of Celeriac Soup
Ingredients
Olive oil

1

onion

chopped

1

bay leaf

1

teaspoon

dijon mustard

1/2

litre

stock

or water and stock cube

1

celeriac

weighing over 1 kilo ,peeled and chopped

1

floury potato

peeled and chopped

1

teaspoon

salt

1/2

teaspoon

white pepper

1

can

coconut milk

top 2 inches of cream skimmed off and put aside

1/2

teaspoon

dijon mustard

1/2

litre

boiling water

to thin the soup to your preferred thickness
Instructions
On a gentle heat sweat the onion and bay leaf for 15 - 20 minutes, being careful not to colour or crisp the onions at all.

When they are translucent and smell sweet, add in the teaspoon dijon mustard and just let that fry for 30 seconds to release the flavour.

Pour in the stock (or water and stock cube) and add the celeriac and potato. Pop on the saucepan lid and let simmer for around 20 minutes or until the veggies are soft.

Remove the bay leaf and season with the salt, pepper, coconut milk and another 1/2 teaspoon of dijon mustard.

Whizz in the blender and when perfectly smooth pour back into the saucepan. At this point you'll have a puree and if that is how you like it, then perfect! However, I like my soups a little on the thin side so I added 1/2 litre of boiling water to get it just right.

Serve in bowls or mugs and top with a little of the reserved coconut cream from the top of the can. Delish.
Nutrition Facts
Comforting Cream of Celeriac Soup
Amount Per Serving
Calories 200
Calories from Fat 126
% Daily Value*
Fat 14g22%
Cholesterol 0mg0%
Sodium 523mg23%
Potassium 638mg18%
Carbohydrates 18g6%
Protein 4g8%
Vitamin C 14.7mg18%
Calcium 73mg7%
Iron 4.1mg23%
* Percent Daily Values are based on a 2000 calorie diet.