Sweet, juicy fillets of cod wrapped up in salty, umami pancetta make the perfect match in this quick and tasty cod and pancetta burger.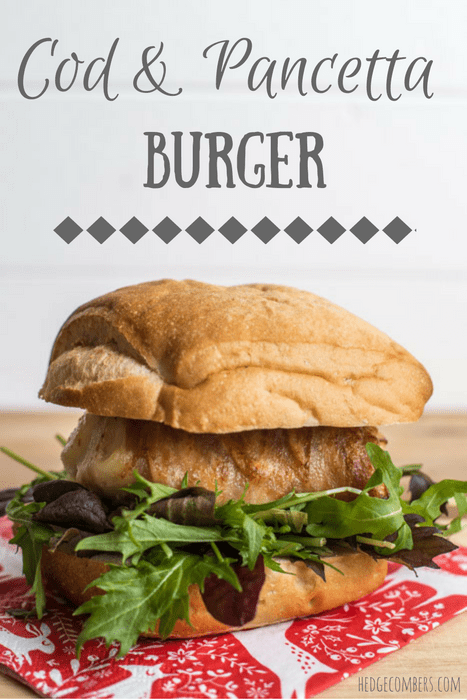 I'm writing this accompanied by the rhythmic bash of a hammer.
There's a bunch of rotten timbers in our roof that need to be replaced, and they were so bad it's a miracle our roof hadn't already come off.
I've been given one week before my kitchen and office ceiling also goes south. At which point I may well be moving into my (unfinished) campervan, just to get some peace and quiet!
Knowing that I won't be able to cook a decent meal for a while, this past weekend I have been filling the freezers and using up random odds and ends.
I also treated myself a piece of MSC friendly cod and a pack of the thinnest pancetta slices known to man.
Just so I could rustle up this cod in pancetta burger that I've had in mind for a while now.
Cod and Pancetta Burger
Burger may be a loose term here, but cod & pancetta sandwich didn't fit right either.
Anyhoo, my cod and pancetta burger is just the job for a mid week supper that needs to be quick, tasty, and more interesting than beans on toast.
Or a weekend treat when your kitchen demolition is imminent.
Sigh.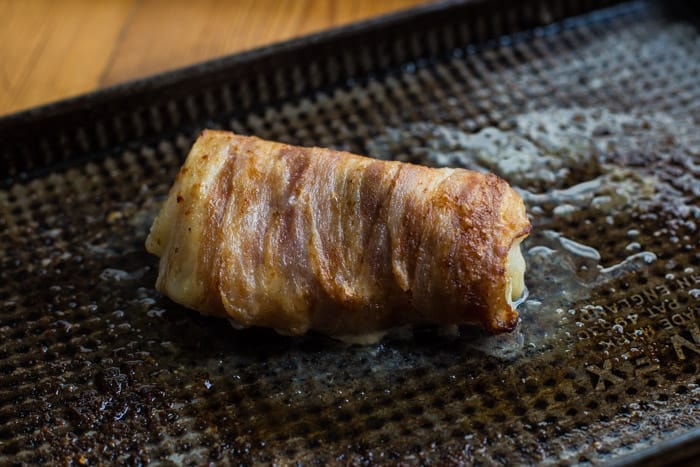 Simply put, a meaty piece of skinless, boneless cod is wrapped in pancetta slices.
It is then baked in the oven for 20 minutes, and stuffed into a crusty roll.
Juicy and delicious.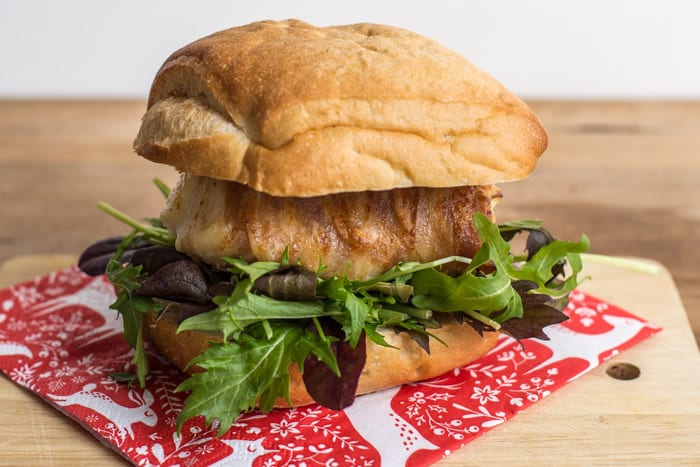 Be sure to season the fish with salt and pepper before wrapping up in the pancetta shroud.
Like a good steak the seasoning is all important.
For an extra punch try mixing a teaspoon of harissa paste with a tablespoon or two of mayonnaise and dolloping that heartily on top.
Yum!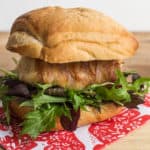 Cod and Pancetta Burger
Ingredients
Per Person
150

g

- 200g piece of skinned

boneless cod loin

Salt & pepper

4

thin rashers of pancetta

1

crusty roll

sliced and butttered if desired

Handful of salad leaves
Instructions
Preheat the oven to 200/400/gas 6 and grease a baking tray.

Season both sides of the cod well then wrap in rashers of pancetta. Pop the cod onto the baking tray and brush with a little more oil.

Bake for 10 minutes, then remove, baste and replace in the oven for a further 10 minutes.

Pile the salad leaves onto the bread roll and place the cod loin on top.