YUM!!! Not only do these taste freaking AMAZING, they are also pretty damn good for you too! Apples and Cinnamon. That's it.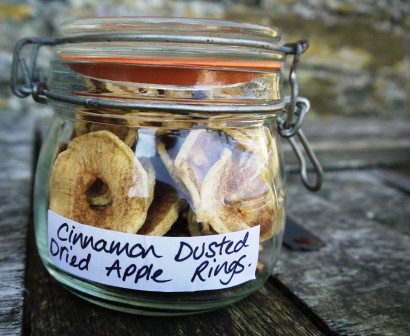 Peel, core and slice ripe but firm apples into rings of uniform thickness. Dust with cinnamon and dry either in the bottom of a very low oven (with the door open to let steam escape) or in a dehydrator.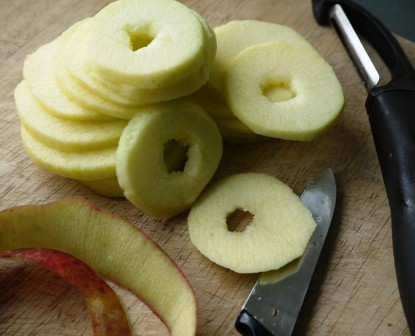 12 – 24 hours later you will have the most amazingest, healthiest, tastiest snack ever.
What do you mean amazingest isn't a word?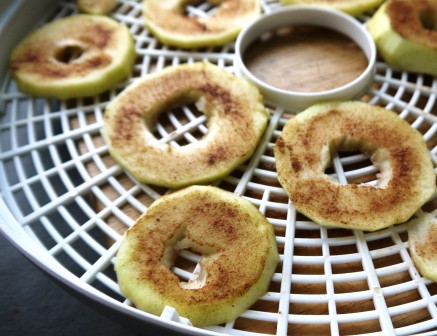 Let completely cool before storing in airtight jars or tubs where they will stay edible for many months.
The only downside is, they just won't last that long. Nom nom nom :)
 Shared with;
Natural Living Mondays
,
Monday Mania
,
Mix it up Monday
,
Homestead Barn Hop
,
Meatless Monday
,
My Meatless Monday
,
Melt in your mouth Monday
,
Titus 2 Tuesdays
,
Cowgirl Up
,
Fat Tuesday
,
Hearth & Soul
,
Anti Procrastination Tuesday
,
Green Living Tuesday
,
Teach Me Tuesday
,
Slightly Indulgent Tuesday
,
Tiny Tip Tuesday
, French Cuisine Friday,
Backyard Farming Connection
,
Frugal Days Sustainable Ways
,
Real Food Wednesday
,
Healthy 2day Wednesday
,
Wicked Awesome Wednesday
,
Homemaking Link Up
,
Whole Foods Wednesday
,
Country Homemaker Hop
,
Creative Juice
,
Simple Lives Thursday
,
Full Plate Thursday
,
Farm Girl Blog Fest
,
Freedom fridays