This Chorizo and Prawn Risotto will brighten the dullest of days! Creamy, oozy, packed with good flavours and a doddle to make. It's what one-pot meals dreams are made of!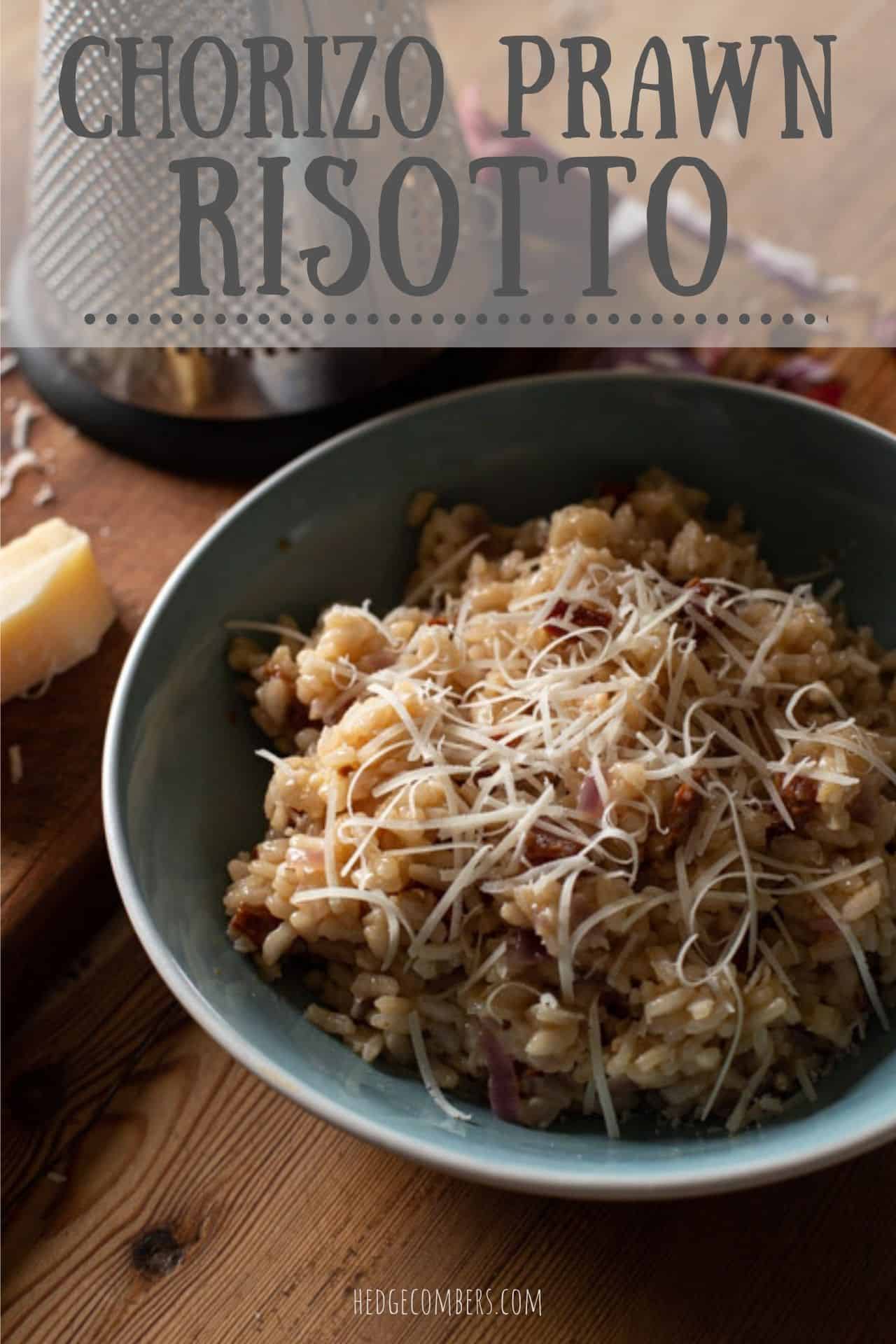 Oh man, I love risotto.
And I still remember the very first time I ever tried it. I honestly couldn't believe how good this simple meal could taste!
It was seriously love at first bite.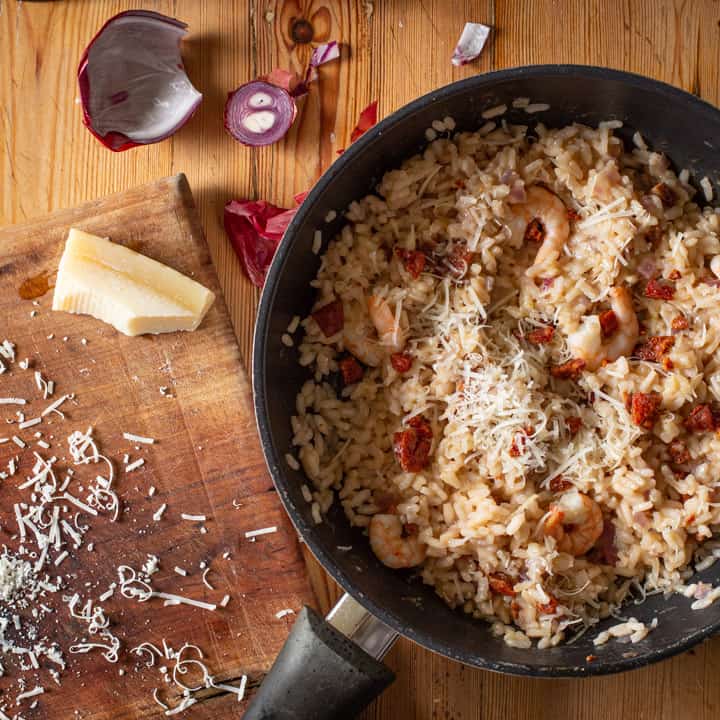 How to Make Risotto (for beginners!)
If you're new to your risotto making endeavours, there are a few things to bear in mind.
1/ Rice. You can't use any old rice to make a risotto. You need to buy a specific rice such as Arborio, Vialone Nano or Carnoroli (Arborio is the most common risotto rice in my local supermarkets). These rice grains are particularly starchy, and it's that starch that will give you that decadent, creamy finish.
2/ Stock. Honestly, You can use any old stock you like but remember the key is that it needs to be HOT. Feel free to use your homemade organic chicken stock, or a good old stock cube dissolved in hot water. But if you use cold stock you'll lower the temperature of the pan each time you add it which makes the risotto gods very grumpy.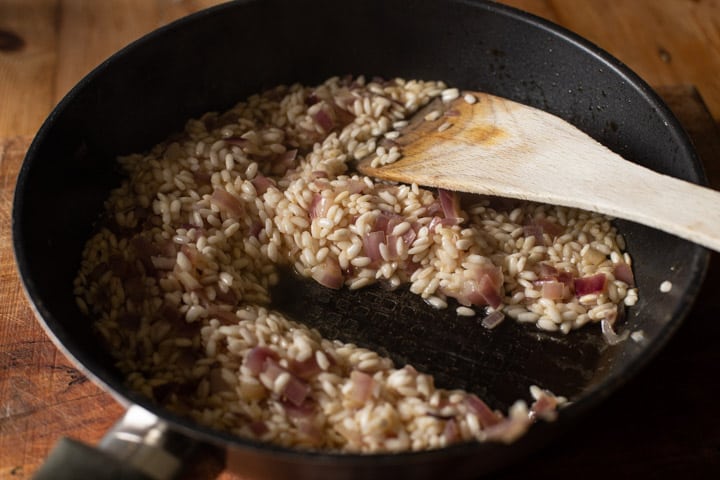 3/ Adding the Stock. Stock needs to be added to a risotto gradually, a ladle or splash at a time. Don't throw it all in at the start with the rice as again, you'll be missing out on the creaminess promised by the perfect risotto (and obviously those risotto gods will be tutting heavily).
4/ STIR. Yep, this one got all caps it's that important! My dad used to say that making a risotto should make your arm ache. Stirring somehow magically activates those starchy little grains. And it's that glorious starch that will thicken your risotto into the most unctuous risotto possible.
5/ Add Butter. OK, this is quite possibly my own personal mantra that I apply to every single thing I eat because, let's be honest, butter is pure gold. But, by adding a big knob of butter just as the risotto finishes cooking, you're boosting the natural creaminess of those starchy little grains with the creaminess of salted butter. And what could possibly be better than that?!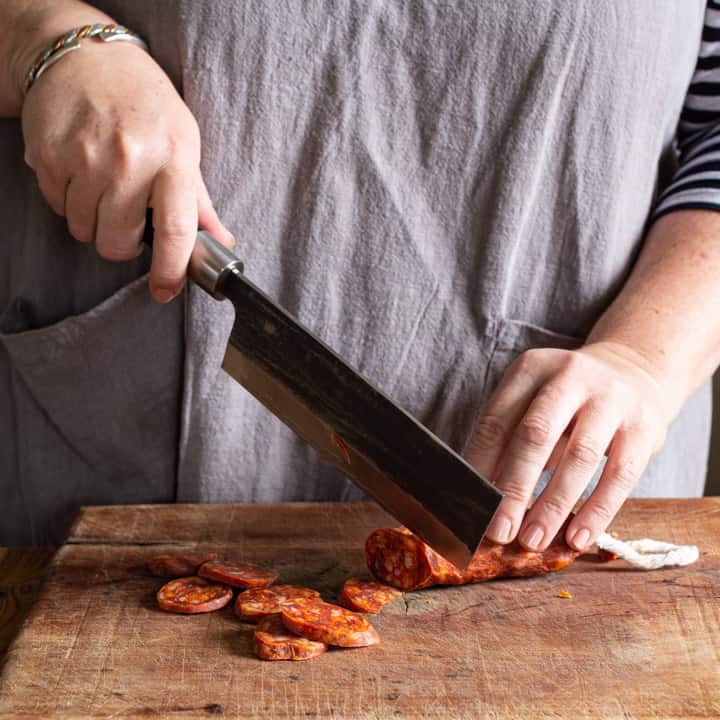 Chorizo and Prawn Risotto
The version I'm sharing with you today uses chorizo that has been finely diced into small pieces. I dice it small to make sure you get at least one little piece in every single mouthful.
Also, by increasing the surface area of the chorizo, you get more crispy bits too. #winwin!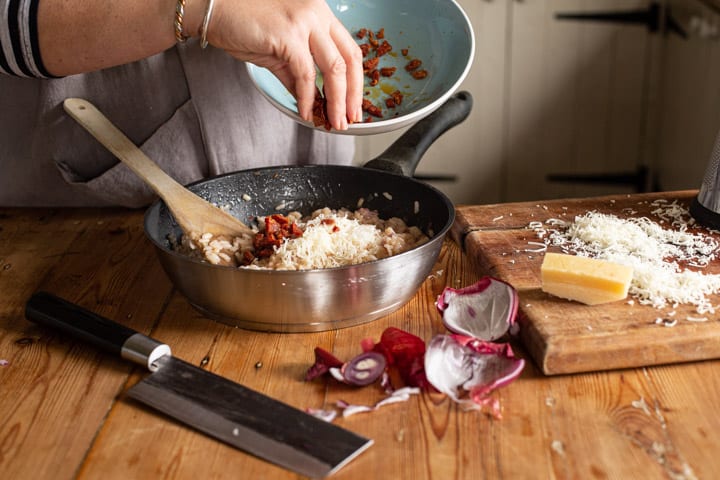 I'm also adding in prawns as I lurve the contrast between the salty, spicy and crispy nuggets of chorizo and the sweet, juicy and cooling nature of prawns.
They are a pairing that I find particularly delicious.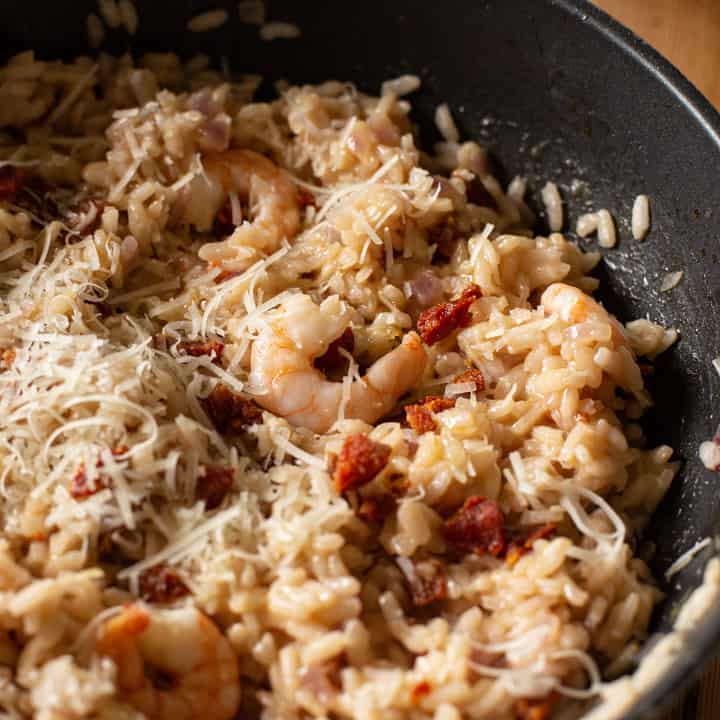 That said, I have made this exact same risotto without the prawns (see video below for proof!) and it is still utterly delicious.
So if your budget is tight, or if you live with a grumpy builder that won't eat seafood too, feel free to leave them out.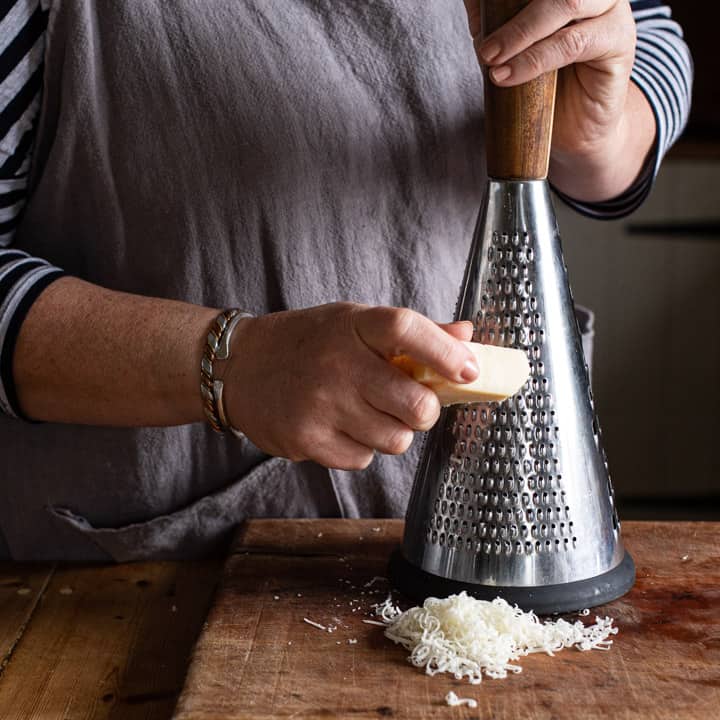 Another magical ingredient that you'll find in most risottos is Parmesan cheese.
This, along with the butter helps create that special, oozy creaminess too.
I buy Parmesan by the block and simply grate it into my risotto as needed. However, if you're camping and don't have a cheese grater to hand, then there is no shame in buying it ready grated. (I just had a flashback to my rural English childhood when the only parmesan we ever had was in little plastic tubs that were shelf-stable, and tasted like crap – can anyone else remember that stuff?!?)
One Pot Meals Made Easy!
If you're new to my online world, I make easy one-pot recipe videos in Myrtle my cute VW campervan and share them every week over on YouTube.
Here's that video as promised!
Don't worry, you don't have to go camping up a mountain to recreate these easy recipes!
Being super quick, they also make the perfect mid-week-get-a-meal-on-the-table-pronto ideas too!
And if you'd like to check out some more of my one pot recipes, here you go: One Pot Stove Top Recipes.
OK friends, let's make some chorizo and prawn risotto…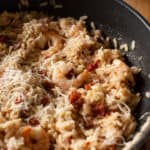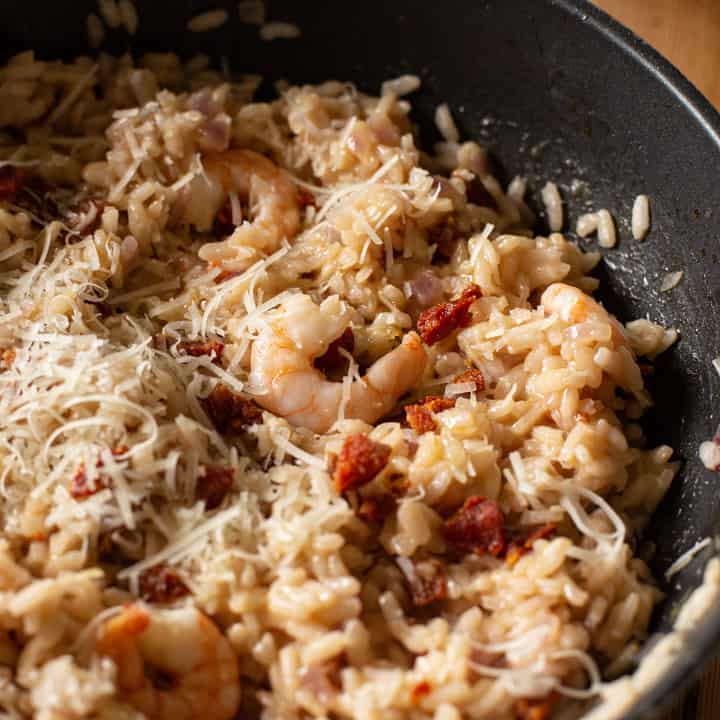 Chorizo and Prawn Risotto
Creamy, oozy comfort food!
Keyword:
chorizo and prawn risotto
Ingredients
100

g

chorizo

finely diced

150

g

risotto rice

1

small

onion

finely diced

1/2

litre

stock

100

g

prawns

2

tbsp

butter

50

g

parmesan

grated
Instructions
Preheat a frying or saute pan over a medium high heat.

When hot, add in the chorizo and let fry until the oil had released from the meat, and the edges have gone slightly crispy. Remove from the pan with a slotted spoon and pop to one side, leaving the oil in the pan.

Tip the rice into the pan and stir for 30 seconds so the rice can absorb the chorizo oil.

Add in the onion and fry along with the rice for a few minutes.

Pour in a splash of the hot stock and stir until it has all been absorbed. Slowly add in the rest of the stock a little at a time, each time waiting until the previous stock has been soaked up by the grains of rice. This will take a good 20 minutes, so pour a glass of wine and get stirring!

When the final splash of stock has been added, throw in the prawns to cook through too.

When the prawns are pink, add the butter, half the parmesan cheese and half the chorizo pieces. Stir well until combined and the sauce has become thick and creamy.

Serve up between two bowls, and sprinkle the remaining parmesan and chorizo evenly over the top.
Nutrition Facts
Chorizo and Prawn Risotto
Amount Per Serving
Calories 532
Calories from Fat 171
% Daily Value*
Fat 19g29%
Cholesterol 174mg58%
Sodium 894mg39%
Potassium 171mg5%
Carbohydrates 63g21%
Protein 25g50%
Vitamin A 550IU11%
Vitamin C 5mg6%
Calcium 377mg38%
Iron 4mg22%
* Percent Daily Values are based on a 2000 calorie diet.