As chocolate brownies needs little introduction, I'll just say that sometimes it's good to give in to your cravings whole heartedly.
If you really want something decadent, then have it. Don't dilute the craving with something half as rich, or half as tasty as you'll be left feeling a little bit cheated. And then you're likely to end up eating twice as much.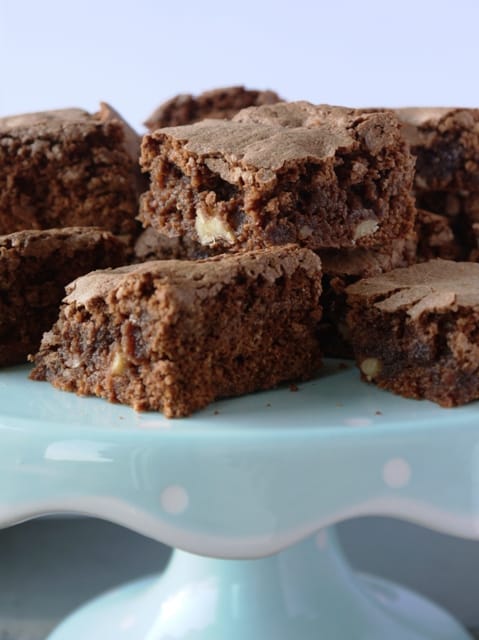 This batch annihilated today's craving perfectly. Delightfully crisp on top, and remarkably chewy inside. When chocolate brownies taste this good, and are this easy to make, I'm not sure that you'd ever want to buy a mass produced brownie again.
If you are after a dairy free version, do be sure to read the chocolate wrapper carefully. Annoyingly, several brands of dark chocolate contain a small amount of milk. Why? Who knows. Just be sure to check first.
Freezing the excess individually, by wrapping them in foil, is to be advised if you have trouble (like me) at stopping at one. They defrost perfectly, even retaining that crispy top.*
I hope they hit the spot for you as much as they did for me.
*In extreme emergency situations only, it maybe useful to know that one brownie takes exactly 25 seconds to thaw in the microwave on the defrost setting. Please remove the foil before taking such emergency action ;)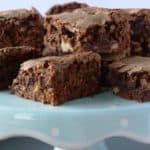 Chocolate Brownies
Ingredients
50

g

dark chocolate

ensure it contains no milk for the dairy free version

75

g

butter

or dairy free margarine

225

g

sugar

75

g

plain flour

1/2

teaspoon

baking powder

1/4

teaspoon

salt

2

eggs

beaten

75

g

walnuts

chopped
Instructions
Preheat the oven to 180/350/gas 4. Grease a 20cm shallow pan (ideally square, but if using round use a 23cm one)

Break up the chocolate into pieces and melt in a bain marie (or small bowl over a pan of boiling water) along with the butter.

When it is all melted, take off the heat and add the sugar stirring well. You're not trying the dissolve the sugar so don't worry about it looking weirdly grainy.

Sift the flour, baking powder and salt into a bowl, then add in the beaten eggs, walnuts and lastly the chocolate mixture.

Mix well (you can stir it or use a mixer, either way they'll taste just fine, but I got a more even rise with the batch I used the mixer on), pour into the greased pan, level out and bake for 35-40 minutes or until the brownies are pulling away from the side of the tin and they are well risen.

Take them out of the oven and run a knife round the edge of the pan to loosen them, and cut through into 16 squares, but leave them in the tin to cool.

When cold, remove them with a palette knife and store in an air tight tin, or individually wrap them in foil and freeze.

Take one out the freezer the morning you want to use them, and pop in a lunch box where it'll be defrosted by lunchtime.
Nutrition Facts
Chocolate Brownies
Amount Per Serving
Calories 162
Calories from Fat 72
% Daily Value*
Fat 8g12%
Cholesterol 30mg10%
Sodium 78mg3%
Potassium 68mg2%
Carbohydrates 19g6%
Protein 2g4%
Vitamin A 145IU3%
Vitamin C 0.1mg0%
Calcium 17mg2%
Iron 0.8mg4%
* Percent Daily Values are based on a 2000 calorie diet.