This dish will wake up even the saddest of tastebuds. It's a light meal that packs a punch, and is so quick to prepare it's perfect to knock up after a long day. I served it with root chips but it is plenty big enough to fill the hungriest of bellies.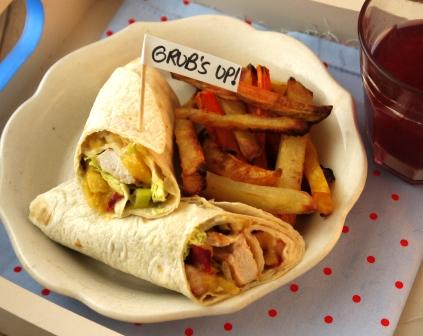 Make the salsa first so the flavours have chance to make a little salsa love. You can happily make this up to to 24 hours before you need it, although I'm not sure there would be any left if it sat for that long in my fridge.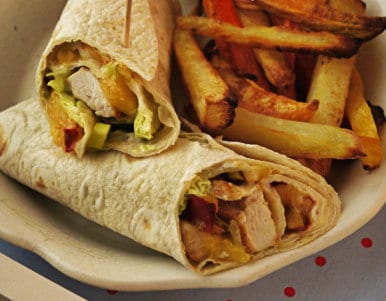 It also makes a fabulous packed lunch. Just let the chicken cool before constructing the wraps, then laugh in the face of the cheese sandwich brigade at work :)
Chicken Wrap with Peach & Lime Salsa

Ingredients

1

peach or nectarine

¼ - 1

fresh chilli

depending on heat & preference, finely chopped

½

fresh lime juice

2

spring onions sliced

scallions

1

chicken breast

diced

Roughly 2 teaspoons butter

2

fresh tortilla wraps

Handful of lettuce leaves

Mayonnaise

Instructions

Chop the peach pretty finely. Mix with the lime juice, chilli & spring onions.

Melt the butter in a hot frying pan, and add the chicken. Let it sit & sizzle for a few minutes, until the meat 'unsticks' from the pan and is golden brown. Turn over and brown the other side then cook for a few minutes until the chicken is cooked right through.

Spread a little mayonnaise down the centre of each wrap. Lay out pieces of lettuce and spoonfuls of the salsa.

When the chicken is cooked, pile along the length of the tortilla. Roll up really tight, ensuring to tuck the sides in, hold in place with a cocktail stick and devour greedily.