My absolute favourite thing about working in Japan in my 20's was the food. I arrived in Tokyo a vegetarian, and left a sushi loving meat eater.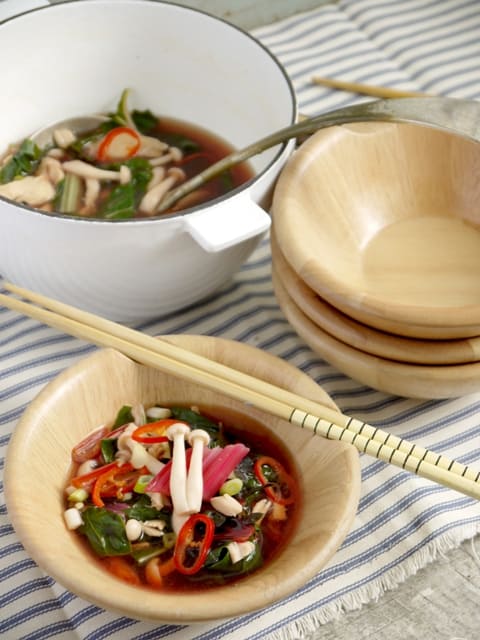 I created this chicken and shimeji mushroom soup in homage to those months living in a teeny apartment on the 11th floor, above a 7-Eleven that sold hard boiled eggs in plastic cartons and bags of white sliced 'bread' that was more reminiscent of flat square of Victoria sponge.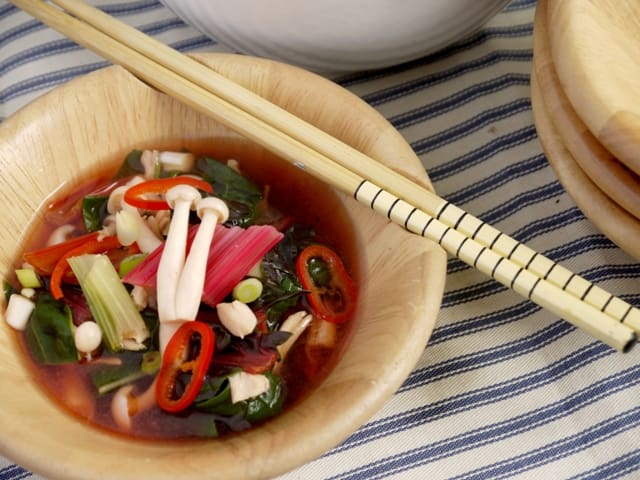 One of the great gastro finds of living there for a few months was Miso. I remember spending an afternoon in a gigantic bookshop in Yokohama looking for a book written in English, that wasn't a guide book. All I could find were two little paperbacks, one being all about Tofu and the other Miso. The only thing I remember from the latter was that you must never, ever boil miso, and that's one thing more than I remember from the former.
However, I do know that miso makes a fantastic stock or soup, the aroma is unique and able to transport me back to my twenties in a whiff. Apparently it falls into the umami group of flavours too, along with other perfect foods such as bacon and anchovies. Need to know more about umami? Check out the Umami Girl blog, she's got it down.
PS It is the stalks of the red & orange Swiss chard I used that made the broth such a pretty pink colour, but feel free to use spinach, nettles or any other green leafy veg in place of the chard.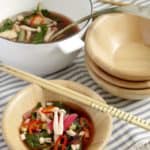 Japenese Inspired Chicken and Shimenji Mushroom Soup
Keyword:
Chicken and Shimenji mushroom soup
Ingredients
1/2

litre

water

or chicken stock

1

handful

cooked chicken

3 or 4

leaves

Swiss chard

stalks and leaves chopped

1

clove

garlic

2

spring onions

1/2

a mild chilli pepper

finely sliced

1

handful

white shimeji mushrooms

stalks removed from the woody base

1

tablespoon

of a light miso

darker ones tend to be stronger and saltier so use less a little less if that's what you have
Instructions
Bring the water or stock to the boil then turn the heat down.

Add the cooked chicken, swiss chard and garlic and cook for 2 minutes.

Add in the spring onions, chilli pepper and mushrooms and cook for a further 30 seconds.

Take off the heat and stir through the miso paste.
Nutrition Facts
Japenese Inspired Chicken and Shimenji Mushroom Soup
Amount Per Serving
Calories 28
% Daily Value*
Fat 0g0%
Cholesterol 0mg0%
Sodium 320mg14%
Potassium 87mg2%
Carbohydrates 4g1%
Protein 1g2%
Vitamin A 225IU5%
Vitamin C 18.9mg23%
Calcium 9mg1%
Iron 0.5mg3%
* Percent Daily Values are based on a 2000 calorie diet.