These Chicken Loaded Sweet Potato Skins are double oven baked before being piled high with a yummy leftover chicken mayo filling. They are sublime hot or cold.

Mm Mmmmmm. I have eaten this meal for three days in a row and I still can't get enough of it. Crispy, sweet, creamy and moist, it ticks all the boxes and really makes a superb lunch. If there are any leftovers they make a great lunch box addition.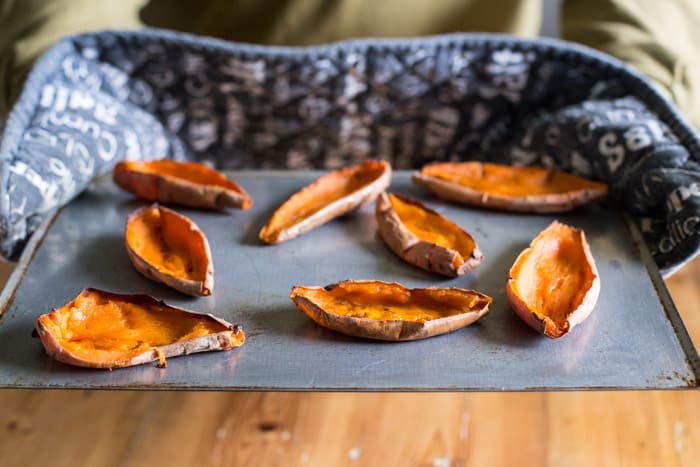 It all started when I did a shopping trip and happened upon the hot rotisserie chicken counter at mark down time. Four hot chickens in the trolley later (for a whopping £1.50 each) and I was set.
A big bag of sweet potatoes later and this dreamy combo was born.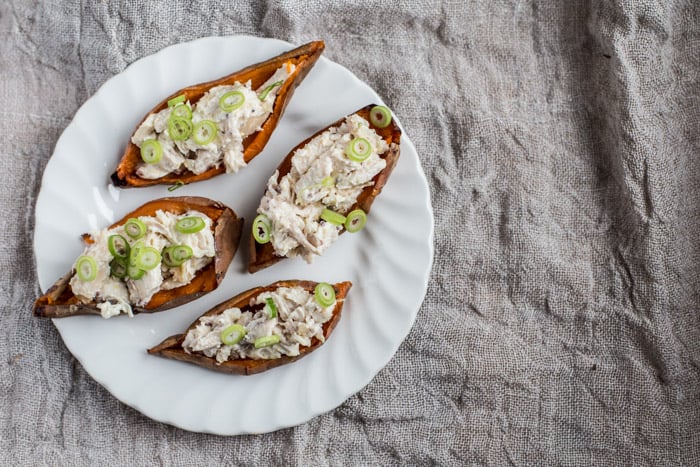 Feel free to use leftover chicken from your Sunday roast, or cook up (and cool) some chicken breasts especially for the job, either way it'll be deliciously perfect.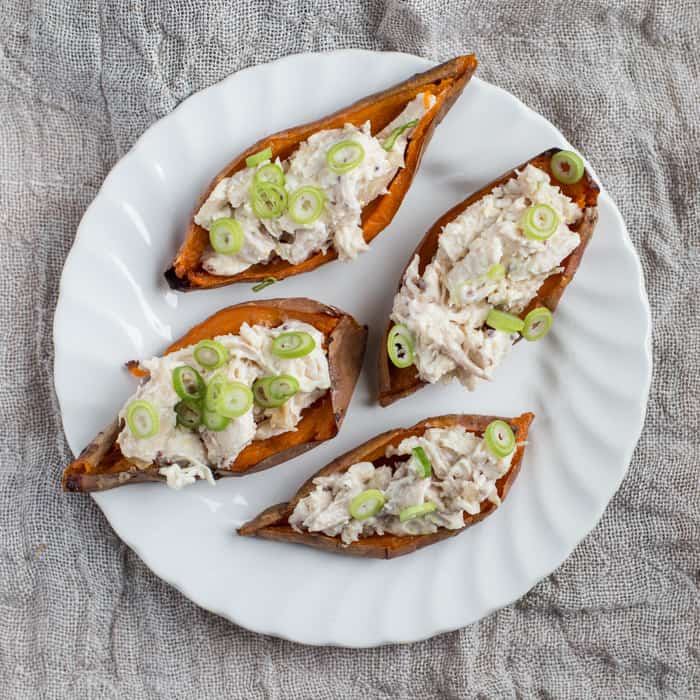 I used the scooped out sweet potato flesh in a breakfast dish the following day (it goes really well with eggs) but there's nothing stopping you from mixing it back through the chicken filling – it'll look a little different but will still taste awesome.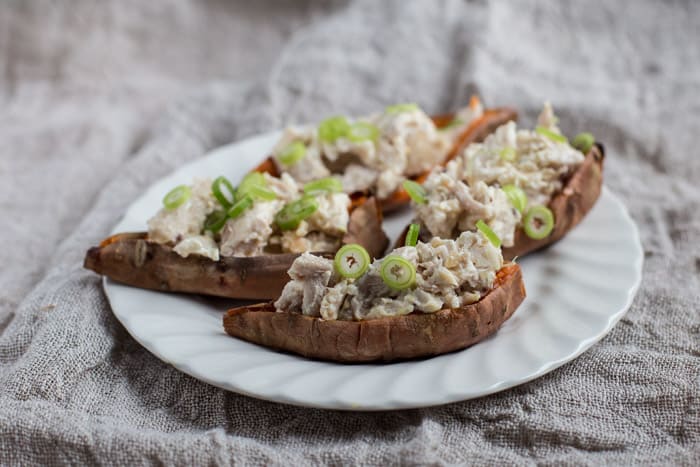 If I'd had any fresh coriander in I would no doubt have mixed that through the creamy mayo too (you may have noticed I can't get enough of fresh coriander!) otherwise maybe try basil, or even sage to bump it up another notch or two.
Oh and I know you all know how to oven bake a sweet potato, but just in case be sure you stab these little guys all over before letting then anywhere near your oven. The first time I ever baked with them they exploded and the mess took me an age to clean up :D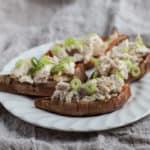 Chicken Loaded Sweet Potato Skins
Ingredients
1-2

sweet potatoes per person

depending on size

Oil

Salt

Cooked chicken

cut into bite size pieces

Mayonnaise

Fresh herbs such as coriander

optional, basil or sage

Spring onions

chopped
Instructions
Preheat oven to 180/350/gas 4

Stab those potatoes all over and bake for one hour or until soft in the centre.

Cut in half lengthways and scoop out most of the filling, try to leave about 1/2 - 1 cm of flesh on the skin.

Pop the skins back on to the baking tray, drizzle with a little oil, sprinkled with a little salt and bake for another 15 minutes or so. They won't crisp up as much as a white potato but the edges will start to char and crisp a little.

Meanwhile mix the chicken, mayo pepper (and herbs if using) together in a bowl.

When the sweet potatoes are cooked, load up the skins, sprinkle with the spring onions and serve.