This bacon and pea pasta and is the ultimate in standyby storecupboard grub, and it's quick & easy to throw together too.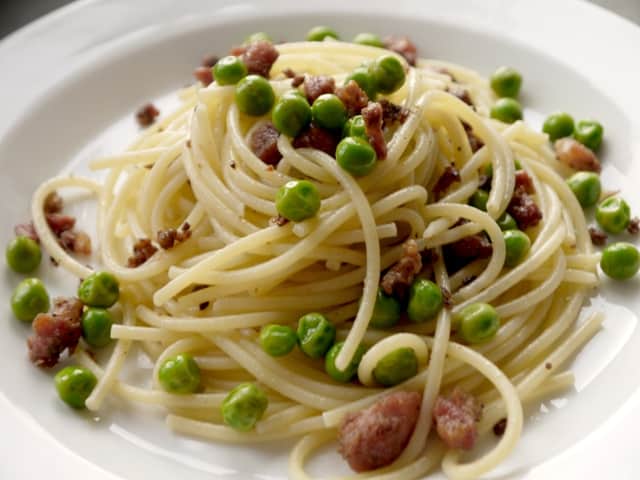 Last week, Jonny was working away and I was in a spin trying to catch up with myself and all the jobs that needed doing. I hadn't been shopping in ages and was down to the bare bones in the fridge. And I was hungry.
What I did have lurking in the depths of the fridge, was a pack of cooking bacon. These are the irregular misshapen bits left over from slicing regular bacon, and as it's much cheaper to buy this way, it's perfect for saving money if you intend to chop your bacon up anyway.
With half a bag of peas in the freezer and a pack of spaghetti, this ridiculously quick Bacon and Pea Pasta was born. A bit too simple to warrant an actual recipe being written to be fair, but hey, when did that ever stop me :)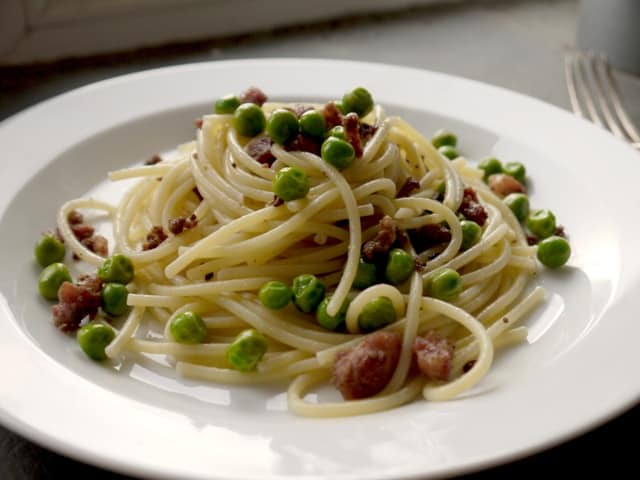 Feel free to pimp it with garlic, onions, chilli's etc or cook it as I did, in all its simplistic glory. I promise you won't be disappointed.
For the record, I didn't sit and eat 4 portions to myself. I boxed the remaining 3 portions and had them as packed lunches for the rest of the week! How's that for multitasking!
What's your go-to store cupboard meal? The one you rely on when there's too much month left at the end of your money, or you just haven't been shopping in an age?
Janie x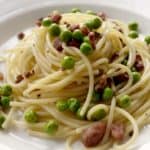 Cheap Eats ~ Bacon and Pea Pasta
Ingredients
500

g

of bacon pieces

lardons or chopped bacon

400

g

spaghetti

150

g

frozen peas

Butter

Black pepper
Instructions
Start cooking the spaghetti in a large pan of hot water.

Sort through the bacon pieces, removing any rind or an excess of fat (a little fat is good, but some packs way more than others). Fry over a medium heat until well cooked and slightly crispy.

When the pasta is cooked, add the frozen peas for a minute until defrosted and hot, drain and mix through the bacon bits and peas.

Toss with a little bit of butter and a good sprinkling of freshly cracked black pepper and serve.