This recipe for celeriac mash with salami chips makes a rich and comforting low carb and keto meal. It's full of flavour and will leave you feeling satisfied for hours.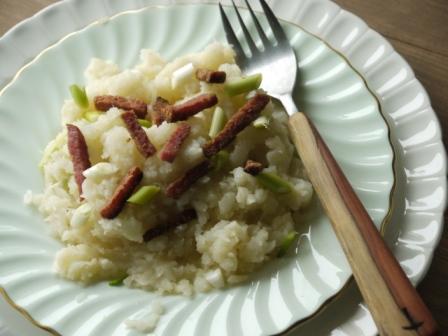 I'd like it to be noted that some seriously healthy planning went into this dish. That was until I saw that Jonny had bought our favourite whole salami. As we are still officially in the glutinous period prior to New Year, I figured no one would mind too much :)
This would make an extremely tasty side dish to a roast. However, it makes a surprisingly light lunch too. The mix of delicate rooty mash with crispy, salty salami is a real hit. If you don't have any salami to hand, chop up some smoked bacon and fry till crispy.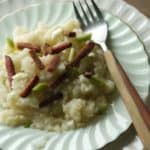 Celeriac Mash with Salami Chips
Ingredients
1

celeriac

if it's a small one, add potatoes to bulk it out

1

" chunk of your favourite salami

or 3 rashers of bacon

3

spring onions

chopped

knob of butter
Instructions
Peel and chop the celeriac. Bring to the boil, then simmer for 20-30 minutes, or until soft. If you are super hungry or need a more substantial meal, add potatoes.

Whilst the root is cooking, skin the salami and chop into little matchsticks. Heat a frying pan then quickly fry the meat, allowing the edges to blacken in places. As soon as the fat within starts melting, turn the chips out onto some kitchen paper to drain.

When soft, drain & mash the celeriac with a knob of butter and a sprinkle of pepper (don't add salt as the salami/bacon has plenty). Throw in half the spring onions and mix well.

Plate up and sprinkle with the remaining onions and salami chips.