This Cast Iron Sirloin Steak will have you rejoicing at the juicy, perfectly cooked sirloin steak, and easy garlic butter sauce recipe. Keto & LCHF.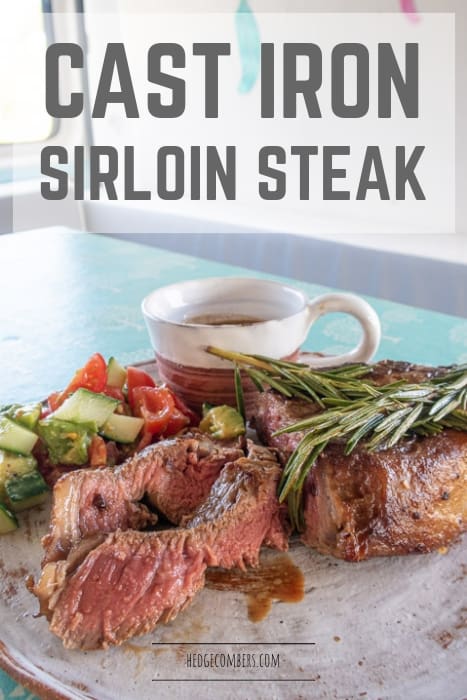 Oh man.
This dinner was such a treat!
Whenever I cook steak it always astounds me just how quick it is to get on the table.
This sirloin steak was pretty thick at just over an inch, but to achieve my favourite medium rare finish it took just 6 minutes of cooking time!
Add on a further 5 minutes for the steak to rest (to reabsorb all those delicious juices).
And you have one super speedy main meal.
And as the video below will prove, it makes the perfect camping meal too ;)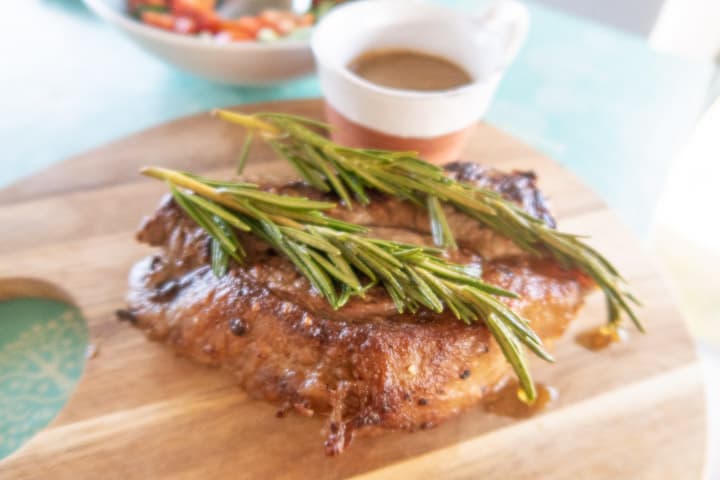 Everything you need to know about Sirloin Steak
Sirloin steak here in the UK is known as a Porterhouse Steak over in the US.
And more confusingly, Sirloin steak in the US is actually what us Brits refer to as a rump steak.
So now we've cleared that up, this Sirloin/Porterhouse steak is a juicy, tender strip of muscle that is found on the back of the cow, where you would put an imaginary saddle if you were that way inclined.
Because this area of a cow does little work, unlike the shin or ox cheek, it is an incredibly tender piece of meat.
In fact, there's only one steak that I know of that tops the sirloin in tenderness, and that's the fillet.
The fillet (known as the tenderloin in the US) is from the same area as the sirloin, but it's the leanest and tenderest cut, which is why it commands a premium price.
Cheaper steaks, such as rump, ribeye, featherblade etc are generally tougher or chewier.
But what they lack in tenderness, they make up for in flavour.
Personally, I only enjoy eating tender meat.
Other cuts of beef head straight to the slow cooker or get slow roasted in the oven.
Beef that falls apart is my idea of heaven.
I save the bloody, rare & medium rare treat for when I can afford a good steak.
Easy Garlic Butter Sauce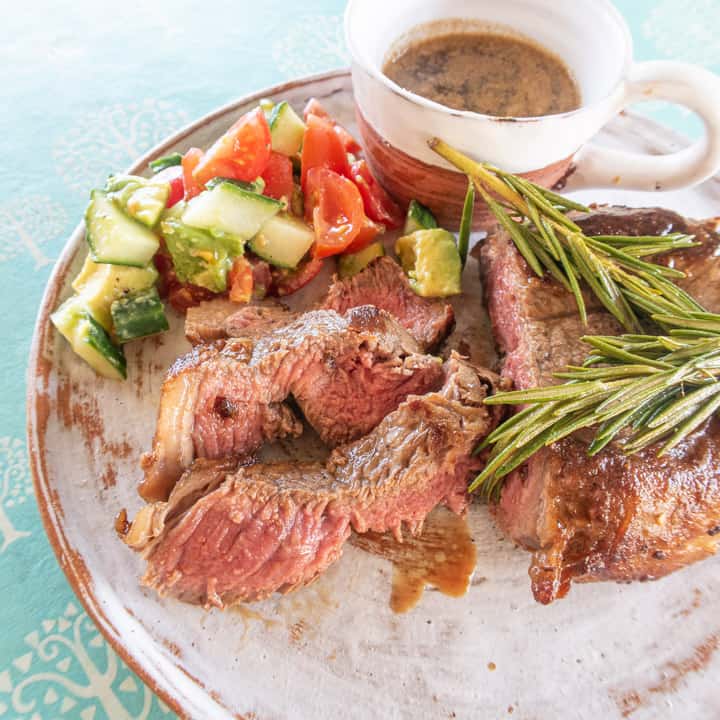 This garlic butter sauce has been a revelation for me.
Rather than serving steak with the traditional cold slice of garlic butter on top (which is never enough).
You now get to dunk every single bite of steak into a little pot of garlic'y deliciousness!
And the best part is it's cooked in the same pan as the steak.
Take that washing up!
To make it, simply remove the steak from the cast iron pan when it is cooked just how you like it.
Pop the steak on a plate to rest, where it will reabsorb all those delicious juices.
Put the pan back on a low heat and add the garlic, butter and rosemary if using.
Melt everything together, and simmer very gently for a few minutes to bring the herb flavours out into the sauce.
Then simply pour into a small bowl to serve alongside the steak.
So simple and quick, but mid-blowingly tasty.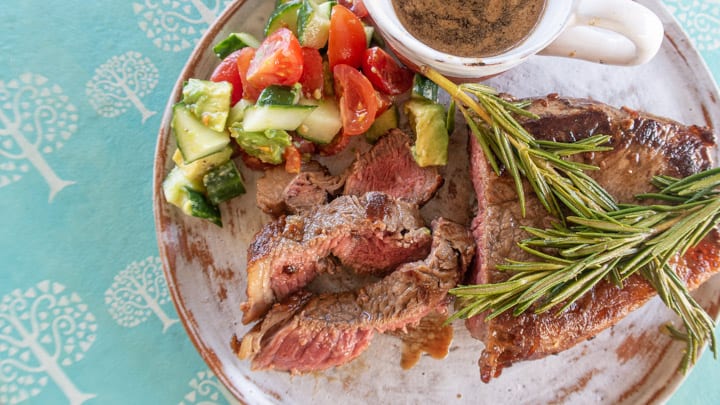 Cast Iron Sirloin Steak
There are a few things to keep in mind when cooking your perfect steak in cast iron:
Meat must be dry to achieve the desired caramelised crust. Remove all packaging 20-30 minutes before cooking. Pat dry with paper towels, and let sit on the counter to further evaporate any moisture. Another way dry out a steak really well is to pat dry, then leave uncovered in the fridge for 12-24 hours. Fridges are really dry environments and will suck any excess moisture out easily. Do note this won't leave you with a dry and gnarly steak once cooked, it will only dry out the outside which is exactly what we're after ;)
Room temperature meat will cook more evenly. I'll admit I've heard opposite views on this fact, but as most of the tops chefs still advise it, I still do it. This one's entirely up to you.
Cast Iron pans need to be preheated before cooking sirloin steak. This one is imperative. Heat your dry pan up for 5 minutes on high before putting any oil or meat anywhere near it. If you put steak (or anything for that matter) into a cold pan, it will 'stew' as the pan slowly heats, becoming tough and gross. Preheat it and you'll achieve that glorious golden crust.
Love & adore your cast iron. Cast iron ware should be seen as an extra, well loved, member of the family. It's not the kind of thing you can chuck in the dishwasher, or leave to soak with hot water and bubbles whilst you go put your feet up. However, look after your beloved cast iron pans, and they'll become coveted family heirlooms. A well seasoned, well used pan like the one below gains a shiny covering that is the goal with all cast iron pans.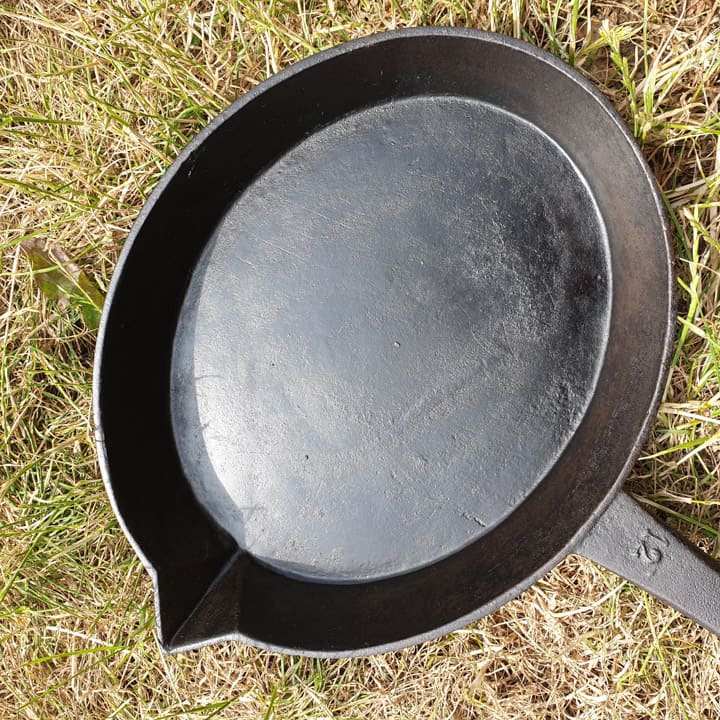 Cast Iron Sirloin Steak with Garlic Butter Sauce
I'm also sharing this recipe over on my YouTube channel.
If you've never visited it before, the entire channel is dedicated to easy one-pot camping recipes that I make in Myrtle the VW campervan!
If you love the idea of finding a whole bunch of quick n easy, one-pot recipes that are perfect for mid-week madness or camping with the family, do go check it out: Hedgecombers YouTube Channel!
And today's video will show you just how quick n easy this sirloin steak is to prepare.
If you'd like any more one-pot inspiration, please take a mooch around my archives here: One Pot Stove Top Recipes
And if you make this, or any of my recipes, please feel free to tag me in any pics you share online. You can find me pretty much everywhere as @hedgecomber.
Enjoy!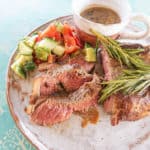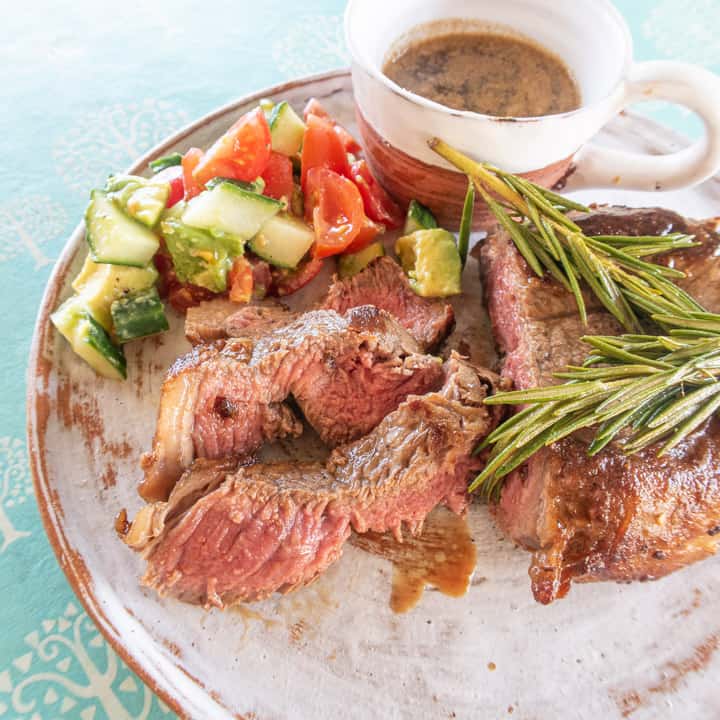 Cast Iron Sirloin Steak with Garlic Butter Sauce
Keyword:
cast iron sirloin steak, sirloin steak garlic butter
Ingredients
1

sirloin steak

around 1- 1.5 inches thick

75

g

salted butter

3

garlic cloves

peeled and halved

2

sprigs

rosemary

(optional)
Instructions
Remove the steak from the fridge, and remove any packaging 30 minutes before you wish to cook it. Pat it dry with kitchen paper and leave it somewhere safe where the flies and family dog can't get to it!

Preheat your cast iron skillet until it is HOT.

Add a little oil (I used 1 teaspoon bacon grease) to lubricate the pan.

Season one side of your steak with salt, then place the salted side down into the hot pan. Season the second side once it's in the pan.

Leave for 2-4 minutes depending on the thickness of your steak. (Mine was just over 1 inch thick and I cooked it for a total of 6 minutes for the perfect medium rare finish).

Turn the steak and cook the second side.

When the steak is cooked to your liking, remove and place on a board or plate for a few minutes to rest.

Turn the heat down to low, then add the garlic, butter and rosemary to the juices already in the pan.

Gently melt the butter and stir to remove any tasty bits stuck to the bottom of the pan.

Pour the butter sauce into a small bowl or on to a plate and serve with the steak and any salads or sides you fancy.
Recipe Video
Nutrition Facts
Cast Iron Sirloin Steak with Garlic Butter Sauce
Amount Per Serving (1 g)
Calories 857
Calories from Fat 639
% Daily Value*
Fat 71g109%
Cholesterol 299mg100%
Sodium 666mg29%
Potassium 809mg23%
Carbohydrates 3g1%
Protein 51g102%
Vitamin A 1875IU38%
Vitamin C 2.8mg3%
Calcium 98mg10%
Iron 3.7mg21%
* Percent Daily Values are based on a 2000 calorie diet.