When a creative hobby/small start up outgrows your home office, you either adapt or rent space outside of the home. This is the result of me adapting!
Welcome to the prettiest, tidiest corner of my junk room!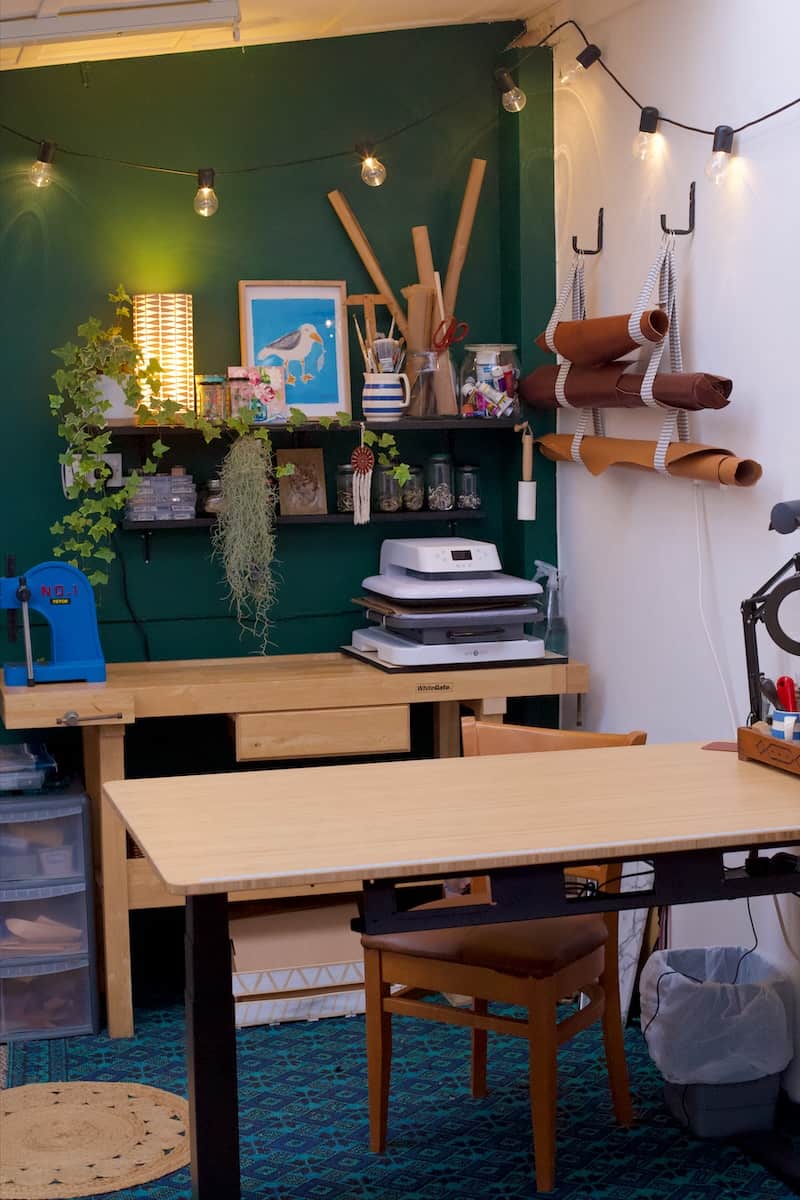 Up until this project took over my life, this entire room gave me anxiety.
It was FULL.
Full of camping gear, used packaging supplies, spare boots, bags of skinny or fat clothes (depending on which way my weight is currently swinging). You get the idea.
It was such a waste of space, and the worst part was that I could never find what I needed so I'd end up going and buying a duplicate, thereby adding to the carnage.
Urgh.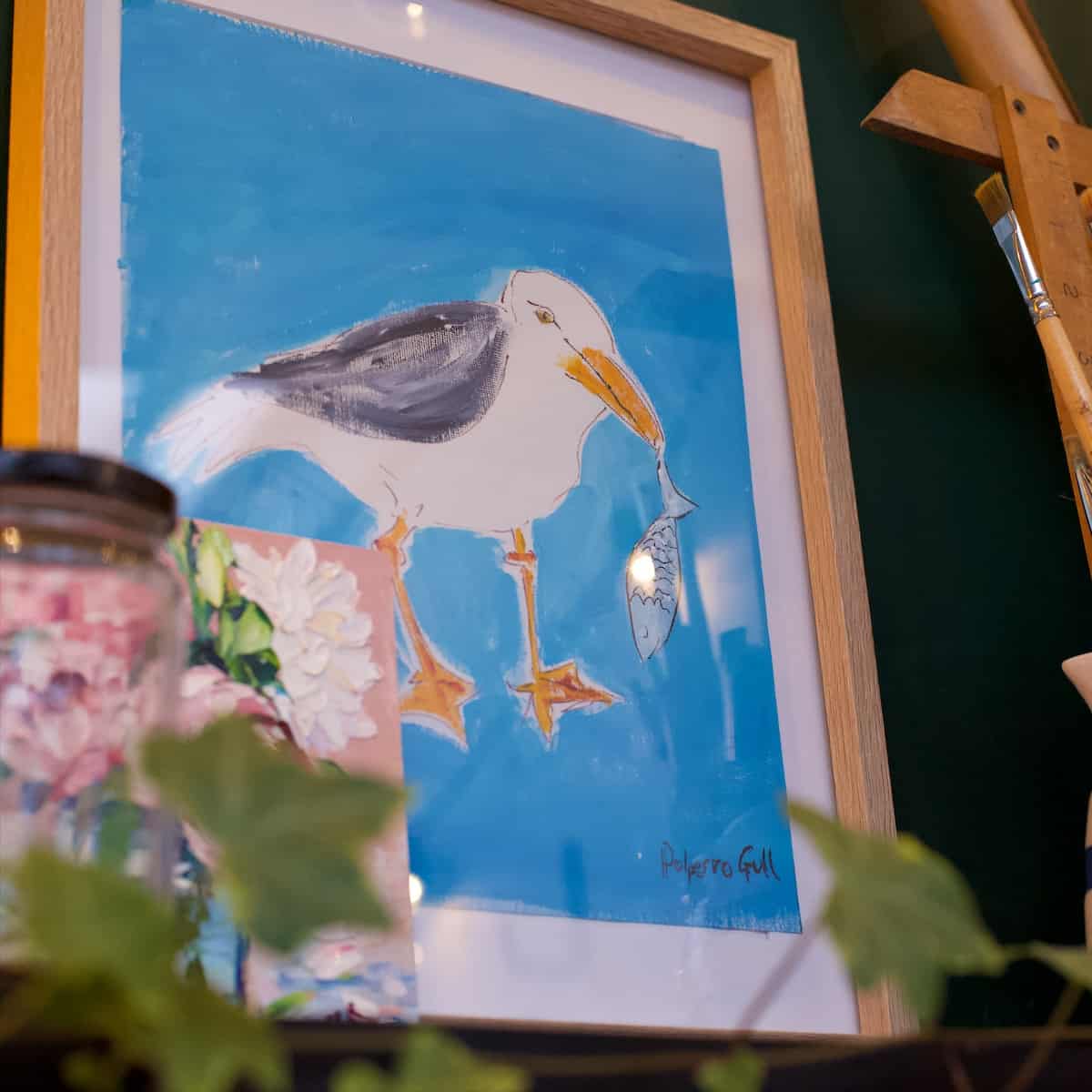 Anyway, since starting my little handmade leather accessories brand (have you visited the new website yet? You should, it looks SO pretty! Here's the link: hedgecombers.shop), working at my little desk, in my little office, became way too chaotic as I'm such a messy and creative soul.
So the waste-of-space room needed a makeover. And I couldn't be happier!
How I store large rolls of leather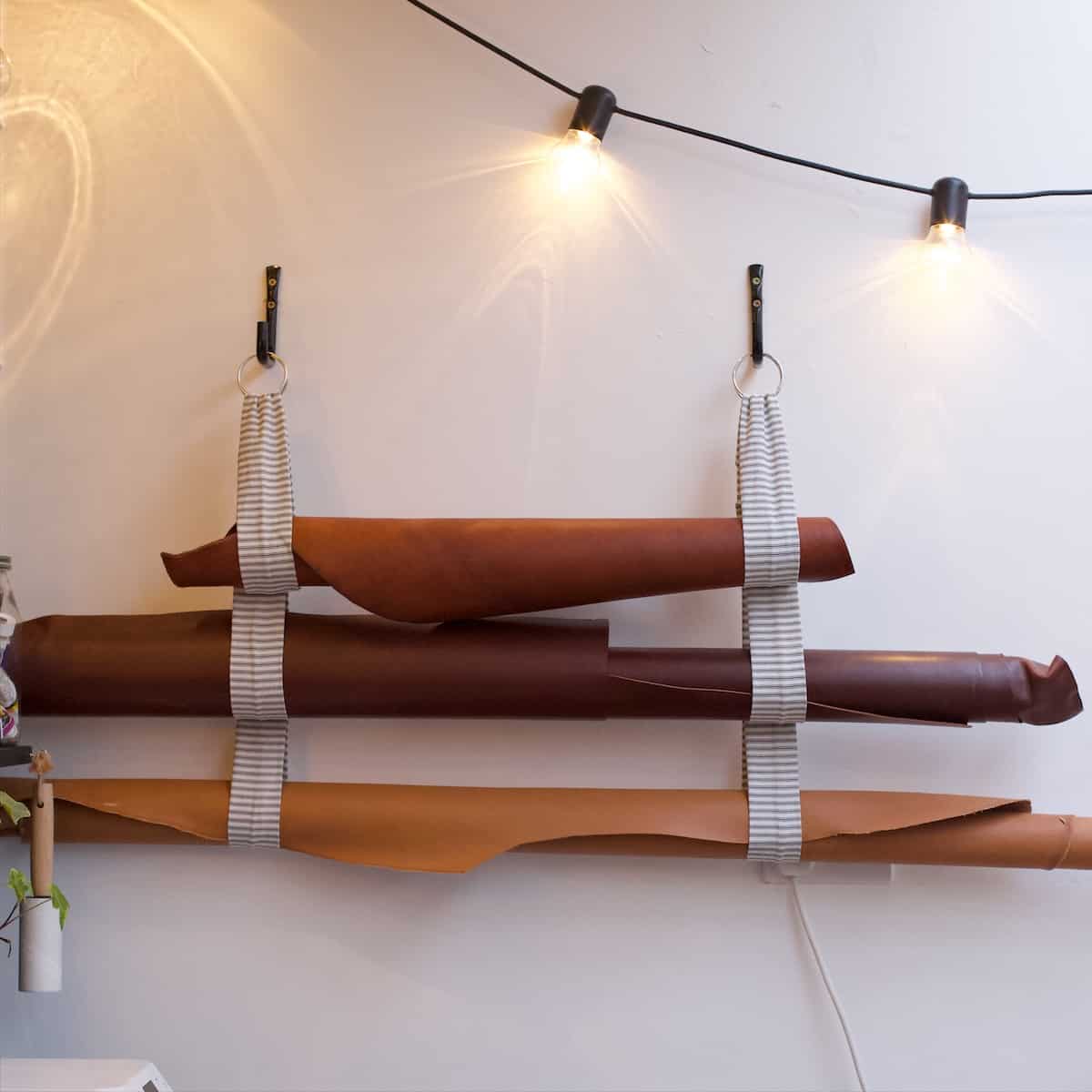 This is how I finally landed on displaying / storing the large shoulders of veg tan leather I buy. It's suspended in 2" wide strips of ticking (a tightly woven cotton fabric that was traditionally used to make pillow and mattresses), that's been looped and attached to some garage hooks with metal curtain rings.
The rolls of leather slide in and out easily and I can easily add more loops as my business expands.
Offcuts and smaller pieces of leather are stored in the small plastic chest of drawers under the work bench.
Using hardware as decor
Something I've learnt from having a kitchen that is used in photoshoots, recipe videos and even a TV show, is that everyone loves seeing ingredients on display.
And I just knew that the hardware I use to make my wallets, keyrings and journals would look gorgeous in recycled glass jars.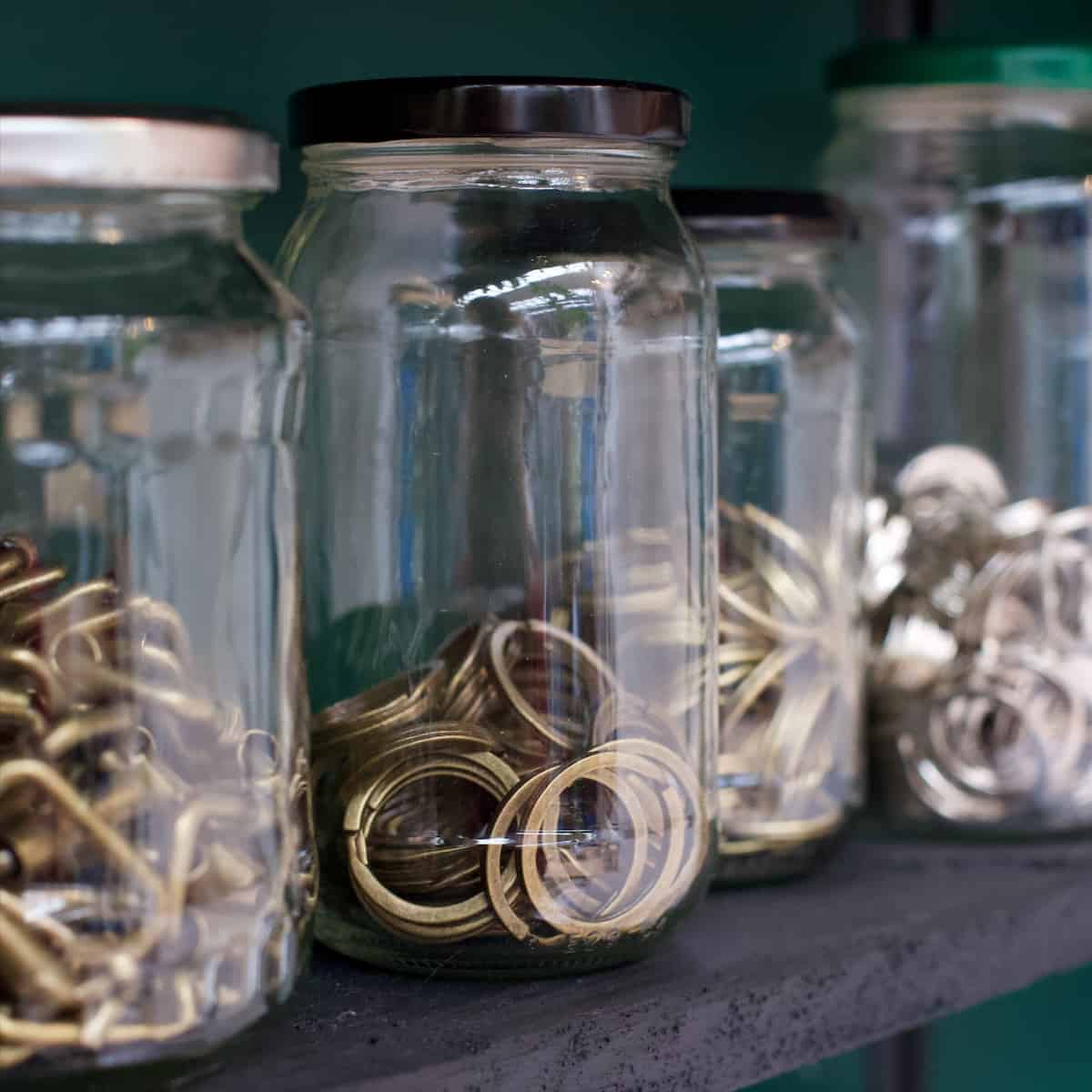 And whilst I am averse to buying new plastic storage containers for anything, using the ones that supplies get sent to me in prolongs the life of the plastic thing and is therefore a whole lot better for the planet.
Some of the supplies I use are teeny tiny, and keeping them safely corralled is imperative!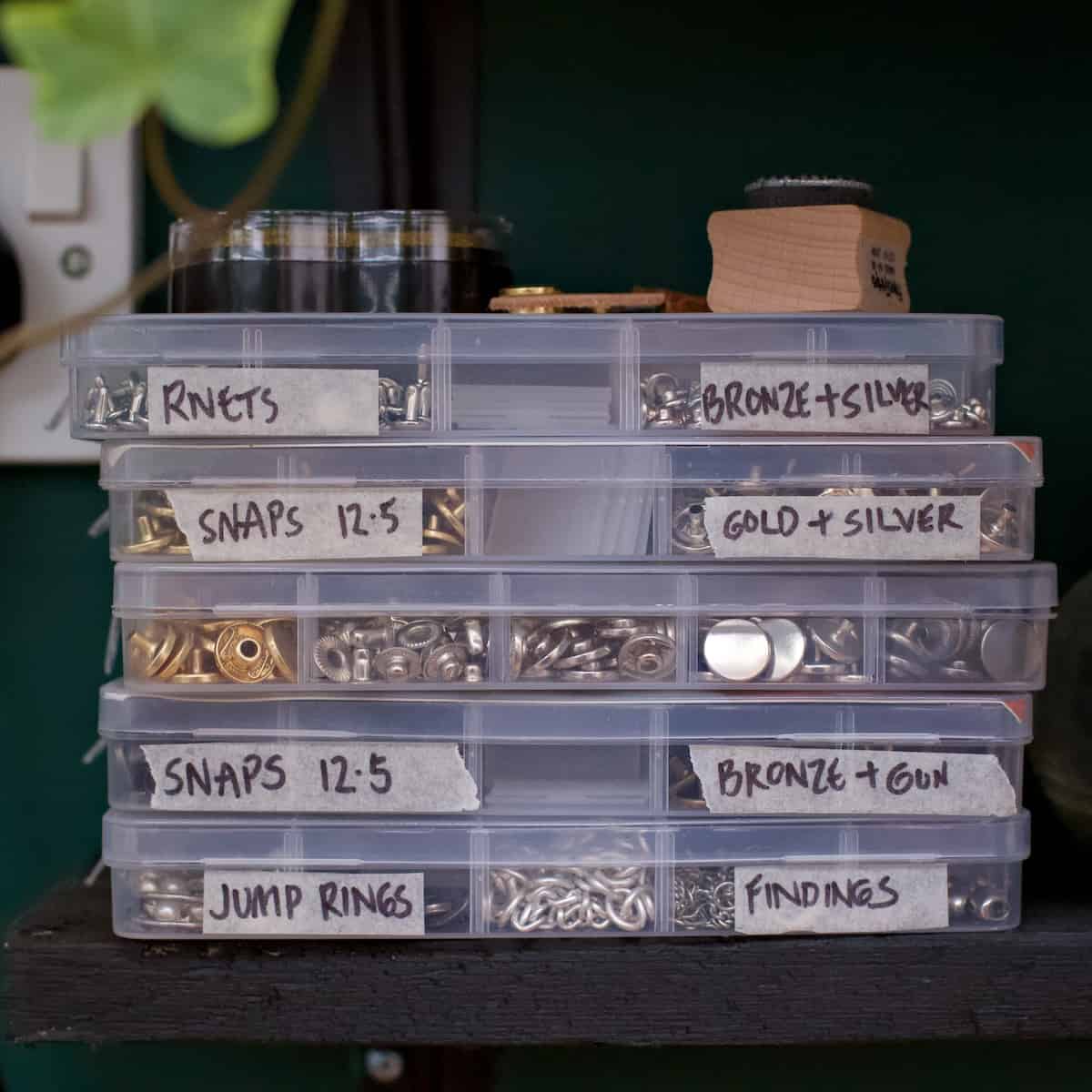 My new standing desk by Flexispot
Central to the whole studio makeover was this beautiful desk by Flexispot.
It's the all new E7-Pro and is a whole new generation of desk. At the press of a button the super smooth motor jumps to life raising it to whatever height you need.
There are 4 pre-programmable buttons on the keypad which was you can set to your perfect working heights. The sitting and standing heights speak for themselves, but I also added another height so that I can stand on my rebounder (a mini trampoline) so that I can do my physio exercises whilst I'm working.
This has been a game changer!
Sitting for hours on end at a desk has no doubt added to my levels of pain, and now I feel like I'm able to take back a little bit of that control.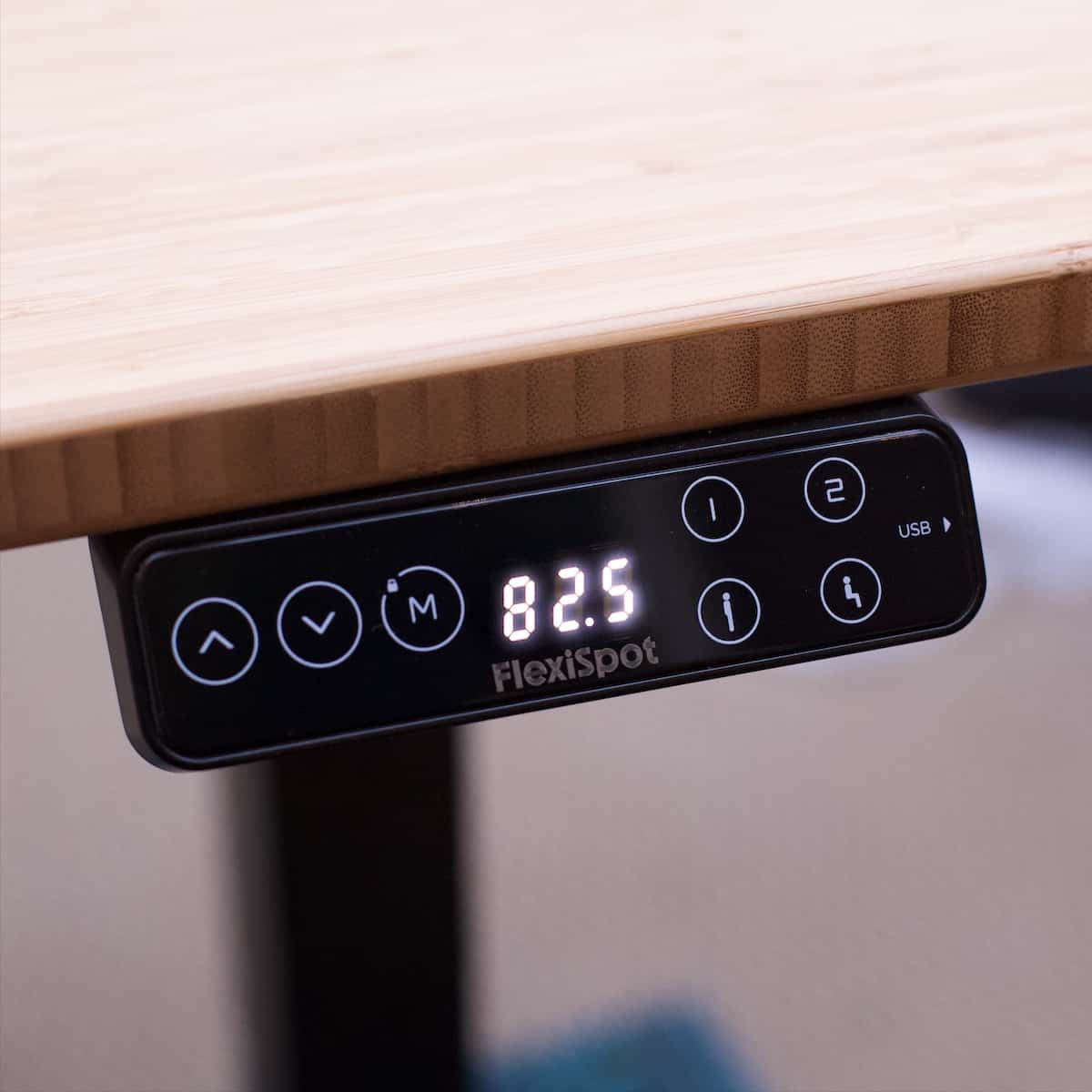 There are a bunch of different material and size options for both the desktop and the legs. I chose the bamboo top with black legs and I love how classy it looks.
It comes with an ingenious cable management system that blew my mind.
If you'd like to see more, watch the video that accompanies this blog post here: YouTube Video.

Flexispot Black Friday Deals
If you're in the market for a new desk, be sure to check out the Black Friday deals Flexispot are sharing by visiting Flexispot.co.uk or…
* PRE-ORDER THE E7 PRO STANDING DESK – https://bit.ly/3SuEdCD
* FlexiSpot Black Friday: save up to £300 – 13th – 27th Nov. https://bit.ly/3LLbrcu
* Exclusive 10% OFF Sitewide Code – FSKOL
* 50% Cash Back: The fastest person to complete a payment each day will win a 50% cash back on his/her order. 80 orders in total.
* 50% OFF for Desktops: Buy any of the standing desks on the website and enjoy 50% off for ALL the desktops!
Huge thanks to Flexispot for gifting me this remarkable desk. As always, all thoughts are my own, but please know that I never recommend products that I don't love.
Jane x