This quick and easy broccoli kale salad is such a tasty way to inject more dark leafy greens into your every day with zero struggle!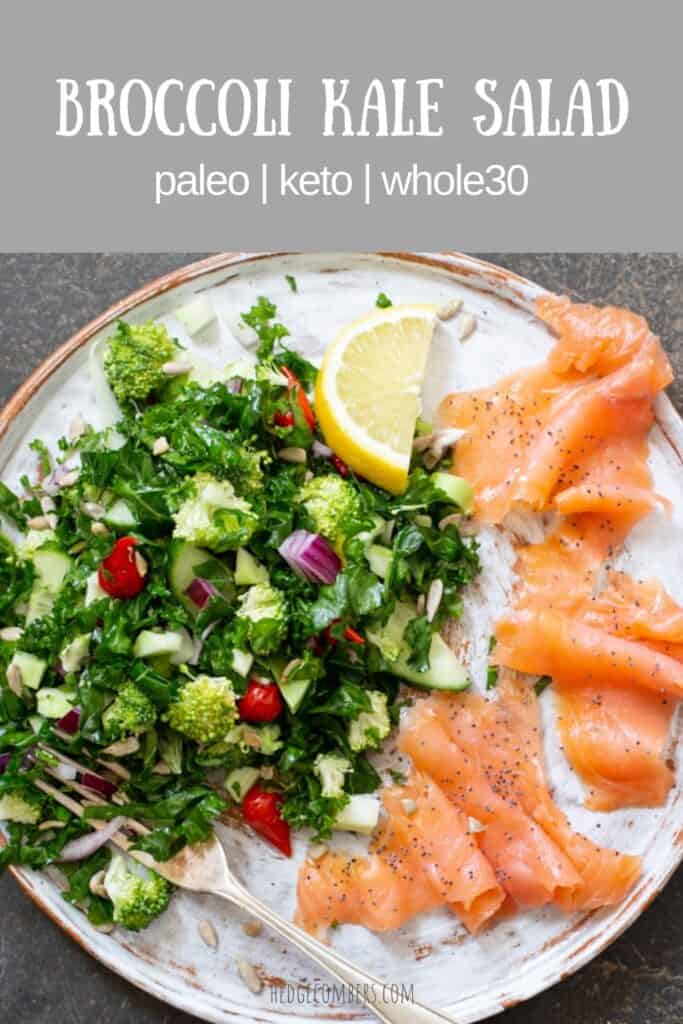 Contrary to popular belief, kale eaten raw is actually pretty tasty!
There are a couple of (quick!) steps you need to turn it from a tough, slightly bitter leaf into something decidedly tasty.
Follow those basic kale rules, and you'll be swapping out your lettuce habit for kale everytime!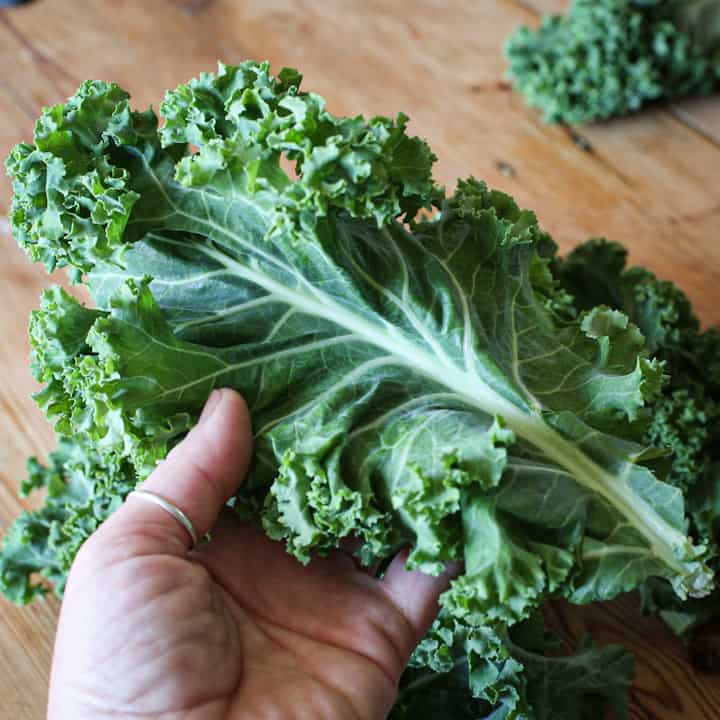 Why Should I eat Kale??
Are you wondering why you'd bother?
I mean, aren't all green leaves the same? Nope.
The darker the green leaf, the more nutrients and health benefits your greens will bring you.
Iceberg vs Cavolo Nero? No contest.
If given the choice at the farmers market or supermarket, always plump for the darker green.
A quick google and these are the nutrients you can expect to consume every time you snack on a vivid green kale leaf:
| | | |
| --- | --- | --- |
| Nutrient | Amount in 1 cup | Daily adult requirement |
| Energy (calories) | 42.5 | 1,800–3,000 |
| Carbohydrate in grams (g) | 6.3, including 1.4 g of sugar | 130 |
| Fiber (g) | 4.7 | 22.4–33.6 |
| Protein (g) | 3.5 | 46–56 |
| Calcium in milligrams (mg) | 177 | 1,000–1,200 |
| Iron (mg) | 1.0 | 8–18 |
| Magnesium (mg) | 29.5 | 320–420 |
| Phosphorus (mg) | 49.6 | 700 |
| Potassium (mg) | 170 | 4,700 |
| Sodium (mg) | 18.9 | 2,300 |
| Zinc (mg) | 0.3 | 8–11 |
| Copper (mg) | 0.8 | 900 |
| Manganese (mg) | 0.6 | 1.8–2.3 |
| Selenium in micrograms (mcg) | 1.1 | 55 |
| Vitamin C (mg) | 21 | 75–90 |
| Folate (mcg DFE) | 76.7 | 400 |
| Betaine (mg) | 0.4 | No data |
| Beta carotene (mcg) | 2,040 | No data |
| Lutein + zeaxanthin (mcg) | 5,880 | No data |
| Vitamin E (mg) | 1.9 | 15 |
| Vitamin K (mcg) | 494 | 90–120 |
| Vitamin A (mcg RAE) | 172 | 700–900 |
Source: Medical News Today
That's a lot of goodness in one little portion of veg!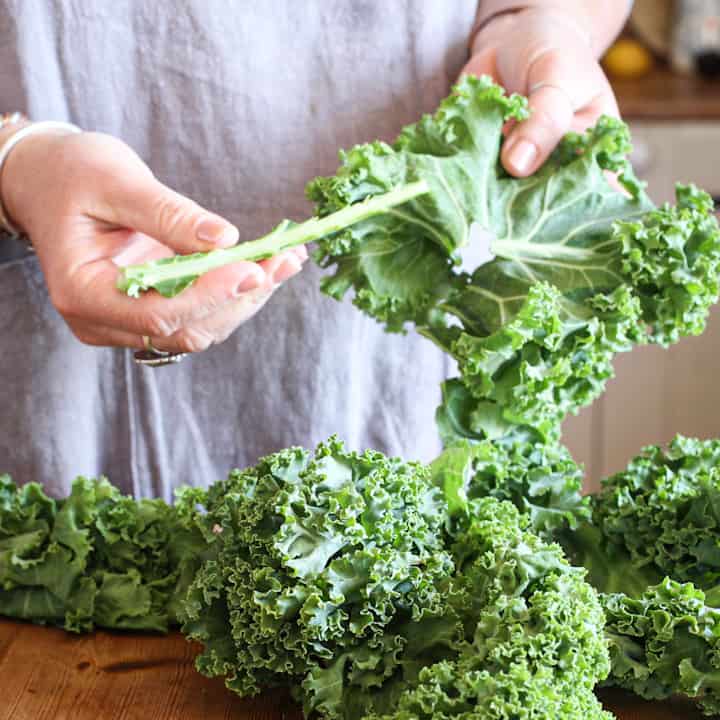 Removing the kale stem
Unless you're buying baby kale, you'll probably want to remove the centre vein from each leaf before eating.
This part is edible, but it is tough. Some folk I know love to eat it, but I'm not one of them!
Rip or cut out this centre vein. If you don't want to waste it, pop it in a freezer bag along with any other vegetable scraps you produce and use them next time you make a stock.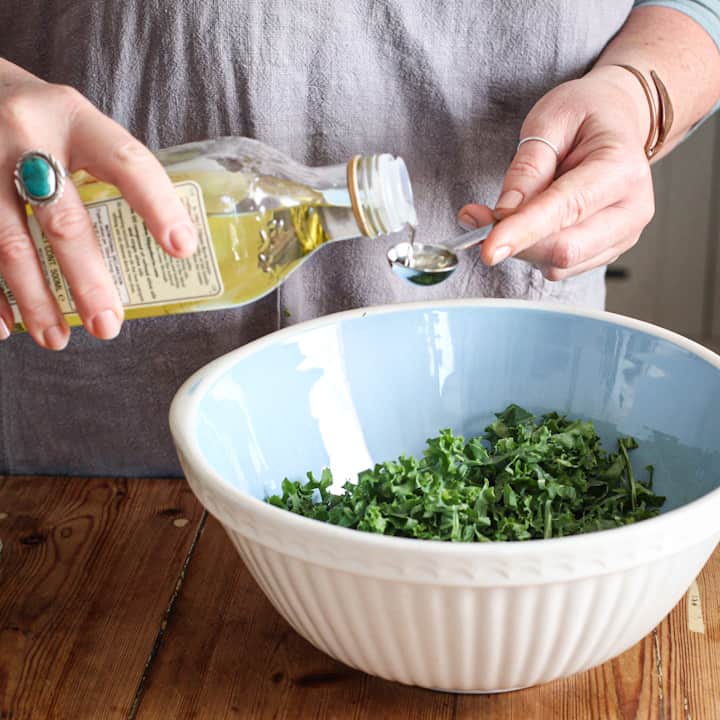 Massaging Kale to Soften the Leaf
A quick little deep tissue kale rub is the simple step you need to turn those magical green leaves into something you want to eat raw.
Here's how to massage kale to make it super tender…
Wash your kale leaves under cold, running water.
Strip each leaf from the stem and pop the leaves into a salad spinner or sieve. Spin or shake dry.
Break each leaf into bite sized pieces, or bundle up a handful of leaves and slice into thin ribbons.
Pop into a mixing bowl and pour in 1-2 teaspoons of oil. I used a light olive oil which has a mild flavour, but you could use any oil you fancy.
Get your hands in the bowl and rub the leaves between your fingers. After a minute or so, the cell wall structure which will start to break down and this simple trick will make it much easier (and more pleasant!) to chew and to digest.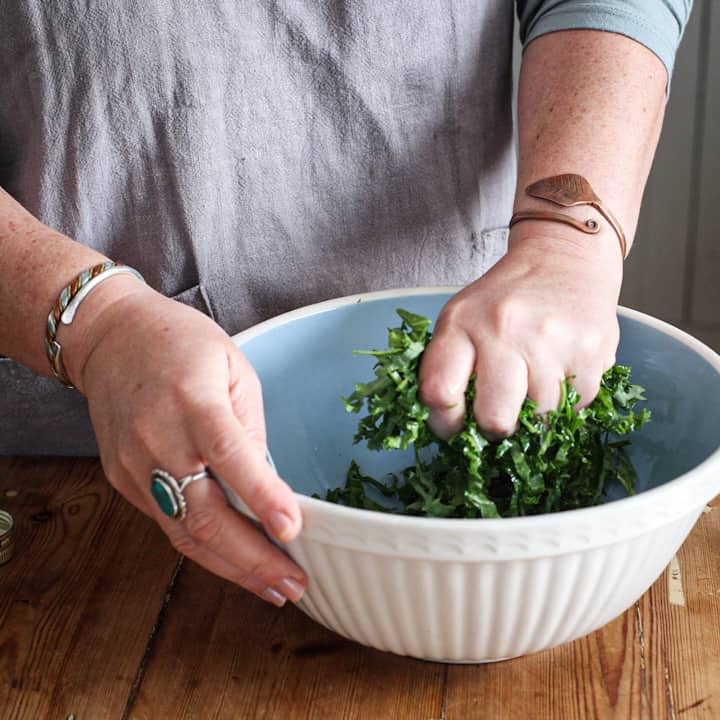 Can I eat Broccoli Raw?
YES!!! I mean, broccoli is damn delicious whether you steam it, sauté it, roast it, or even eat it crunchy and raw.
There are a few nutrients (not all) in broccoli that are damaged during the heating and cooking process. So having a mix of both raw and cooked broccoli in your life will give you the most bang for your buck.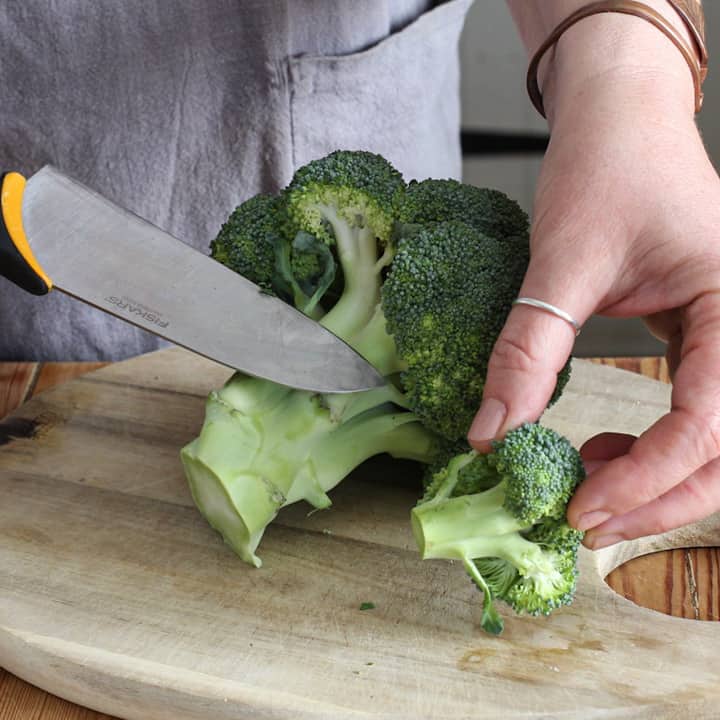 It is up there as one of my two favourite veggies (Brussels Sprouts are the other in case you were wondering). And it is probably on a par with kale for its health giving properties.
Eating the two together, raw, and you can push your halo firmly back into position.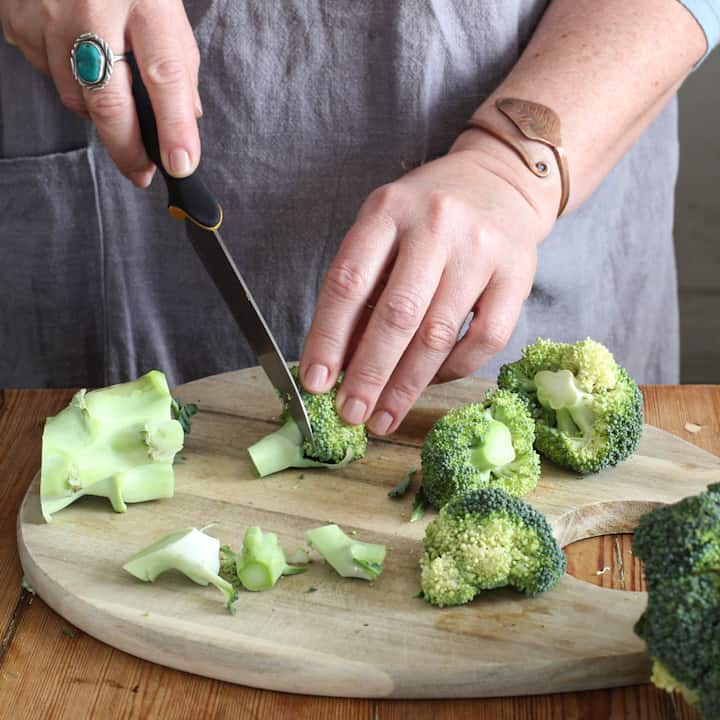 What to serve with Broccoli Kale Salad
This salad is pretty robust and will last a good few days in the fridge. It's perfect to take to pot lucks, BBQ's and to meal prep for the week ahead.
(If you are me a prepping for several days, I would recommend leaving the cucumber out until the day you want to eat it. I find the cucumber can go a bit soft after two or three days in the fridge).
The day I made this salad to shoot for the blog, I served it simply with smoked salmon and a wedge of lemon. It was a light and refreshing lunch which worked perfectly on my current Whole30 food elimination plan.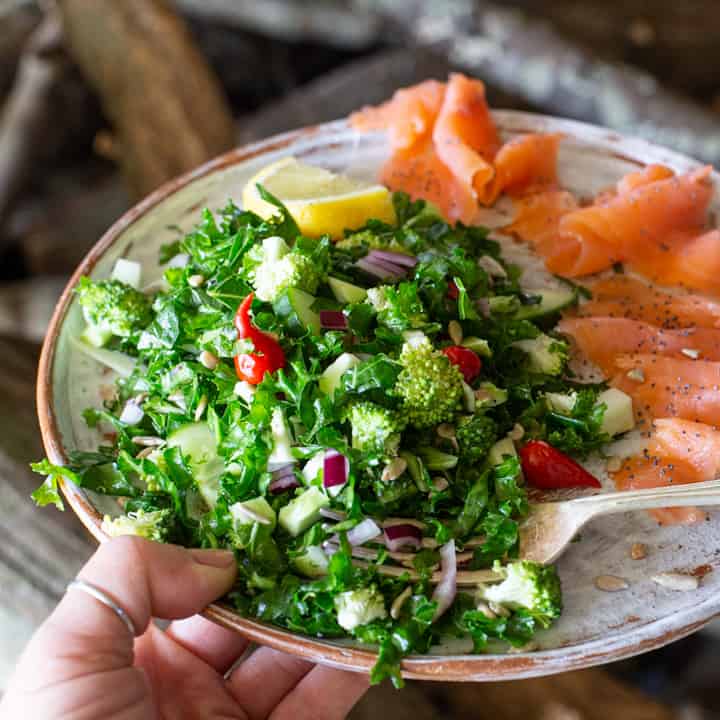 Broccoli Kale Salad Recipe
Do let me know what you think of this vibrant, healthy salad. And especially if you're new to eating kale!
Feel free to tag me in any photos you share online too, you can fine me pretty much everywhere as @hedgecomber.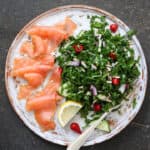 Broccoli Kale Salad
This quick and easy broccoli kale salad is such a tasty way to inject more dark leafy greens into your every day with zero struggle!
Keyword:
broccoli kale salad
Ingredients
150

g

kale

2

tsp

light olive oil

1/2

head

broccoli

1

small

red onion

1/4

cucumber

2

tsp

sunflower seeds

3

tbsp

Roquito peppers

– (also known as Sweety Drop Peppers)
Instructions
Wash the kale and remove the centre spine from each leaf. Spin or shake the leaves dry.

Rip into bite pieces, or bundle up a few leaves tightly, and chop into fine ribbons if you prefer.

Add the kale to your mixing bowl.

Add a teaspoon of a mild tasting oil and, using your hands, massage the oil into the leaves to soften them.

Next, rinse and spin the half a head of broccoli dry.

Cut the florets from the stem, then cut or break each floret into tiny little florets. Add to the bowl.

Dice the broccoli stalk into small cubes and add to the bowl.

Finely dice the red onion and slice the cucumber into half mons and add to the other vegetables. If you wish to store the salad for a few days, consider cutting out the cucumber seeds before slicing to help prevent them going soft.

Finally, sprinkle the salad with the sunflower seeds and Roquito peppers and toss together well.

If you are serving straight away toss in your favourite salad dressing and enjoy.

However, if you are storing the salad for meal prep, add the dressing to each portion as you serve.
Nutrition Facts
Broccoli Kale Salad
Amount Per Serving
Calories 93
Calories from Fat 36
% Daily Value*
Fat 4g6%
Sodium 41mg2%
Potassium 534mg15%
Carbohydrates 13g4%
Protein 5g10%
Vitamin A 4356IU87%
Vitamin C 129mg156%
Calcium 104mg10%
Iron 1mg6%
* Percent Daily Values are based on a 2000 calorie diet.