This Broccoli and Almond Soup is so quick and easy to make, it's ridiculously healthy and tastes sublime.


I first published this recipe back in 2011 and I've been wanting to remake (and re-shoot) it ever since. If you happen to read this entire post you may well find the (hideous) photo that accompanied the original recipe. I had to shove it all the way down the bottom in case anyone decided to pin this yummy recipe and that was the image that they happened to pin. Ugh.
F'ugly photos aside, this soup itself is a cracker! It's healthy yet creamy. It's not only dairy free (yay!) but vegetarian, vegan, paleo and Whole30 compliant. Oh, and it's green. I'm assuming it gets extra healthy points for being green?
I first made this soup in the early days of adapting to being lactose intolerant. As broccoli's regular soupy side kick stilton was now off the menu (sigh), I wanted to find an alternative that still complemented my favourite veg, but didn't leave me in agony after eating it.
Whilst I've only ever made this soup on the hob before, today I made it in my trusty Thermocook (if you're interested, my earlier Thermocook review is here).
Soupmakers
I've never really seen the point of soup makers if I'm honest and I wouldn't give one the kitchen space when it's so easy to make soup with a pan and stick blender, so I was expecting to be a little bit nonplussed with the soup function.
However, after the 4 seconds it took to load in the stock, broccoli and almonds into the Thermocook and switch it on, I went off and cleaned out the chickens whilst my soup was blended, cooked and the machine then switched itself into warming mode, to keep my lunch piping hot & ready to eat when I wasn't quite back in time. That is actually pretty handy. I still wouldn't want to own a dedicated soup maker, but once you add in all the other functions that a Thermocook can do (steaming, blending, slow cooking, chopping, mincing, kneading, grinding and don't forget making jam!) then that's a whole different conversation.
Want to see it in action? Well here you go…
Clean up was pretty easy too – as I mentioned before you can't get the base of the jug wet which I initially found annoying, however this time I just put some hot water from the tap and a squeeze of washing up liquid into the jug and put it back on to whiz for 10 seconds. After pouring this out all it needed was a quick wipe round the rim with a cloth. Turns out it was easier (and safer) than getting in amongst those blades and washing it up in the sink.
If you don't own an Thermocook please don't fret, the recipe below if just for you ;) For you other Thermocookers, ignore the steps below and just chuck everything into the jug and switch on the 'quick soup' setting.
Oh, and before you keep going to find that photo I mentioned – you don't have to dry fry your almonds, but your soup will taste better if you do. Simply heat up a heavy bottomed frying pan, keeping it dry (ie no oil) tip in your ground almonds, and keep moving them around the pan until they are golden brown and smell toasty.
Broccoli and Almond Soup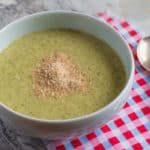 Broccoli and Almond Soup
Keyword:
Broccoli and Almond Soup
Ingredients
50

g

ground almonds

dry toasted

650

g

broccoli

1

litre water or stock

Salt & Pepper
Instructions
Prep Time: 10 minutes

Cook Time: 10 minutes

Total Time: 20

Dry fry the almonds on a high heat, until they are golden brown.

Chop the broccoli into florets and steam for around 10 minutes, or until tender.

Pop everything into a blender and whizz till smooth, then reheat to serve.
Nutrition Facts
Broccoli and Almond Soup
Amount Per Serving
Calories 125
Calories from Fat 54
% Daily Value*
Fat 6g9%
Cholesterol 0mg0%
Sodium 53mg2%
Potassium 513mg15%
Carbohydrates 13g4%
Protein 7g14%
Vitamin A 1010IU20%
Vitamin C 145mg176%
Calcium 103mg10%
Iron 1.7mg9%
* Percent Daily Values are based on a 2000 calorie diet.
Ready for it…
Blah!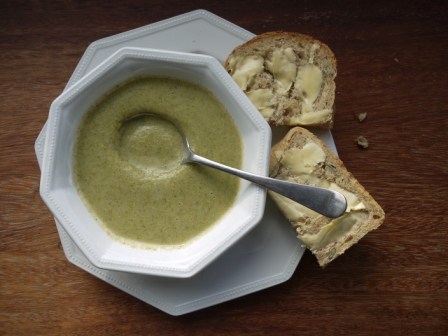 Disclosure: I am an affiliate for Froothie, the company that makes the Thermocook and my beloved Froothie high speed power blender. I get sent their latest products to review, and receive a small commission should any of my readers happen to purchase one. Thanks in advance to all those that choose to support my work by following my links when they buy  a new product.
Janie x