Oh man, this Breakfast Crumpet Burger is going to melt your heart, numb your hangover and take your breakfast hero status to EPIC levels!

This recipe is in collaboration with Iceland
This is one of those breakfast recipes that I am insanely proud of. The various levels of flavour and texture are perfect, especially if you're feeling a little jaded from, ahem, lack of sleep.
OK, so get your foodie imagination ready and picture this. We'll start at the bottom of the stack with a double toasted (I like 'em crispy) sourdough crumpet. This is put on the plate hot and spread with a little salted butter. It's worth noting at this point that hot crumpets makes plates sweat, which is gross and makes them soggy. Plating up on a wooden surface rather than ceramic makes for a much less soggy bottom.
And you just thought I was being hip using a chopping board as a plate, right?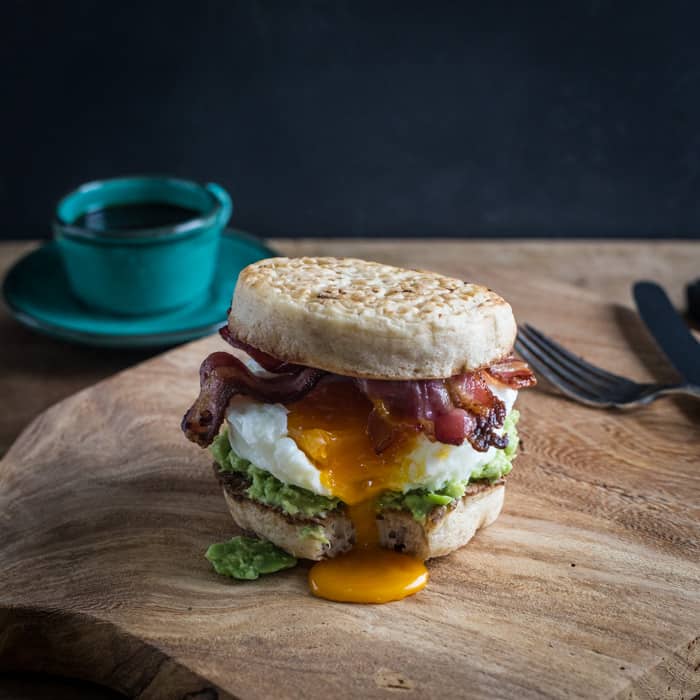 OK, in a small bowl mash together half a ripe avocado with a squeeze of lemon juice. About 1 teaspoon should be fine. The lemon juice is to stop the avo from going brown, but adds a fabulous fresh pop to that flavour balance too.
Next up is an egg or two. These can be fried or poached. Because I had to make my breakfast crumpet burger look especially sexy for the photos, and to make you all want to rush out and make this recipe, I poached two eggs in a frying pan of simmering water, inside a poaching ring.
A faff? Yes. But I think you're worth it ;)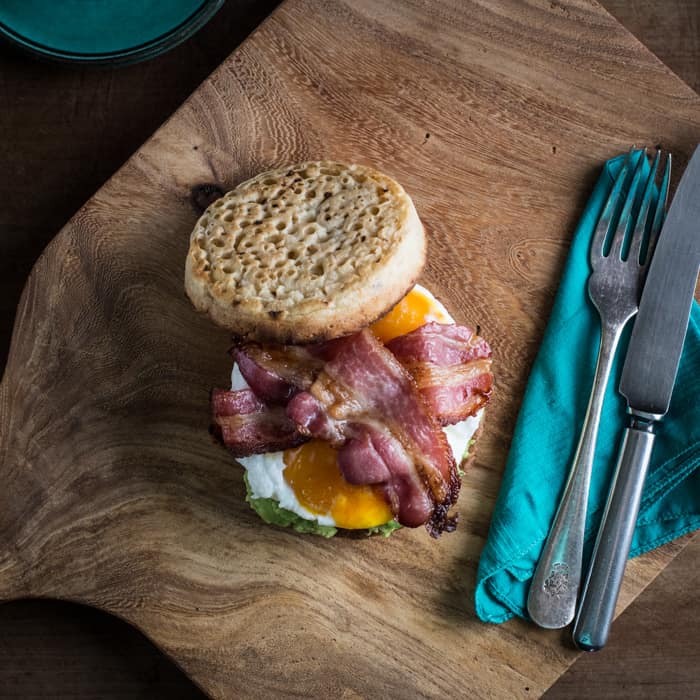 Next up is crispy, grilled, smoked, streaky bacon. Slurp.
And then top off this magical creation with a second crumpet as your burger lid. Now, I think I let the team down at this point, as it wasn't until I was editing the photos that I realised I should have buttered that top crumpet too. Salted butter mind, this is not time for that namby pamby unsalted nonsense.
And I would recommend eating this burger with a knife and fork. You know, cos otherwise you're going to wear it.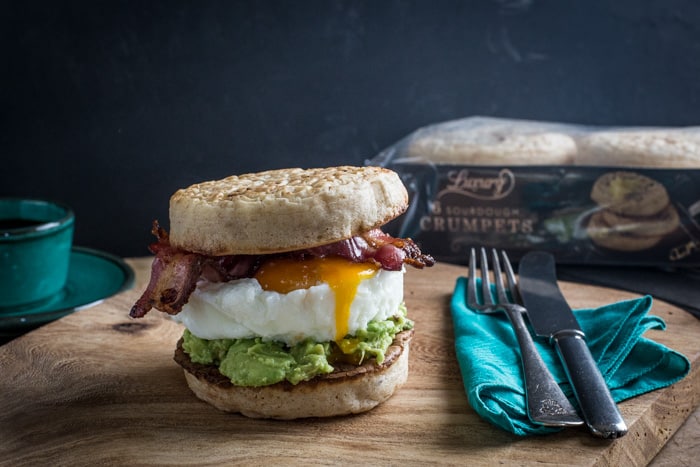 So, please push aside any other plans you may have for this weekends brunch munch and make this Breakfast Crumpet Burger your latest conquest. And then take a photo & share it with me on Twitter, Facebook or Instagram.
Breakfast Crumpet Burger
To finish I must thank Iceland for introducing me to these Luxury Sourdough Crumpets. Whilst all crumpets are good in my book, these have a definite edge in both flavour & texture. Not only are they dairy free (yay!) but they also contain oat grains, sunflower & flax seeds which give them a lovely bite and I'm pretty sure classes them as a superfood :)
These sourdough crumpets are part of Iceland's new bakery line. I'm so impressed with them that I'm looking forward to trying more of their range. You can pick them up in store or you can order online and get them delivered.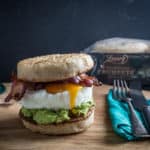 Breakfast Crumpet Burger
Keyword:
Breakfast crumpet burger
Ingredients
2

crumpets

1/2

avocado

ripe

1

teaspoon

lemon juice

2

rashers

smoked streaky bacon

1 or 2

eggs

a little butter
Instructions
Toast the crumpets at full whack. Repeat if you like yours extra crispy too.

Mash the avocado and lemon juice together and spread on the bottom, buttered, crumpet.

Poach or fry the eggs and pop on top of the avocado.

Place the bacon on the eggs and finish off with the second crumpet. Melt a little butter into that top crumpet for extra decadence.
Nutrition Facts
Breakfast Crumpet Burger
Amount Per Serving
Calories 711
Calories from Fat 414
% Daily Value*
Fat 46g71%
Cholesterol 214mg71%
Sodium 847mg37%
Potassium 874mg25%
Carbohydrates 55g18%
Protein 23g46%
Vitamin A 635IU13%
Vitamin C 12mg15%
Calcium 339mg34%
Iron 4.1mg23%
* Percent Daily Values are based on a 2000 calorie diet.
Huge thanks to Iceland for sponsoring this recipe and allowing me to continue bringing you tasty recipes, for free. As always all thoughts (and leftovers!) are my own.
Jane x