I'm not hugely sweet toothed, but the taste of real blackberry juice in my Blackberry Lollipops means that these little beauties could win me over any day. And with only 2 ingredients, they have to be better than all the unpronounceable things you find in regular, shop bought sweets.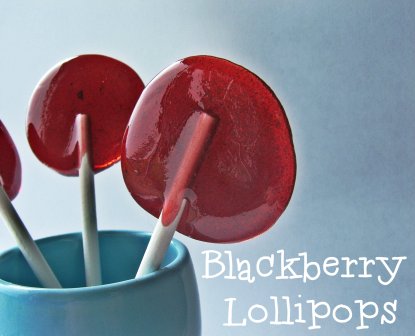 Please note, you will need a jam thermometer to make this recipe.
I'd also recommend you make it on a day when you don't have children or dogs running underfoot, as the syrup gets super hot as it boils frantically.
Oh, and wear long sleeves!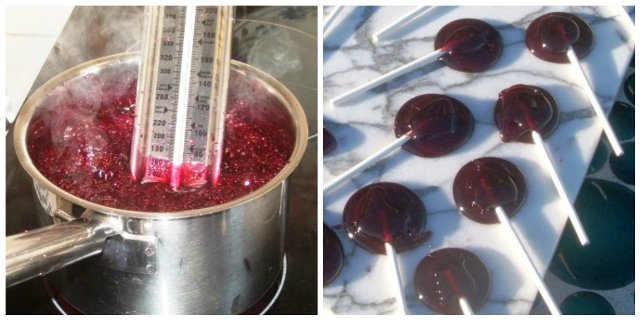 Blackberry Lollipops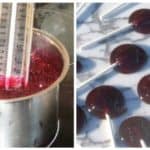 How to Make Blackberry Lollipops
Keyword:
blackberry lollipops
Ingredients
400

g

Sugar

300

g

Blackberries
Instructions
Gently heat the berries in a pan with a lid, until the fruit have changed colour, and there is a fair bit of juice in the bottom of the pan.

Pour into a sieve over a small pan & smush the berries through to extract as much juice as you can. Throw away the seeds (or feed them to your hens if you have any)

Add the sugar to juice and heat until the sugar has dissolved, stirring continuously.

Quit stirring, pop the jam thermometer into the hot goo, and let it boil. It becomes quite ferocious at this point, and if you get splashed it will burn.

As soon as it reaches the 'Hard Crack' stage (154c/310f) take the pan off the heat and stand it in a sink of very cold water to stop it cooking.

Carefully tip teaspoon size drops onto an oiled marble slab, or silicone baking sheet.

Before it cools too much, lay a lolly stick (I got mine on ebay really cheap) into the centre of the goo, and add a little more syrup on top to seal the stick in.

When cool, gently lift the sticks up and peel the lolly away. Wrap in lolly bags, foil, greaseproof paper, cling film or cellophane.

And that's it! If you give it a go, do let me know how you get on, and why not try other berries, such as strawberry or raspberry too?
Nutrition Facts
How to Make Blackberry Lollipops
Amount Per Serving
Calories 83
% Daily Value*
Fat 0g0%
Cholesterol 0mg0%
Sodium 0mg0%
Potassium 24mg1%
Carbohydrates 21g7%
Protein 0g0%
Vitamin A 30IU1%
Vitamin C 3.1mg4%
Calcium 4mg0%
Iron 0.1mg1%
* Percent Daily Values are based on a 2000 calorie diet.