If you've ever wondered how to make blackberry lollipops, using fresh and foraged blackberries, you're in the right place! In the following tutorial, I walk you through how to make simple fruity lollipops using just 2 ingredients…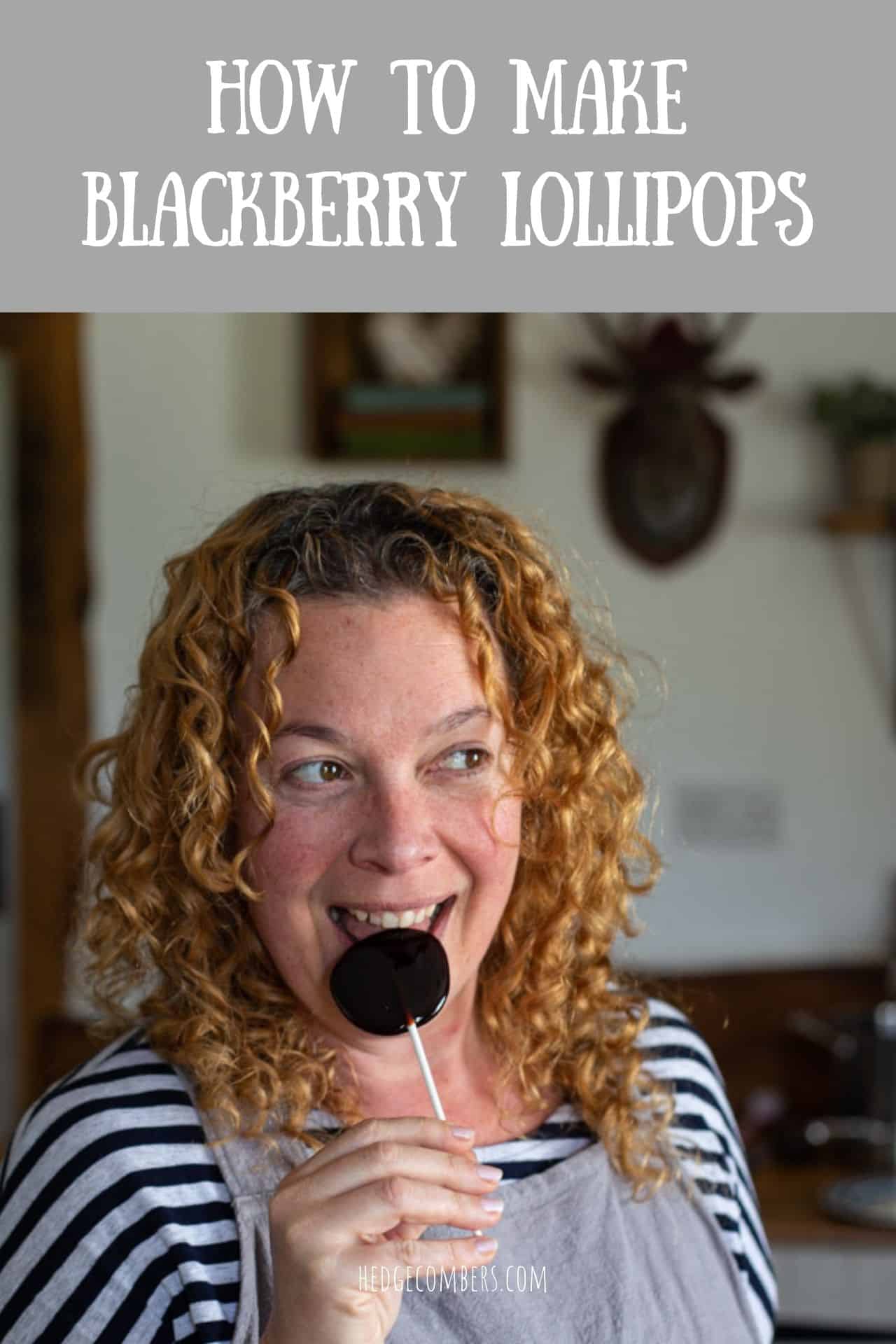 I'm not hugely sweet-toothed, but the taste of real blackberry juice in these Blackberry Lollipops make them a real treat.
And whilst they are sweet, they only contain sugar and blackberries.
That's just 2 ingredients in total!
So here's hoping that makes them a little better than all the unpronounceable things you find in regular, shop-bought sweets.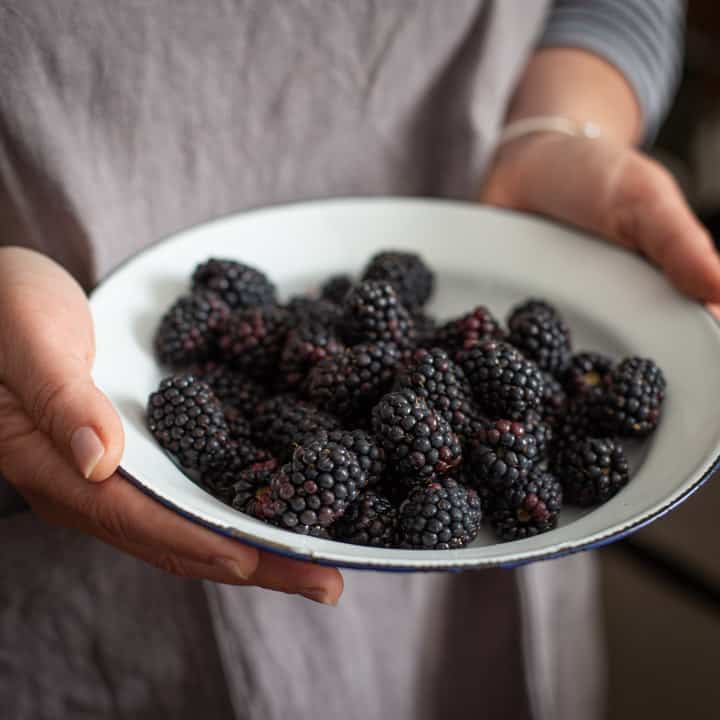 Recipe notes:
Please note, you will need some equipment to make these berry lollies:
jam thermometer. I have this cheap one by Tala (affiliate link).
lolly sticks. I used these cheap paper ones (affiliate link) from Amazon.
a large stainless steel saucepan. Choose one with a thick, solid base.
silicone baking sheet (affiliate link). If you don't have one of these you can use a marble slab that has been wiped with a small amount of oil to prevent the sweets from sticking to it.
I'd also recommend you make it on a day when you don't have children or dogs running underfoot. The syrup gets super hot as it boils frantically.
Oh, and wear long sleeves!
How to make Blackberry Lollipops
1/ extract the blackberry juice
Tip your blackberries into a heavy-bottomed saucepan.
A saucepan with a thin base may mean that your candy burns before it can reach the 'hard crack' stage.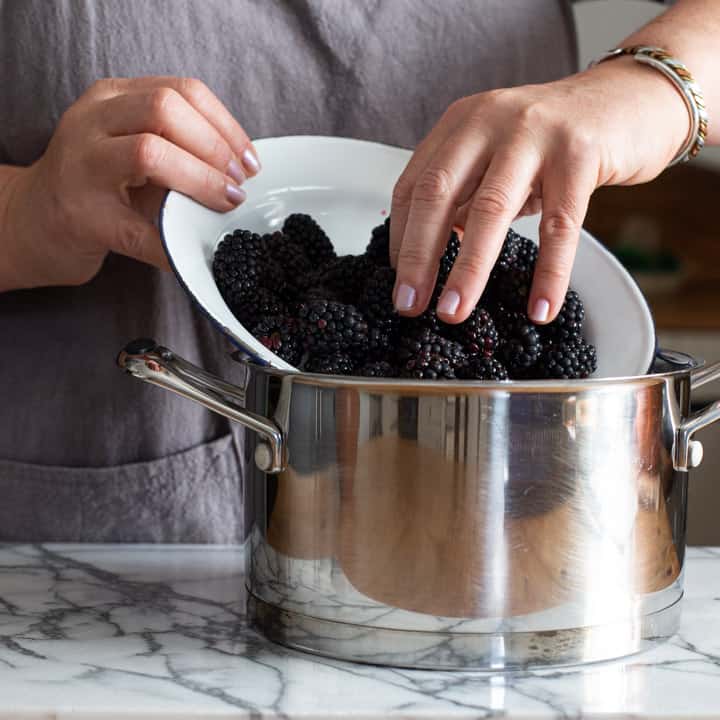 Put the pan over a medium heat.
I like to squash my berries with a potato masher as they cook to help release the juice.
Avoid boiling them as you'll lose too much water/juice.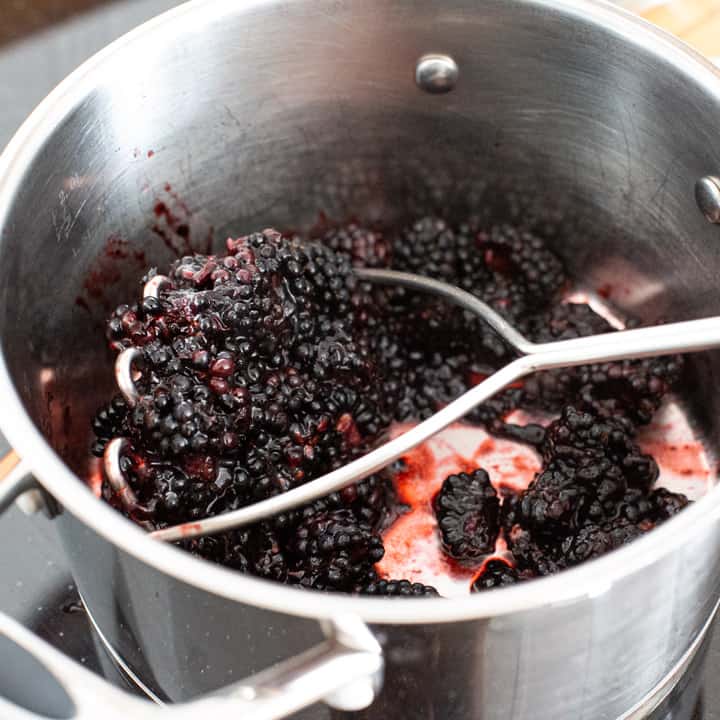 Pour the cooked berries, and juice, through a sieve.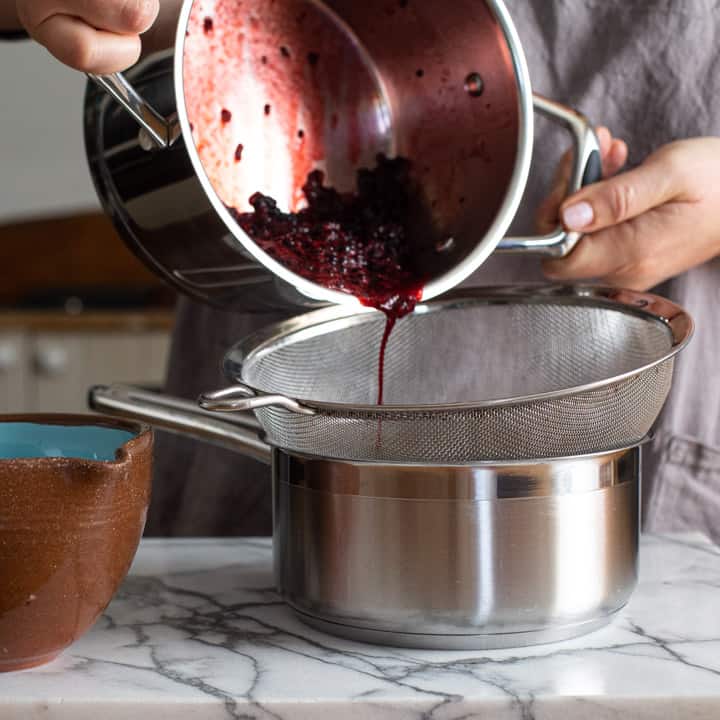 And I then like to squish the fruit against the side of the sieve to ensure I get all the juice out.
The leftover pulp can be added to cakes or smoothies.
But I prefer to feed it to my hens, or put it in the compost it as it's mostly seeds, and a bit 'gritty'.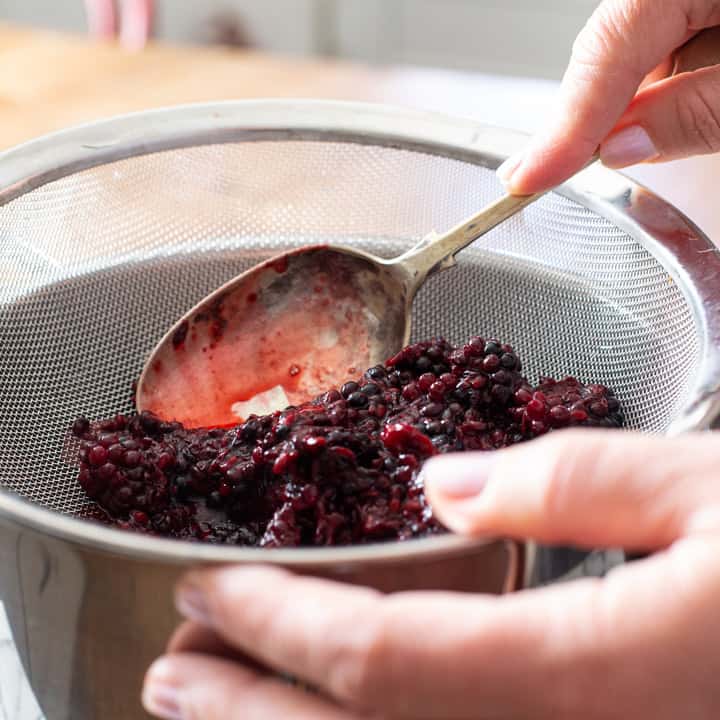 2/ mix with the sugar
I then rinsed out my original pan (the one with the heavy base) and poured the juice back into it.
To this I added the sugar.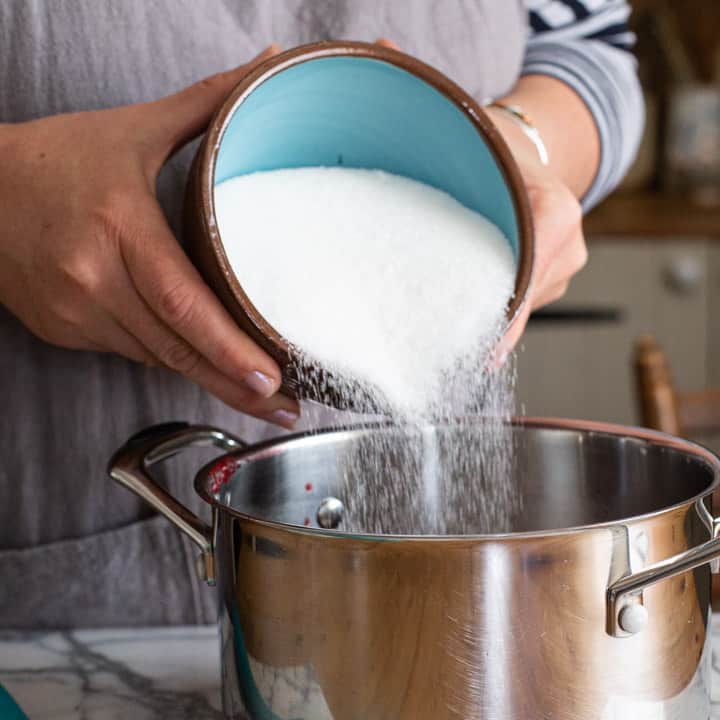 I then put the pan back on the hob, again over a medium heat, and stirred constantly until the sugar had all dissolved.
Do not overheat at this stage as you may burn your candy.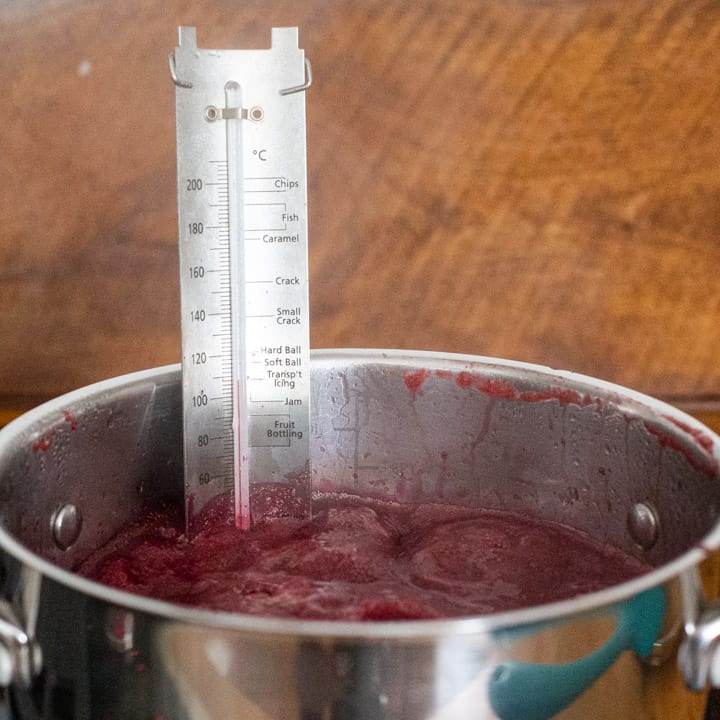 3/ boil your blackberry syrup
Once the sugar is fully dissolved, turn up the heat to medium-high, and bring the mixture to a boil. Do not stir the mixture any more.
Pop your jam thermometer in the pan at this point.
Then boil the mixture until you reach the 'hard crack' stage.
This happens when the mixture hits between 146-154°C or 295-309°F.
4/ form your lollipops
Working quickly, but carefully, drop teaspoons of the hot syrup onto your pre-prepared marble slab or silicone baking sheet.
Drop small rounds of the syrup first.
Then place a lollipop stick into each one. About 2/3 of the way into each candy.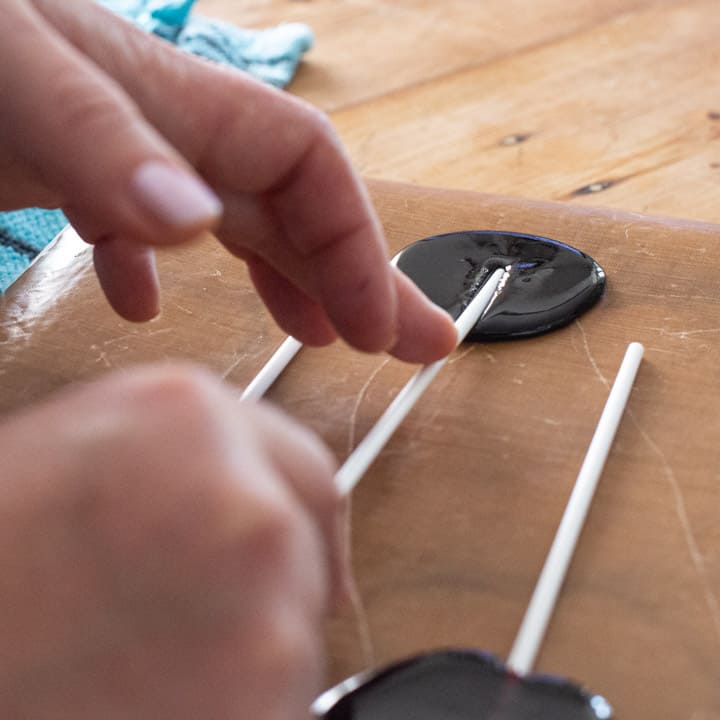 Then drop another slightly smaller teaspoon of the mixture on top.
The second 'blob' hides the end of the stick and forms a complete lollipop.
You don't need to try and shape the syrup in any way. It will naturally spread out making a rustic round shape.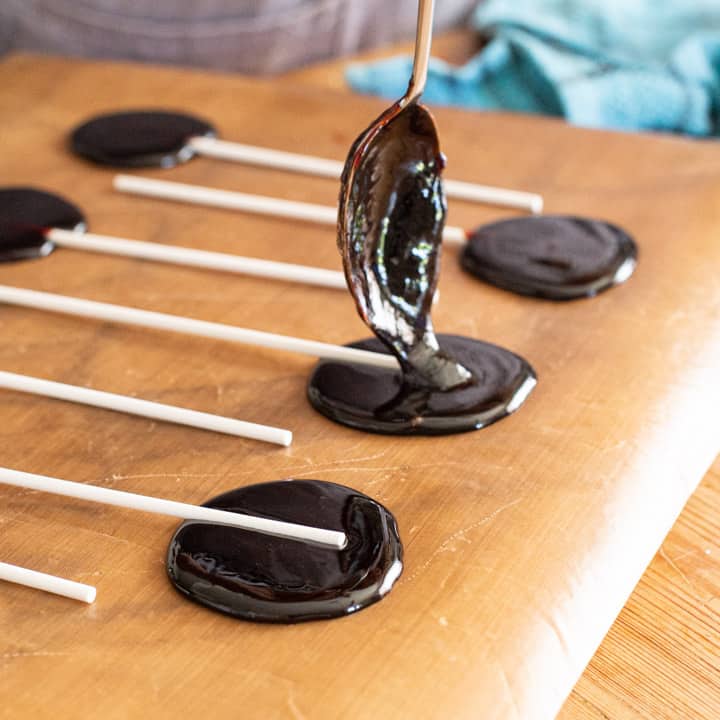 In the picture above, the syrup was starting to cool and it became much thicker and slower to work with.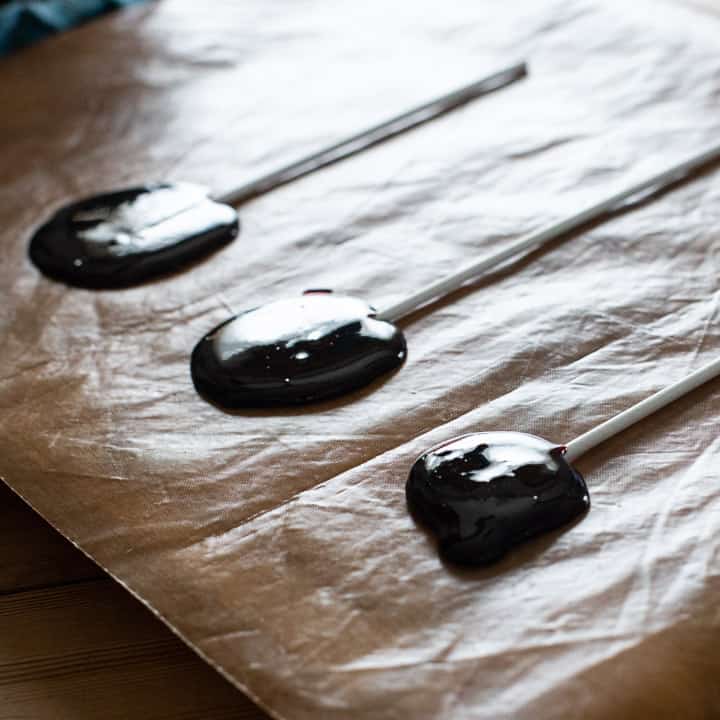 5/ let your lollipops cool and harden
As your blackberry sweets cool, they will naturally harden.
If you are having problems with your hardening, see the troubleshooting guide below.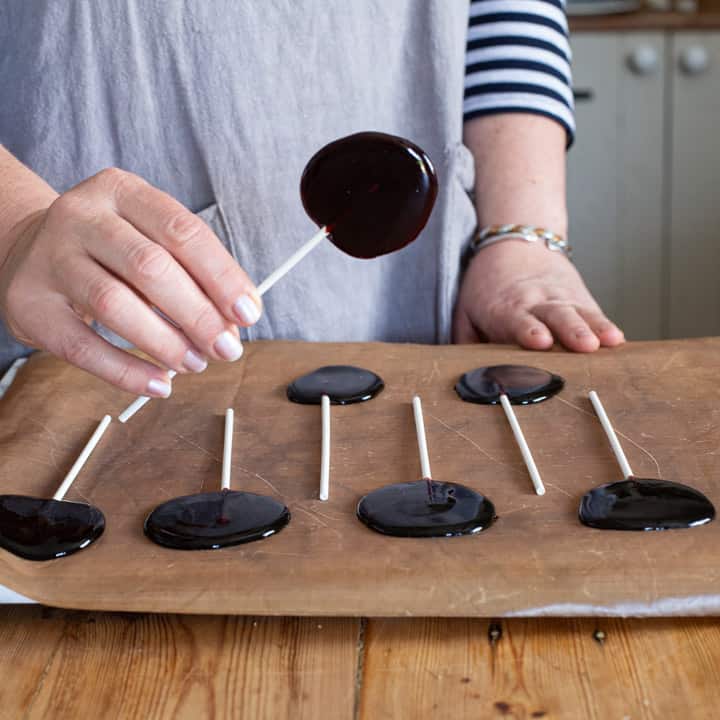 Once your lollipops have set, you can wrap them in a little cellophane.
Or simply dive in and enjoy!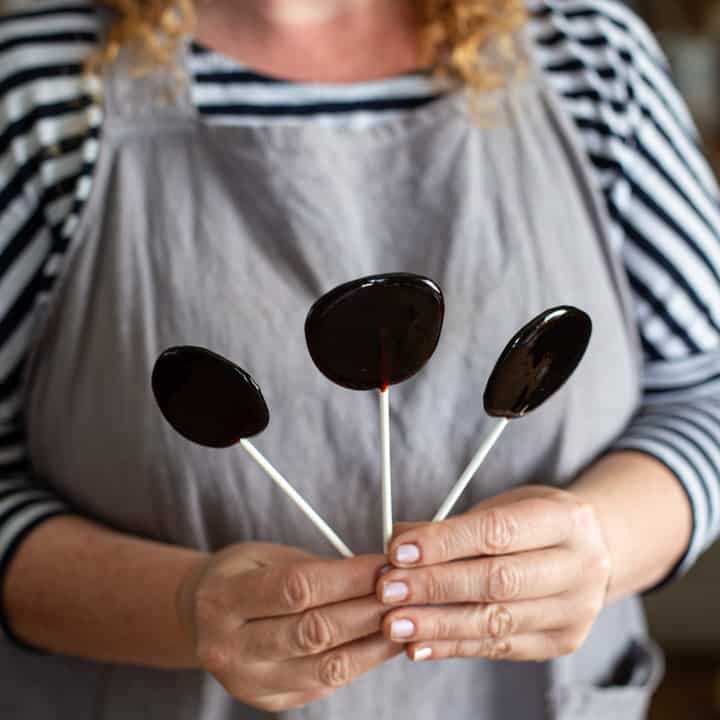 TROUBLESHOOTING GUIDE
Why does my hard candy burn?
I first published this recipe back in 2012, and it certainly wasn't a very concise article.
And whilst the majority of readers (thankfully!) made perfect lollipops. A couple of people had a problem with their candy burning before it got to the correct temperature.
I think the 3 possible main problems we came up against were
the pan
the temperature and/or thermometer
your altitude
What kind of pan should I make hard candy in?
I use a solid, good quality, stainless steel saucepan with a heavy base.
I believe the base is important as it spreads the heat out which helps to avoid hot spots.
Although I am no expert, I would not recommend making hard candy in a pan with a non-stick coating. The temperature gets very high, for a prolonged period of time and I'm not sure non-stick pans are designed for that. If you are concerned, please contact your pan manufacturer to see whether your pan is appropriate for making these sweets.
Also, I've made this recipe on both an electric hob and an induction hob and have had no problems with it burning.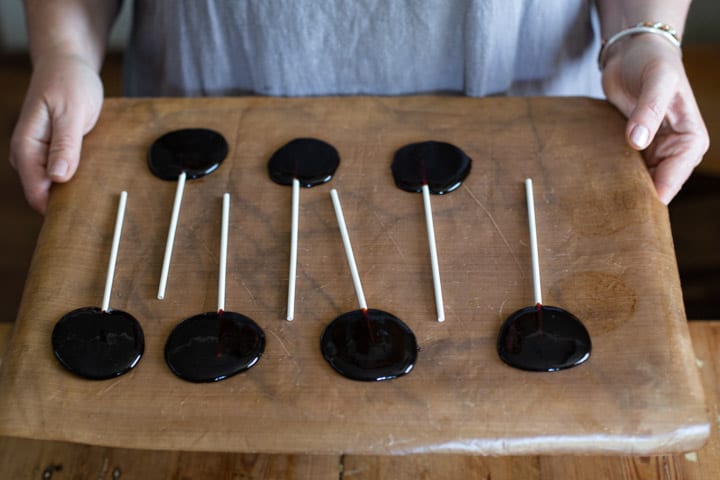 How quickly should I boil hard candy?
If your syrup burns before getting to the right temperature, it may be that you are heating it too quickly or getting it too hot.
Once the sugar has totally dissolved, bring the heat up in stages, all the while keeping an eye on the temperature.
Talking of the temperature, apparently thermometers need recalibrating occasionally. This article has an easy way of testing to see if your thermometer is accurate (see step 4. Get it down to science)
Does altitude affect making hard candy sweets?
According to this article, yes it does.
However, the article walks you through adapting the recipe for your elevation.
Why did my candy reach temperature, but didn't go hard?
According to this article, this may be to do with the atmospheric pressure.
Apparently, on damp days the high humidity can prevent sweets from hardening.
How to Make Blackberry Lollipops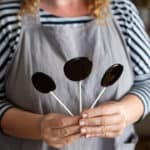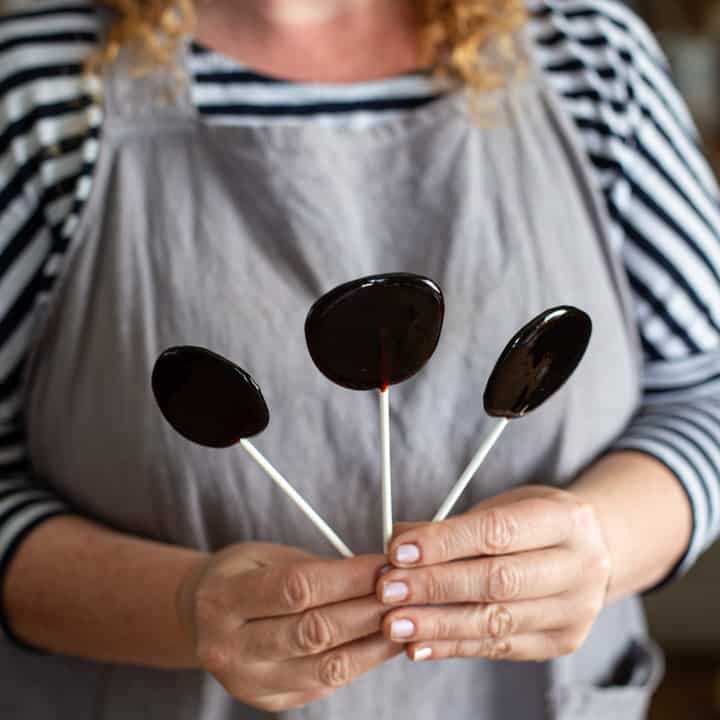 How to Make Blackberry Lollipops
Keyword:
blackberry lollipops
Ingredients
400

g

sugar

300

g

blackberries
Instructions
Gently heat the berries in a pan until the fruit have changed colour, and there is a fair bit of juice in the bottom of the pan.

I also like to mash them with a potato masher to extract all the juice.

Pour the blackberries plus the juice into a sieve over a large pan with a heavy base.

Use a spoon to press the berries and extract as much juice as you can.

Throw away or compost the seeds.

Add the sugar to the juice and, stirring continuously, gently heat until the sugar has dissolved.

Once the sugar has fully dissolved, stop stirring, place the jam thermometer into thepan and let it boil.

It becomes quite ferocious at this point, and if you get splashed it will burn so please be careful.

As soon as it reaches the 'Hard Crack' stage (146-154°C or 295-309°F) take the pan off the heat and stand it in a sink of very cold water to stop it cooking.

Carefully drop teaspoon size blobs of the mixture onto an oiled marble slab, or silicone baking sheet.

Working quickly, lay a lolly stick (I got mine on ebay really cheap) into the centre of the sweet.

Then add a little more syrup on top to seal the stick in.

When cool, gently lift the sticks up and peel the lolly away.

Wrap in lolly bags, foil, greaseproof paper, cling film or cellophane.

And that's it!

If you give it a go, do let me know how you get on.

And why not try other berries, such as strawberry or raspberry too?
Nutrition Facts
How to Make Blackberry Lollipops
Amount Per Serving
Calories 84
Calories from Fat 9
% Daily Value*
Fat 1g2%
Sodium 1mg0%
Potassium 25mg1%
Carbohydrates 21g7%
Protein 1g2%
Vitamin A 32IU1%
Vitamin C 3mg4%
Calcium 5mg1%
Iron 1mg6%
* Percent Daily Values are based on a 2000 calorie diet.