This BBQ Pork Tenderloin recipe is so simple, but so delicious. Smoky, and lightly caramelised on the outside, whilst sweet and juicy on the inside. It's what every BBQ is hoping for this summer!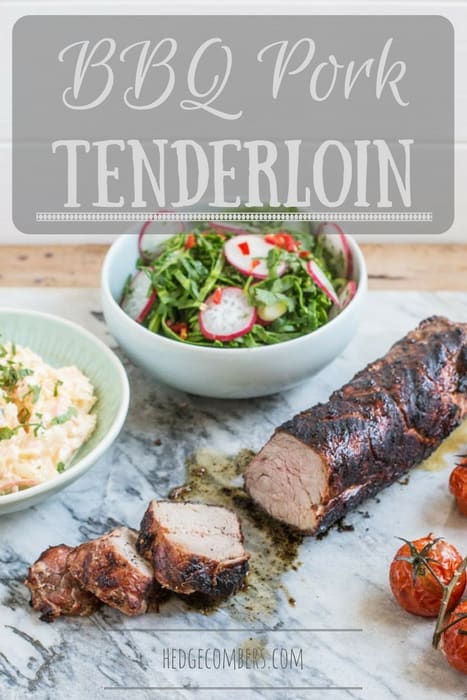 This recipe was last updated in Aug '22.
So hopefully we're on the final run to summer now. After a long mostly soggy, sometimes snowy winter, I think we all deserve some serious sunshine right about now.
In anticipation of the heatwave ahead (yep, that's wishful thinking at it's best!), we fired up the BBQ this past weekend.
If you've never cooked a pork tenderloin before, it's a great cut of meat. I'm not sure why but I'm always surprised by how cheap it is.
Perhaps it's not very fashionable because it certainly is a delicious cut to work with. There's very little fat on it and no bones or tendons to work around. It's just pure, lean, juicy meat!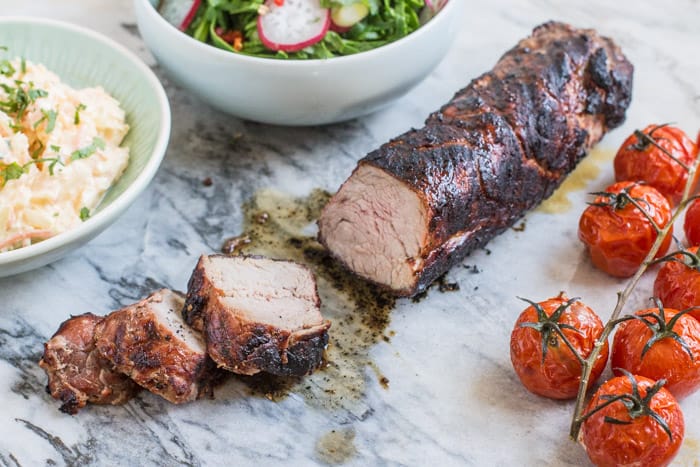 You can obviously coat your BBQ pork tenderloin in any rubs, flavours, or herbs that you like.
However I wanted the flavour of the meat to shine through so chose to keep my seasonings really light and simple.
BBQ's, Pork & Food Safety
As always with pork, it's essential that you get the internal temperature of the meat to safe levels.
The easiest way to do this this is with a digital thermometer.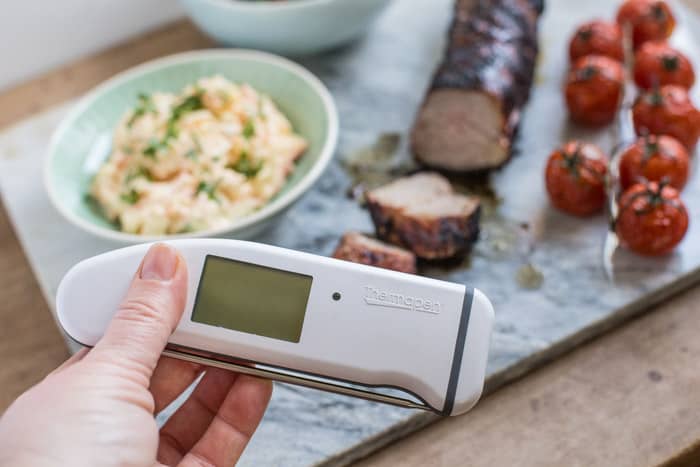 I'm lucky enough to own a Thermapen and find myself reaching for it a lot in BBQ season. It's so easy to use with an LCD display that flips round accordingly how you are holding it. And as it's really fast to take a reading, just 3 seconds in fact, you'll find it easy to use over the BBQ.

The probe part is pretty flexible too, allowing you to hold it at all sorts of funny angles to get that perfect, central reading whilst avoiding singeing yourself in the process.
Oh, and it's British made. I particularly like that last point :)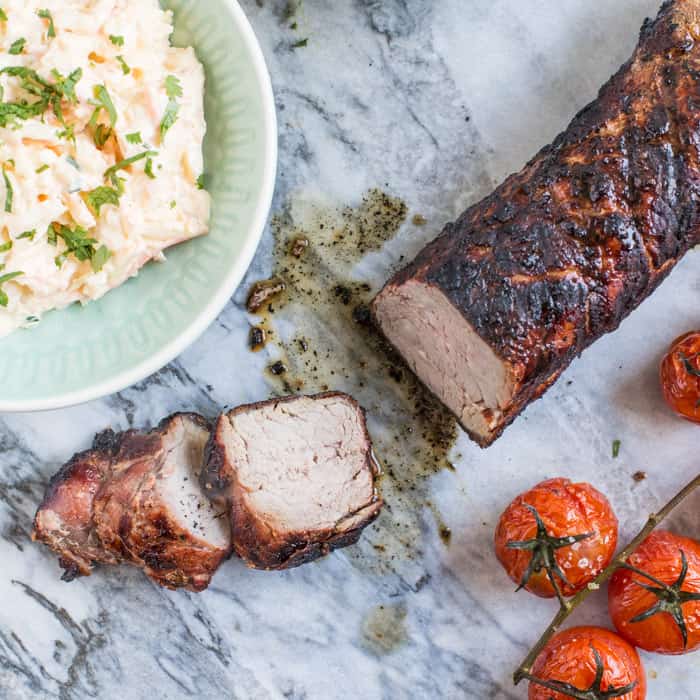 How to Cook BBQ Pork Tenderloin
In the images above I cooked the pork over a campfire, which is why you'll see an even dark crust.
However, I recently made this again so I could take process shots for you, but this time I cooked it on the gas BBQ. You'll see this time I ended up with gorgeous stripes from the BBQ grate.
Either way tastes beautiful. And whilst you'll have more control over temperature with a glass BBQ, you will miss out on the added flavour of woodsmoke.
1/ preheat your bbq
Whenever cooking meat on a BBQ, preheating it is vital to get that gorgeous caramelised sear that we all love.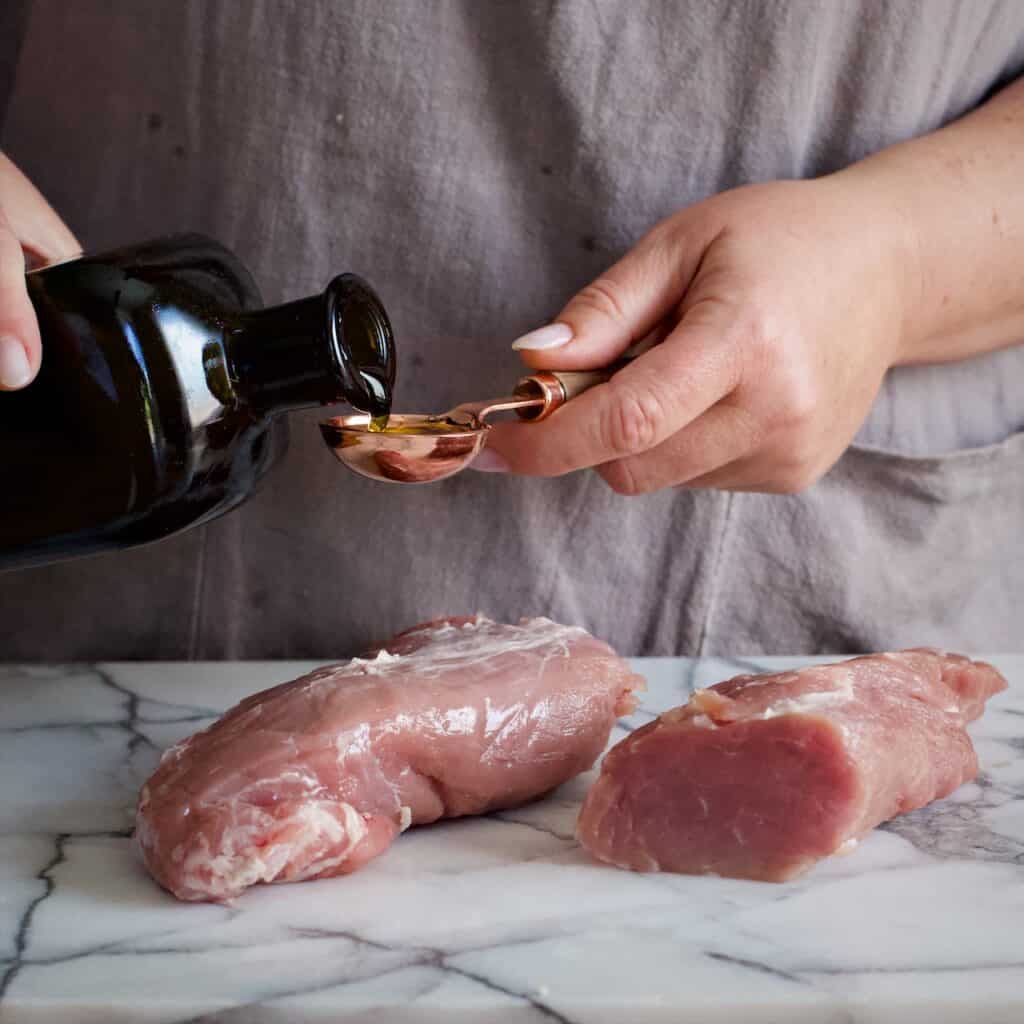 2/ season the pork tenderloin
Place the piece of pork onto a chopping board.
I like to cut it in half to make it more manageable, but you can keep it whole if you prefer.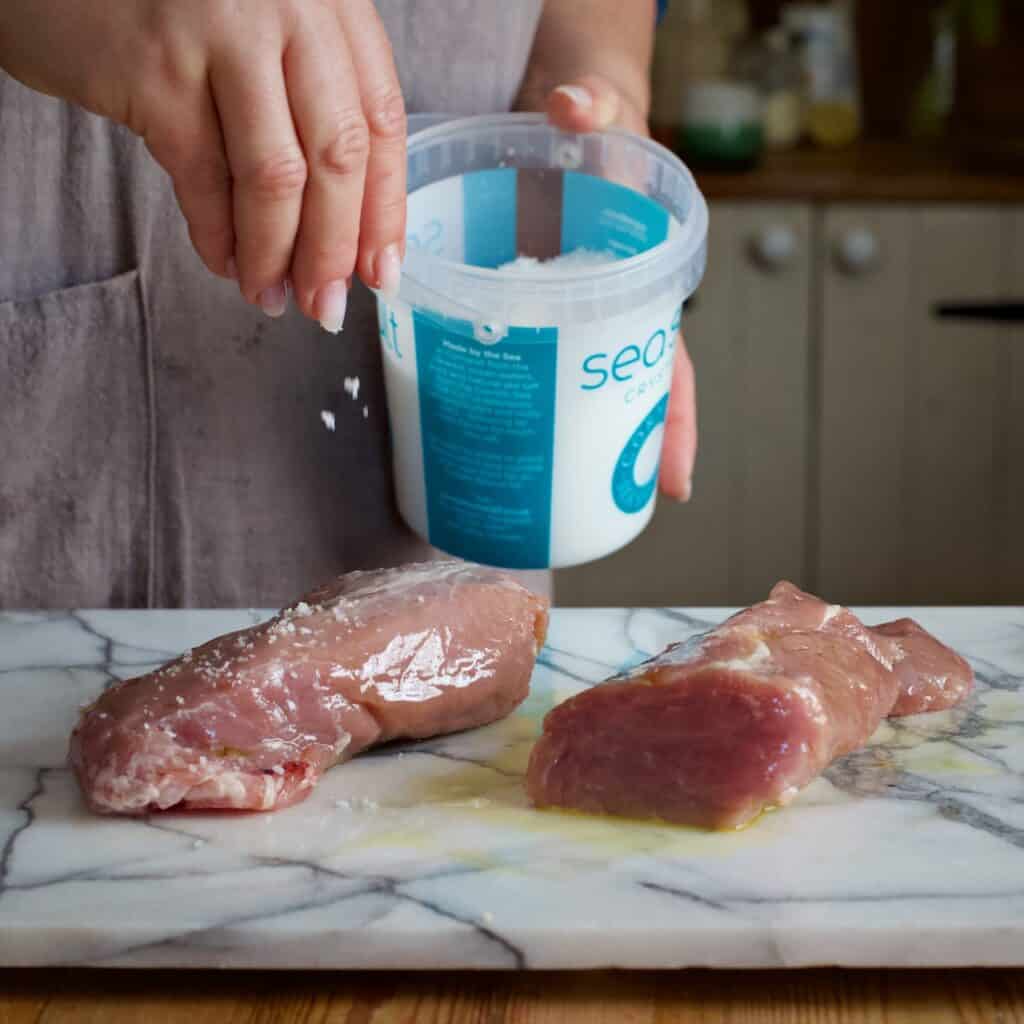 Pour over the olive oil and rub it in with your hands.
Sprinkle with the salt and pepper, trying to evenly coat it.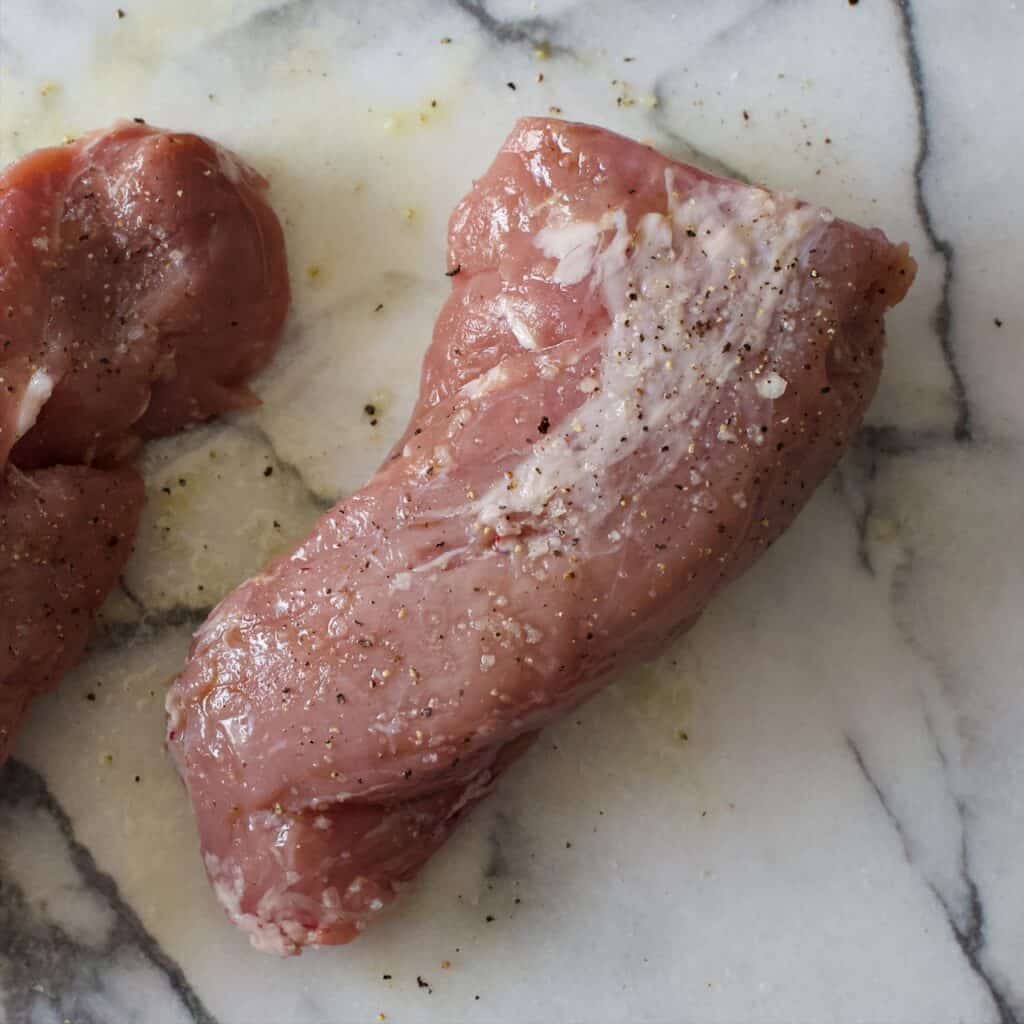 3/ sear the pork
Once the BBQ is hot, carefully lay the pork out on the grate. Once in place, leave it for 4 minutes.
Try not to fuss with it or move it, as you want to build up that beautiful crust underneath for maximum flavour.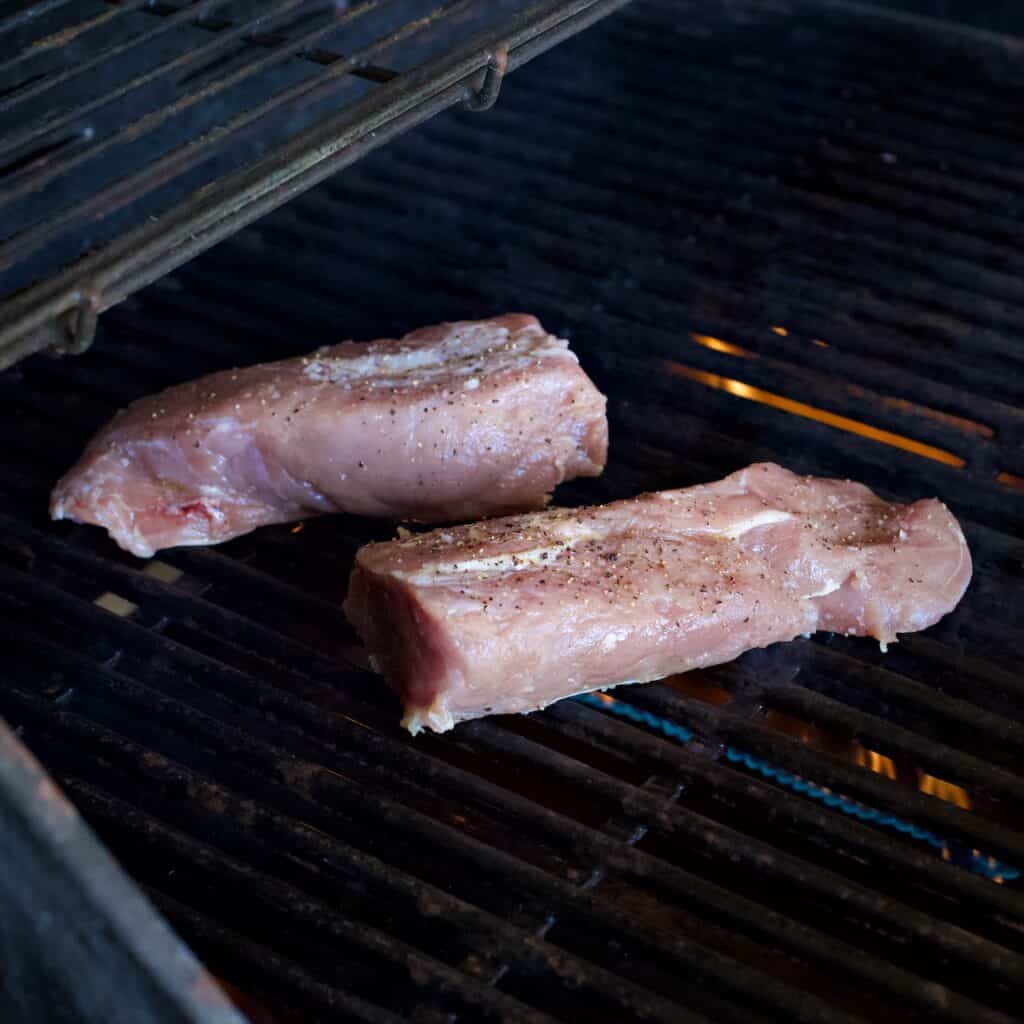 Once the four minutes are up, turn the meat and repeat on the opposite side.
From here on keep turning the meat every four minutes.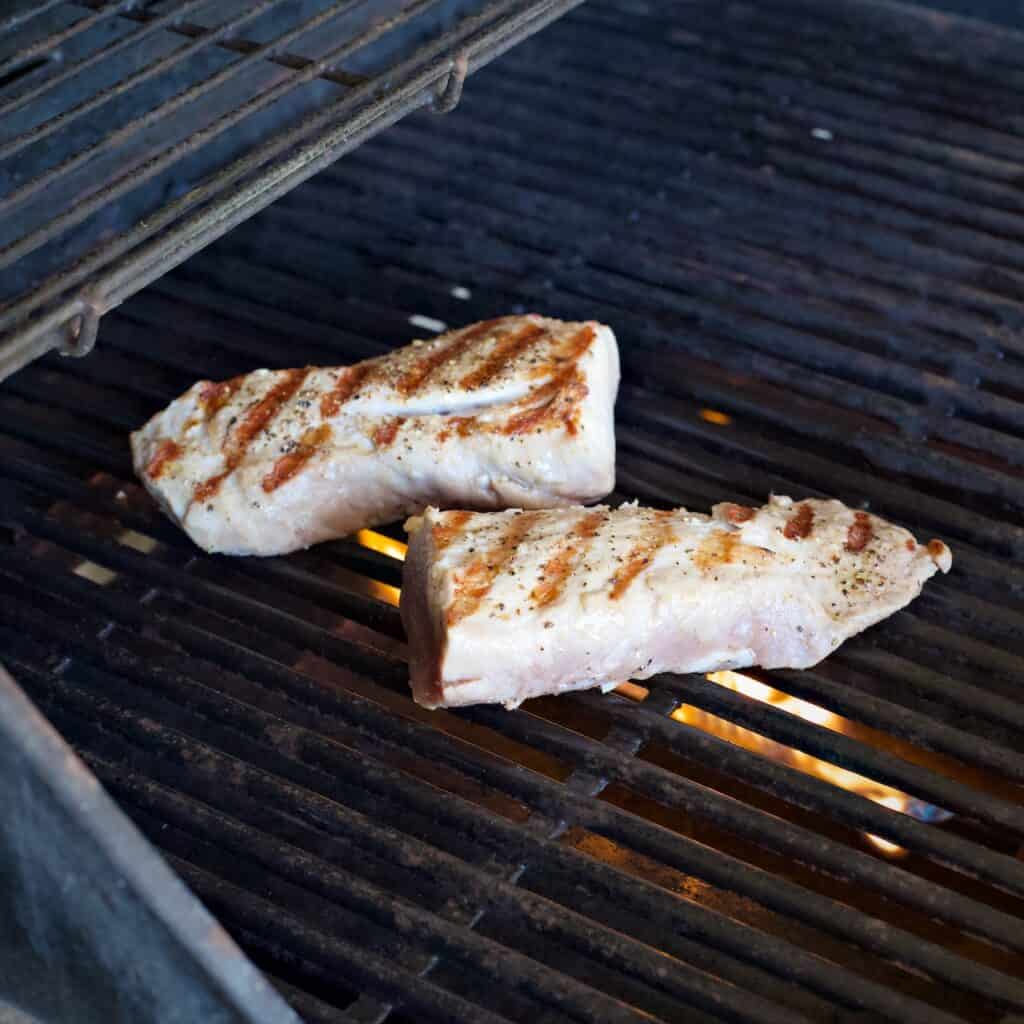 Pork is safely cooked when it reaches a minimum of 63°C (145°F).
As there can be a risk of food poisoning from consuming undercooked pork, using a thermometer to ensure it's safe is really wise. Especially if feeding pregnant or elderly family and friends.
On my gas BBQ (with a lid to hold the heat in) it took about 25 minutes to be cooked right the way through. If you're cooking on a campfire, with the top of the fillet open to the elements, it may take a little longer.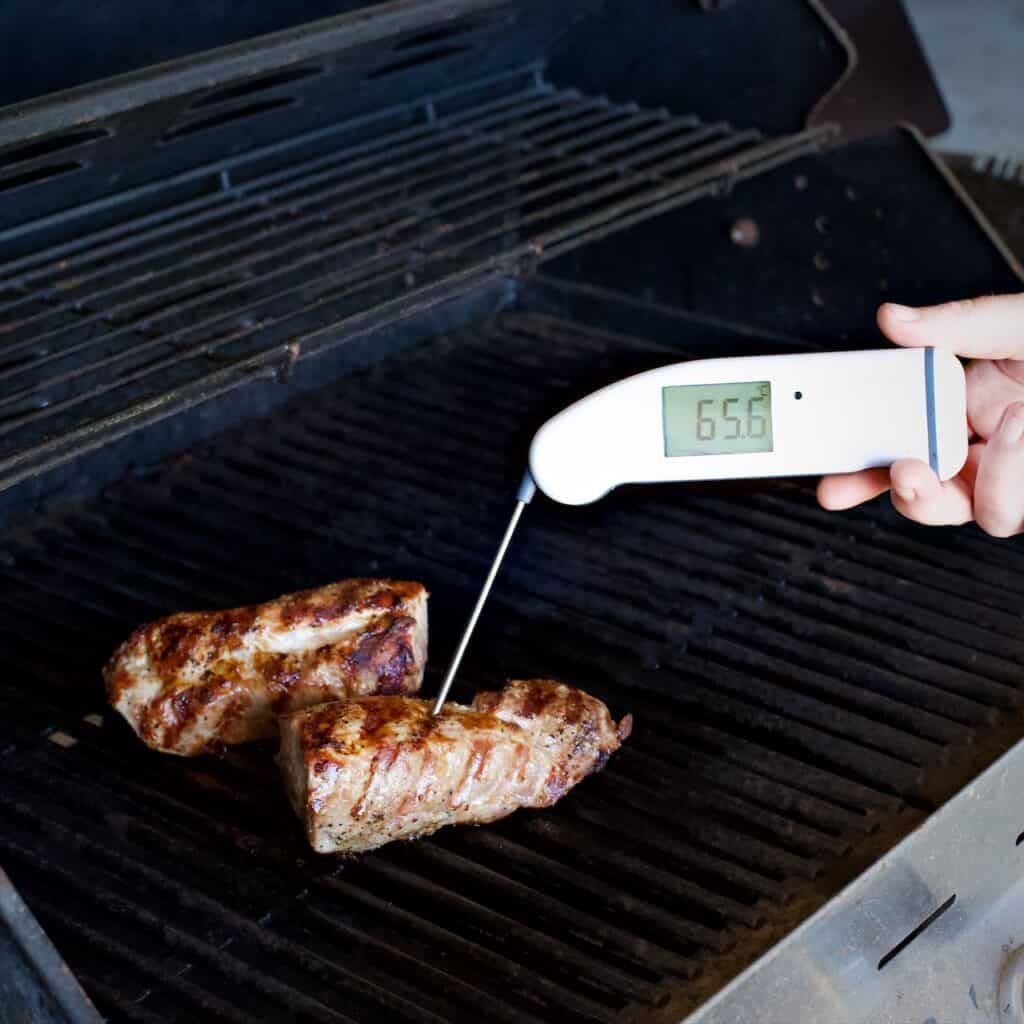 What to serve with BBQ Pork Tenderloin
Previously when I've made this recipe I've served it along with salads and dips.
However this time I wanted to up the carbs a little so served thin slices of the pork fillet inside a wheat tortilla, again with salads.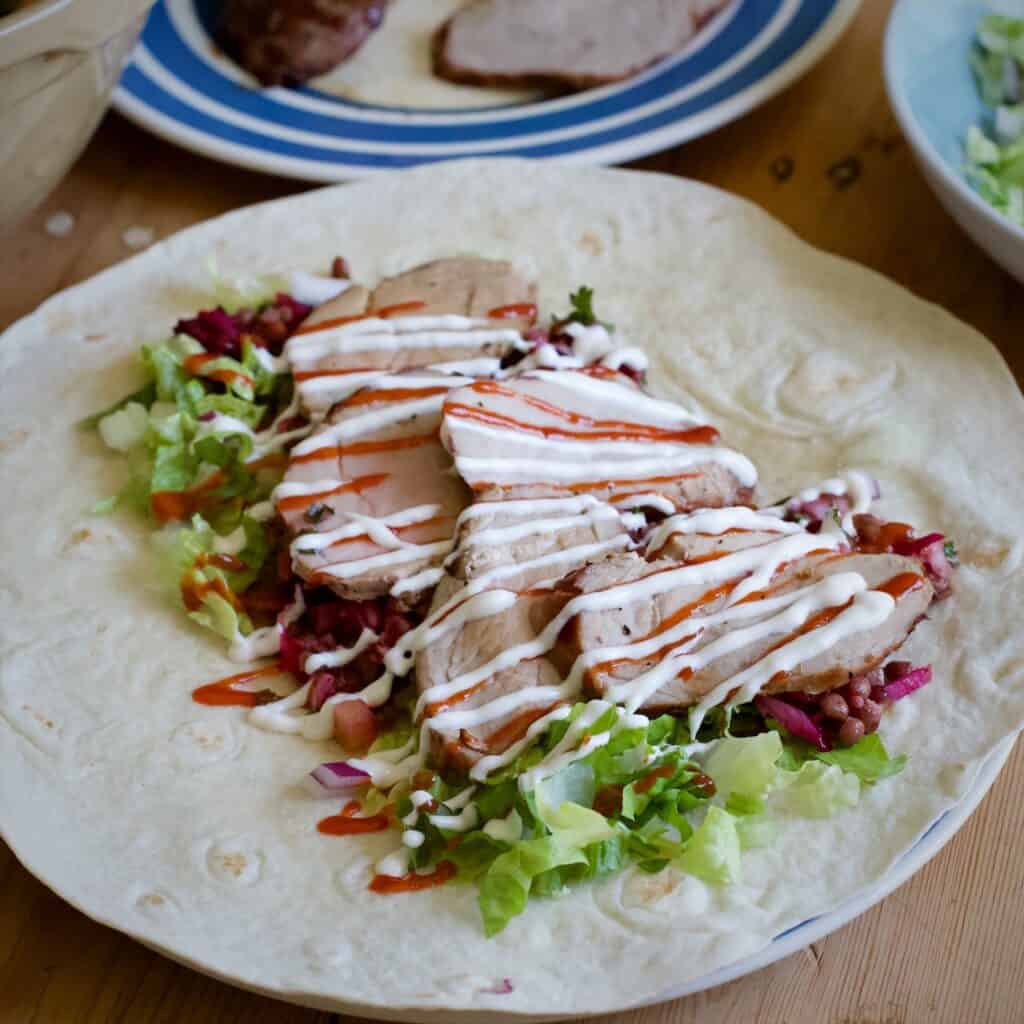 By slicing the pork thinner then I've done previously, it also stretches the meat to feed more people ;)
It was a hit and went down a storm!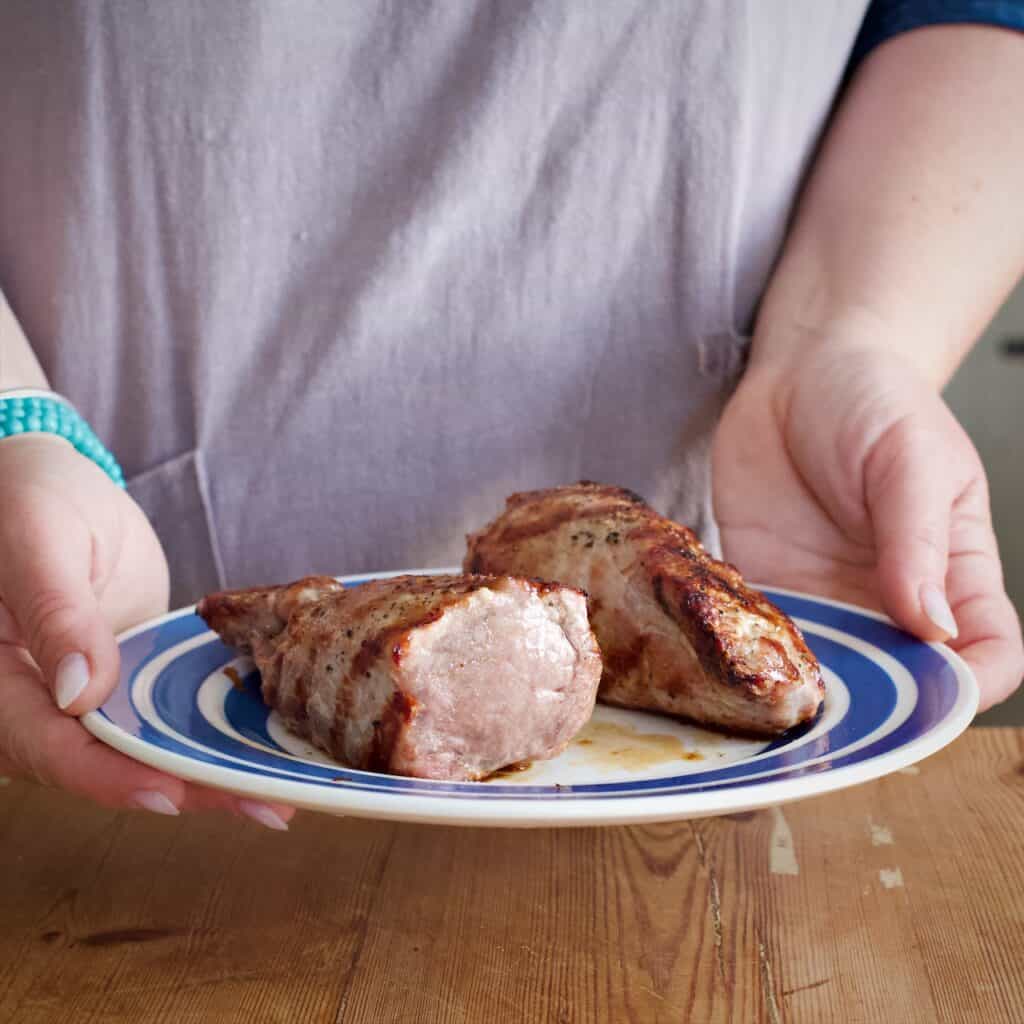 However you choose to BBQ your tenderloin, I think you're going to love the ease and simplicity of this one!
As always if you give this one a go, then please tag me in any images you share on social media. I always love to see where my recipes are getting made in the world :)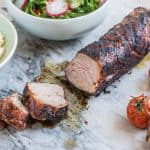 BBQ Pork Tenderloin
Keyword:
BBQ Pork Tenderloin
Ingredients
1

pork tenderloin

- free range (also known as pork fillet)

1

tbsp

olive oil

1

tsp

salt

½

tsp

black pepper
Instructions
If cooking on wood or coals, get your fire going around 20 minutes before you want to start cooking, or until the coals are powdery and white.

If cooking on a gas BBQ, preheat to around 170C (330F)

Pat your pork tenderloin dry with some kitchen paper and place on a chopping board.

I like to cut it in half to make it easier to work with but this isn't necessary.

Pour over the olive oil, and massage it in to the meat with your hands.

Sprinkle your tenderloin with salt and pepper, ensuring each side is evenly coated.

When the BBQ is ready for cooking on, carefully lay the pork onto the grill and let sit for 4 minutes.

Turn, and keep turning every 3-4 minutes, to ensure an even crust.

It will likely take 25-35 minutes, but maybe more if you're cooking on an open flame.

Using a digital thermometer, carefully pierce the probe into the centre of the thickest part of the meat.

To be safe, pork needs to be a minimum of 63C (145F).

When cooked, remove from the BBQ and cover with a piece of foil over the top. Leave to rest for 5 minutes whilst you gather all your sides together.

When ready to serve, slice and enjoy.
Nutrition Facts
BBQ Pork Tenderloin
Amount Per Serving
Calories 576
Calories from Fat 180
% Daily Value*
Fat 20g31%
Cholesterol 295mg98%
Sodium 817mg36%
Potassium 1786mg51%
Carbohydrates 0.2g0%
Protein 94g188%
Vitamin A 10IU0%
Calcium 29mg3%
Iron 4mg22%
* Percent Daily Values are based on a 2000 calorie diet.
Huge thanks to Thermapen for sponsoring this recipe. As always all thoughts (and leftovers!) are my own.
Jane x