These Banana Chocolate Muffins make the perfect travel snack. Whether they fill a spot in a kids lunch box or are squirrelled away for a rest stop on a road trip, they'll stay moist and yummy for days.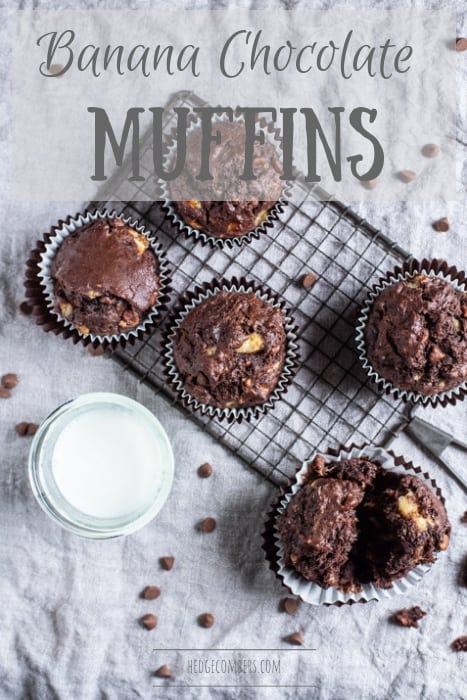 This recipe has been sponsored by Arla Lactofree.
These muffins are so delicious! As home made chocolate muffins have a tendency to dry out quickly. I decided to add banana to them to keep them moist and tasty for a few days (if of course they last that long!).
And, they are made with a lactose free milk, so are safe to consume for the Lactose challenged among us!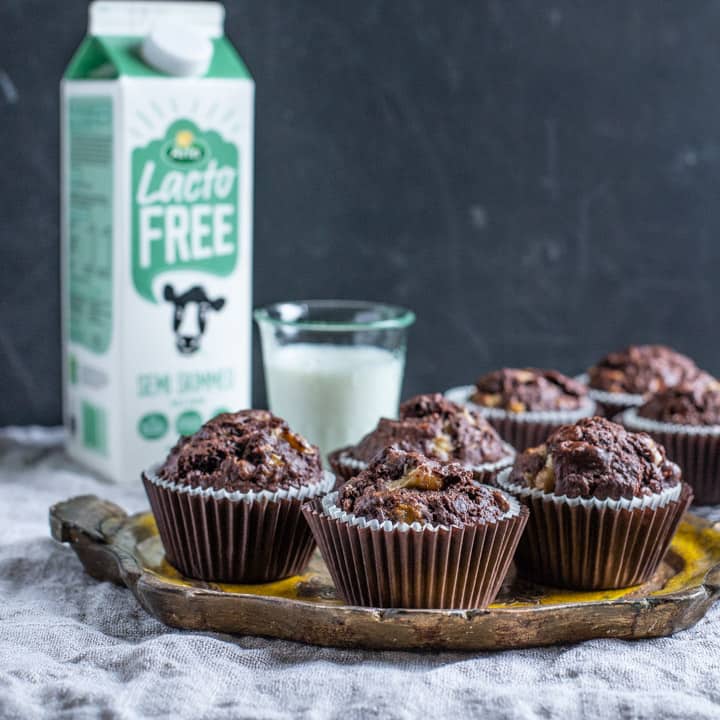 I do have a bit of a passion for muffins. In fact I have a whole category dedicated to my homemade muffin recipes! I love how quick they are to make and bake, and how portable they are too. They really are the perfect snack-on-the-go!
To make these ones extra chocolatey, I use a good dose of unsweetened cocoa powder, and dark chocolate chips. And don't worry if you don't like dark chocolate. When it's baked in these muffins it's not at all bitter.
In fact it adds a deep richness that milk chocolate chips could only dream of!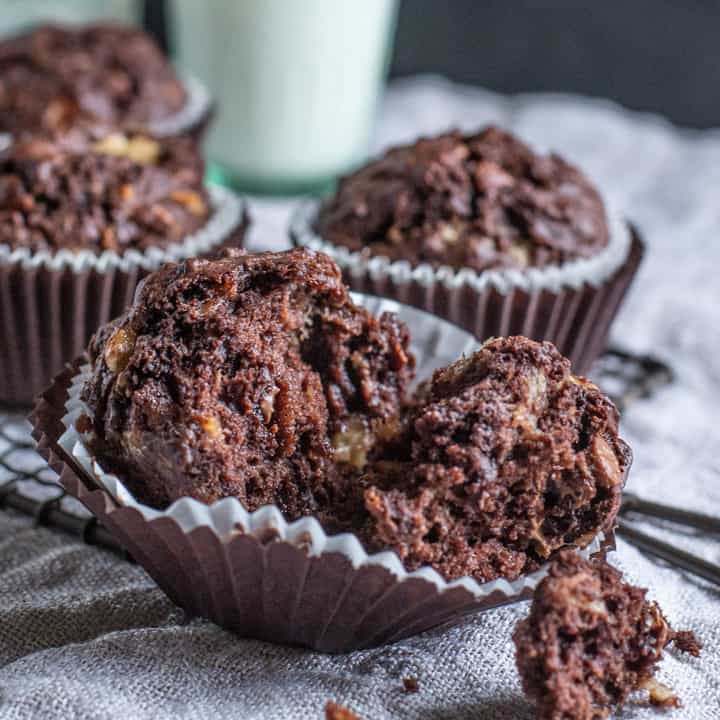 Lactose Intolerance
As regular readers will know I've been lactose intolerant since childhood. However, I only found out about 7 years ago. Out of ignorance, I put up with symptoms thinking that's just the way I was built.
I still remember the relief I felt within 3 days of quitting dairy – no pain.
I'd had stomach pain every single day for about 30 years. Pain was my normal.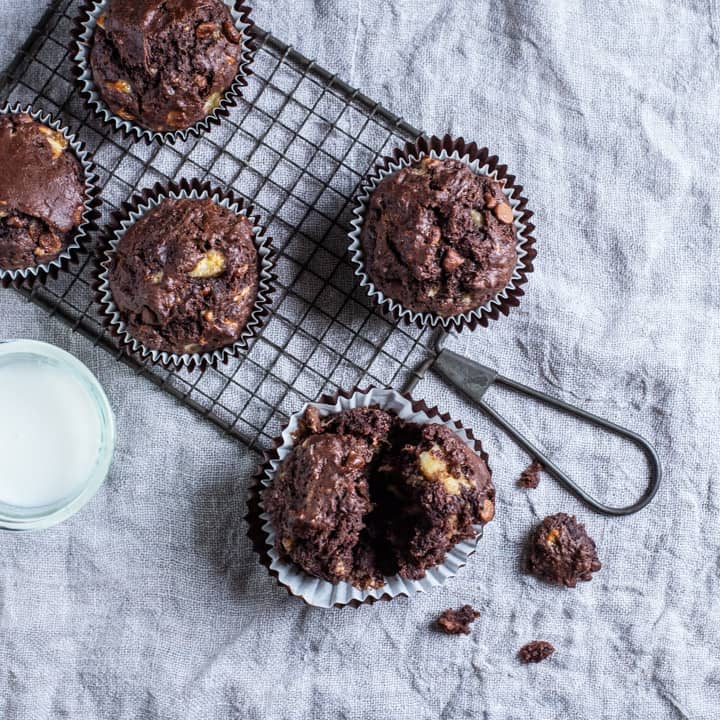 And so, I cut all dairy out of my life.
Did I miss it? Yes, you bet I did. But when you realise that a substance you've consumed every single day in one way or another is the cause of your pain, trust me. It's so easy to quit.
Believe it or not I'm still learning about dairy all these years later. Over the past 12 months I've discovered that I can actually eat most cheese with no repercussions! Most hard, aged, mature or blue cheeses naturally break down the lactose (the milk sugar) during the maturing process. Who knew!
The only cheese I still have to avoid are very soft, fresh cheeses. Things like cream cheese and cottage cheese. Let me know if you'd like more info on all this as I'd be happy to write a follow up post.
If you'd like some more dairy or lactose free inspiration, find my other dairy free recipes here, and this dairy and lactose free Pinterest board is full of great ideas and recipe.
Arla Lactofree
Seven years ago when I first started on my lactose free journey, things were surprisingly different. There was very little information about living with lactose intolerance, even online. And whilst you could get soya milk in the occasional coffee shop, soya products come with their own problems, so I prefer to avoid them.
Nowadays however, there are plenty of options, both in the supermarkets and coffee shops.
One of my newest favourites is milk by Arla Lactofree. This is cows milk that has had Lactase (the enzyme that us intolerant folk don't produce) added.

And I was pleased as punch when Costa (my guilty addiction!) added Arla Lactofree to their menu. Being regular cows milk, there is no aftertaste, it's just creamy and delicious.
Add so, to celebrate this perfect union between Costa & Arla, I made these lactose free muffins for a recent road trip and devoured them alongside my Lactofree Cortado. Happy me :)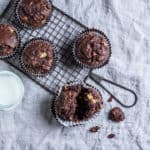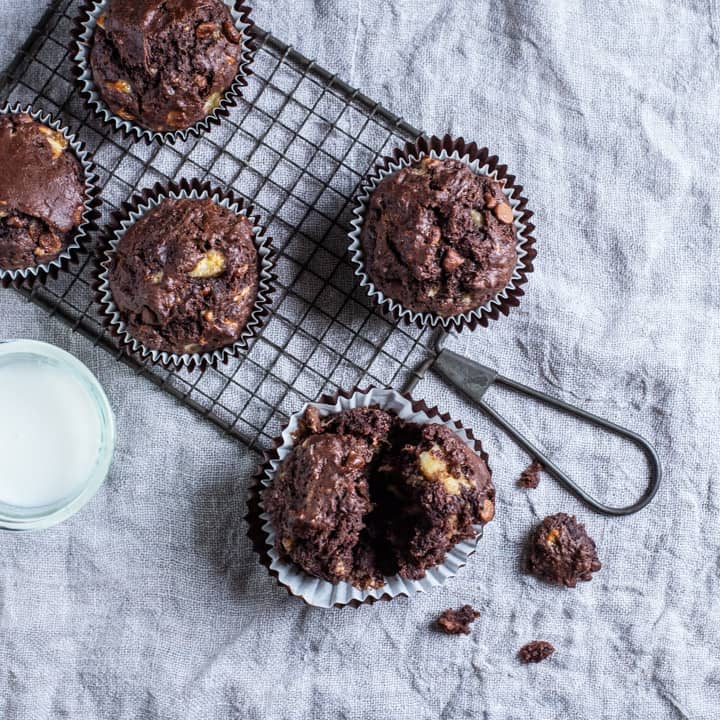 Banana Chocolate Muffins
Keyword:
banana chocolate muffins, lactose free
Ingredients
Dry ingredients
280

g

plain flour

100

g

sugar

100

g

dark chocolate chips

35

g

unsweetened cocoa powder

1

tsp

baking powder

1

tsp

bicarb of soda

1/2

tsp

salt
Wet ingredients
1

egg

beaten

90

ml

milk

Arla Lactofree recommended

90

ml

vegetable oil

3

large

bananas

mashed
Instructions
Preheat the oven to 200/180 fan/400/gas 6

Line a muffin tray with paper or silicone muffin cases.

Mix the dry ingredients together in a large mixing bowl

Mix the wet ingredients together well in a large jug..

Pour the wet ingredients into the dry, and fold together until all the dry ingredients have disappeared. It will appear a little lumpy from the banana, that's OK :)

Divide the batter between the muffin cases. I like to use a soup spoon for this, it's the perfect size.

Pop in the oven and bake for 20- 25 minutes.

They are ready when the tops of the muffins bounce back up when pressed, or a a skewer comes out of the centre of a muffin clean.

Remove from the muffin tray and let cool on a wire cooling rack.
Nutrition Facts
Banana Chocolate Muffins
Amount Per Serving
Calories 273
Calories from Fat 99
% Daily Value*
Fat 11g17%
Cholesterol 14mg5%
Sodium 221mg10%
Potassium 300mg9%
Carbohydrates 40g13%
Protein 4g8%
Vitamin A 55IU1%
Vitamin C 3mg4%
Calcium 63mg6%
Iron 1.8mg10%
* Percent Daily Values are based on a 2000 calorie diet.
Huge thanks to Arla Lactofree for making my day a little more delicious by sponsoring this recipe. As always all thoughts, and leftovers, are my own.
Jane x