These Banana Chocolate Muffins make the perfect travel snack.
Whether they fill a spot in a kids lunch box or are squirrelled away for a rest stop on a road trip, they'll stay moist and yummy for days.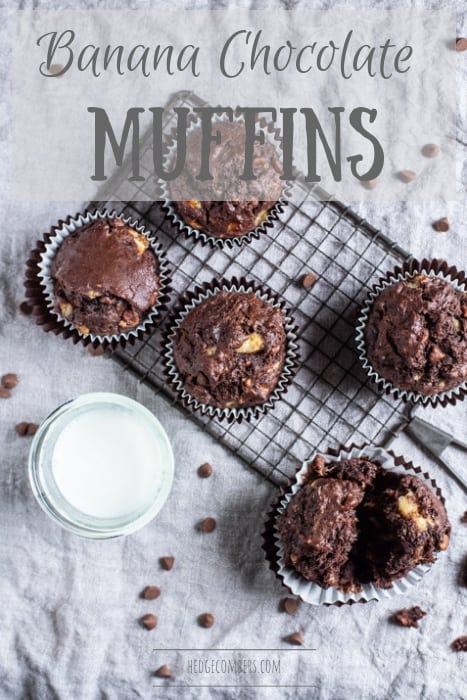 These muffins are so delicious!
As home made chocolate muffins have a tendency to dry out quickly.
I decided to add banana to them to keep them moist and tasty for a few days (if of course they last that long!).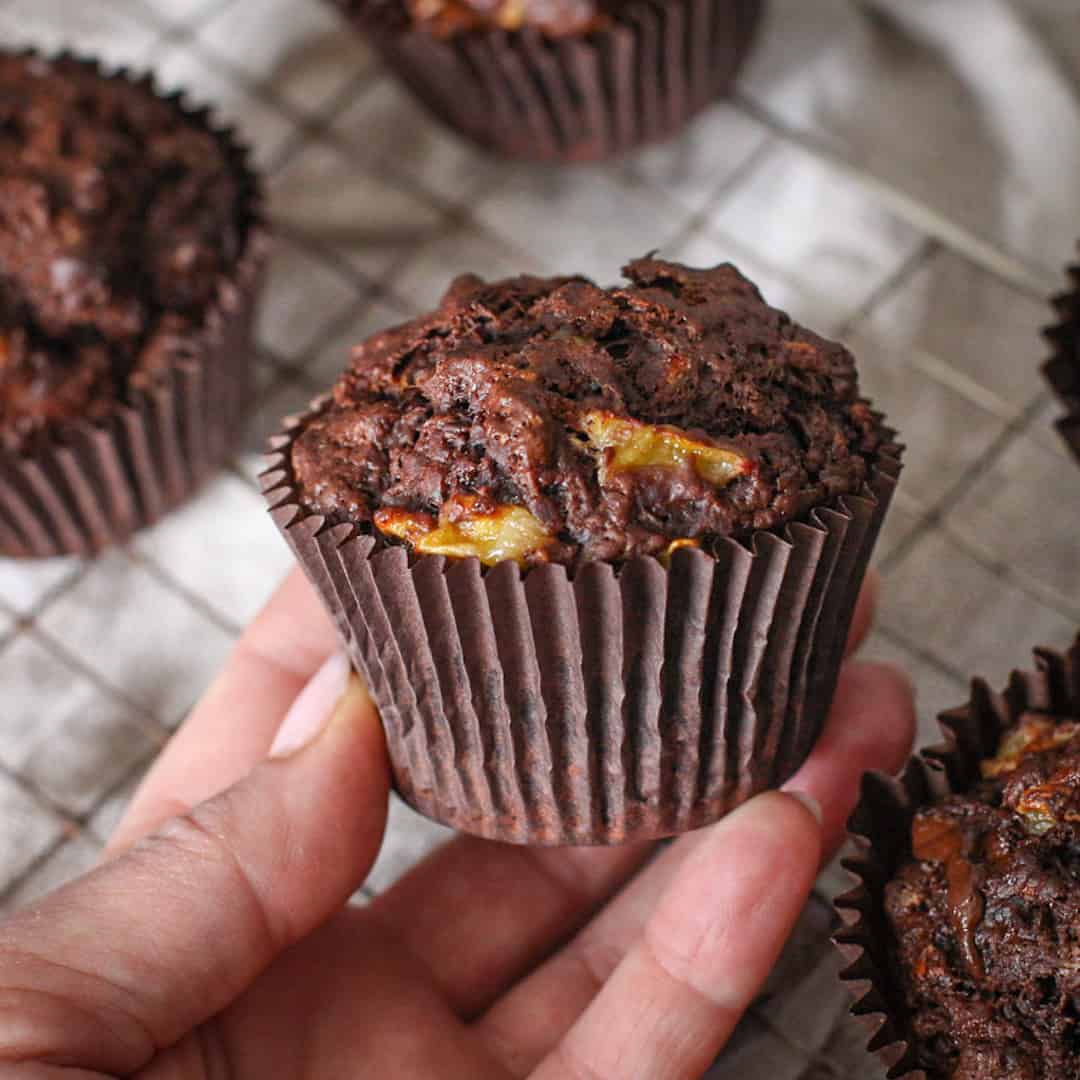 I do have a bit of a passion for muffins. In fact I have a whole category dedicated to my homemade muffin recipes!
I love how quick they are to make and bake, and how portable they are too.
They really are the perfect snack-on-the-go!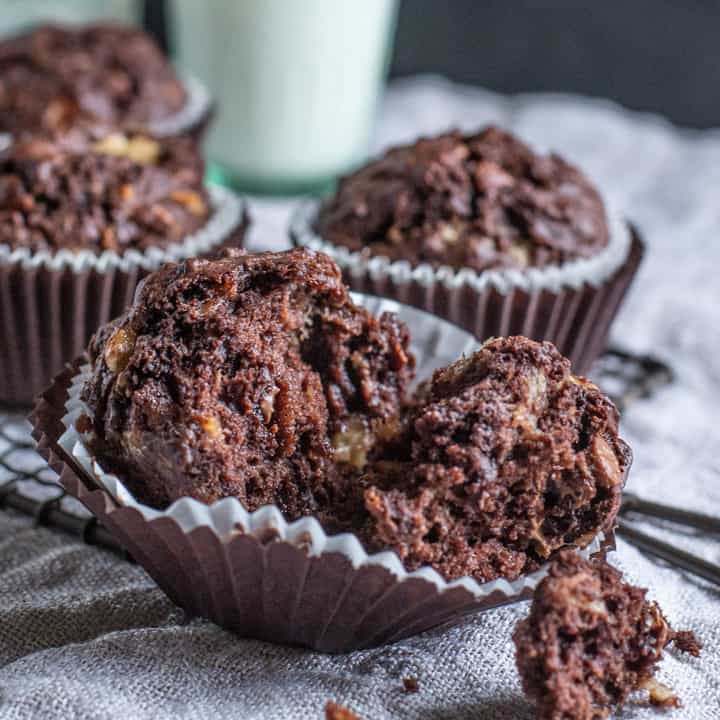 To make these ones extra chocolatey, I use a good dose of unsweetened cocoa powder, and dark chocolate chips.
Don't worry if you don't like dark chocolate. When it's baked in these muffins it's not at all bitter.
In fact it adds a deep richness that milk chocolate chips could only dream of!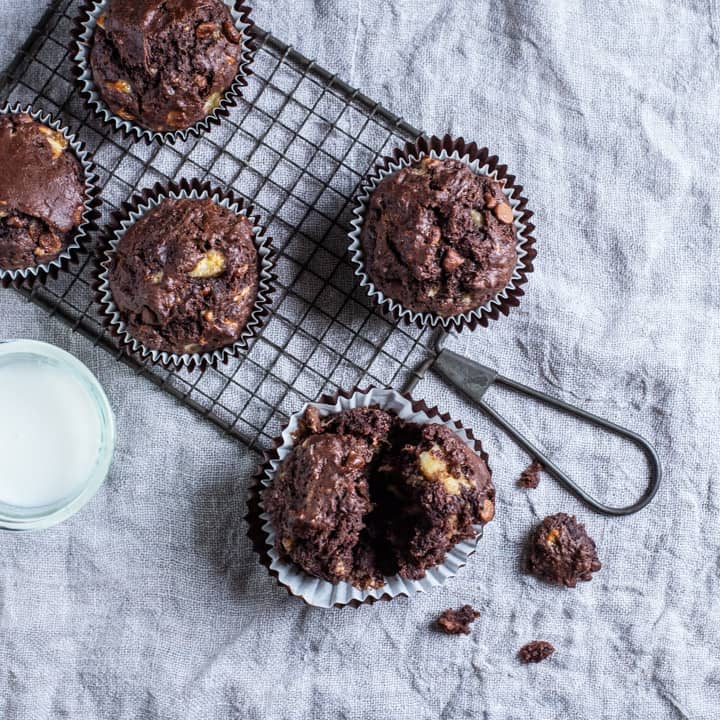 As I'm lactose intolerant, I'm using a dairy free milk in the recipe below, but you can use whatever milk your family prefers.
Oh, and in case you're lactose challenged too, be sure to read labels as some dark chocolates still contain milk.
Green, yellow or brown bananas for baking?
Let's quickly talk about which bananas are best to use in baking. Please, please avoid using green ones! They are too firm and don't have enough sugar content yet to make them a good choice in baking.
Bright yellow ones will be fine. But hands down the best bananas to choose are the ones that are mottled brown and a bit soft n squishy!
They might not look pretty, but they will give the best results!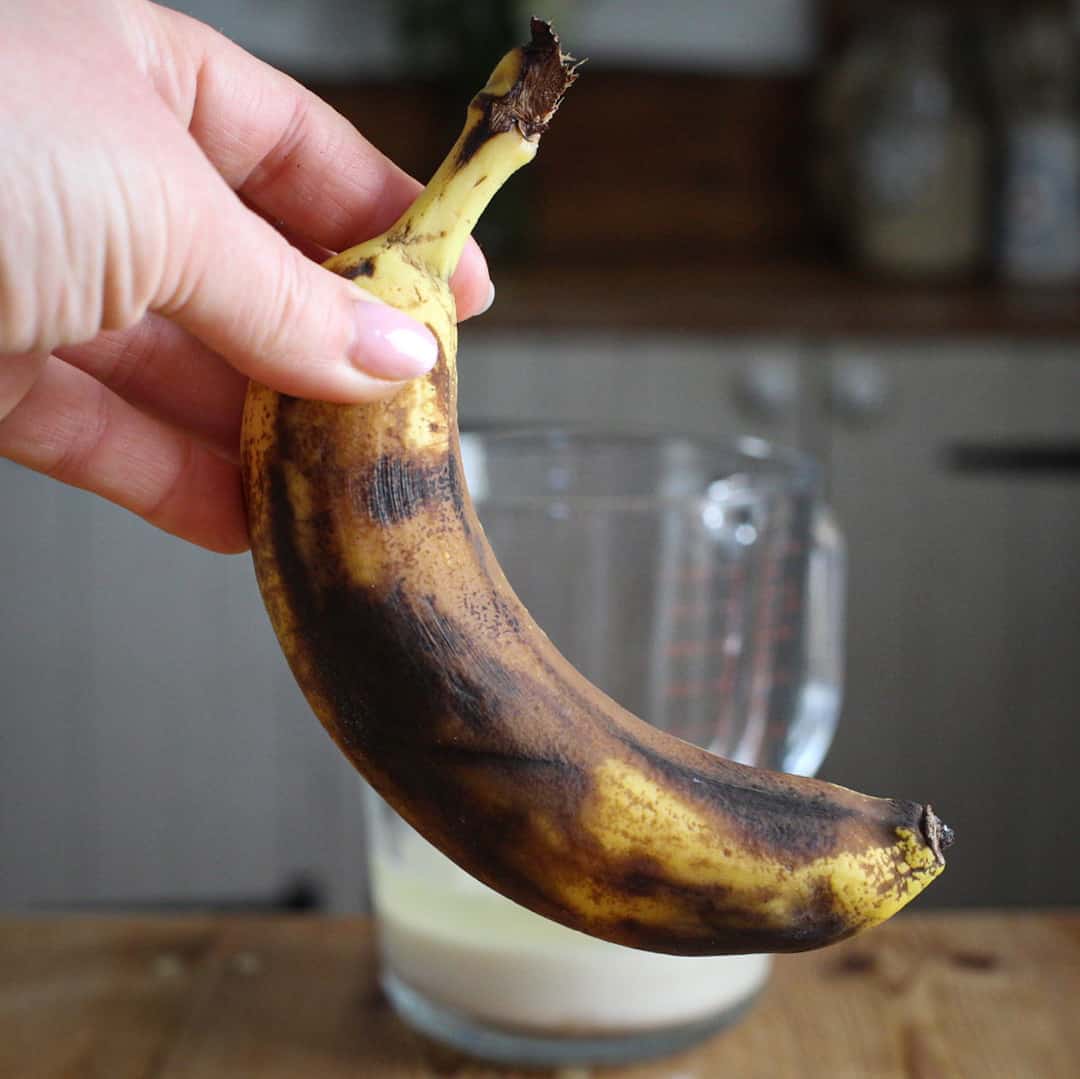 You can even use bananas that have been frozen. The skins will be completely black, but the fruit inside will be just perfect for making muffins.
Simply defrost them and sub them out for fresh ones in the recipe below.
How to make Banana chocolate muffins
1/ mix dry ingredients
Pour the sugar into a large mixing bowl.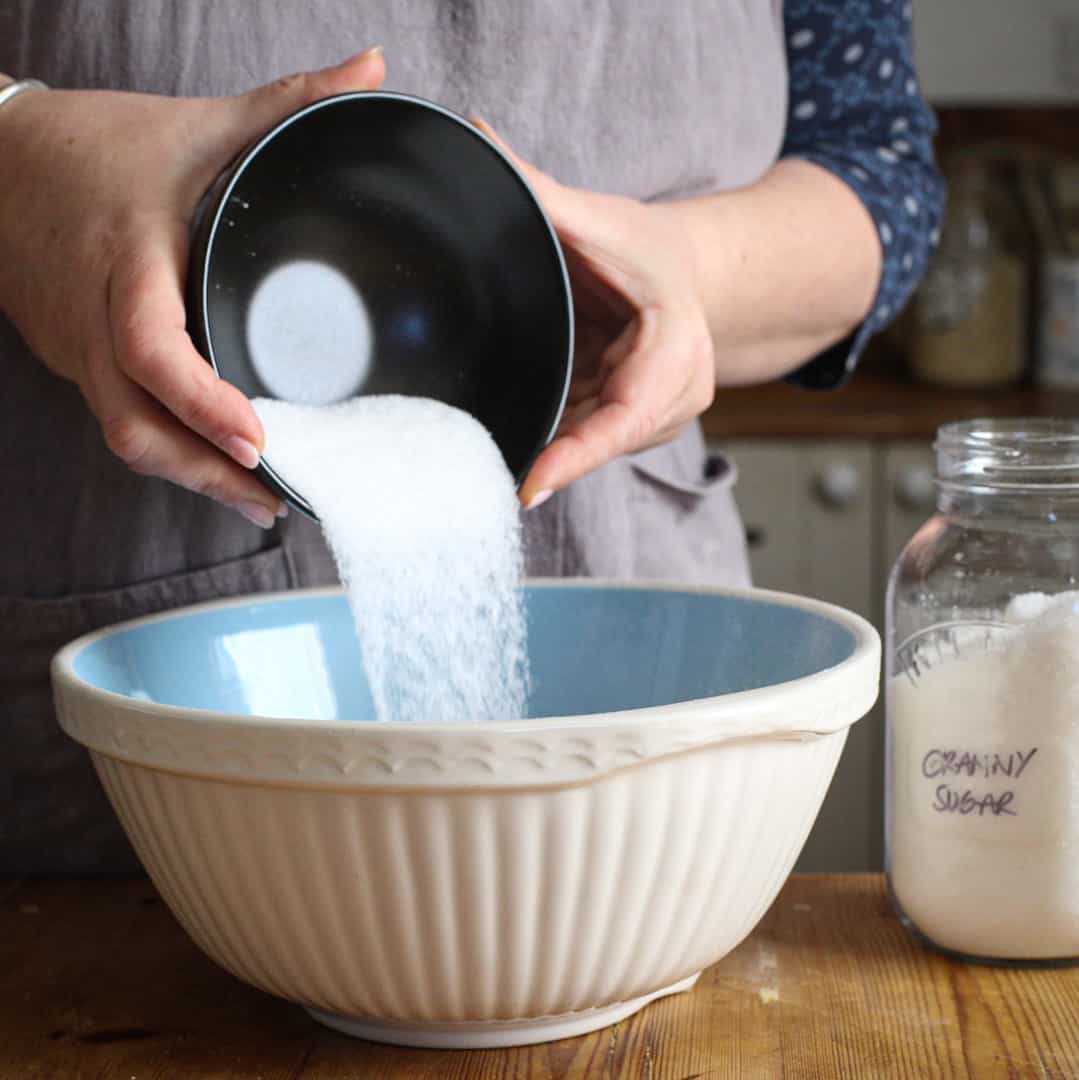 Sift in the flour and the cocoa powder.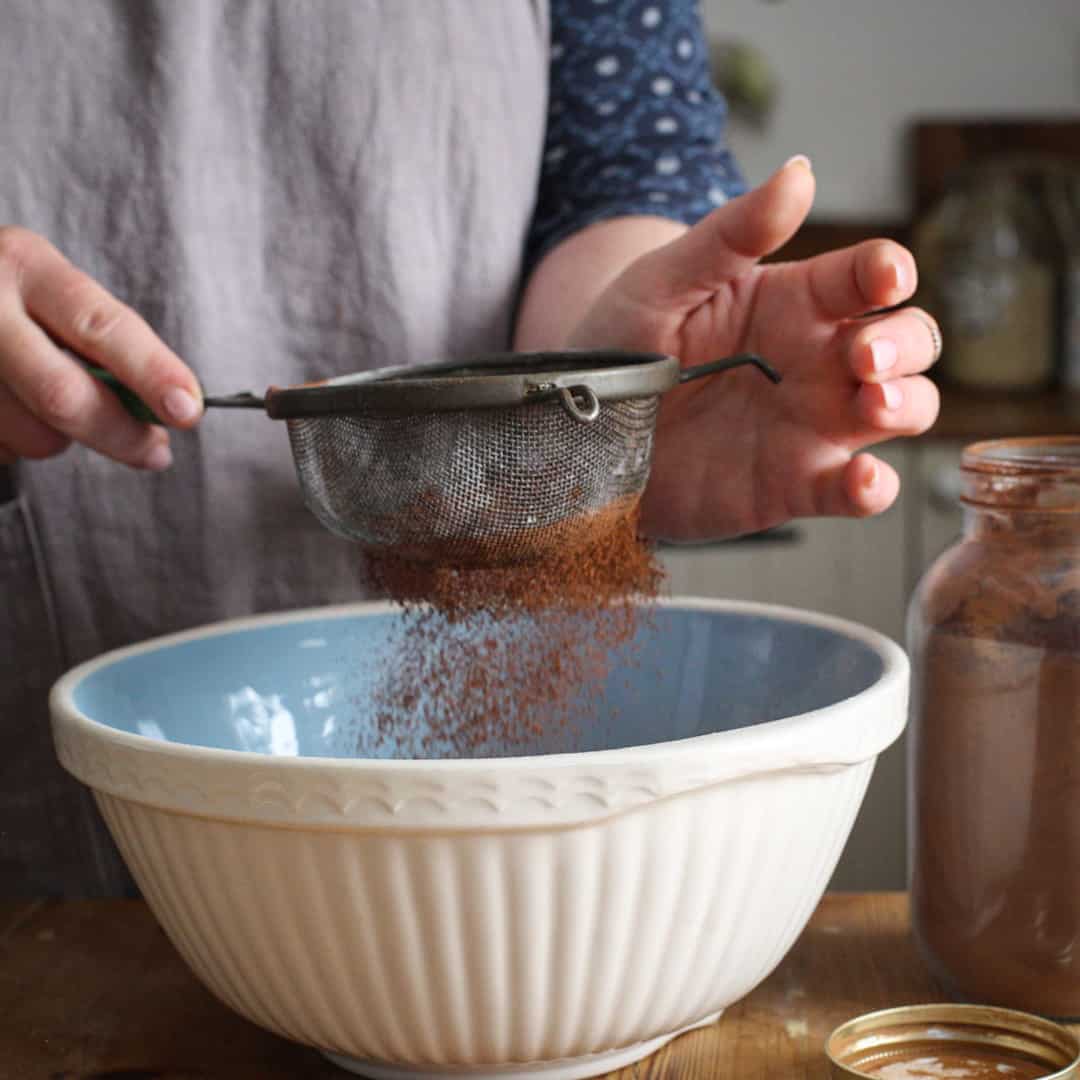 Add the baking powder, bicarb and salt.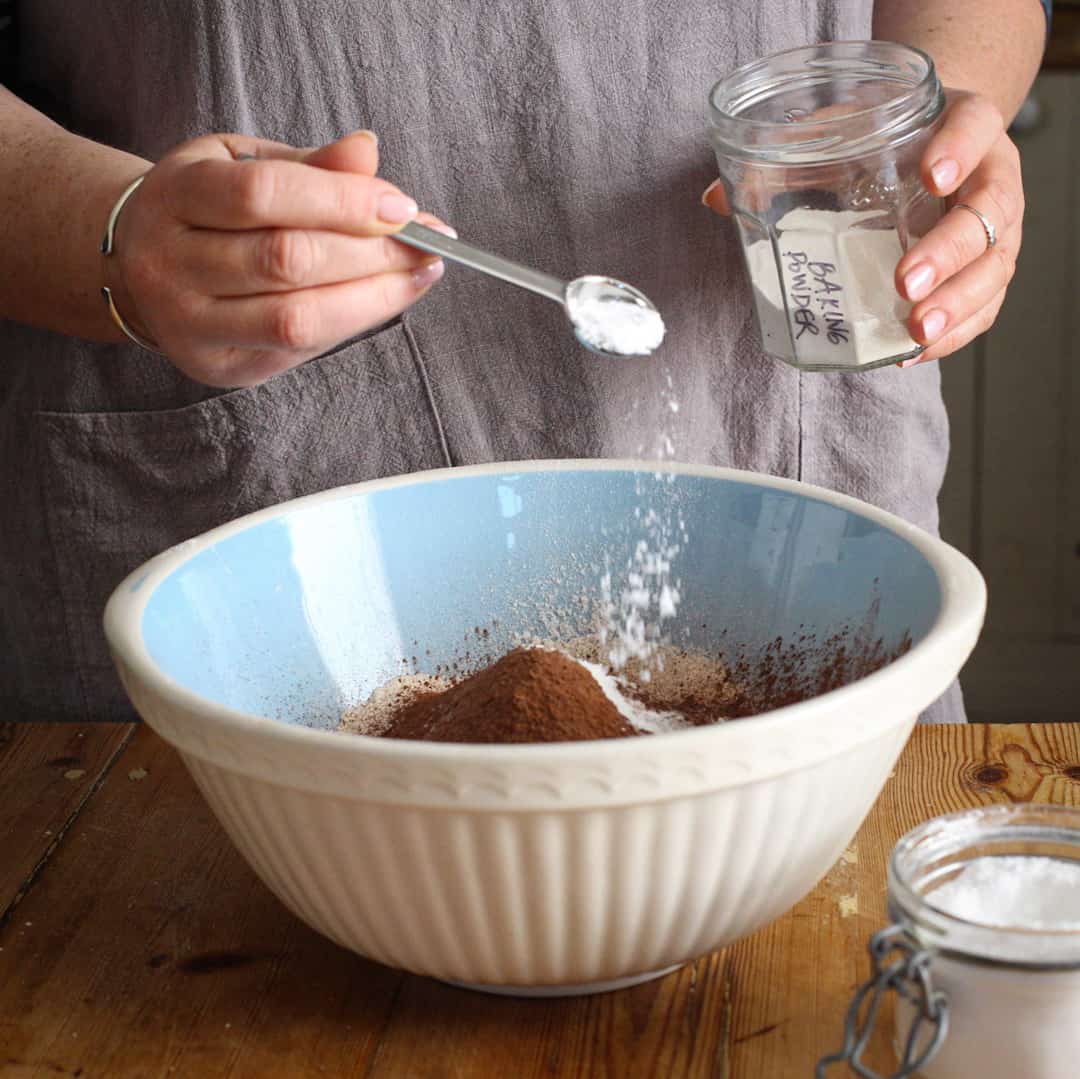 And finally, add in the chocolate. I always opt for a vegan dark chocolate, but you could use your favourite chocolate brand.
You can use chocolate chips, or as I find it cheaper to buy dairy free dark chocolate by the bar, I like to chop these up instead.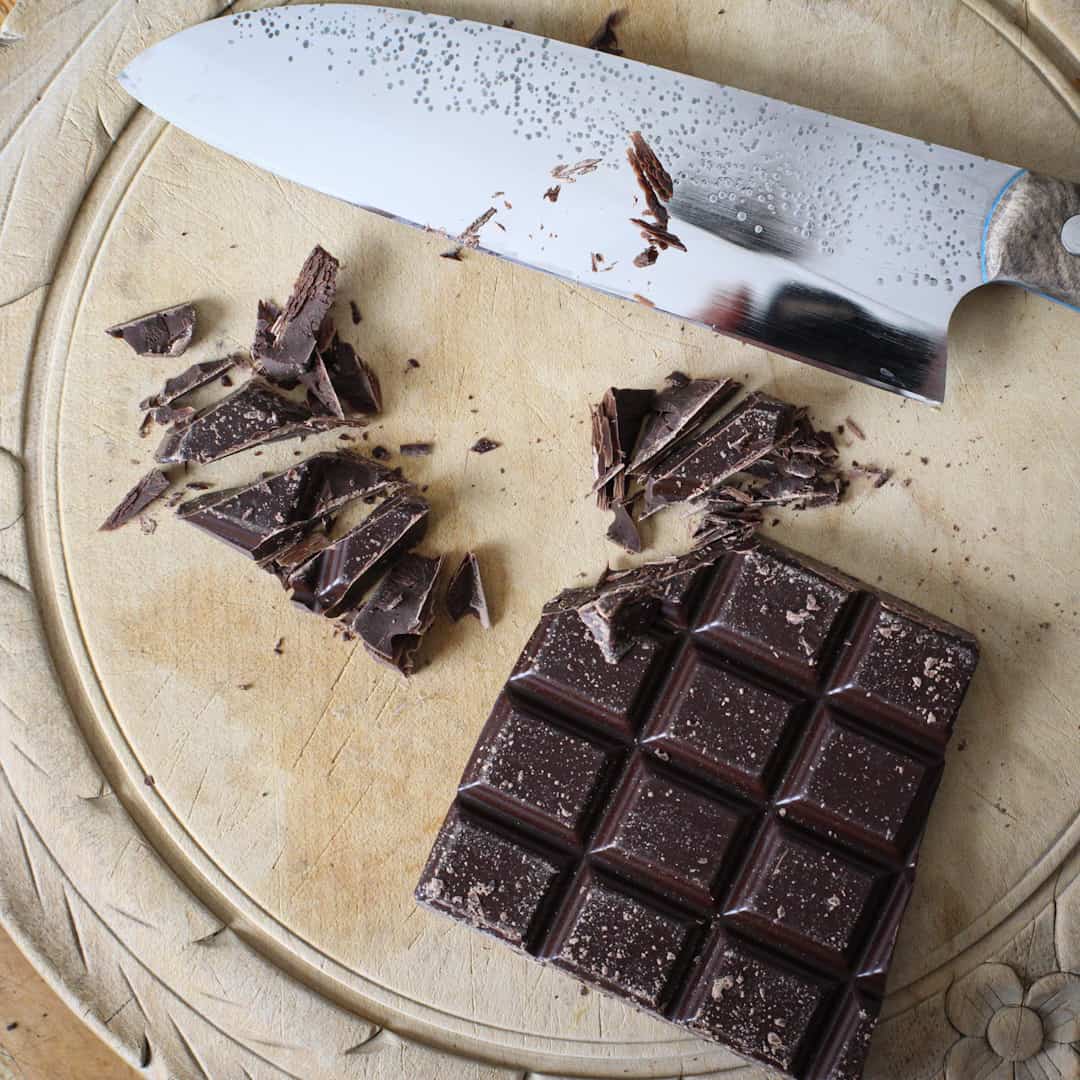 I also like the way that slightly larger pieces of chocolate give more flavour and texture to the finished muffins.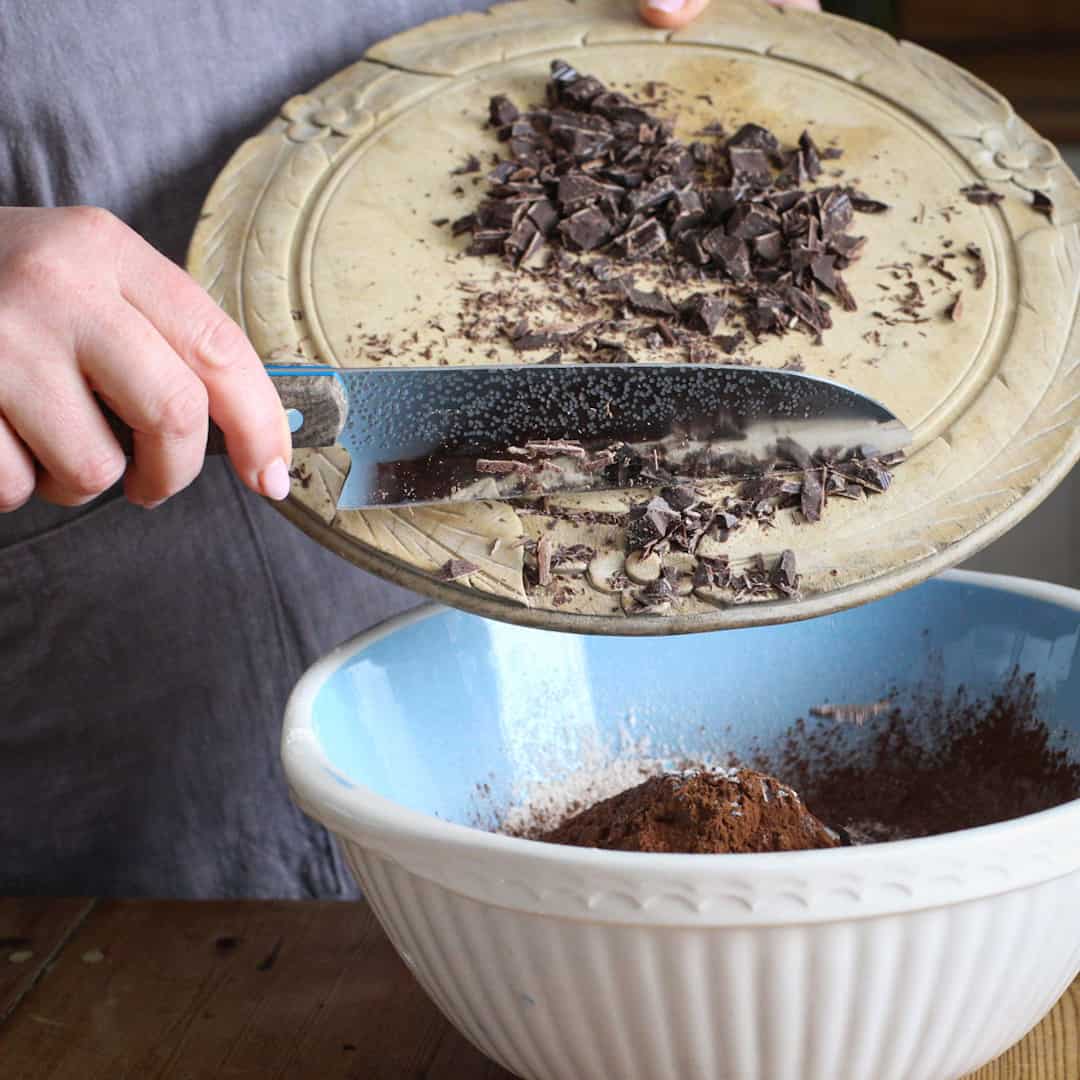 Mix all these dry ingredients together until they are well combined.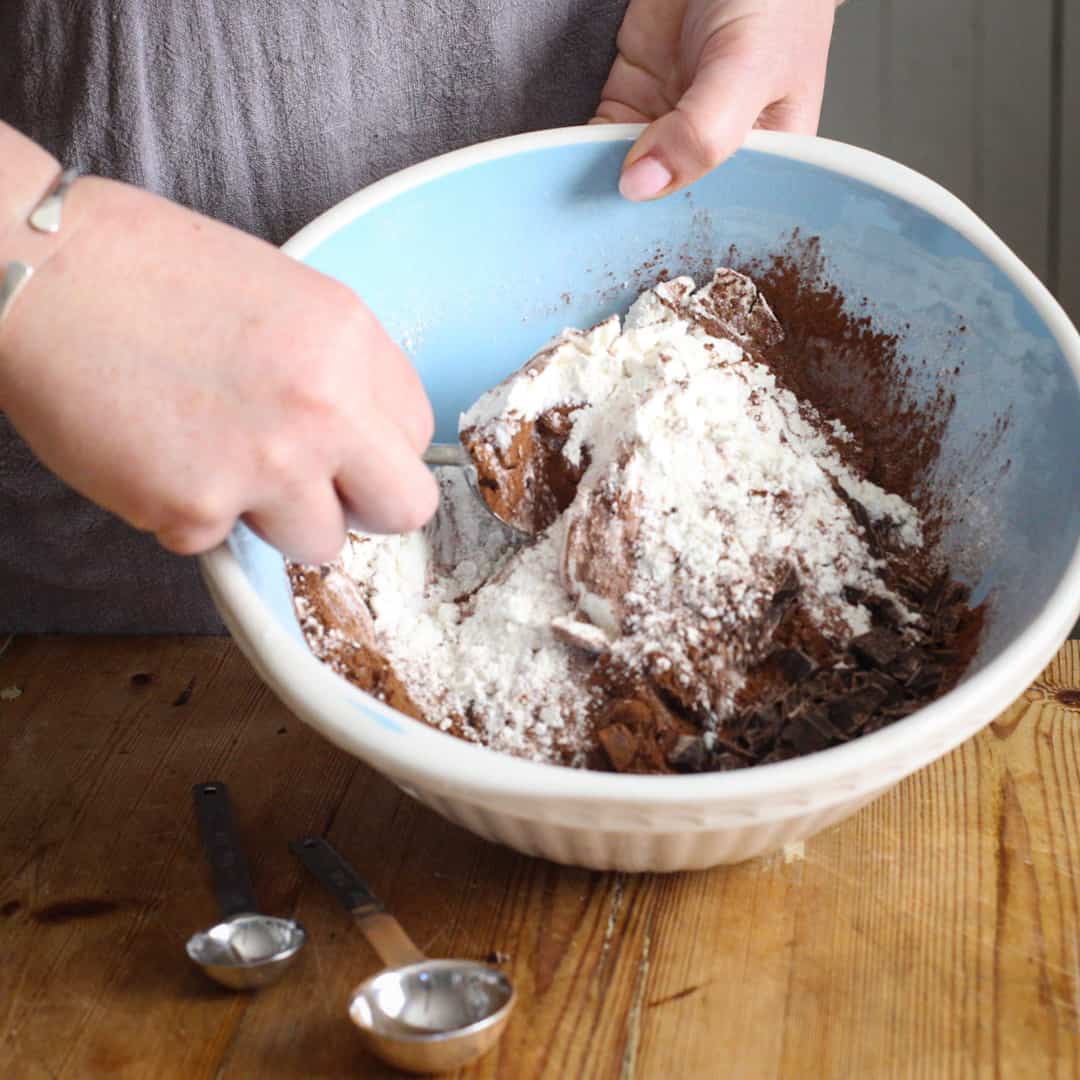 2/ mix wet ingredients
Measure out the milk and oil into a jug.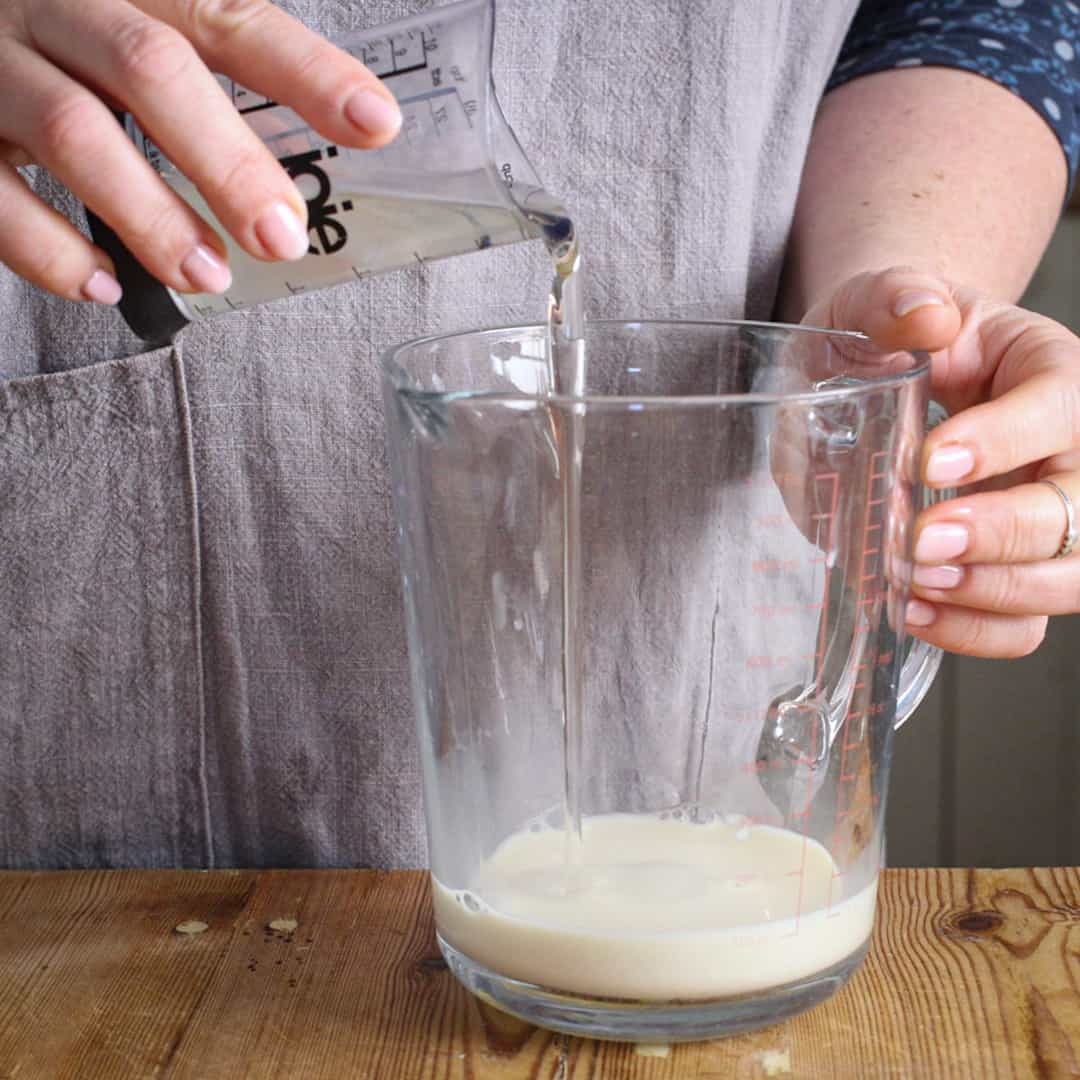 Crack in the egg, and beat together well with a fork or whisk.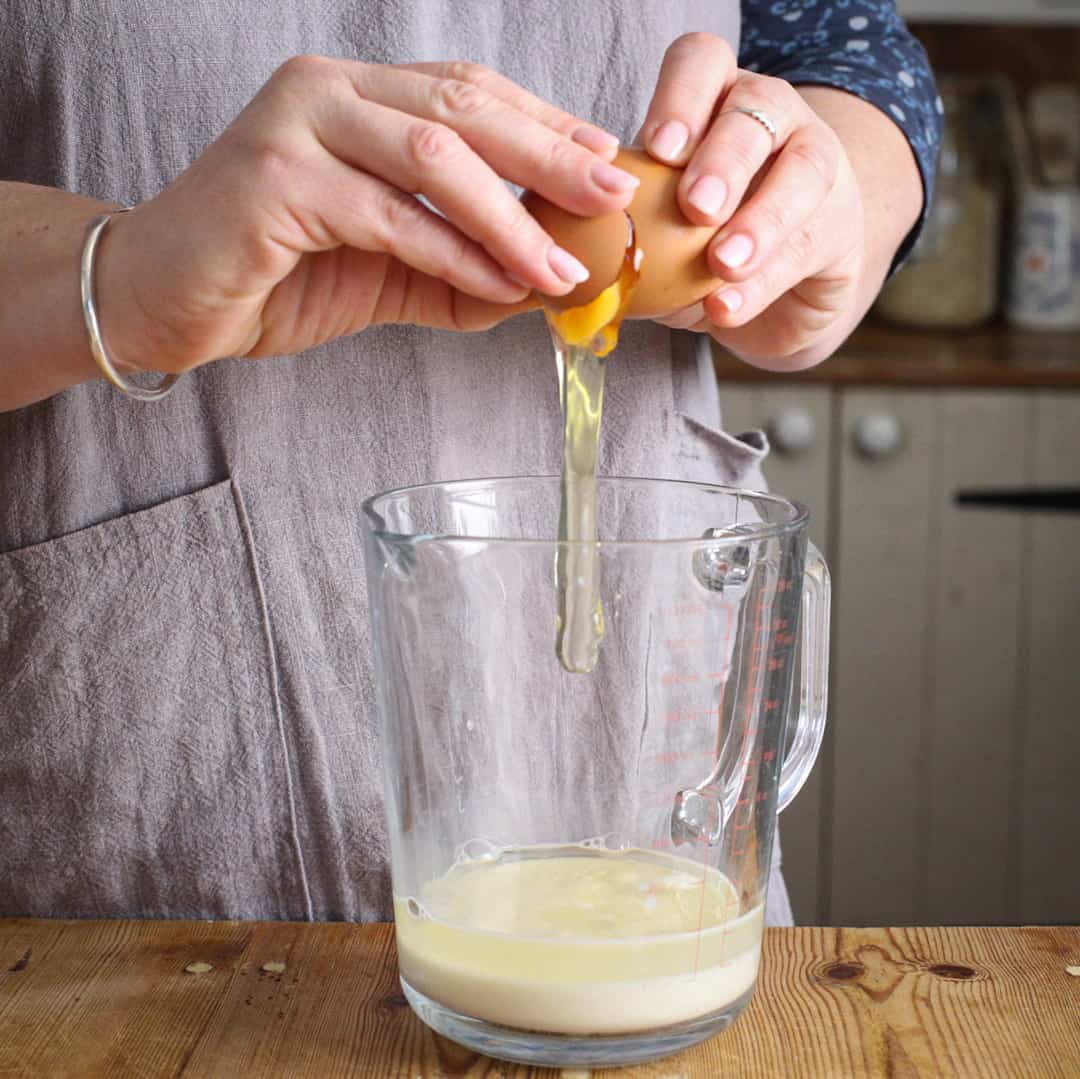 Mash the bananas up until soft and mushy, then add them to the jug of wet ingredients.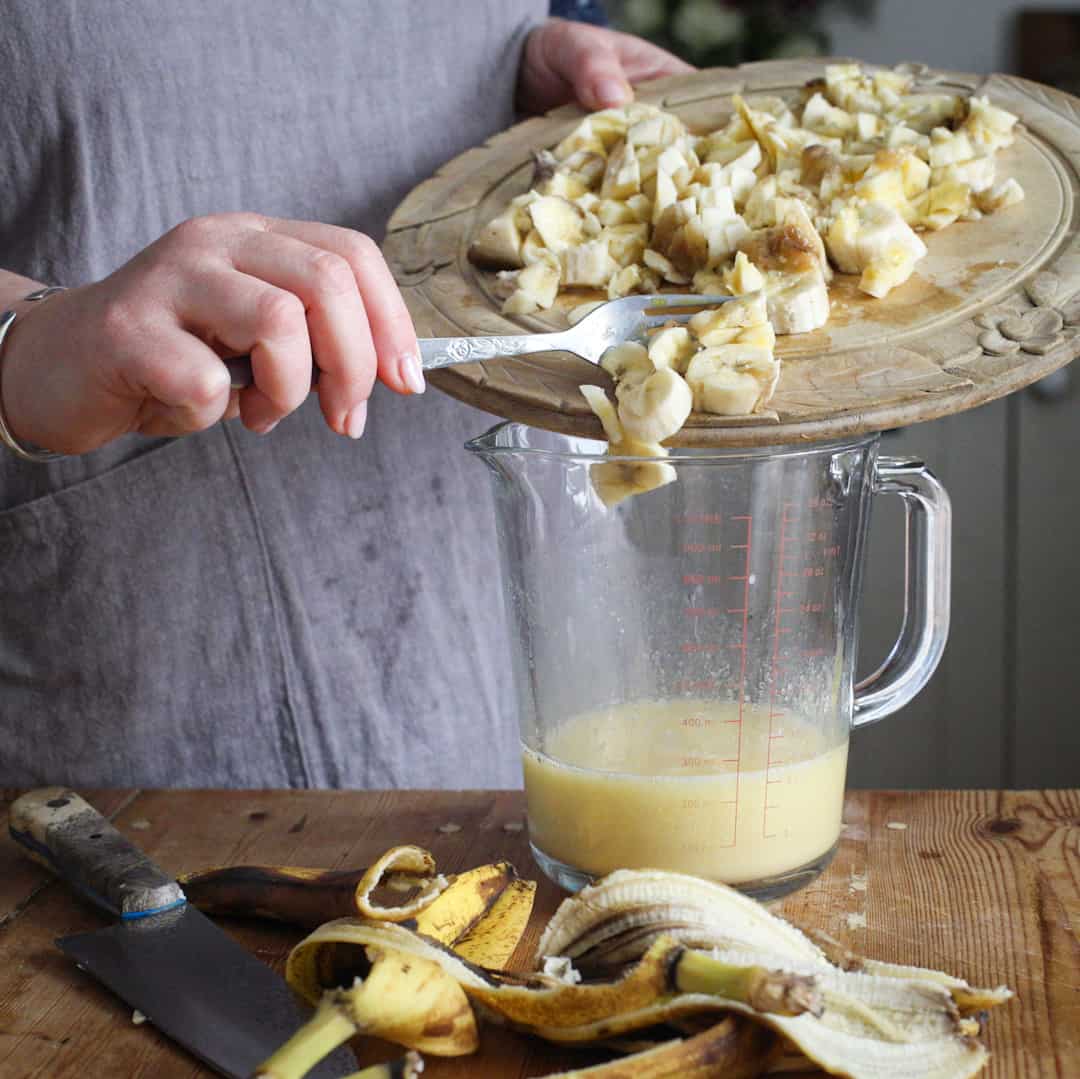 3/ mix wet and dry
Once the wet and dry are mixed together you need to work quickly as the baking powder & bicarb will be activated and need heat very quickly to work their magic!
So first, make sure your oven is on, and at temperature. Then fill your muffin tray with paper or silicone muffin cases.
If you don't have any cases, you can spray each 'dimple' in the muffin tray with a spray oil. Once baked the muffins should just 'pop' out.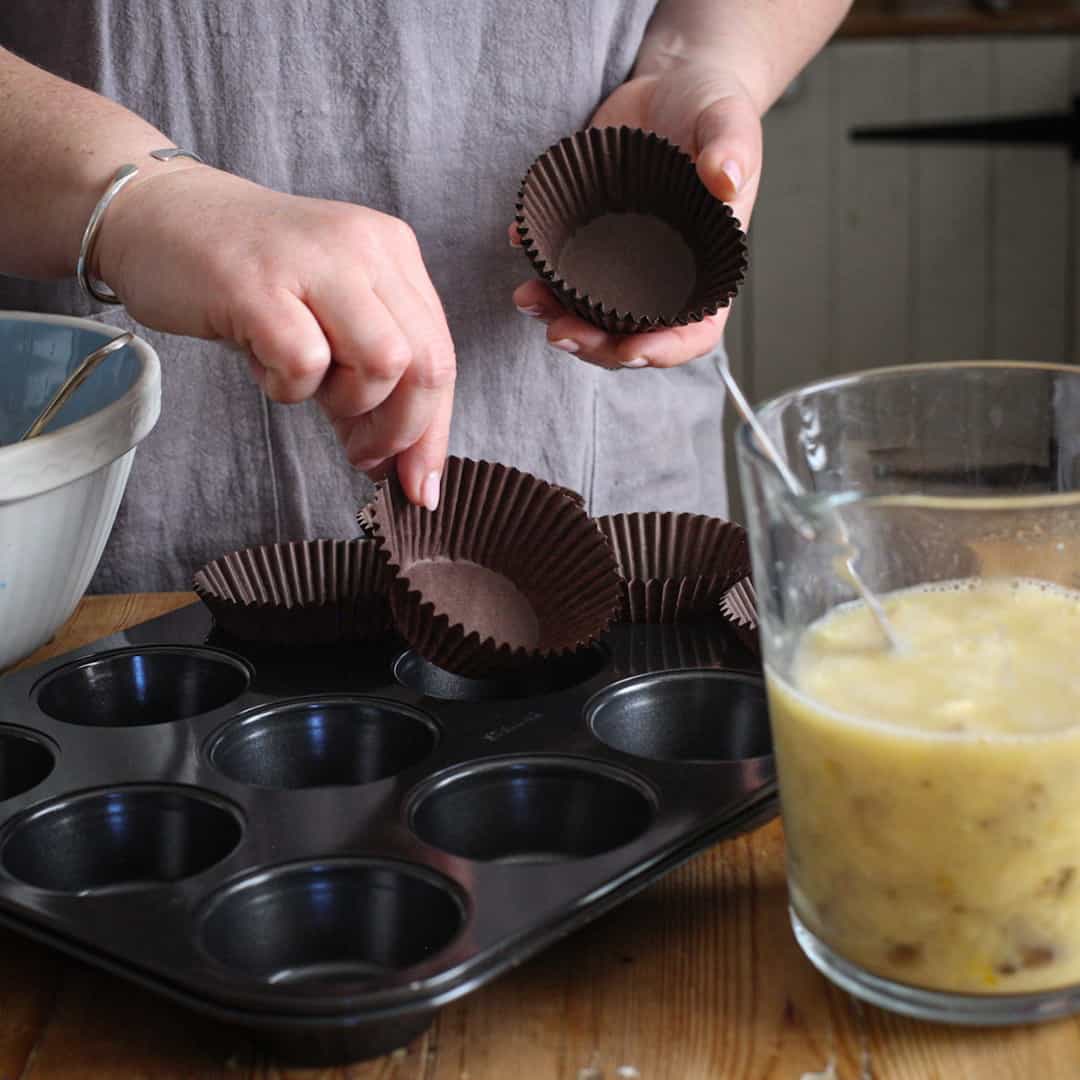 Finally, pour the wet ingredients from the jug into the bowl of dry ingredients.
Mix together just until there are no patches of dry ingredients left showing.
It doesn't matter if the batter looks a little lumpy, and it's really important not to overmix.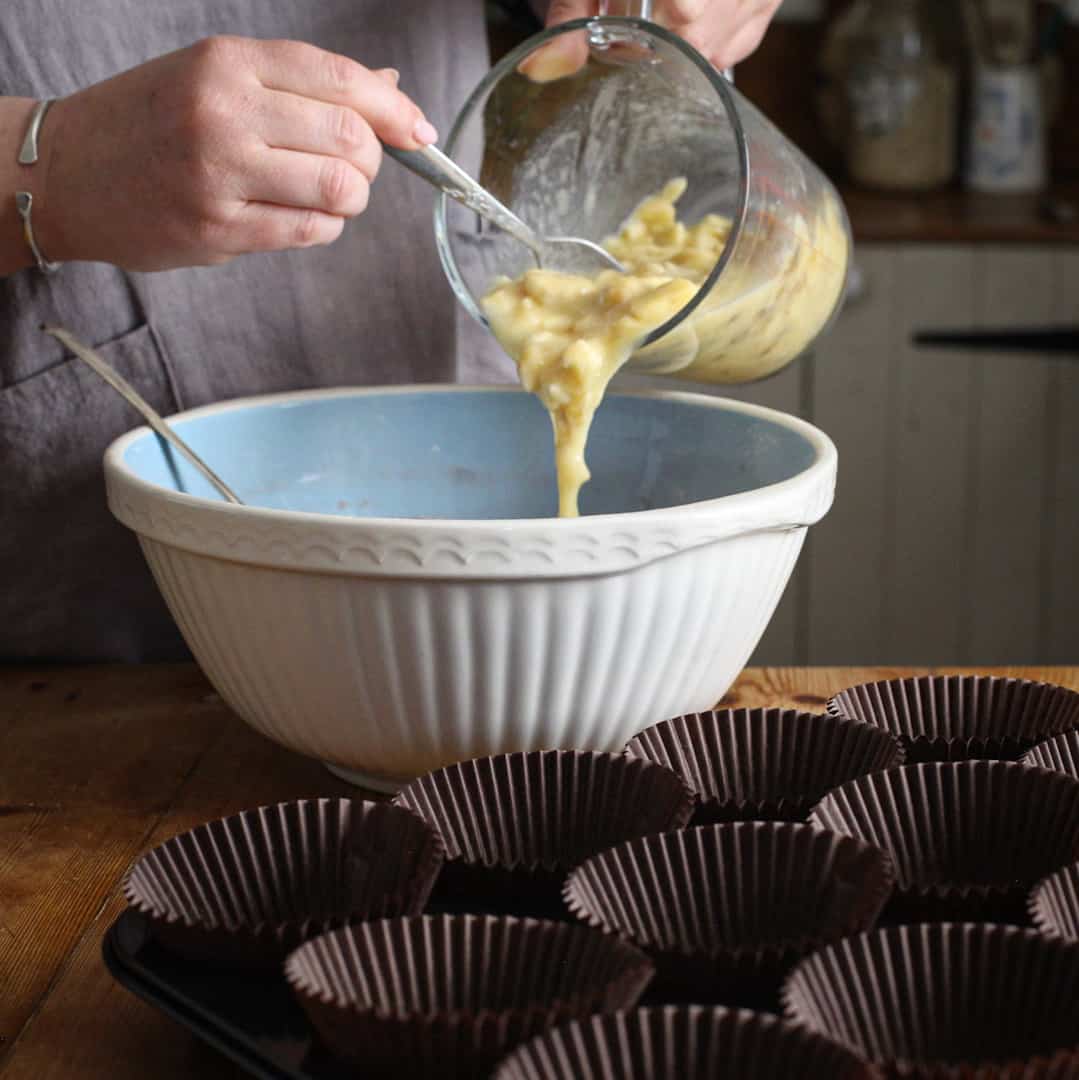 4/ bake the muffins
Divide the mixture between all your muffin cases as equally as possible.
I like to use 2 soup spoons for this job as they hold just the right amount of batter.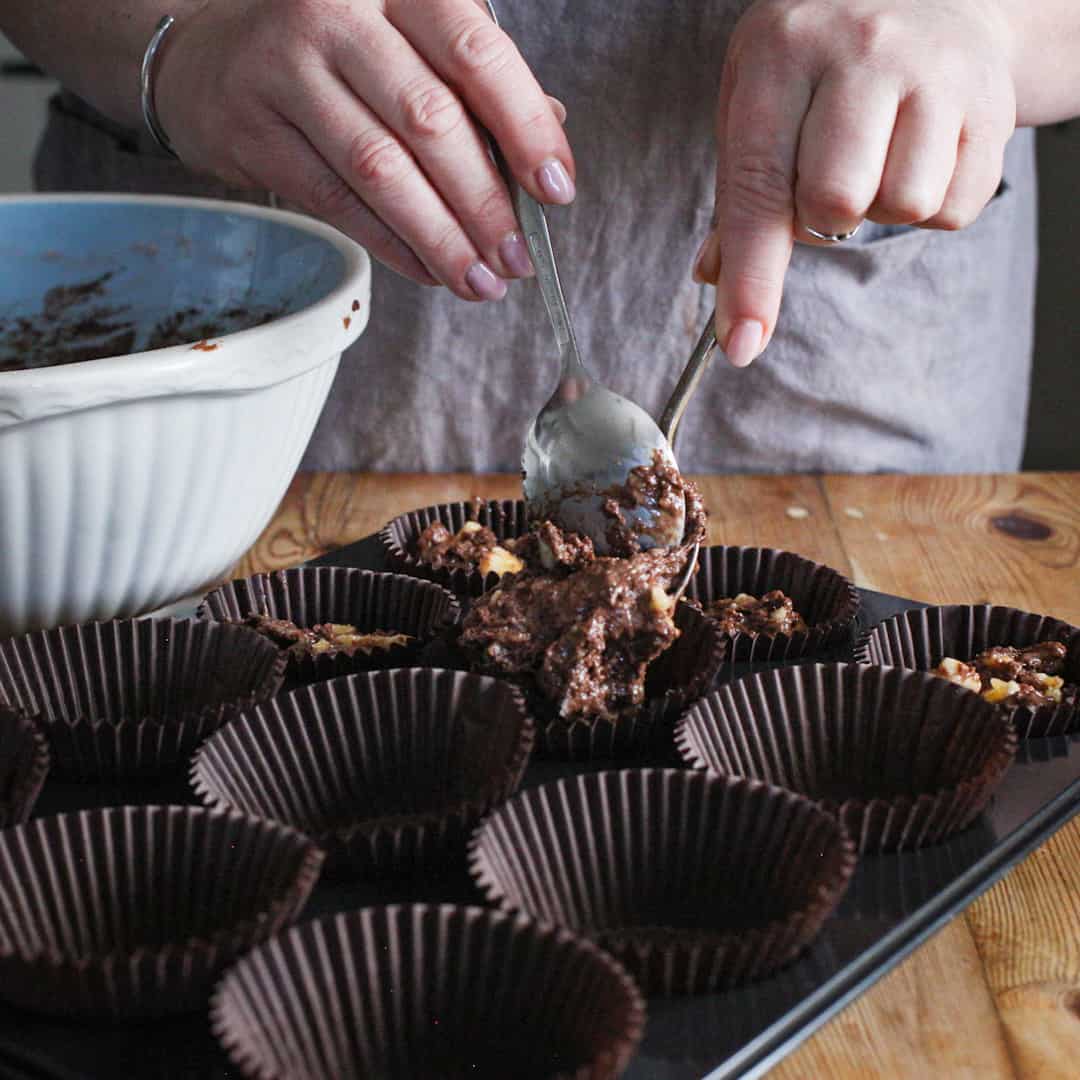 Then pop your tray into the preheated oven, and try to be patient whilst they bake :)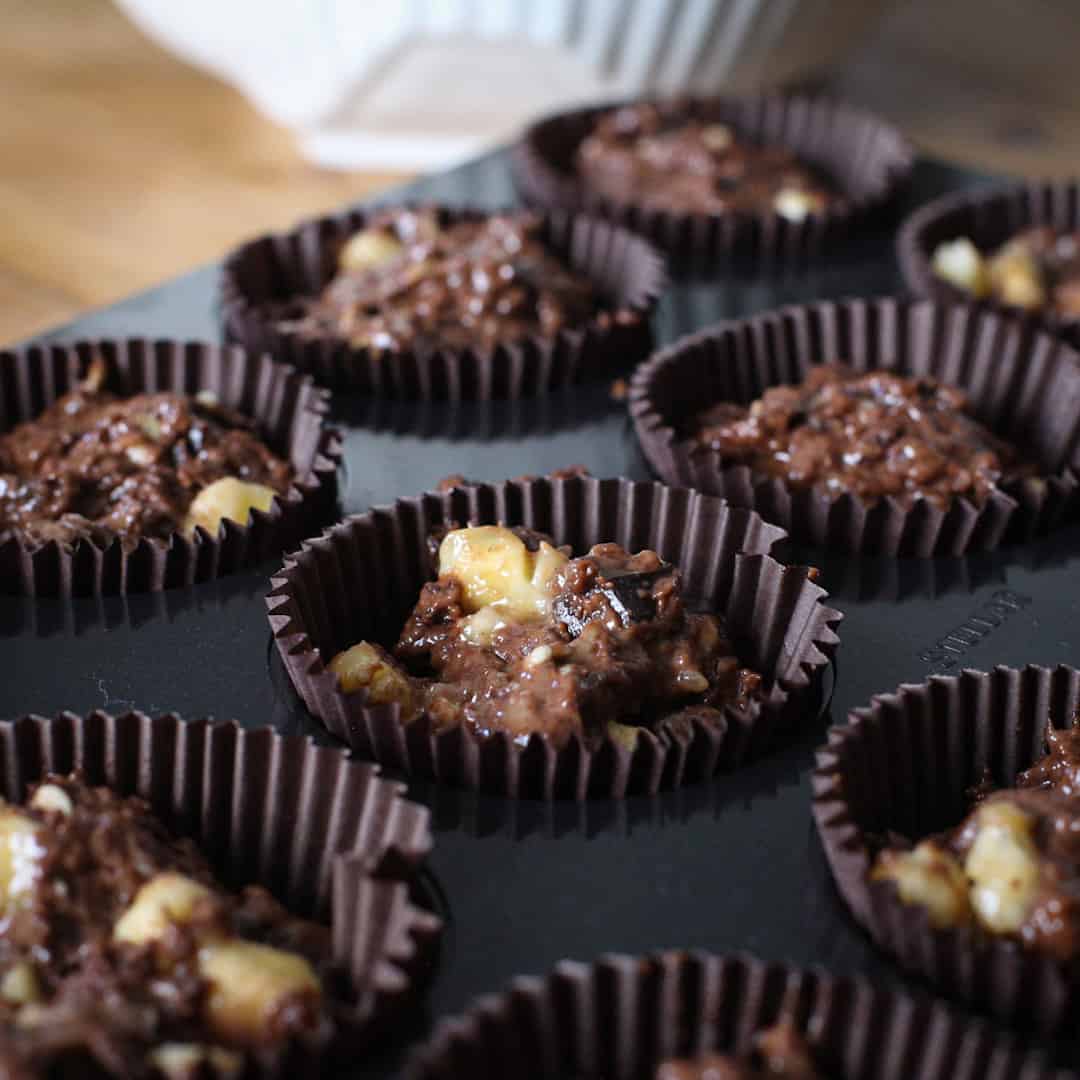 Once the cooking time is up, carefully press your finger into the top of one or two muffins.
If the top springs back, they are cooked!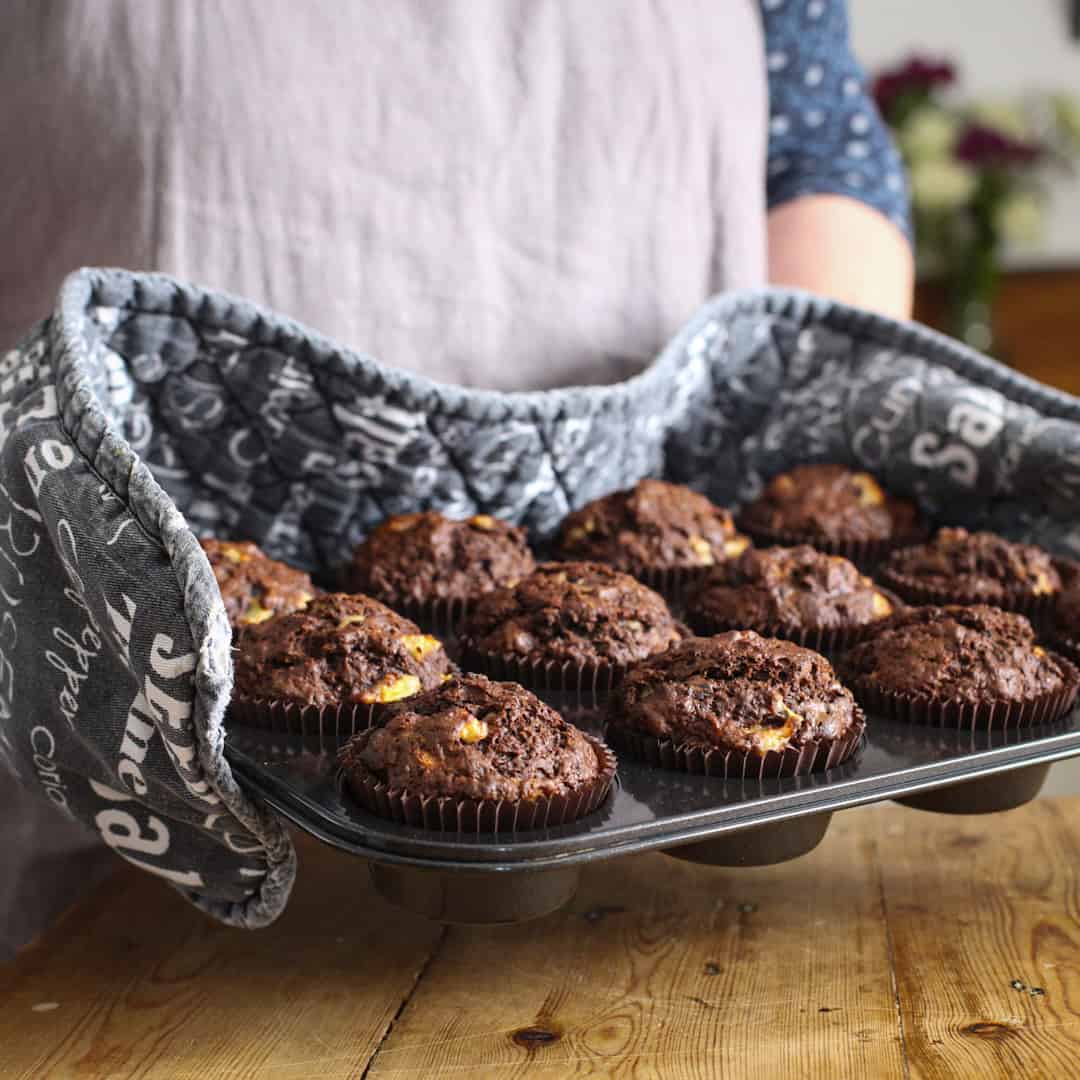 Remove each muffin from the tray (if you leave them in the tray to cool down, they'll get sweaty underneath). And place onto a cooling rack to cool fully.
How to store banana chocolate muffins
At room temperature
Once cool, they will store well in an air tight tin.
I find that any homemade muffin that has fruit in stores much better than those that don't, and they should stay quite moist for 3 or 4 days.
Those without fruit in dry out much quicker.
In the freezer
They can also be frozen on the day of baking.
In this instance, wait until they are completely cool, place in a freezer bag and freeze.
To defrost, simply remove as many as you'd like and leave them out at room temperature for 4 hours or so.
They will also defrost well in a lunch box.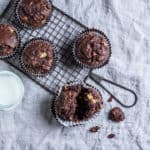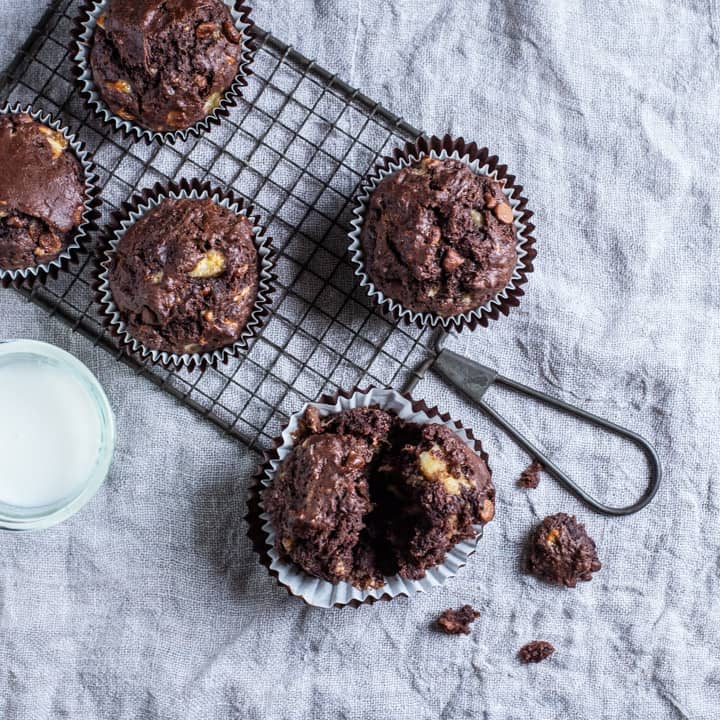 Banana Chocolate Muffins
Keyword:
banana chocolate muffins, dairy free., lactose free
Ingredients
Dry ingredients
280

g

plain flour

100

g

sugar

100

g

dark chocolate chips

35

g

unsweetened cocoa powder

1

tsp

baking powder

1

tsp

bicarb of soda

1/2

tsp

salt
Wet ingredients
1

egg

- beaten

90

ml

milk

- I used oat milk, but choose whichever milk you have on hand

90

ml

vegetable oil

3

large

bananas

- mashed
Instructions
Preheat the oven to 200C (400F)

Line a muffin tray with paper or silicone muffin cases.

Mix the dry ingredients together in a large mixing bowl.

Mix the wet ingredients together well in a large jug.

Pour the wet ingredients into the dry, and fold together until all the dry ingredients have disappeared.

It will appear a little lumpy from the banana, that's OK :)

Divide the batter between the muffin cases.

I like to use two soup spoons for this, they're the perfect size.

Pop in the oven and bake for 20- 25 minutes. 

They are ready when the tops of the muffins bounce back up when pressed.

Remove from the muffin tray and let cool on a wire cooling rack.
Nutrition Facts
Banana Chocolate Muffins
Amount Per Serving
Calories 209
Calories from Fat 36
% Daily Value*
Fat 4g6%
Cholesterol 15mg5%
Sodium 207mg9%
Potassium 294mg8%
Carbohydrates 41g14%
Protein 5g10%
Vitamin A 55IU1%
Vitamin C 3mg4%
Calcium 60mg6%
Iron 2mg11%
* Percent Daily Values are based on a 2000 calorie diet.