Jon doesn't eat mushrooms, so I tend to go through phases of gorging on them, and then not eating them again for weeks. Today I am mid gorge.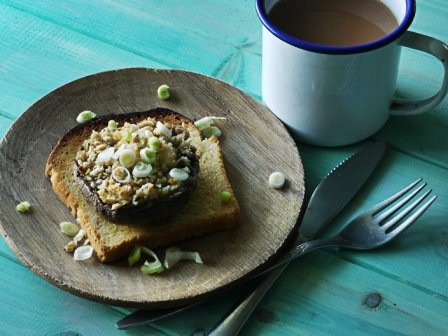 These beauties are about 3 inches across and just right for filling with yummy flavours and baking until juicy and mouth wateringly tender.
I didn't peel them, just brushing off any little bits of dirt. Don't ever wash a mushroom, as it will go soggy and tasteless during cooking.
Oh, and the best bit? Cook a couple extra, and have them cold the next day inside a sandwich. Sounds weird I grant you, but it makes an amazing lunch and tastes more like steak than mushroom!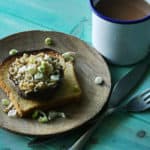 Baked Garlic Mushrooms
Ingredients
Per person
One large mushroom

A little melted butter or oil

1/2 - 1

crushed garlic clove
Depending what you have lurking in the bottom of the fridge, add anything else that takes your fancy such as;
Sliced fresh chilli pepper

1

tsp

of Soy Sauce or Balsamic vinegar

Chopped spring onion

Chopped avocado

tomatoes or onions

Cooked rice

Breadcrumbs

Chopped chicken or meat

Sundried tomatoes

Cheese

An egg

1

tsp

pesto

Chopped olives

Chutney

Fresh herbs such as basil or corriander
Instructions
Wipe any dirt away with a damp cloth or small brush. Snap off the stalk and brush the outside of each mushroom with some melted butter or oil and pop, oil side down, in an oven proof dish. Chop the stalk up and return it to the centre of the mushroom.

In a basic garlic mushroom, add add the chopped garlic and a small knob of butter or drizzle of oil.

Bake in a moderate oven for 20 minutes, or until the mushroom looks dark, juicy and cooked.
Shared with; Fat Tuesday, Hearth & Soul