Being Lactose Intolerant meant there were lots of tasty foods over Christmas that I couldn't indulge in, but these American Pancakes with Pomegranate and Blueberries were the perfect dairy free treat.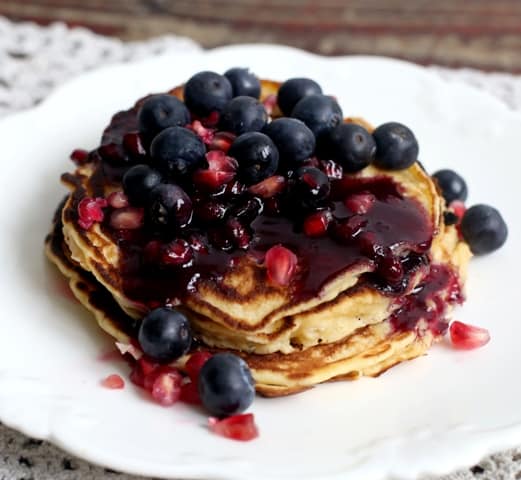 Oooh, a new kitchen product that's dairy free? Yes please!

Flora Cuisine is a blend of oils (rapeseed, linseed & sunflower) that has become a bit of a lifesaver in my kitchen over Christmas. It's perfect to use in lieu of butter, for every 100g of butter in a recipe just swap it for 110ml of Flora Cuisine.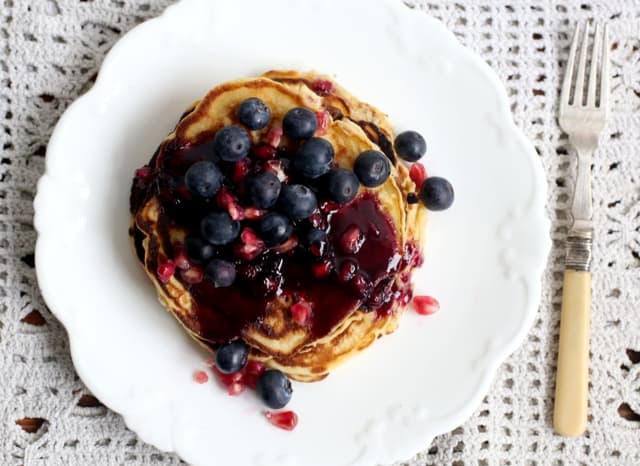 I've so far used it in a stir-fry, made perfect roast potatoes and parsnips, cooked off ingredients for soups and casseroles, greased a cake tin and of course made these uber tasty pancakes.
The bottle lives in the fridge which took me a while to get my head round when baking, as most of my oils are kept next to the hob. When you first pour it into the pan it's quite viscous and opaque, but as it warms up it turns clear and that's when you know it's ready to fry with it.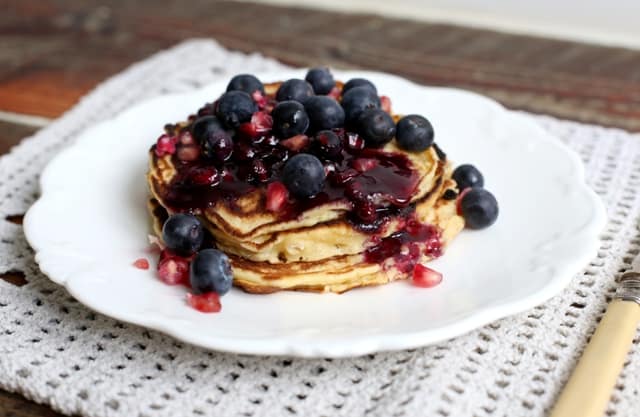 And so, I used it to make these delightful American Pancakes (whose recipe I pilfered from the Flora Website). Light, fluffy and terribly moreish, they just scrape into the healthy treat category for those of you with New Year Resolutions. Just make sure there are plenty of friends around so you're not forced to eat the entire batch yourself!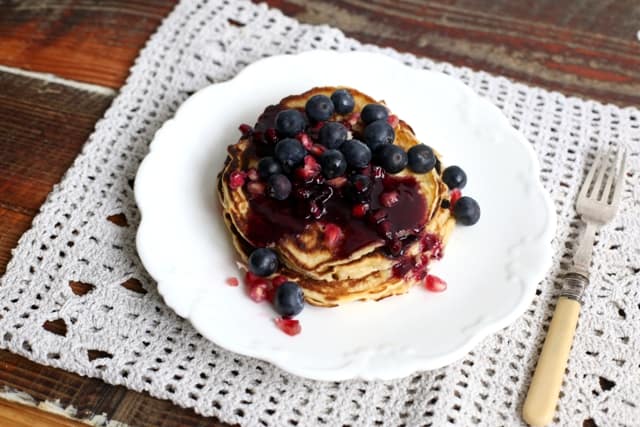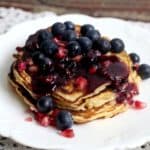 American Pancakes with Pomegranate and Blueberries (Dairy Free)
Ingredients
Topping
1

tub of blueberries

1

pomegranate
Pancakes
125

g

self raising flour

2

teaspoon

baking powder

1/4

teaspoon

salt

1

egg

250

ml

soya milk

2

tablespoon

Flora Cuisine
Instructions
Topping
Tip half of the blueberries and half of the pomegranate seeds into a pan and heat gently. Use a fork or potato masher to squash them down a little, allowing the juices to run from the berries. You can add a little sugar or honey at this stage if you are very sweet toothed, but really there is no need.
Pancakes
Sift all of the dry ingredients together in a large bowl.

Pop the wet ingredients into a jug and whisk together.

Pour into the dry ingredients and mix just until there are no dry bits of flour showing - it'll look really quite lumpy, but that's perfect.

Heat frying pan & a small amount of Flora Cuisine.

Once the oil is hot, pour in a ladle of the mixture, gently tease out the edges of the mix to make it round and let cook for about 2 minutes, or until there are bubbles on top and the edges are dry.

Flip over and let the second side cook for around 2 more minutes.

Pile the pancakes up on warm plates. Stir the fresh berries into the cooked berries and top the pancakes generously.
Huge thanks to Flora for getting in touch and sponsoring this post ~ as always all views are my own.