Way back in the depths of winter I found myself curled up on the sofa with a glass of white in one hand and my freshly delivered copy of Olive magazine in the other.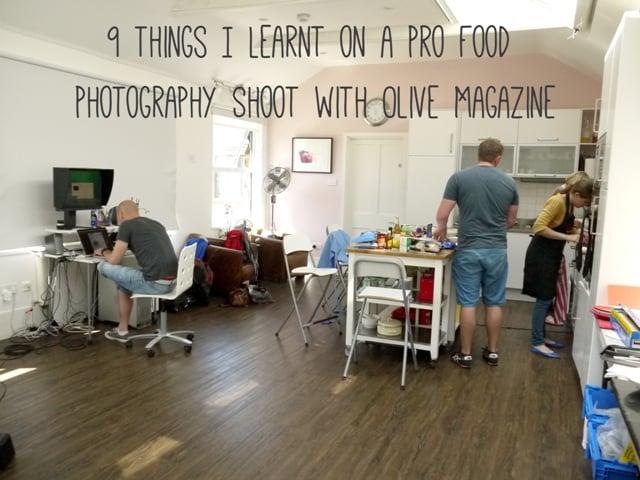 Since studying photography I devour each copy, dissecting the images as much as reading the recipes. I really like the photographic style used by the magazine, and whilst they use different photographers, the style stays true throughout each edition.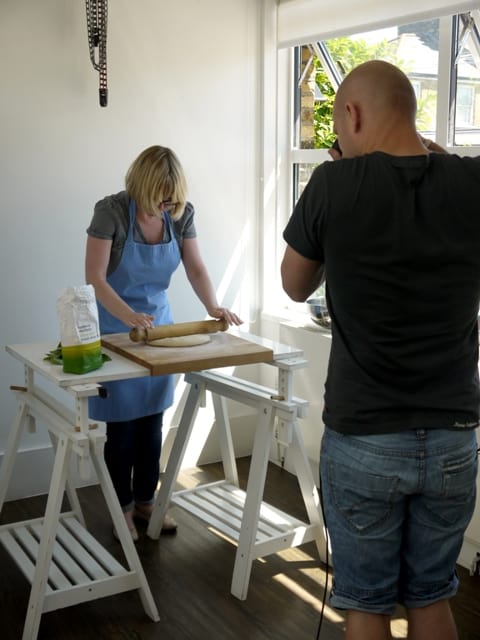 When flicking through I try and work out what exactly it is that I love about certain images. I wonder if they've used a soft studio flash, or daylight like most of us bloggers tend to use. Is it one person making and styling the food and one photographer or are there are a whole team of people working on each dish. And do they use the old school styling tricks of using inedible varnishes and motor oil to make the food look its best for the camera. Surely no one does that any more, right?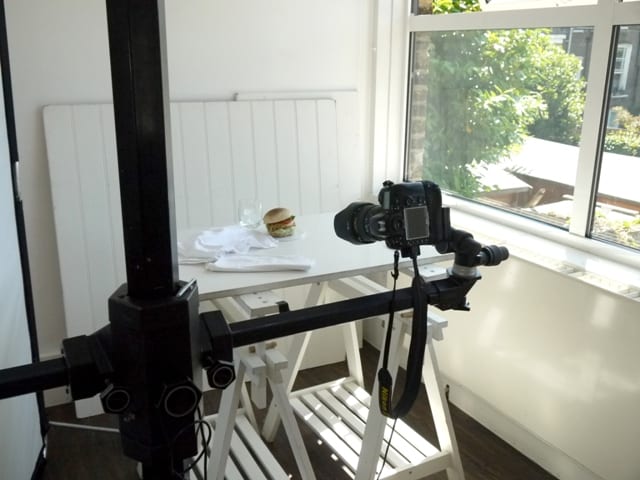 With so many questions and a now empty glass of wine I bravely emailed the editor, Christine Hayes, and rather cheekily asked if I could join an Olive photoshoot to see how the pro's do it.
Well, if you don't ask…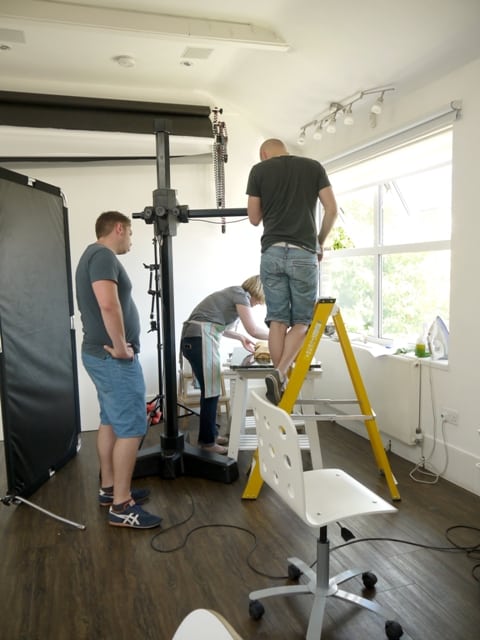 Amazingly, she agreed and 4 months later I found myself in Camden, London hanging out with Team Olive. Ha!
9 Things I learnt on a Pro Food Photography Food Shoot with Olive Magazine
1/ It takes 4 people to make a day of shooting go smoothly. From left to right we have Ant Duncan; Freelance Photographer, Janine Ratcliffe; Food Editor, Mike Cutting; Designer and Anna Glover; Cookery Writer.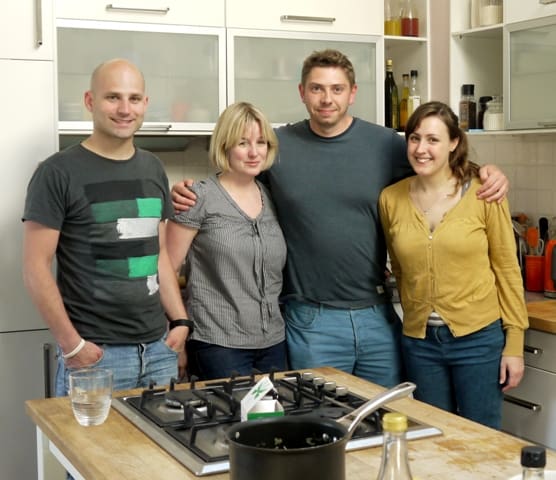 Janine and Anna did all the cooking and styling (and washing up), Mike chose the props and backgrounds and made design decisions as the shoot went along and obviously Ant took the photos.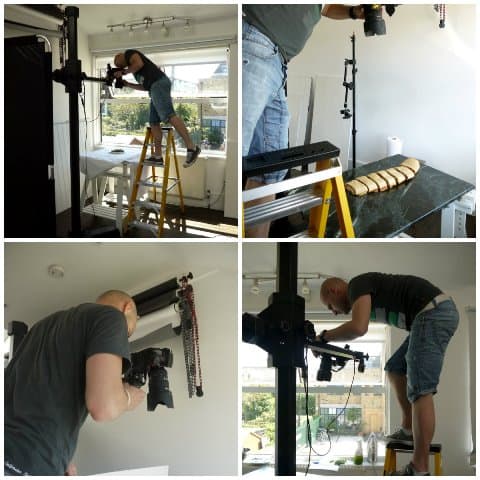 2/ Food photographers need to be fit! Seriously, Ant was up and down his ladder more times than a window cleaner! To get the overhead shots his camera was clipped onto the boom arm which was on wheels so could be moved round as necessary.
3/ That a variety of props are essential. See Jonny, I told you ;)
In London space is at such a premium that there isn't storage space at Olive HQ to keep their own props, so they hire them in for each shoot. Apparently there are giant prop shops in London that rent out everything from a teaspoon to full dinner services and everything in between. I would love to have a nosey round one of them!
These are the bits that Mike had picked for today's shoot, plus a few different slabs of marble and coloured backboards.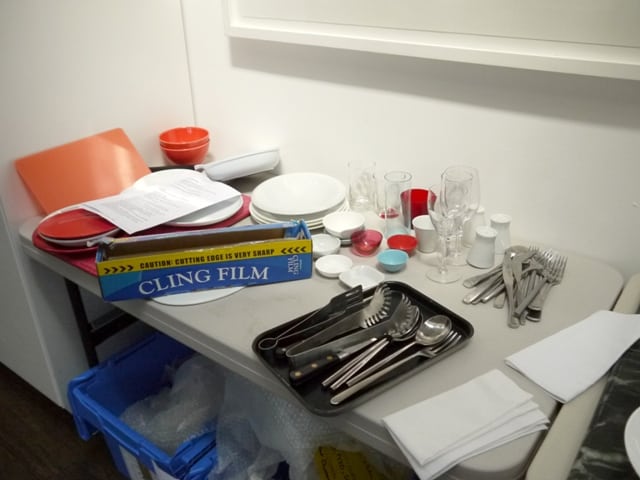 4/ That however big and fancy your studio is, you're probably only going to use a teeny little portion of it for a food shoot. The rented studio we were in must have measured at least 15 x 30 foot and yet the shooting was all done in this (I'm guessing East facing) corner, snuggled up next to the window making use of that beautiful light.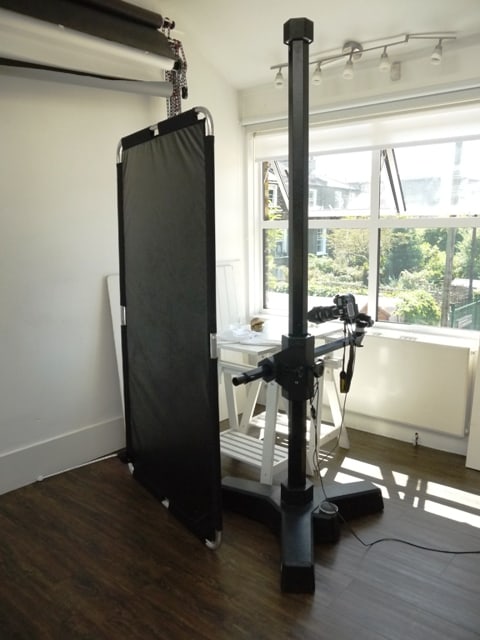 Doesn't that make you feel better about your teeny little corner of the dining room? Yep, me too!
5/ That even the professionals make a mess in the kitchen! Sorry for busting you guys, but it was SO reassuring to see that it's not just my kitchen that gets in a mess during a cookfest!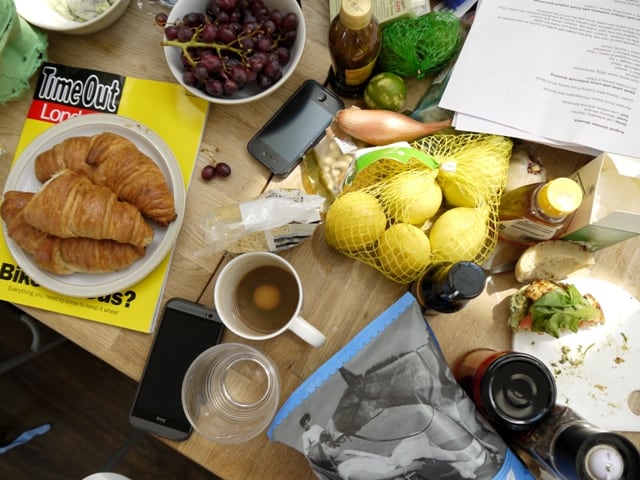 6/ If a food photographer's not climbing ladders, they're sat at a computer. I hadn't thought about this before but I spend way more time editing my photos than actually shooting them. I guess Ants time on the day was about 50/50 although he may have had more edits to do when he got home.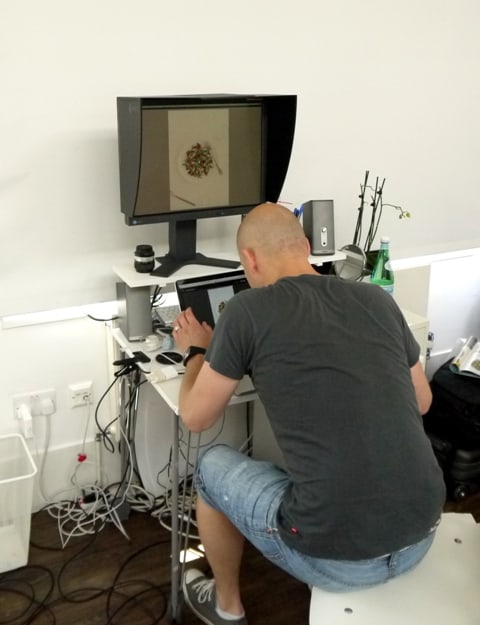 7/ That workflow is so much easier and quicker if you have an idea before you start cooking of what you want your final dish to look like.
The Olive team create a moodboard for each image needed so that the right props and backgrounds can be sourced and delivered ahead of the shoot, and everyone knows from the minute they turn up what they're working towards. Whilst you wouldn't necessarily go to these lengths for a single blog post, if you ever work on your own cookbook or a series of posts it may be worth bearing in mind.
It's also useful to think through the colours in your finished dish ahead of time to give you some idea of what colour plates, backgrounds and accessories will work well with them. If you have time, style the shoot before you start cooking so that you can get the picture quickly (and as a bonus you may get to enjoy your dinner whilst it's still hot!)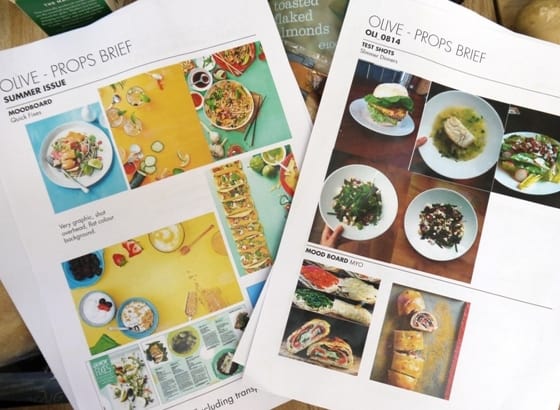 8/ You don't need fancy schmancy reflectors. A tatty old piece of cardboard will bounce light back or create shadows just as well as something you've paid hard earned pennies for.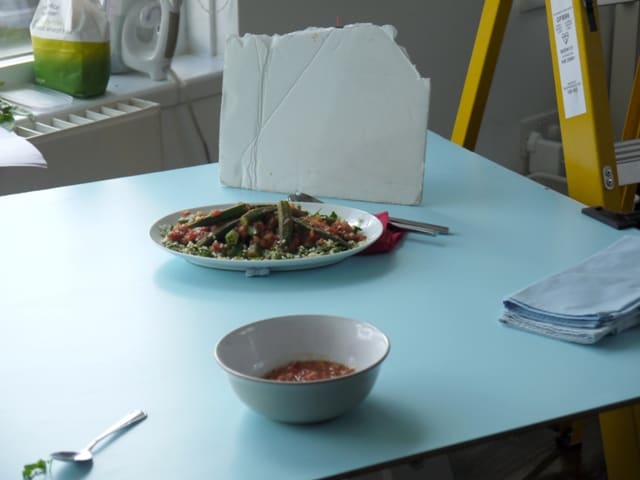 9/ And finally, plan and work ahead of time. Obviously the Olive team has to work months ahead of time because of the logistics of printing and delivering a magazine. However this is still a great tip to take on board for us bloggers.
The more posts you have in draft or even scheduled ready to publish, the less demands there are on your immediate time and the less under pressure you will feel to get something out. And in my experience, this has a direct impact on the quality of the content you put out.
I still struggle with this one as life is often crazy busy, and any reserve I have of draft posts tend to get used up quickly but it is a great idea to create perhaps one blog post a week more than you need so you always have a little back catalogue to draw on when things are hectic.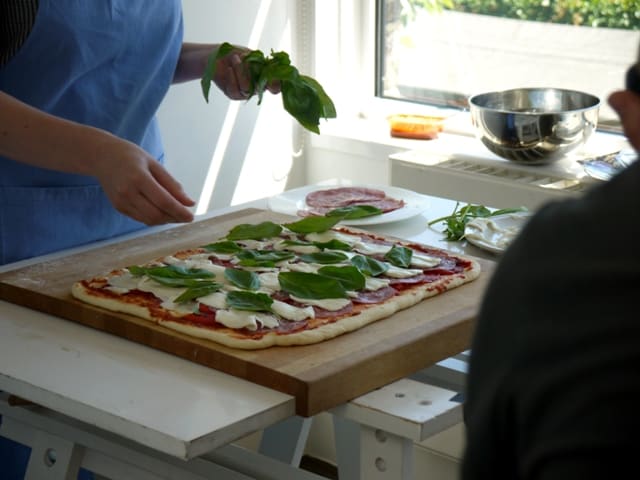 There, that's my Top Tips courtesy of the Olive team! Thank you all so much for letting me invade your day, it was great fun and I learnt loads. Do keep an eye out for a guest post by yours truly coming up on the Olive blog Lulu's Notes in the not too distant future, if you have a copy of the August edition it'll be great fun I promise!
And as I'm incapable of being around good food without taking photos myself, here's some other shots I took on the day…