It's over, I did it! It was a bit of a rollercoaster, but I made it. It has been partly monotonous, and partly momentous, but happily the latter far outweighs the former.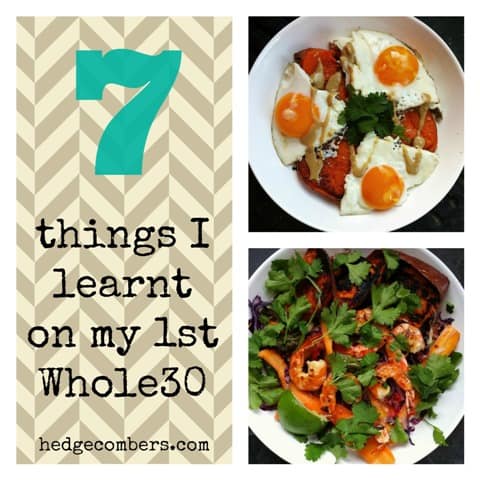 To get the low down on the science, psychology and rules behind it, visit the Whole30 site. But for a quick overview and my personal experience, read on.
Whole30 is a month long set of eating guidelines that remove all addictive and inflammatory foods from your diet, giving your body the chance to find its balance and heal. Kinda of like pressing your own reset button.
The rules are strict, and very clear. If you break them, you return to day one. Here's an outline, you remove all:
Grains
Legumes
Sugar & sweeteners
Vegetable fats
Alcohol
Dairy products (except for grass fed butter if you can tolerate it)
I think I had it easier than most as I haven't had dairy products in years and I don't really enjoy alcohol.

So, what can you eat?
All veg
All (unprocessed) meat, fish & seafood
All fruit (but be aware of how much and only consume with a meal)
Some fats
Salt, herbs, spices and some other store cupboard basics
Yep, I think that's it. It doesn't sound a lot does it? But weirdly once you get going, it's enough.


Week One
Apparently, this is hell for a lot of people but I had the pleasure of witnessing my beautiful best friend Lizzy have a gorgeous baby girl as a surrogate for her sister on day two. The wave of utter euphoria I rode for more than a week meant that I can honestly say I didn't feel crappy once! I did get headaches, light headed and pretty vague at times, but seriously it was the most amazingly emotional, magical and beautiful week that I am so honoured to have experienced (I'm welling up now just thinking about it!).
Week Two
Still mostly baby buzzing / feeling vague
Week Three
This was the week that I mostly remember standing at my fridge wondering what the f$*k I was going to eat. It was also the week that I because nauseous at the thought of a stir fry, but in happier news also the week I started seeing changes in the mirror.
Week Four
This is the fabulous week I opened up my box of 'skinny' clothes (everyone has one of those, right?) and found I could fit into all of them bar one. To be fair, the one that had me beat was a dress I last wore in my early twenties, so I wasn't too sad.
Now, please take note, weight loss was not my motivating goal in doing the Whole30. However, if it had of been I think I'd be pretty happy right about now. I 'only' lost 8.5lbs during the month, but the changes in the mirror and in my clothes are quite remarkable.

So, what the hell did I eat?
Good question. Right from the start I kept a large tub in the fridge with a bunch of shredded veggies (white & red cabbage, carrot, beetroot etc) that I could steam, stir fry or eat as salads. Rarely did I want to eat salads as even though we had some really good weather, I just craved warmer foods.
I had a bash at paleo mayo once to make some coleslaw. It split, but I resurrected it and it tasted good. However I was lazy & busy and the shelf life was so short I didn't get to eat it all before having to throw it away and that kinda put me off.
Having to eat protein at every meal meant that I got through a heap of meat and eggs. Luckily our farm freezers have all kinds of homegrown and wild critters in which I was so grateful for as it stopped my budget getting out of control.
You have to consume an amount of fat as big as your thumb with every meal. And you're not supposed to eat animal fats as this is where they store the toxins and nasties they are fed & injected with. However, I bent this rule as we rear our own pigs on grass and I rendered the fat from the freezer into pork dripping which I used to roast, fry and flavour.
And as for the eggs, our hens took this opportunity to stop laying so I had to start buying eggs in. It seems I'm not a fan of bought in eggs, even the most expensive organic & free range ones. I am an egg snob.
Whilst you're not supposed to eat between meals or snack, on days when I couldn't get to a meal in time I found beef jerky held me over as did banana with tahini. Yum, try that second one, it's better than ice cream, although admittedly I can't really remember what that tastes like. Oh, and I also often ate a couple of dried dates at the end of a meal which helped me mark the end of a meal and really helped me avoid cravings.

7 things I learnt on my 1st Whole30
That when I take the addictive foods like sugar and grain out of diet (yes, grain is addictive – chew a small piece of bread for 2 minutes & you'll taste it turn to sugar in your mouth), I no longer need to eat constantly. I can easily last 4 hours on a decent sized bowl of soup, something I would never have been able to do in the past.
That there is not one single nutrient in any grain (or for that matter in any fruit) which you cannot get from vegetables and animal protein. Mind blown.
Fat is your friend. I kinda held this one as a belief before starting Whole30, but it's only by omitting the grains that I honestly see the benefits of fat. Eat your measure of fat with each meal and you stay satiated till the next meal, skip it and you'll become ravenous. Oh, and did I mention I lost weight whilst eating all this fat? Spooky huh?
Eating the same food again and again and again will make you want to poke your own eyes out with a pointy stick. Dramatic, yes. But no less true.
I no longer want or need to eat sugar. Sorry to all you sweet toothed readers, you'll have to get your cake porn elsewhere for the foreseeable future. Or you could always go hunt through the blogs recipe archives, there's all kinds of muffins, traybakes and biscuit recipes that shoud keep you going for a while.
My biggest AHA! moment was in realising that a bowl of soup (no bread) is enough food for a meal. As is a bowl of curry (no rice) or even, god forbid, a stir fry (no noodles). Also it seems I don't need to eat 64 slices of toast in between meals cos I'm bored or supposedly hungry.
My ultimate life lesson in doing a Whole30, and the one that makes so grateful that I stuck with it, is that losing weight was never, ever enough of a motivator for me to actually lose weight. Being fat just really didn't bug me enough to change anything long term. However, watching elderly people around me struggle with basic mobility issues was the biggest kick up the jacksie I needed. I want to clear out all that chronic inflammation now before it becomes something bigger and scarier in old age. If only I'd worked that out 20 years ago :)
And a couple of other things of a more personal nature:
Coconut does not make my tummy very happy. I've had an inkling about this in the past, but chose to ignore it. I will test it again sometime in the future and will be praying like a mad woman that I'm wrong.
Did I already mention that banana and tahini tastes freaking awesome?
My other stoopid addiction to crisps is now broken, and I challenge myself to never eat them ever again. There is zero nutrition in a bag of crisps, and yet the old me could happily munch them till the cows came home.


What am I doing next?

Well, whilst all of my symptoms have reduced, I am not in the perfect symptom free place I was hoping I'd be. Over the next few weeks I'll be reintroducing some foods that I've omitted alongside the Whole30 to see if any symptoms worsen or return.
I'm planning to keep my diet paleo for the time being, and work through some other groups of foods to see if they are causing me issues. The nightshade family (potatoes, tomatoes, peppers, aubergines, chilli's) is currently on my hit list and I'll avoid them for the next few weeks. It'll be a sad day if I have to wave a teary goodbye to chilli peppers long term.

So I reckon that wraps it up. Please shout if you have any questions, or let me know if my little rant has been the deciding factor in you giving the Whole30 a go, or avoiding it like the plague! If you do give it a bash, I truly hope your best friend becomes a surrogate just to make your experience as fun and euphoric as mine :)

Mwah!

Janie x