If you are wanting to shift away from buying lots of different chemical based, highly packaged cleaning goods, Bicarbonate of Soda (or Baking Soda as it's known in the US) is a really good place to start.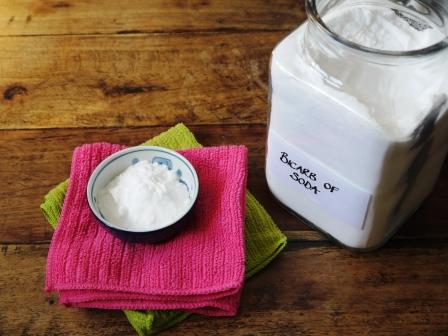 Smell Buster
To be honest, if this was the only thing bicarb was good at I'd still love it cos it is SO good at removing nasty smells from pretty much anything. Ever had a kid throw up in a car? Next time it happens, clear up all you can, then completely cover the stain in bicarb. Within a week you'll never know there had been an incident. If you don't cover it in bicarb of soda, that smell can linger for years. Truly.
Soften hard or dry skin.
Add a tablespoon of bicarb to a foot spa or tub and soak for at least 15 minutes. Add some essential oil if you fancy extra pamperiness, then just scrub away with a loofah, pumice or rough cloth until your pinkies become beautifully soft and smooth once again. Add a little dash of olive, sunflower or carrier oil to the water to ensure your skin gets deeply moisturised at the same time.
Smelly Fridges
Tuck a small bowl with a tablespoon or two of bicarb into the back corner of a smelly fridge. Within 24 hours it'll be smelling sweet again.
Stinky Bins
Sprinkle a good handful in the bottom of your dustbin to prevent or cure inevitable smells.
Washing Produce
Remove chemical pesticides off of fruit and veg by adding 3 tablespoons to a bowl of cold water and rinsing them in it for a few seconds.
Damp House?
Musty, damp cupboard? Pop a bowl of bicarb inside and not only will it remove the smell, but it will also absorb excess moisture. You may need to stir or replace the bicarb regularly, depending on how damp the area is.
White Wash
Half a cup of bicarb can be added to a whites or a particularly smelly wash to brighten your washing and remove fusty smells from your machine. We have found this is especially useful when washing our towels.
Shoe Freshener
Sprinkle a generous layer of bicarb into the bottom of smelly shoes & trainers and leave at least overnight. Tip out before wearing again.
Kitchen Cleaner
Sprinkle on a damp cloth to clean kitchens worksurfaces, baths, sinks etc without the risk of scratching and without the need for chemical cleaners.
Cleaning Flasks & Bottles
Bicarb is perfect for cleaning out thermos flasks and drinks bottles. Pop 2 teaspoons of powder in, top up with boiling water from the kettle and leave over night.  The next morning tip down the sink (or tip into a bowl and use for cleaning or soaking smelly clothes) rinse the bottles out and reuse. It'll remove smells, germs and any other debris inside hard to scrub flasks.
Buying those small pots from the supermarket works out expensive when you start using a lot of this stuff. You can source bigger packets or bags online, my last batch came from a soap making company but also try catering suppliers, chemists or wholesalers. Make sure to ask if it's food grade if you wish to use it in baking too!
Have I missed your favourite use for bicarb? If so, please let me know in the comments below!
Marguerite adds these 2 great tips;
boil baking soda in water in a burnt pan, the burnt part then just lifts off!
And, this tip comes from Rose Levy Beranbaum, Rose's Christmas cookies, about getting rid of the skins on hazelnuts. " In a medium saucepan, bring the water to a boil, Add the hazelnuts and baking soda, and boil for three minutes. ..Test a nut by running under cold water. If the skin is not easy to remove with slight pressure from the fingers, boil the nuts another minute or so more. Drain, rinse and peel them." then you roast the hazelnuts as usual with nuts. Rose calls for 1 cup1/2 and 1 cup of hazelnuts.
Tammy adds;
"Use Bicarb in a lukewarm bath to help dry up chicken pox spots… when my little girl had (quite severe) chicken pox she wouldn't let me near her with any lotions, creams etc so she took 3 or 4 tepid bicarb baths a day to ease the itching and the spots scabbed over in a couple of days. Have since used this with my son too! No pain and dries them up really quickly."
Sally's tip;  
"I have been using the bicarb option in my laundry for years now. Use 1 tablespoon of your usual detergent and 2 tablespoons of bicarb – that's all you need and your clothes come up just as good as if you have used the large amount that the detergent manufacturers want you to use. Still have to soak really dirty stuff, but would have done that anyway. A 10kg bucket of detergent now lasts me nearly a year – and I leave a tablespoon measure in the laundry, don't guess it!"