For breakfast this morning, I indulged in a simple recipe from the River Cottage Every Day cookbook. Cheap, healthy and so damn tasty.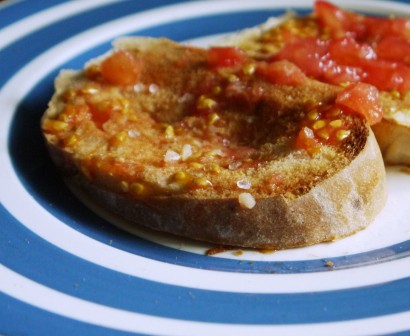 Toast some 'robust' bread (one that won't crumble into breadcrumbs in an instant)
Wipe a garlic clove over one side of the toast. Apparently this bit is optional.
Cut a very ripe tomato in half, and spread/wipe/mush the tomato pulp, seeds & juice into the toast. Discard the skin.
Drizzle with a little olive oil and sprinkle with a little Cornish Sea Salt.
Eat. Smile. Repeat.