I was recently challenged by the Organic Trade Board to join in with their #ThriftyOrganic challenge and swap my regular weekly shop for an organic one, to see how much of a difference there is in cost and taste. I'll admit that I was skeptical at being able to keep within my budget, but was more than happy to be proved wrong!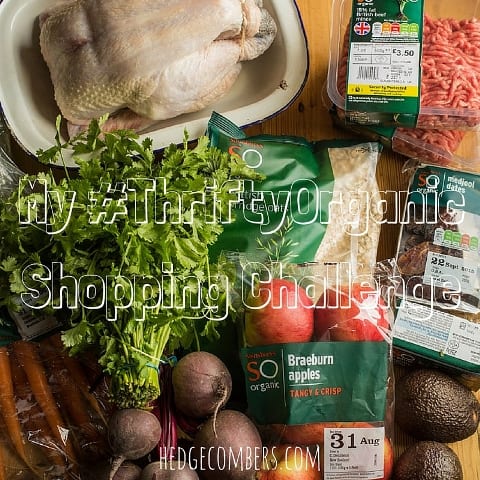 Before the challenge, the only organic items we regularly bought were apples, oats and eggs.
We replaced our laying hens this summer, and only one of the five new girls has started laying yet, so I've been buying eggs for the past couple of months. I am so looking forward to having proper, home laid eggs again!
My #ThriftyOrganic Shop
1 x 1.8kg whole chicken £11.54
2 x 500g minced beef £7.00
750g Oats £1.60
24 x Eggs £7.40
250g Butter £1.60
270g Mature Cheddar £2.75
5 x Braeburn apples £1.90
1 x Butternut squash £1.65
400g Bunched carrots £1.50
8 x Medjool dates £2.15
6 x Bananas £1.20
3 x Leeks £2.00
2 x avocados £2.50
1 x Cucumber £1.25
Grand total: £46.04
On top of this we currently have growing in the polytunnel: salad leaves, spinach, tomatoes, chives, cabbage, kale, butternut squash, kohlrabi, watercress and spring onions. These are all organic.
[bctt tweet="#ThriftyOrganic Top Tip! Buy a whole organic chicken and learn to portion it out @organicukfood"]
#ThriftyOrganic Breakfast
Jonny: Porridge @ 12p pp
Jane: 2 scrambled eggs @ 62p pp
#ThriftyOrganic Lunch
Jonny: Sandwiches made with organic bread, butter and filling where possible. Depending on the filling these worked out at between £1.22p for 2 rounds of egg sandwiches and £1.85 for 2 rounds of cheese ones. Interestingly, either option still works out cheaper than buying lunch out.
Jane: Usually soup and salad. The soup I make from scratch a couple of times a week, and the first one I made on my organic week was a simple chicken and leek soup. The chicken soup was entirely organic and made 7 portions. I didn't count the cost of making stock from the roast chicken carcass or the handful of meat that was left on the bone, so this amazingly tasty soup came in at just 19p per bowl. What a bargain! A small handful of cold chicken on the salad cost around 80p.
Part way through the week I froze the leftover portions of chicken and leek soup and made a big batch of this Harissa Baked Butternut Squash Soup. This soup is divine, and has become a firm favourite in our kitchen. I already had the harissa in the fridge so the soup worked out at only 31p per bowl. Soups rock at making your budget go further!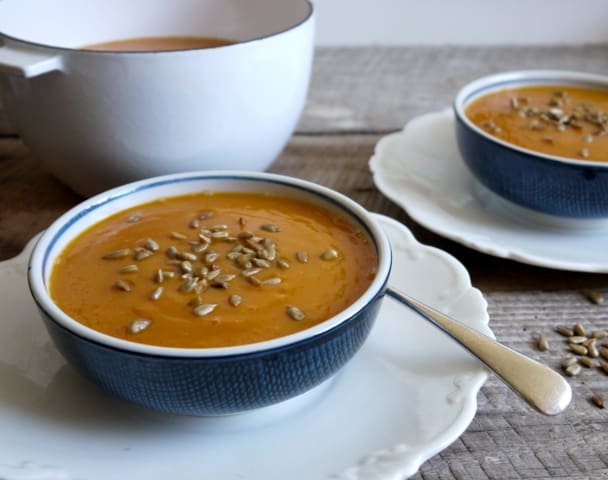 [bctt tweet="#ThriftyOrganic Top Tip! Soup is the ultimate budget stretching meal! @organicukfood"]
#ThriftyOrganic Dinner
Dinner is always my favourite meal of the day. It's the one I get to spend all day thinking about, and have a little more time putting together. On the shopping day I cooked up the chicken and had a yummy hot roast chicken salad which was divine. This cost around £2.10 and was worth every penny! I picked most of the meat off the bones and simmered the carcass in the slow cooker overnight for stock.
I bought two packs of organic beef mince which surprisingly didn't work out any more expensive than the non organic variety. I made 4 burgers from one pack which did two evening meals. They cost 87.5p each to make.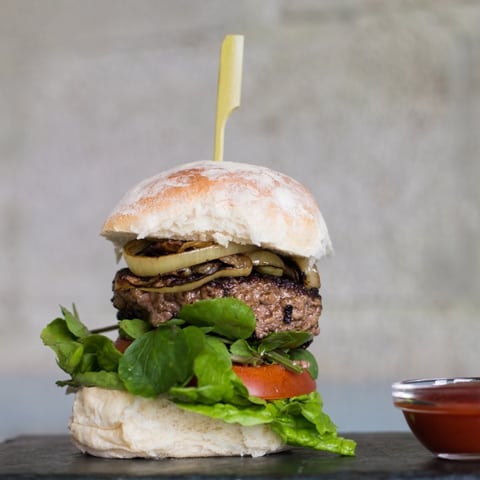 The other pack went on making a tasty spag bol mix that I ate with baked sweet potatoes or scooped up in home grown lettuce leaves. This worked out at about £1.12 per portion and as it was full of veggies, chillis and spices not only did it taste great but was fantastic value.
#ThriftyOrganic Snacks
Jonny has a very sweet tooth and I'm afraid I couldn't tempt him away from his snacks this week, but as he buys all his own snacks I figured that could be excused! I snack on fresh or dried fruit, almonds and cashews which is really easy to replace with organic. Fresh organic bananas worked out at 29p each, and the organic Medjool dates were by far the best I have ever tasted but at 27p each not the thing to munch when you're starving and end up eating the entire packet (8 dates) in one sitting. Oops!
A 15g handful of organic cashews comes in at 25p which is way cheaper than a chocolate bar or packet of crisps and far better for you.
The Verdict
All in all I was pleased with my weeks shop. The beef mince in particular was great value and I will continue to choose the organic variety. Whilst the chicken was more expensive than the free range birds I would normally buy, I did use every last scrap which countered the upfront cost. Those Medjool dates were stunning, but I must not let myself open them when I'm hungry!
To find out more about The Organic Trade Board and the #ThriftyOrganic challenge (which is part of their ongoing campaign 'Organic. Naturally Different'), visit and follow their Facebook, Twitter and Instagram accounts to find out first about competitions, offers and other top tips to help you improve the quality of the food you serve to your family.
Do you buy organic? If so what are your top thrifty and organic tips? Please let us know in the comments below.
This post was sponsored by The Organic Trade Board. As always all views are my own, as are all leftovers ;)