Howdy doody foodie friends! Welcome back to a brand new & shiny Tea Time Treats!
Big thanks to Karen for February's incredible Chocolate Tea Time Treats Round Up, she had a crazy busy month and you guys came up with some incredible sounding bakes.
Please note the new rule that Karen & I need a sample of each bake before the end of the challenge. Ahem. Right Karen?!
Tea Time Treats ~March 2014
Decorative Cakes
This months challenge will certainly be a challenge for me as I'm not a natural cake decorator. I actually broke my icing bag the very first time I used it. Oops.
My inadequacies aside, I just know I'm going to be bowled over by all the Pinterest worthy pics of your bakes & cakes, but I'd be equally happy to see some more rustic entries too. And if you find yourself mastering a new skill for this challenge, do let us know all about it.
Let your imagination run away with you and decorate with different icings, glitters, sugar work, fruit, flowers, veggies(?) absolutely anything!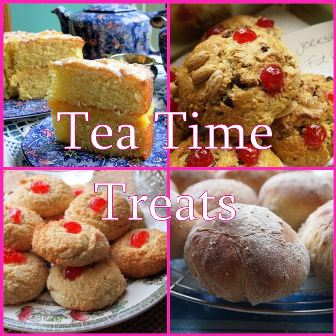 I do hope you take this opportunity to hop around some new blogs too, and do leave a little smattering of comments as you go. It's always nice to know who's stopped by :)
Please take a moment to read the rules and guidelines below and do not hesitate to contact us if you need to know more about this event and how to participate. So, all that remains for us to say is, have fun and LET'S BAKE!
Janie x
Rules:
1. Post your recipe on your blog with a link to Lavender and Lovage and The Hedgecombers – mention the relevant month's host and attach the Tea Time Treats logo as shown on the event page.
2. Add Tea Time Treats in your blog post as a label/tag.
3. The recipe can be one of your own or one you've seen elsewhere.  You are welcome to republish old recipes/posts but please add the information about this challenge.
4. Please be as creative with the theme as you like.
5. If you share your post on twitter please mention @KarenBurnsBooth @HedgeComber and #teatimetreats in your message and we will retweet all those we see.
6. You do not need to enter every month to join in with the challenge.
7. Your post can be submitted for other blogging challenges, just make sure this complies with the rules of the other challenge.
8. Add your recipe link to the live linky posted at the bottom of every challenge post.
9. If using a recipe from another person, book, website, chef or blog, you must link back to the original recipe and not reproduce the recipe in full in your post. You must also use your OWN images for the recipe and not the original images, unless you have permission to do so, with appropriate links and any other information requested by the photo's owner added to the image.
(Copy and paste the code below into your Text editor to embed the logo into your blog post)
<div align="center"><a href="http://www.lavenderandlovage.com/" title="Tea Time Treats"><img src="http://www.lavenderandlovage.com/wp-content/uploads/2013/05/Tea-Time-Treats-Logo-new-2013-300x300.jpg" alt="Tea Time Treats" style="border:none;" /></a></div>