Woohooo! Happy 2014! I am so excited about this fresh new year ahead, and I'm kicking it off with this, my very first time to co-host the Tea Time Treats Linky Party!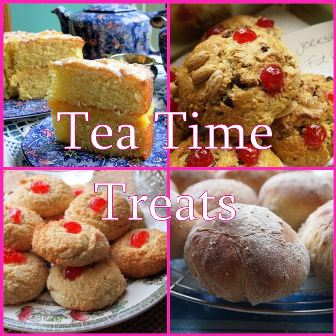 For those not in the know, this party has been hosted by Karen from Lavender and Lovage and Kate from What Kate Baked for the past 2 years.
Kate has decided to take a break, so I have stepped up to the Tea Time challenge with blender and pinny at the ready! Do be sure to check out Kate's final recipe round up on the tasty theme of Festive Food Gifts. It is a great round up, and well worth bookmarking for next Christmas.
January Tea Time Treats;
Eggs, Eggs, Eggs!
Ha! It had to be eggs didn't it?! (For those that haven't visited before, my lovely readers helped me write Project Egg, a free egg busting cookbook. Get your copy here)
Pick any recipe that could be served for tea that uses one or more eggs. Simple huh? Think cakes, pies, quiches, sandwiches, tarts, pastries, mousses, curds etc. Share with us a dish that has a solitary egg hidden in the list of ingredients, or that highlights eggs as the star of the show. Let your gastro-imagination run wild!
Please take a moment to read the rules and guidelines below and do not hesitate to contact us if you need to know more about this event and how to participate. So, all that remains for us to say is, have fun and LET'S BAKE!
Rules:
1. Post your recipe on your blog with a link to Lavender and Lovage and The Hedgecombers – mention the relevant month's host and attach the Tea Time Treats logo as shown on the event page.
2. Add Tea Time Treats in your blog post as a label/tag.
3. The recipe can be one of your own or one you've seen elsewhere.  You are welcome to republish old recipes/posts but please add the information about this challenge.
4. Please be as creative with the theme as you like.
5. If you share your post on twitter please mention @KarenBurnsBooth @HedgeComber and #teatimetreats in your message and we will retweet all those we see.
6. You do not need to enter every month to join in with the challenge.
7. Your post can be submitted for other blogging challenges, just make sure this complies with the rules of the other challenge.
8. Add your recipe link to the live linky posted at the bottom of every challenge post.
9. If using a recipe from another person, book, website, chef or blog, you must link back to the original recipe and not reproduce the recipe in full in your post. You must also use your OWN images for the recipe and not the original images, unless you have permission to do so, with appropriate links and any other information requested by the photo's owner added to the image.
Please join in the baking fun!
(Copy and paste the code below into your Text editor to embed the logo into your blog post)
<div align="center"><a href="http://www.lavenderandlovage.com/" title="Tea Time Treats"><img src="http://www.lavenderandlovage.com/wp-content/uploads/2013/05/Tea-Time-Treats-Logo-new-2013-300x300.jpg" alt="Tea Time Treats" style="border:none;" /></a></div>
Be sure to check out some of the other great recipes linked too as well, and do leave a little comment on the blogs you visit. We all love a little comment love ;)
Janie x