Jonny's kids are visiting at the mo, and last night we had great fun putting this awesome new griddle and grill from Ronnie Sunshines to the test.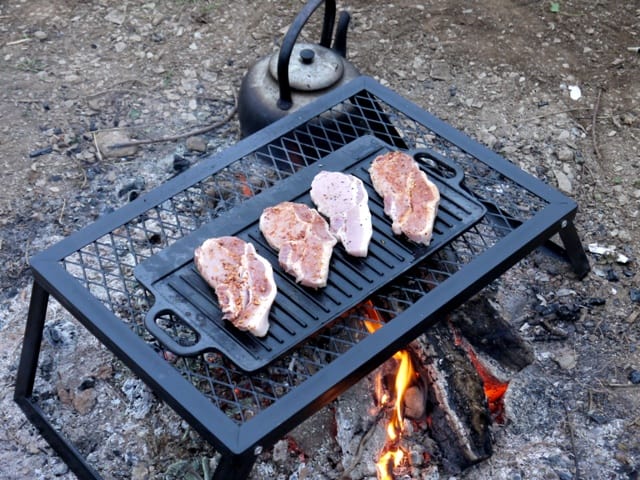 The camp fire grill has legs that fold out, giving you a huge flat surface to cook on over an open fire. Because it is such a good size, you can vary the amount of embers and therefore the temperature across the surface. It's surprisingly light weight to carry too, whilst being strong enough to hold up an array of cast iron post & pans.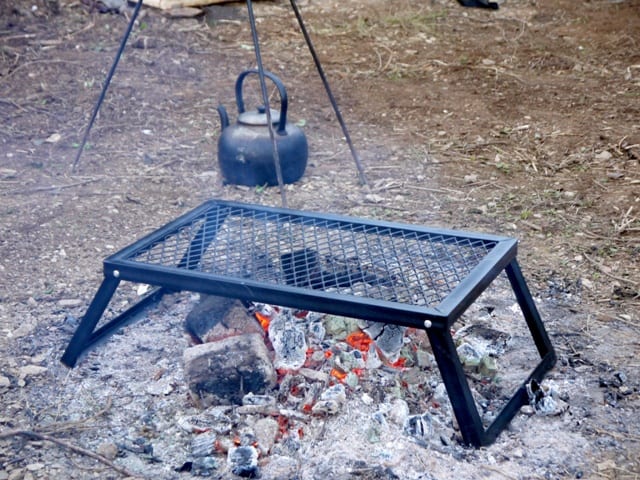 However, the reversible griddle pan has become my new favourite kitchen toy and I imagine you'll be seeing it a lot in the months to come!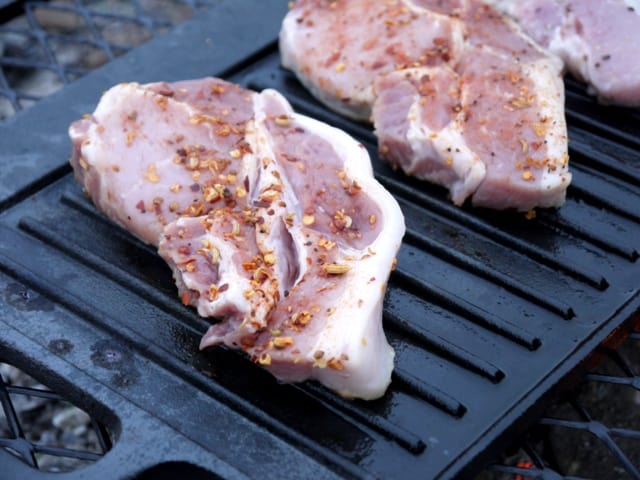 It's big enough to cook for several people without running out of room, and the reverse side has a flat plate which would be perfect for frying eggs or making pancakes on. It retails at £17.99 which I reckon is an absolute bargain.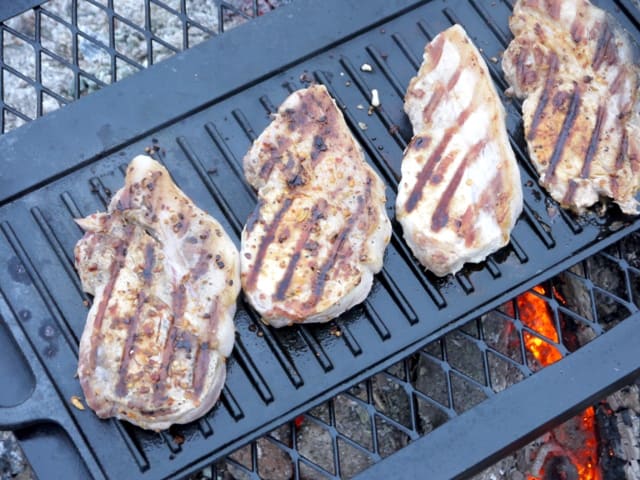 And now to the food…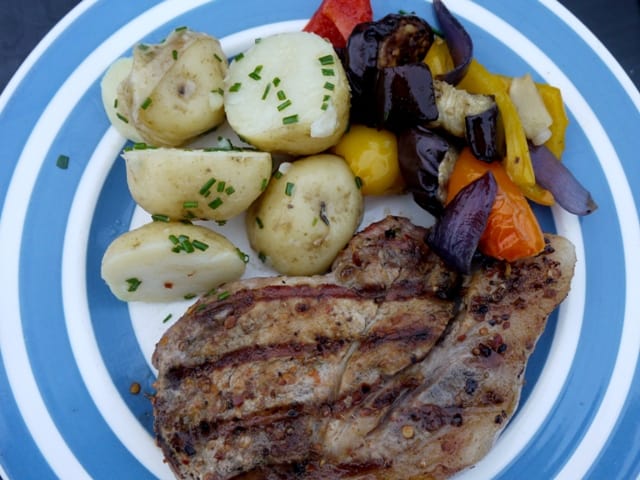 The spicy rub we used on the pork chops was absolutely delicious, and really made the meat sing. The potato salad was a bit of an experiment as neither Kieren or Eleanor like mayo. Happily it was a hit! We served it with cold roast veggies, but a green salad would work well too.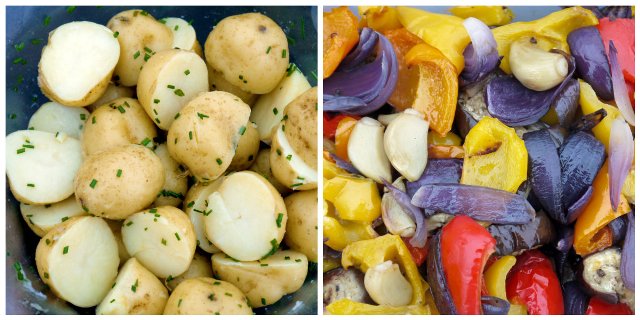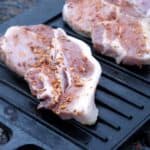 Spicy Griddled Pork Chops with Lemon Potato Salad
Ingredients
Lemon Potato Salad
New potatoes

boiled, drained and cooled

1

tablespoon

of olive oil

Juice of 1/4 of a lemon

Good pinch of sea salt
Spicy Griddled Pork Chops
1

thick boneless pork chop per person

1

teaspoon

dried chilli flakes

1

teaspoon

black pepper

1

teaspoon

paprika

1/2

teaspoon

sugar

1/2

teaspoon

salt

1/2

teaspoon

coriander seeds

crushed

1/2

teaspoon

fennel seeds

crushed

Oil
Instructions
Preheat a griddle pan for a few minutes until hot. If it is brand new you'll need to season it, although this pan from Ronnie Sunshines was pre-seasoned. If you're cooking over an open fire, wait until the flames have died down and you have lots of lovely white hot embers.

Dress the cooked new potatoes with the olive oil, lemon juice and sea salt. Get your hands in the bowl and mix them together, spreading all those good flavours across the potatoes.

Mix the rub ingredients together. Drizzle a little oil on each chop then sprinkle generously with the spices and massage them well into both sides of the meat.

Pop the chops onto the griddle, frying pan or grill and cook without disturbing for around 5-6 minutes. Turn & cook the other side. Make a little slit in the thickest part of the meat to make sure it's cooked through before serving. The chops we used were around an inch thick and took 12 minutes to be perfectly cooked and still juicy.
This post was sponsored by Ronnie Sunshines. However we've bought items from them in the past, and have always been really pleased with their customer service and speedy delivery. They sell an amazing array of outdoor gear, from clothes & cooking gear to machetes & air rifles. If you're into the great outdoors, do check them out!