This delicious Smoked Mackerel Pate recipe is dairy free, so it's perfect for a paleo, Whole30 or lactose intolerant diet.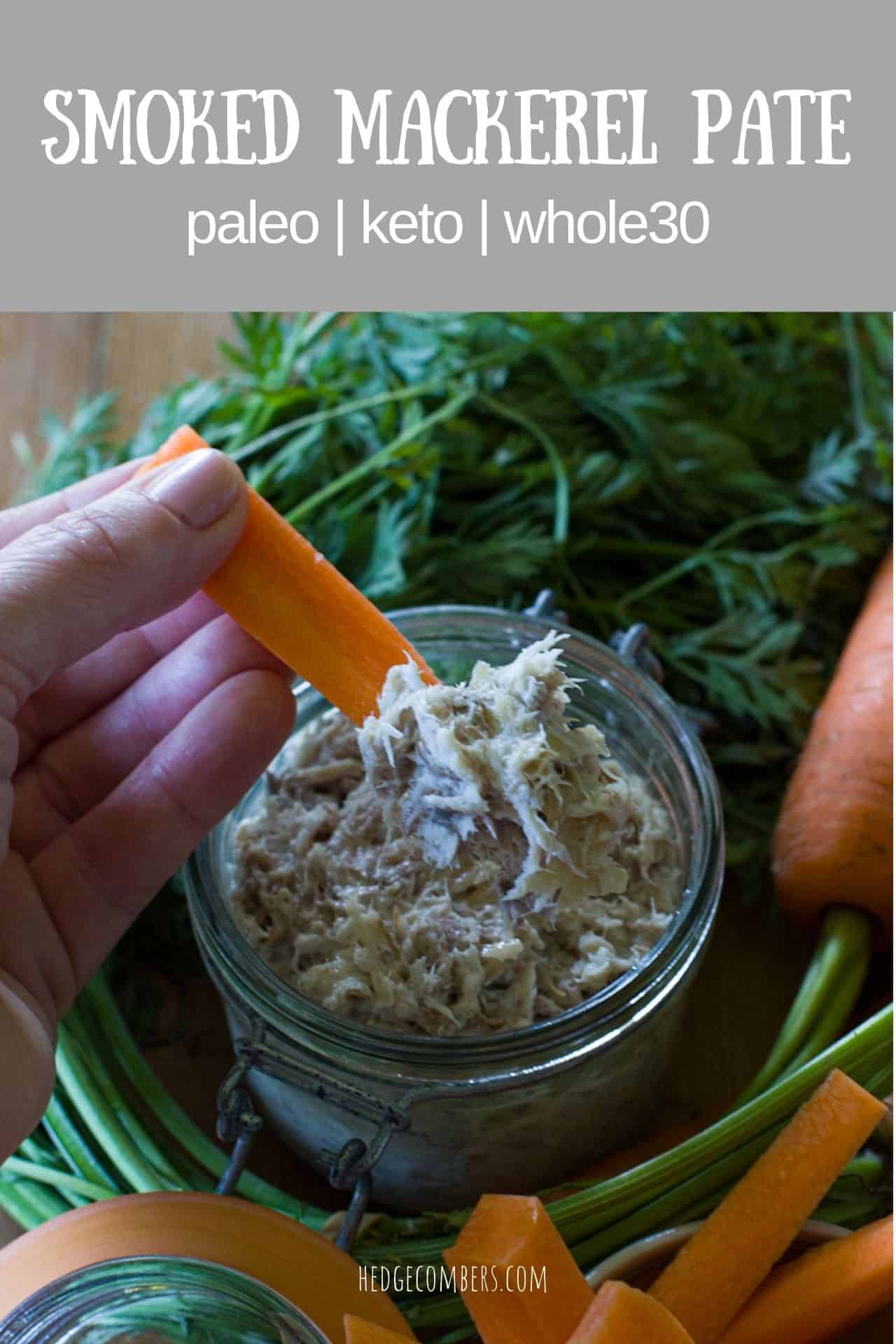 Smoked mackerel pate is such a go to in my kitchen.
It's quick and easy to make, with simple, whole food ingredients.
It makes the perfect travel food. Simply serve with crackers or crudités for a quick lunch or snack.
Smoked mackerel fillets (generally) contain no other junk. Just mackerel and salt.
And fish is one of the best sources of Omega 3 fatty acids, the nutrient that so many of us are severely lacking.
How do you make smoked mackerel pate without dairy?
Traditionally, smoked mackerel pate is made by mashing the fish with crème fresh or sour cream. As I'm lactose intolerant, I omit these and swap them out for the top of a can of coconut cream.
You can't taste coconut in the finished dish, but it's so creamy and smooth. I highly recommend it!
However, if you prefer you could use an oat or soya cream, a dairy free cream cheese or anything with a similar consistency. The final texture of each creamer might be a little different, but each one will taste just perfect.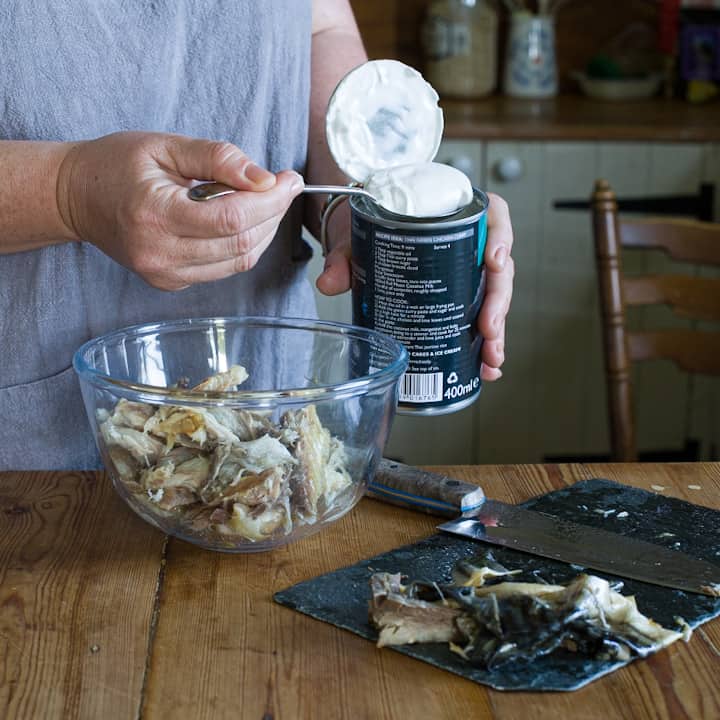 How to Make an Easy Smoked Mackerel Pate
When you buy your fillets of smoked mackerel, try to find a pack where the fillets are all straight and even.
In the past I've bought some more twisted fillets and it make removing the tiny little mackerel bones quite difficult.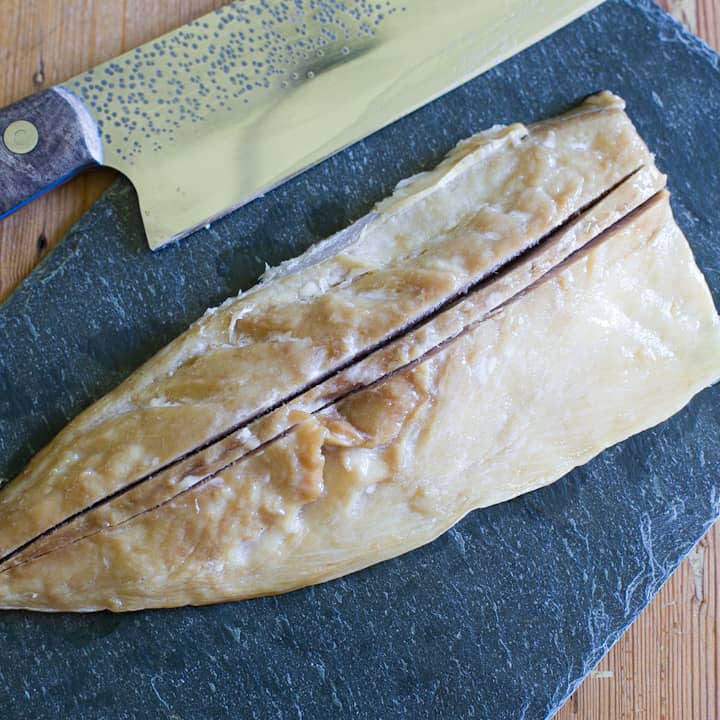 1/ How to remove bones from a smoked mackerel fillet
Lay a fillet out on your chopping board, skin side down.
When you look at the line that runs down the centre of each fillet, you'll see little dots every few millimetres. These are the mackerel bones and need to be removed before you make your pate.
You have a couple of options. Firstly you can run your finger down the line to locate each bone. Then simply pull each one out with your nails. This is pretty tedious, but you won't waste any of the meat.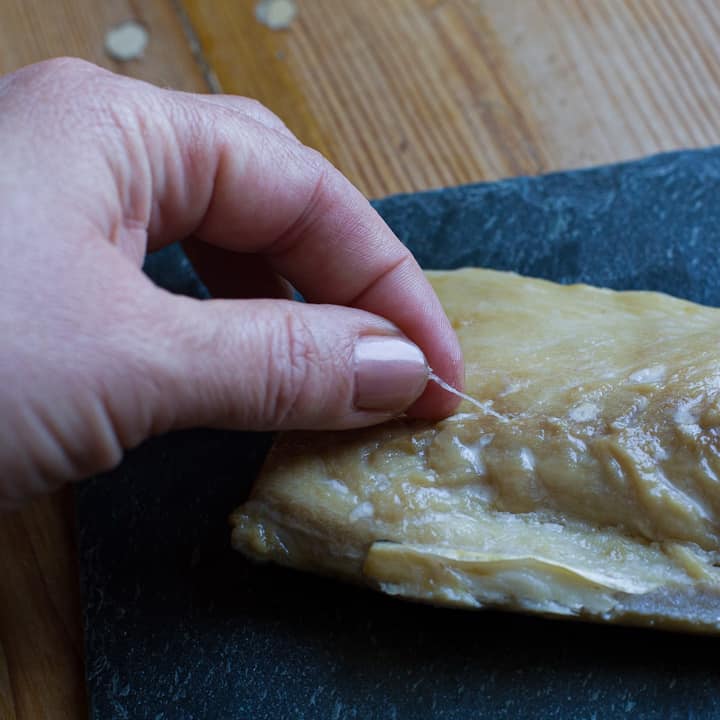 The other option is to use a sharp knife, and carefully run the blade down each side of the centre line. Then you can easily remove each half fillet from either side of the spine.
You will inevitably lose a little of the mackerel meat this way.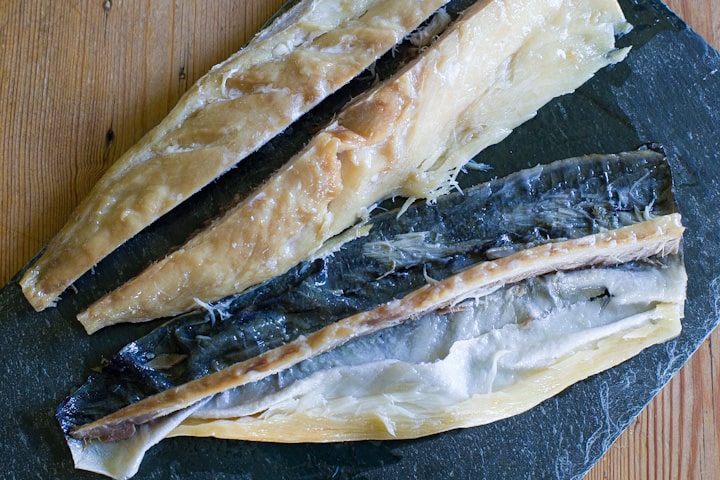 Very occasionally, when a mackerel had been badly filleted, you can find another small strip of bones on each side of the fillet. Just run your finger over this area and if you feel anything rough, remove it.
When the bones are removed, dispose of them and the mackerel skin.
2 Making the mackerel pate
Place the deboned fillets into a mixing bowl. If I am serving the pate to other people, I like to make sure that there are no bones left at all. So I break up the fillets, and mash them at this stage with my hands, thereby feeling if I've missed any. If I'm the only one that will be eating the pate, I rarely bother with this step!
Add in the coconut cream (avoiding adding any of the watery part of the can).
Also add the horseradish or wasabi (Japanese horseradish) if using.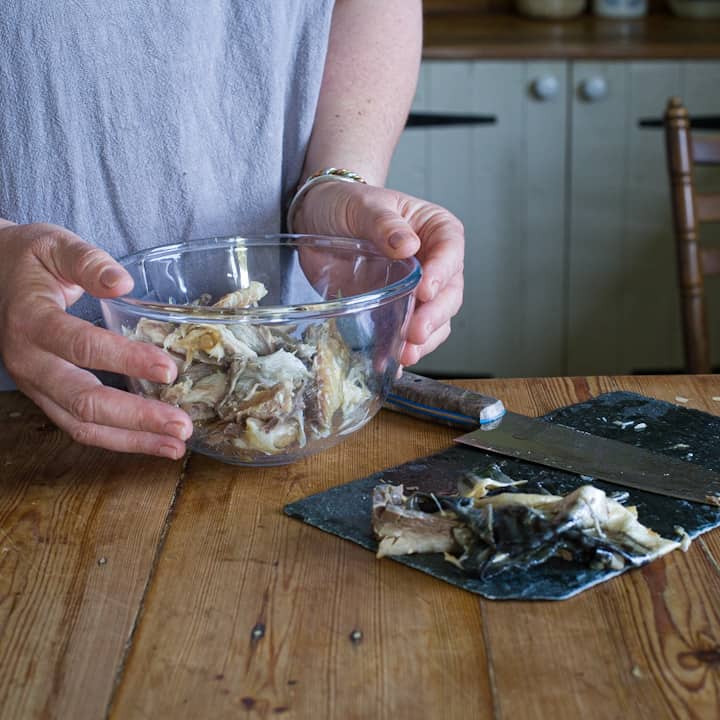 Please note that both horseradish and wasabi are incredible hot! Add a little at a time and taste as you go. If you add too much by mistake, your sinuses will definitely let you know!
Mash the fish with the back of a fork and combine the ingredients together well.
The pate is then ready to enjoy, or to be covered and popped in the fridge for later.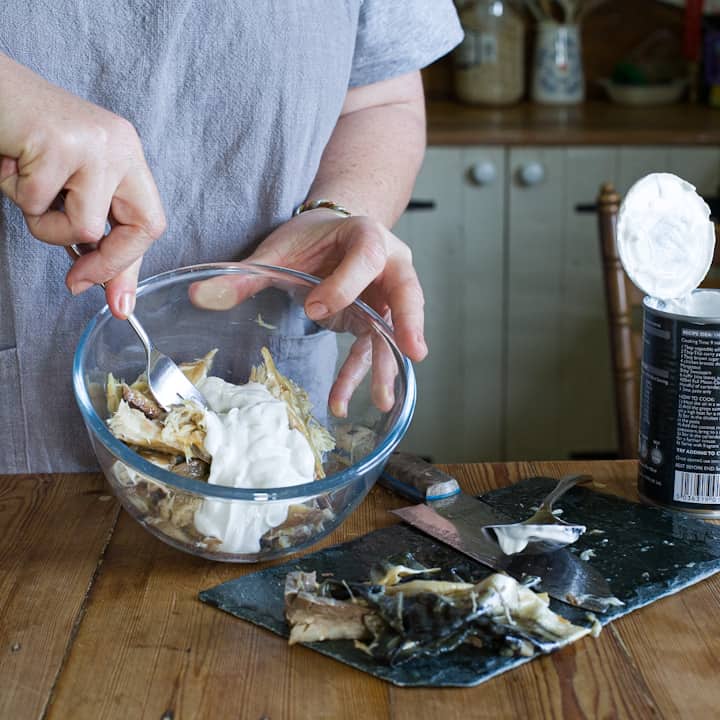 What can I serve smoked mackerel pate with?
I really like it with a salad, crudités, a jacket potato, crackers or just good, fresh bread.
It's also great in sandwiches (esp with thick slices of cucumber!) or eaten straight from the pot with a spoon. I won't tell :)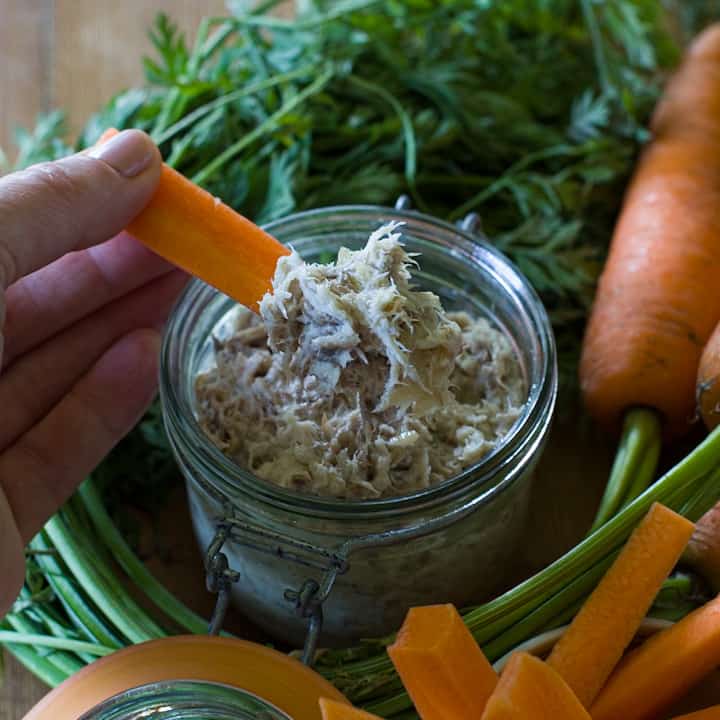 How long will fresh smoked mackerel pate last in the fridge?
Take note of the use by date on your pack of mackerel and be sure to use it up before then.
It the date is fine, the pate will last for 4-5 days in the fridge. Be sure to store it in an sealed, air tight tub.
Can I freeze my homemade smoked mackerel pate?
Yes, you can safely freeze your homemade pate, although the texture may change a little once defrosted.
Use within one month of freezing.
Is mackerel a sustainable fish to eat?
According to the Cornwall Good Seafood Guide, mackerel is "One of the best Cornish seafood choices'.
In Cornwall at least, the majority are still caught by handline which causes the least damage to fish stocks and marine environment.
If you pate as much as I do, another of my favourite recipes is this one for venison liver pate. If you can find it, venison liver is a real treat and has a beautiful taste.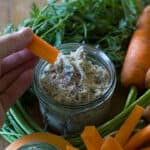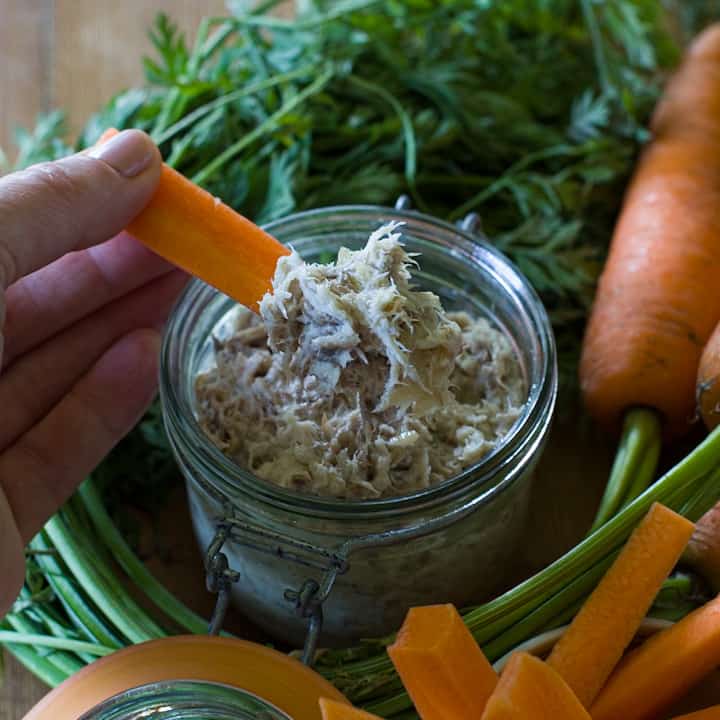 Easy Smoked Mackerel Pate
This delicious Smoked Mackerel Pate recipe is dairy free, so it's perfect for a paleo, Whole30 or lactose intolerant diet.
Keyword:
fish pate, smoked mackerel pate
Ingredients
3

smoked mackerel fillets

3

tbsp

coconut milk

- the top part from a can

1

tsp

horseradish
Instructions
First, remove the bones from the fish.

They run down the centre of each fillet, and are rarely found in the narrowest third of the fish.

See above for two different ways to remove them easily.

Place the meat in a bowl, and mash it with a fork to break up the pieces. You can also use clean hands at this point to mash the fish which will allow you to feel for any bones you may have missed.

Without shaking the can of coconut milk, open it and scoop out 3 tablespoons of the thick white part, adding it to the bowl.

Horseradish can vary in potency, so start off with a 1 teaspoon, add it to the bowl, mix well and taste.

Add more if you'd like, tasting as you go.

I ended up adding 2 level teaspoons to my bowl in total.

When the pate is well combined, scoop into a small jar, cover and keep in teh fridge until needed.
Nutrition Facts
Easy Smoked Mackerel Pate
Amount Per Serving
Calories 2224
Calories from Fat 1044
% Daily Value*
Fat 116g178%
Cholesterol 635mg212%
Sodium 1188mg52%
Potassium 5592mg160%
Carbohydrates 2g1%
Protein 272g544%
Vitamin A 837IU17%
Vitamin C 29mg35%
Calcium 321mg32%
Iron 17mg94%
* Percent Daily Values are based on a 2000 calorie diet.