The best thing about using a slow cooker is that with 10 minutes of prep in the morning (or even the night before) that little nag at the back of your head of what's for dinner is banished.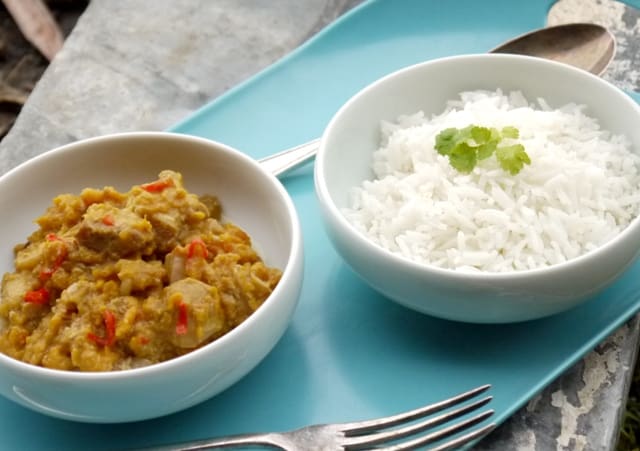 Even though I work from home, unless I'm in the kitchen working through new recipes for the site I'm basically sat at my desk most of the day. I get engrossed in a project and the dinner nag nips away at me all day until I hurriedly pull leftovers out of the freezer or give in to beans on toast, again. Not so on the days where in a moment of pre lunch clarity I fill up the slow cooker.
This curry was actually invented in the festive lull between Christmas and New Year. Unwilling to leave the warmth of the house to hit the insanity of a supermarket, I took stock of what I had left in the house. All our potatoes were gone apart from these 4 small sweet potatoes. And in the freezer among all the large joints of meat was single bag of chicken breasts. This is the point a rather tasty curry was born :)
Chicken and Sweet Potato Curry
Servings
:
4
-6, depending on side dishes
Ingredients
300

ml

stock

400

g

sweet potato

chopped

500

g

chicken

diced

1

tin of chopped tomatoes

1

large onion

chopped

1

tablespoon

ground coriander

1

teaspoon

cumin seed

1/2

teaspoon

ground ginger

1/2

teaspoon

turmeric

3

cloves

of garlic

chopped

1

ancho chilli

kept whole

1

fresh chilli

chopped
Instructions
Add everything to the slow cooker and cook on high for 4 to 6 hours, or low for 8 to 10.

Feel free to use a curry spice blend rather than the individual spices listed above.

If the sauce needs thickening when you are ready to serve, remove the lid of the slow cooker for half an hour or so to let the steam dissipate and the sauce reduce. Alternatively, stir in a teaspoon or two of cornflour mixed with a little cold water and let simmer for a few minutes.

Serve with rice or dolloped over some crispy jacket potatoes. Yummy.