Freezer diving for inspiration yesterday reminded me of the box of goodies I was asked to review from Heggies of Hereford.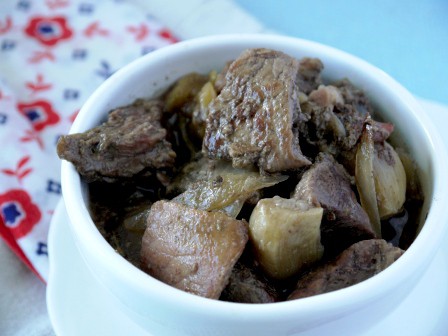 I pulled out a pack of diced Hereford beef, and rustled up this rich, simple & elegant slow cooker dish. The meat was lightly marbled, which is perfect for this style of cooking, as it creates a deeply rich gravy.
I have used a whole head of garlic cloves but don't panic, when garlic is cooked in this way it softens beautifully and mellows dramatically.
The meat is juicy and fall apart tender, whilst the gravy is good enough to be drunk by the mug-full!
Slow Cooker Beef & Garlic
Ingredients
700

g

diced beef

4

slices

thick bacon

2

large onions

1

head of garlic

Cornflour or gravy granules
Instructions
In a large pan, melt a little butter or oil until it is shimmering. Add the beef in batches, and as it browns, move it over into the slow cooker.

Roughly chop the bacon and brown that too.

When all the meat is nestled in the slow cooker, boil the kettle & add a good splosh of hot water to deglaze the pan. Scrape & stir well to get all the lovely gooey, caramelised bits off the bottom of the pan. Pour this liquid to the slow cooker too.

Peel each garlic clove (leaving them whole) and chop the onions into large chunks. Add them both to the meat mixture and stir well.

Add more water if necessary - you want the meat to be just covered.

Cook on high for 4-6 hours or low for 8-10 hours. There is no trick to the timing, that's the beauty of the slow cooker, plan it around your day. It won't burn or dry out.

Twenty minutes before you're ready to eat, stir in some beef gravy powder or a heaped teaspoon of cornflour mixed with cold water to thicken the sauce.

Serve it with a big pile of buttery mash and some fresh, steamed spinach or beans.