Slow Cooker Aduki Bean Stew is an an absolute delight. Not only do Aduki beans pack a tasty protein punch in savoury dishes, I only realised whilst researching this blog post that they are responsible for the delightful sweet steamed dumplings I would have for breakfast every day whilst studying acupuncture in China.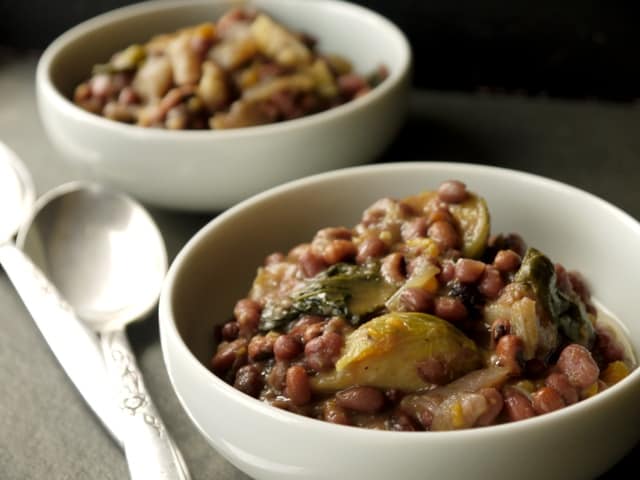 I'd stand in line and buy one (or more) of these beauties from an elderly lady steaming them in giant bamboo baskets outside the university dorms. She'd cook them alongside ones filled with meat or vegetables. I never knew what they were called, so would order my daily fix by pointing. It was generally guess work, and sadly sometimes I'd get it wrong and end up with an unknown meat one.
I'd then pine for that sweet sticky red bean dumpling all day long.
Slow Cooker Aduki Bean Stew
Anyway, I digress. Back to the stew. I was kind of surprised to find that this veggie stew tastes better on the second and third day, just like meat stews do. That's not to say it won't delight on day 1, but leave those flavours to mingle and get to know each other for 24 hours and I'm convinced it develops a whole 'nother level of flavour.
And don't ever let yourself get stuck in a legume shaped slump. There a plenty of other beans you could try in this recipe such as butter beans black eyed beans or even lentils and split peas.
Whatever legume your throw at it, I don't doubt that this meat mad family will go back to this recipe time and time again.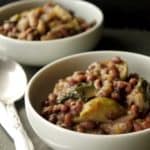 Slow Cooker Aduki Bean Stew
Ingredients
250

g

dried aduki beans

soaked over night in cold water

2

pints

water

1

large onion

1/2

bulb

garlic

6-8 cloves peeled and chopped

1

leek

chopped

1

sweet potato

chopped

8-10

brussel sprouts

halved

1

bunch

kale

spinach or other greens, chopped

2

teaspoons

of freshly ground black pepper. You want to get a small amount of heat coming through from the pepper

so season and taste as you go.
Instructions
Due to the toxin found in Aduki beans, you'll need to soak them in cold water overnight and change the water with fresh before cooking them up. Feel free to use tinned beans instead.

Add all the ingredients except the sprouts and greens to the slow cooker and let cook for 4-6 hours on high or 8-10 hours on low.

30-40 minutes before you're ready to eat, add the sprouts and kale (if you're using spinach, add that in the last 5 minutes as it only needs to wilt) and season well with the black pepper before serving.
Nutrition Facts
Slow Cooker Aduki Bean Stew
Amount Per Serving
Calories 195
% Daily Value*
Fat 0g0%
Cholesterol 0mg0%
Sodium 40mg2%
Potassium 862mg25%
Carbohydrates 38g13%
Protein 10g20%
Vitamin A 5675IU114%
Vitamin C 51.2mg62%
Calcium 98mg10%
Iron 3.3mg18%
* Percent Daily Values are based on a 2000 calorie diet.